2022 Christmas Home Tour – Snowflakes and Fair Isle Decorating Ideas
Welcome friends! I'm so happy you stopped by today! If you're looking for Christmas decorating inspiration, we have a treat for you. Today, I've joined a group of talented bloggers for our 2022 Christmas home tours hosted by Marty of A Stroll Thru Life. There are 26 homes on the tour with tons of holiday decorating ideas! For my 2022 Christmas home tour, I'm sharing my kitchen and family room…featuring snowflakes and fair isle decorating ideas!
*For your convenience, please note that this post contains affiliate links. If you make a purchase after clicking my links below, I will receive a small commission (at no additional cost to you).
Christmas Home Tours 2022:
Before we begin, I want to welcome those of you who are arriving from Whispering Pines Homestead. Anita always decorates in rich colors that are so cozy this time of year. I'm sure you enjoyed her tour!
When you're finished here, please be sure to visit the links at the end of this post to see all the beautiful Christmas home tours!
Welcome to my home!
Even though we rarely use our front door, I always like to decorate it every season. In the past, I would buy a fresh wreath each year but ever since I found this artificial one, I've been done with the fresh. Who needs all those messy needles dropping anyway?
So, now I just fluff up my artificial wreath, change the bow and maybe add some accessories like the red berries. Since I'm decorating with snowflakes and Fair Isle designs inside my home, I was happy to find this red ribbon to coordinate.
2022 Christmas Home Tour – The Kitchen:
Let's continue the tour in my kitchen. From this angle, you can probably tell that we have an open concept kitchen-family room. Each year, I like to coordinate my holiday decor so the two spaces work together. This year, you will see touches of red mixed with fair isle and snowflake decorations. Some years, I've switched my blue and white curtain panels to red curtains for the holiday season. Although, I considered doing it again this year, I decided to leave the blue and not go too crazy with the red.
In a bright white kitchen, a little red goes a long way. Each year, I hang the mini wreaths on my cabinets. Usually, I use a red gingham ribbon but this year I switched the ribbon to a red fair isle style to go with my theme. Changing ribbons is an inexpensive way to change a look from year to year.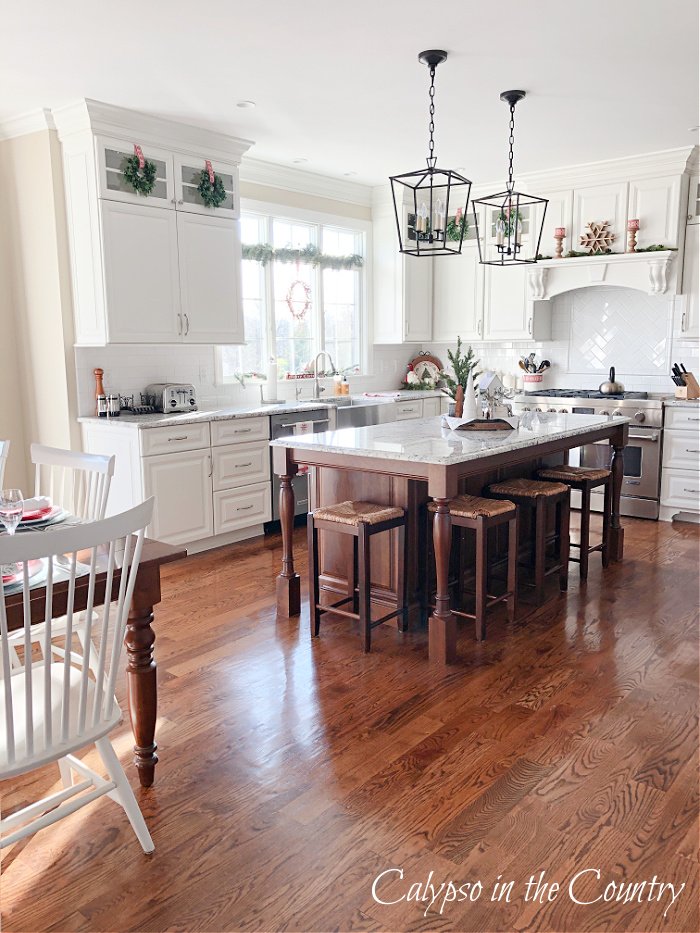 To dress up the candles on my stove mantel, I simply wrapped them with another fair isle ribbon. Since I had the wood candlesticks, I used them along with a wooden star from local store. I love how the wood adds a rustic touch – and also coordinates with my round wood tray on the island.
Recently, I shared the details of my winter tray decor.
Here's a close up of the wooden star and candlesticks above the stove. Since this spot is such a focal point in my kitchen, I think it's important to coordinate these items with the rest of the decorations.
In the back corner of the counter, I added some more red and white. The skiing dish towel kind of works with the snowflake theme as well…
From the angle in the photo below, you can see how all red accessories work together. Somewhere in my basement bins, I do have a red Christmas rug but I just left the blue one for now. Plus, it goes with the curtains and the family room rug so I guess it makes sense to leave it.
This year, I kept my kitchen decor simple with just some subtle pops of red and green.
While searching for Fair Isle pieces, I found these tea towels. I love the way the pattern includes the traditional snowflake along with reindeer. After all, I decorated with reindeer on each of my countertop trays.
To the right of the stove, I created a Christmas coffee station and just shared those ideas on the blog last week.
As you can see, here are a couple of the reindeer I mentioned, along with some Fair Isle mugs.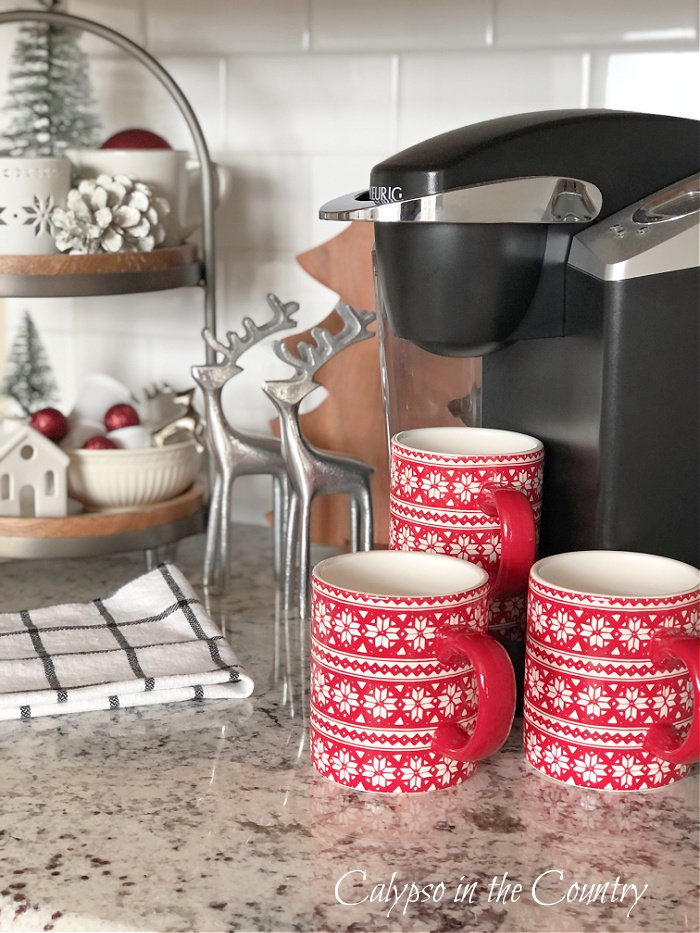 silver reindeer / similar mugs
Before we head into the family room, let's stop at my kitchen table where I continued the snowflakes and Fair Isle theme…
For this year's Christmas table, I bought some new Fair Isle patterned salad plates to layer over my white dishes. If you want to change the look of your dishes without buying a whole new set, this is an easy and inexpensive way to do it. (FYI – my plates have been discontinued at World Market but these dishes have a similar vibe).
similar snowflake plates / similar napkin rings
To complement the dishes, I brought out my red striped table runner. Then to keep the red from becoming too overpowering, I used mostly white and silver accessories for the rest of the table.
Since I was decorating with a snowflake theme, all the white made sense – white chairs, candles, napkins, placemats… By the way, those cute little craft paper wrapped presents were leftovers from a farmhouse Christmas table I decorated a few years ago.
similar table runner / another similar runner / similar mini trees
And you might notice the little snowflakes scattered down the center of the table. While shopping in the dollar bins at Michael's, I found those. Basically, they were unfinished wood "DIY wood tags" and came in packages of 24 for around $2.99 each. All I did was paint them white…how crafty of me. Haha.
Not only did I buy the snowflake tags, but I bought a bunch of little house tags as well. Once again, I painted them white and then I hung them on my little tree with red baker's twine. If you read my blog, you know that I just love decorating with little white houses! I never seem to have enough! Then to finish my simple tree, I added some Fair Isle ribbon to continue with the theme.
4 foot pre-lit tree / mini house ornaments / fluffy faux white sheepskin
If you like little white houses at Christmas, you might also like gingerbread houses! For an easy craft, read DIY Gingerbread House Ornaments!
On my console table shelves, I continued with red and white. To dress up the baskets where I keep my napkins, I tied on some cute snowflake ornaments.
large snowflake ornament / seagrass baskets
From here, we're practically in the family room. Let's continue the 2022 Christmas home tour in there for some more snowflakes and Fair Isle decor! (If you're looking for Fair Isle items for your home, here are some more Fair Isle shopping finds!)
2022 Christmas Home Tour – Family Room:
Like I said, when you have an open concept kitchen/family room, it makes sense to coordinate the holiday decor!
With all the bright light in this room, the splashes of red really stand out.
Since Fair Isle patterns look great with plaid, I displayed some of my plaid pillows.
And for more color, I added my red plaid table runner to the coffee table. The runner makes a great base for the tray and helps to pull all the colors together.
similar Merry pillow / similar table runner / similar rattan tray
As you can see, I added more of those wooden snowflakes to the dough bowl. For cheap dollar bin items, I really got my moneys worth with those things!
A red "Merry" pillow…a merry bowl of Hershey's kisses…
And a big "Merry" Fair Isle sign for the fireplace! Yes, I guess I'm feeling very merry this Christmas!
At some point, I'll hang our stockings but I'm liking the way the mantel looks without them for now. And yes, there are more of those little snowflakes in the garland above the mirror. Isn't it great when you can find several uses for items? And it's even better when those items are super-cheap!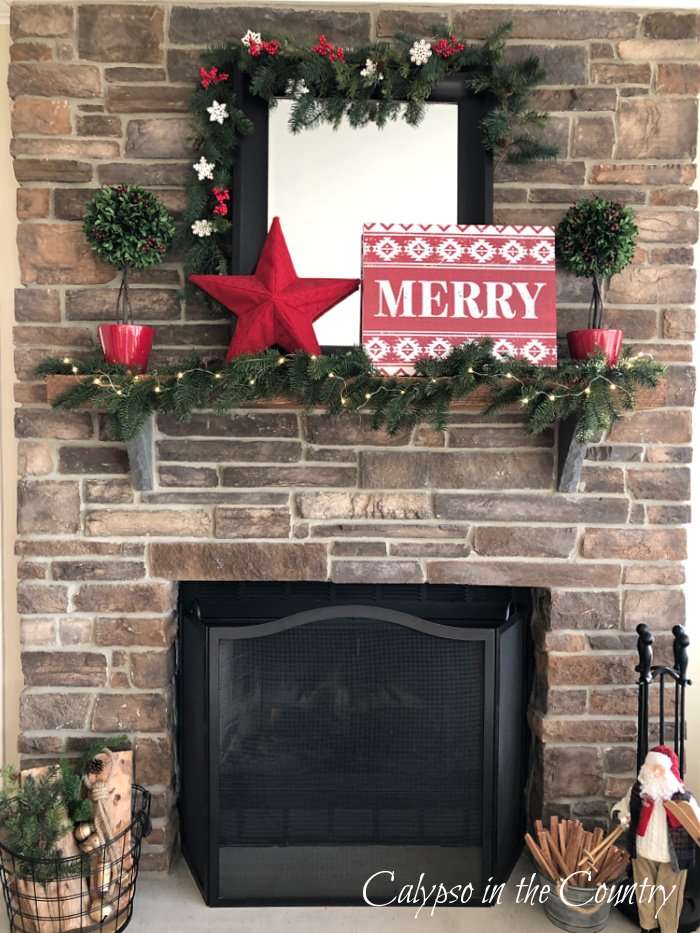 Those were actually the only things I bought for the mantel this year. Last year, I bought the red Merry sign from Homegoods but couldn't decide where to display it. And I've used the mirror before, though last time I displayed it horizontally. To see more Christmas mantel ideas, read – Stone Fireplace Christmas Decorations.
At Christmas time, the red fabric covered star always makes an appearance. Among other places, I've displayed it on my kitchen stove mantel, and in my younger son's bedroom. Gee, I wonder where I'll use it next Christmas…
Thanks for stopping by and I hope you enjoyed my 2022 Christmas home tour! Wishing you a very Merry Christmas season!
Once again, thank you to Marty from A Stroll Thru Life for hosting! Her beautiful home is the first one on the tour. Also, please visit the rest of the participants on the blog hop from the list below.
If you're following along in order, White Arrows Home is next! I know you're going to love Kristin's beautiful decor…her home is amazing!
Here is the full list of all the homes on the tour:
Monday December 5th
A Stroll Thru Life – StoneGable – Thrifty and Chic – Southern Home and Hospitality – Worthing Court
Tuesday December 6th
Our Southern Home – This is our Bliss – The Stonybrook House – A Pretty Life In The Suburbs – Up To Date Interiors – Shiplap and Shells
Wednesday December 7th
Whispering Pines Homestead – Calypso in the Country – White Arrows Home – Designing Vibes – Decor to Adore – Clean and Scentsible.
Thursday December 8th
CitrineLiving – Pasha is Home – County Road 407 – Simply2Moms – Southern State of Mind – Chalking Up Success
Friday December 9th
Hymns and Verses – Eleanor Rose Home – Dimples and Tangles
Follow along so you don't miss a post!
Subscribe by email – HERE
Pinterest/ Instagram / Facebook / Twitter