Stone Fireplace Christmas Decorations (Festive Ideas)
Have you started decorating for Christmas yet? If you're like me, you do most of your decorating the day after Thanksgiving. Having said that, it's never too early to start planning! Since I like to try different looks for my fireplace each year, I find it helpful to look back at previous years. If you have a stone fireplace, you know it can sometimes be a challenge to decorate. So, if you're looking for inspiration, here are some of my stone fireplace Christmas ideas!
*For your convenience, please note that this post contains affiliate links. If you make a purchase after clicking my links below, I will receive a small commission (at no additional cost to you).
Stone Fireplace Christmas Ideas with Wreaths:
Lean a wreath against a fabric covered board…
If you have a stone fireplace, you know it can be difficult to hang anything above the mantel. To avoid damaging my stone veneer with hooks, I usually just lean items.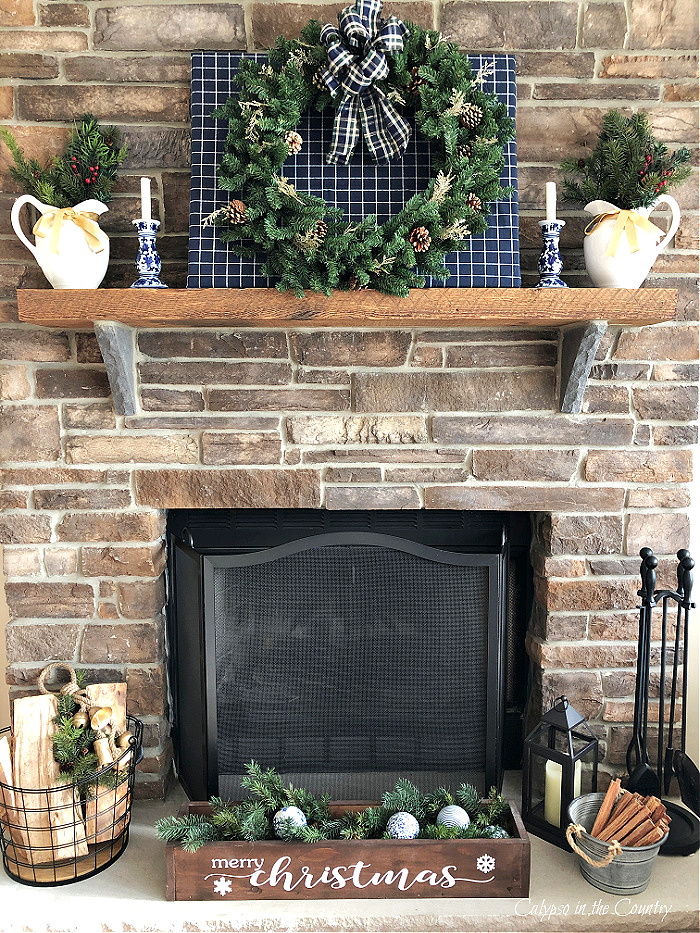 One Christmas, I decorated with a lot of blue so it made sense to carry that color scheme up to the fireplace mantel. First, I headed down to the basement to find an unused art print around the same size as my artificial wreath. Then, I simply covered the artwork with fabric by securing the back with heavy packing tape. From there, I attached the wreath with string and added a navy blue plaid bow to coordinate with the background.
To add a few more touches of blue, I brought out my traditional blue and white porcelain candlesticks for the mantel. Then I filled the wooden Christmas box on the hearth with a few more blue and white Christmas ornaments.
Hang a wreath on a large frame…
Here's another example of a leaning wreath. This time, I used a wooden framed art print and covered it with striped wrapping paper. For more height, I went vertical which gave me more room to add other Christmas decorations to the mantel.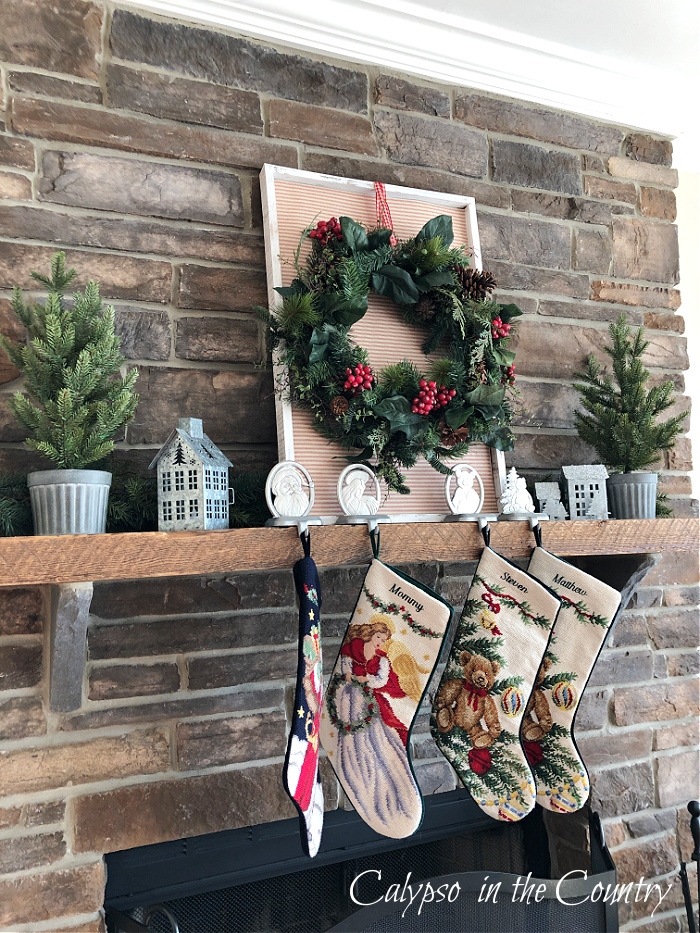 In the past, I've decorated with wrapping paper in other ways too. To see those ideas, be sure to read – 3 Simple Ways to Decorate with Wrapping Paper.
Hang a wreath on a leaning mirror…
Yes, lots of leaning going on over at my house! For this super-simple mantel, I just hung a wreath on a large black mirror and flanked it with black candlesticks holding red candles.
Just be careful when using mirrors on your fireplace mantel. You don't want that thing to come crashing down on you! When I use a mirror on my Christmas mantel, I make sure I lean it on more of an angle so it doesn't fall forward. If you decide to hang a wreath or other decoration on the front, be sure to use something that isn't too heavy!
Lean a large wreath as a focal point…
Of course, using just a wreath is a safer option! If you can find one that's large enough, a wreath can make a pretty focal point. When I decorated my home that year, I used a mostly red color scheme so the poinsettia wreath fit right in.
If you want your wreath centered a little higher above your fireplace mantel, hang it with some fishing wire. That way, you can attach the fishing wire to the ceiling or molding and you won't damage your stone.
Stone Fireplace Christmas Ideas with Framed Items:
Layer Christmas decorations with family photos…
Most of the year, I keep a collection of black and white family photos on my fireplace mantel. One holiday season, I just left the framed photos on the mantel and decorated around them.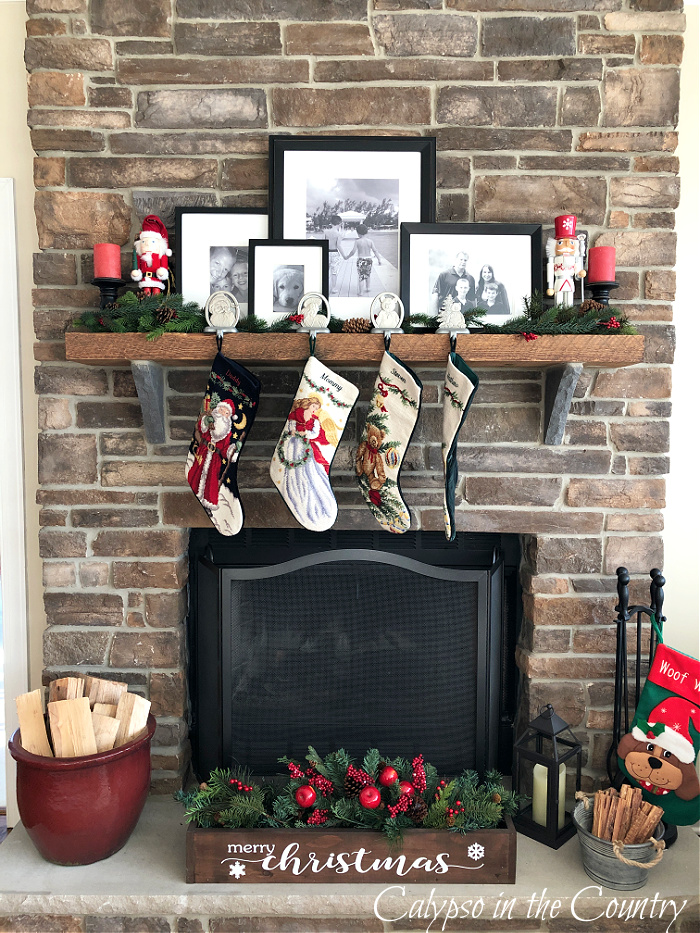 With few splashes of red, pine cones, plenty of greenery and our Christmas stockings, that year's decor was super easy!
Decorate around a large framed mirror…
Yes, here's that leaning black mirror again! When I decorated for Christmas last year, I carried a snowflake theme throughout my home. Of course, some snowflakes also made it up to the mantel as well. I just attached a bunch of white wooden snowflakes to the garland on top of the mirror to coordinate with the theme.
Ever since I discovered fairy lights, I've been using them in my Christmas decorating. After years of struggling with long wires and extension cords, it's nice to just hide a little battery box instead. On this mantel, you might notice I used a string of silver fairy lights. Since I wasn't happy seeing the silver wire from a distance, I eventually ended up buying ones with a green wire. Yes, I know it sounds a little picky but sometimes little details make a difference.
Highlight winter themed sign…
One year, I decorated with a wooden sign to embrace the rustic style of my fireplace. As you can see, I've used some of the fireplace decorations from other years. Just changing the focal point gave my mantel a different look. (By the way, this is the piece of artwork that I covered in wrapping paper for one of my Christmas mantels mentioned above!)
To see all the details from that year, read – Easy Way to Decorate a Farmhouse Christmas Mantel.
More Simple Stone Fireplace Christmas Ideas:
Go neutral with Christmas stockings to highlight the beauty of your stone fireplace…
As you can see, neutrals look beautiful against a stone fireplace for Christmas. Even though most years I hang our personalized embroidered stockings, I fell in love with these simple cable knit stockings!
Speaking of stockings, here are some more ways to display them even if you don't have a fireplace mantel.
Galvanized metal decorations highlight the rustic feel of a stone fireplace…
If you're like me, you've collected a bunch of cute Christmas houses. Well, consider including them on your fireplace mantel this Christmas. In my opinion, galvanized metal adds to the rustic farmhouse vibe of the stone.
Besides the galvanized houses, I also collect white ceramic houses. See how I've decorated with them for Christmas!
Christmas crafts on a stone fireplace add to the casual vibe…
When you have a stone fireplace, you can get away with a casual look. For instance, if you made any Christmas crafts, go ahead and display them on the mantel. Even kids' Christmas crafts can look cute against the stone.
Last year, we made a bunch of paper Christmas trees and displayed them around the house. To see that easy craft, read DIY Paper Christmas Decorations.
Hopefully, I've given you some ideas to decorate your stone fireplace this Christmas!
Which stone fireplace idea is your favorite for Christmas?
Follow along so you don't miss a post!
Subscribe by email – HERE
Pinterest/ Instagram / Facebook / Twitter