How to Set an Easter Table with Pretty Pink Flowers
Happy spring! So, how are you dealing with the time change? Actually, it hasn't bothered me because I'm loving the longer days heading into spring! Since we're getting close to Easter, today I've joined a group of talented bloggers for an Easter Tablescape Blog Hop hosted by Chloe of Celebrate and Decorate. For my stop on the hop, I'll show you how I set an Easter table with pretty pink flowers!
*For your convenience, please note that this post contains affiliate links. If you make a purchase after clicking my links below, I will receive a small commission (at no additional cost to you).
Before we begin, I want to welcome those of you who are arriving from Bluesky at Home. I'm sure you loved Carol's rustic Easter tablescape. I adore her style and her tables are always so beautiful!
When you're finished here, please be sure to visit the links at the end of this post to see all the lovely Easter tablescapes!
Let's get started with my Easter table…
Welcome to my kitchen!
Here in the northeast, we've had some gorgeous sunny days. As luck would have it, the sun was shining for me when I set my Easter table. Believe me, it doesn't always work out that way…especially when I tend to wait until the last minute.
Originally, I was going to set an Easter table in the dining room but decided to go with a more casual Easter table in the kitchen instead. Plus, I planned to decorate with pink, so I thought the color would stand out nicely in my white kitchen.
Easter Table Decorated with Pink Tulips:
For some reason, I had a difficult time finding pink tulips this year. Of course, I had already mentioned in my tulip blog post on Saturday that I'd be using tulips for my table…so I was kind of committed.
At first, I planned to buy bright pink and white tulips for the Easter centerpiece. After visiting three stores, I came home with a few different colored tulips…but no white. Of course, the brighter pink ended up looking a bit too red but I had to work with what I had. As you can see on the island in the background, I also bought some lilac tulips as well. Obviously, those didn't "make the cut" for my Easter centerpiece!
So, I mixed the medium pink tulips with the bright pink (slightly reddish) tulips. Even though I told myself I wasn't going to obsess over the color, I ended up doing exactly that. I know, ridiculous, right? Luckily, between the bright pink placemats and the different shades of pink Easter eggs, I think I had enough variation in color.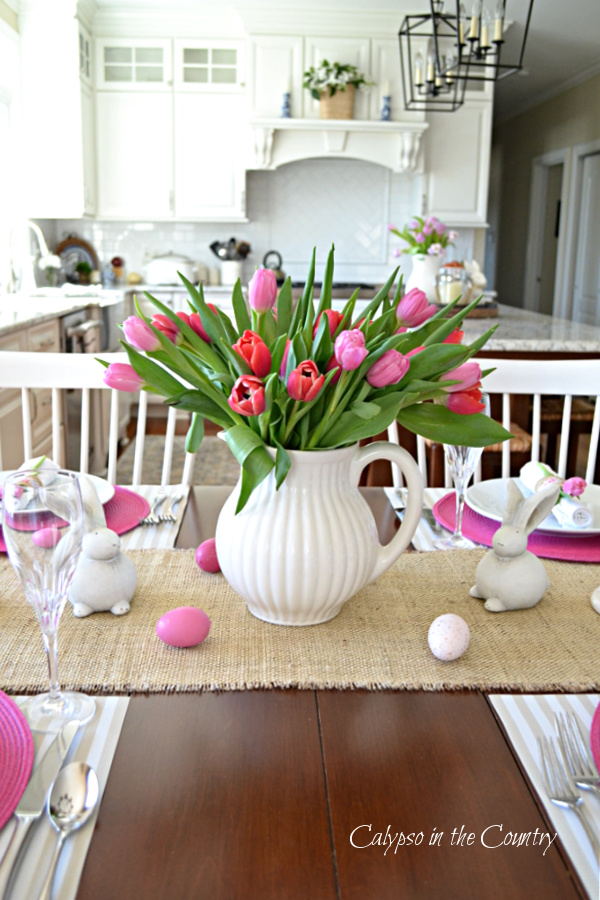 Simple DIY Napkin Rings for an Easter Table:
In keeping with my pink flower theme, I found a pretty floral ribbon which helped tie all the colors together.
To make my simple DIY napkin rings, I wrapped a piece of wired burlap around a section of a cardboard paper towel roll. Then I took the floral ribbon and wrapped that around the burlap. For mine, I just secured the ribbon with tape but you could always use a glue gun if you want it to look neater. Then I slid a tulip through the napkin ring and I was done.
*Entertaining tip – If you plan to keep the table set for several hours before guests arrive, add the tulip at the last minute…or just go with an artificial one for the place settings. That way you won't have to worry about droopy flowers. By the way, won't it be nice to have guests again in the future?…
If you like these DIY napkin rings, be sure to check out my easy DIY napkin rings. Yes, the burlap may look familiar! And speaking of burlap, I toned down the pink on the table by anchoring the centerpiece with my burlap table runner. If you've visited my blog before, it will look familiar. Such a versatile accessory…
White Dishes for Spring:
Speaking of versatile, you can't go wrong with white dishes. Mine are a plain white porcelain and they go with everything. For this Easter table setting, the white really stands out against all the pink.
Also, I like the way the white dishes coordinate with the candles, white pitcher and the ceramic bunnies. Each year, I find different ways to decorate with those bunnies. Since they're so plain and simple, they coordinate with everything. Overall, they add to the fresh and clean look for spring.
Sure, Easter is still a few weeks away but now I have a plan to set my table. Most likely, it will just be the four of us again this year but it's still fun to decorate for the holiday!
Hopefully, I've given you some ideas to use when you set your Easter table!
Shop the Look to Set Your Table:
Once again, thank you to Chloe from Celebrate and Decorate for hosting. Also, please visit the rest of the participants on the blog hop from the list below.
If you're following along in order, The Painted Apron is next! I know you're going to love Jenna's pretty table!