Easy Thanksgiving Vignettes You Can Do in Minutes
Happy Weekend and welcome to the Saturday Spotlight! This week, let's talk about Thanksgiving decor. If you're like me, you don't decorate for Christmas until the day after Thanksgiving. Since we all know Christmas decorating can be quite a project, I like to keep it simple for Thanksgiving. Here are some easy Thanksgiving vignettes and decorations you can do in minutes…
*For your convenience, please note that this post may contain affiliate links. If you make a purchase after clicking my links below, I will receive a small commission (at no additional cost to you).
Easy Thanksgiving Vignettes You Can Do in Minutes:
Sure, you might have your Thanksgiving dinner menu planned, but have you done any Thanksgiving decorating?
Here are some simple ideas to try…
Easy Thanksgiving Vignettes with Trays:
Decorate a tray with fall items…
When creating an easy Thanksgiving vignette, a tray is a great place to start. Just gather up a few fall decorations, add some height and texture with a wheat bundle and place everything on a round tray. Usually, I keep a decorated tray on my kitchen island since we spend most of Thanksgiving Day in the kitchen.
Though sometimes kitchen vignettes can get in the way, so using a tray makes them easy to pick up and move. If you'd like to see more ways I've decorated with trays in the past, read How to Decorate with Round Trays.
Decorate a tray with a feathered turkey…
For a more obvious nod to Thanksgiving, add a cute turkey decoration to one of your trays. This late in the season, the stores might be sold out of the feathered turkeys but I've also seen some cute ceramic ones.
If your real pumpkins are past their prime by now, add a faux pumpkin or two. Actually, the little white pumpkin in that photo is real. I think the little pumpkins tend to last a bit longer.
Add a container of feathers for even more of a Thanksgiving vibe…
Instead of filling a vase with flowers, fill one with turkey feathers or pheasant feathers…whichever you can find.
In case you missed it, last week I shared a few more ways to decorate with feathers for Thanksgiving.
More Easy Thanksgiving Vignettes with Natural Elements:
Add a textured pumpkin to entertaining areas…
In our game room, I displayed a rustic pumpkin next to our chess board. After dinner, we sometimes play pool in this room so I like to add a few simple fall touches.
Fill a glass hurricane with hazelnuts…
Since you'll probably be heading to the grocery store anyway, pick up a bag of hazelnuts. Not only do they make great vase fillers, but they add some color and texture to your decor.
If you're thinking ahead to Christmas decorating, here are 7 Vase Filler Ideas for Christmas to inspire you!
Easy Thanksgiving Vignettes with Faux Flowers:
For a quick coffee table vignette, display a basket of faux sunflowers…
With the sun setting so early these days, the pop of color will help brighten up your living room.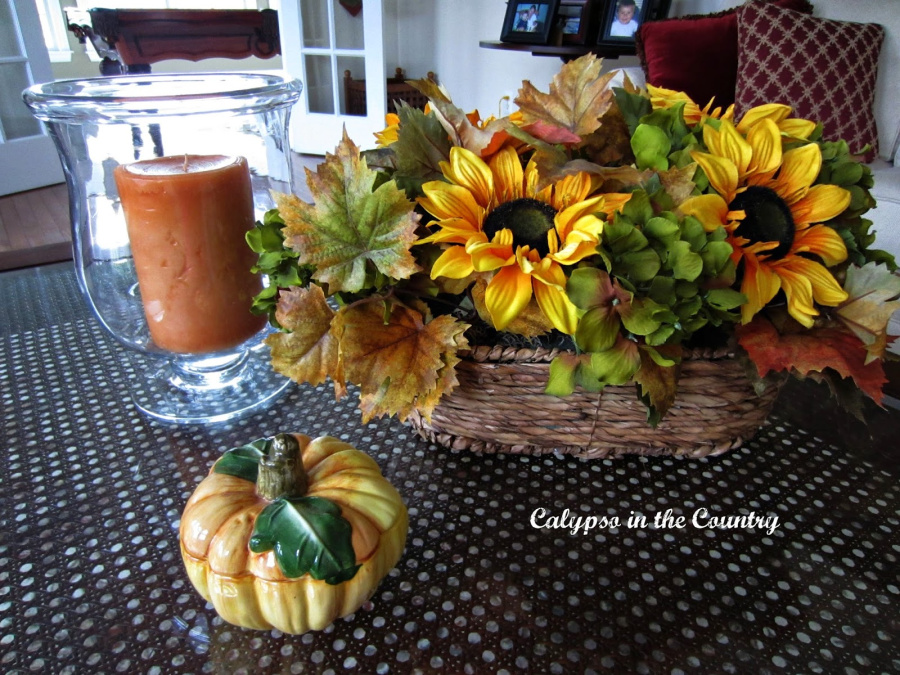 Over the years, I've used the sunflower basket several times. For instance, one year, I displayed them in the Foyer and one year on a Thanksgiving table setting. For more ways to decorate with sunflowers, read Decorating with Sunflowers in the Fall – 7 Easy Ways.
If you want a traditional Thanksgiving look, decorate with a cornucopia…
After all, a cornucopia gives off a harvest vibe which is perfect for Thanksgiving. Plus, 'cornucopia' is a fun word to say!
Mix real and faux fall decorations…
One Thanksgiving, I combined some faux fall fruit with pinecones and a faux white pumpkin on a cake plate. Besides making a cute fall vignette, this could also work for a Thanksgiving centerpiece.
On the shelf below, I placed some live mums in a couple of apple baskets. To see more photos of my dining room, Thanksgiving table and kitchen decor from that year, read Warm and Cozy Thanksgiving at Home.
Shopping Finds to Create Easy Thanksgiving Vignettes:
Basically, just keep it simple so there's less to put away later…
To create a base for your Thanksgiving vignette, a wooden tray always looks nice…

Just to give you an idea of size, this one is 13 inches (not including the handles) and my (discontinued) one is about 16 inches not including handles.
As focal point for your Thanksgiving vignette, this pretty sign would really stand out.

This sign would look pretty in a centerpiece, on a shelf or even your mantel.
To design your own harvest themed vignette, start with a cornucopia basket…

When decorating with this basket, fill it with either real or faux vegetables.
For even more easy Thanksgiving vignettes, here are some finds from around the internet:
(Actually, some of these will take more than a 'few' minutes!)
Plus, here are a few more ideas to help you prepare for Thanksgiving:
Will you be creating any Thanksgiving vignettes this year?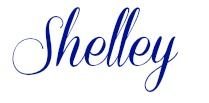 Follow along so you don't miss a post!
Subscribe by email – HERE
Pinterest/ Instagram / Facebook / Twitter