A Patriotic Tablescape on the Patio – Celebrate America!
Welcome friends! Now that summer is here, the 4th of July is just around the corner. If you are looking for patriotic decorating ideas, you have come to the right place! Today, I'm sharing my patriotic tablescape on the patio and I'm also joining a group of talented bloggers for a Patriotic Tablescape Blog Hop!
*Please note that this post contains affiliate links. If you make a purchase after clicking my links below, I will receive a small commission (at no additional cost to you).
Patriotic Tablescape on the Patio…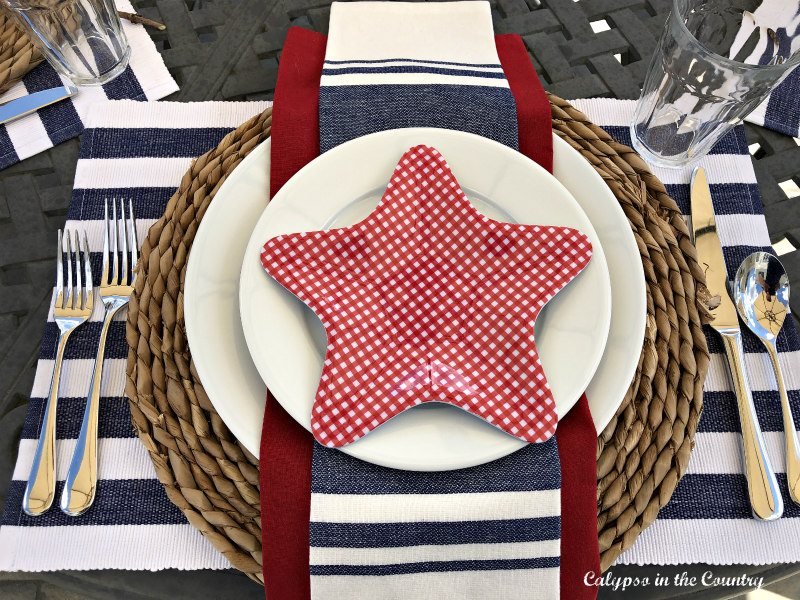 Before I go into detail about my table, I want to thank Chloe of Celebrate and Decorate and Andrea from Design Morsels for hosting this festive patriotic blog hop. Their beautiful tables are the first two stops on the tour so swing by to check them out. Please also be sure to visit the links at the end of this post to see all the gorgeous patriotic tablescapes from 21 bloggers!
If you are just arriving from White Arrows Home – Welcome! Kristin has also decorated an outdoor table and I am sure you loved what she created. I am always in awe of her decorating!
Now, let's continue with the details of my patriotic tablescape…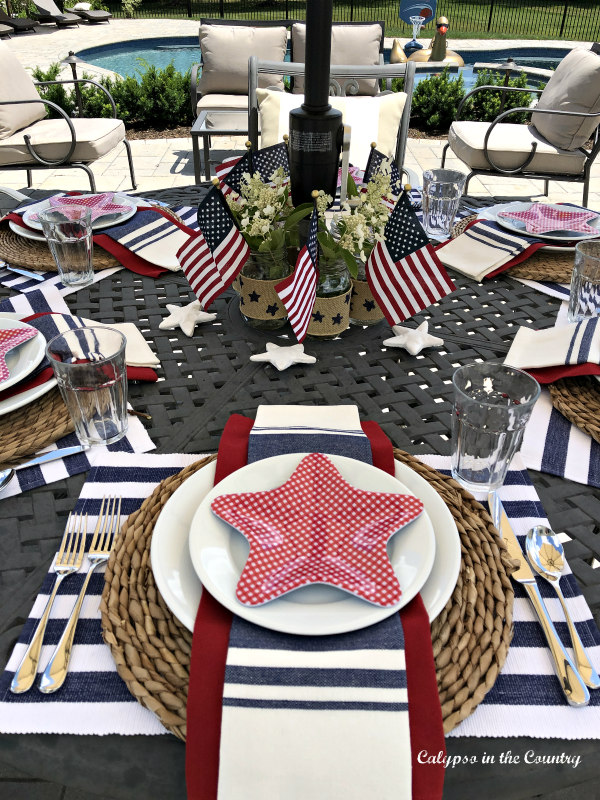 For my patriotic tablescape, I chose to decorate my patio table. After all, we've been spending so much time dining outdoors these days. Plus, if we do entertain, we'll be definitely be doing it outside.
Red White and Blue:
As you can see, I brought out all the red, white and blue to make my patio tablescape as festive as possible. I also mixed in some natural textures like the seagrass chargers and burlap in the centerpiece to keep it interesting.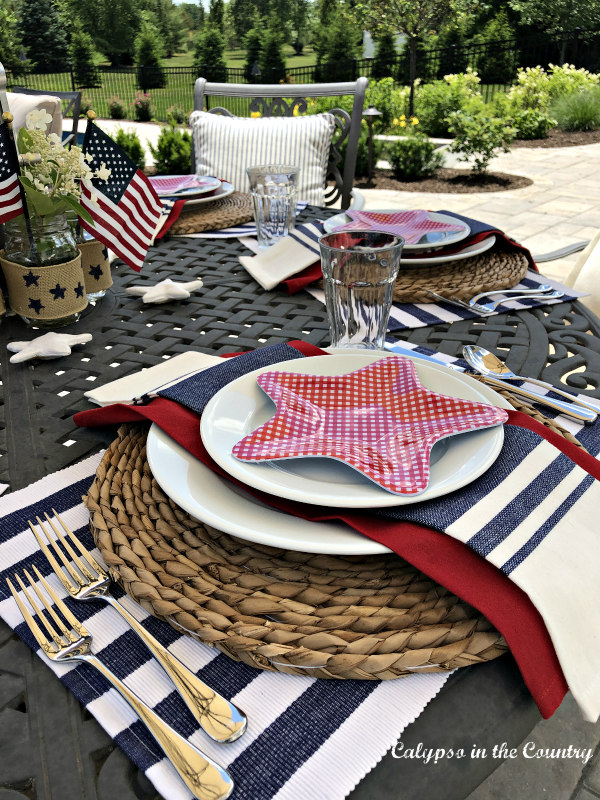 Stars and Stripes for a Patriotic Tablescape:
Using the flags as inspiration, I repeated the stripes in the napkins and placemats. I also repeated the stars with the red melamine plates on each setting. Then I stenciled navy stars on burlap for the centerpiece and scattered white stars around the perimeter. (Recently, I made those white stars out of dough for my patriotic baseball themed table.)
Funny story on the stenciled stars…Since I've been keeping my trips to the store to a minimum, I tried to work with things I have in my home. While looking for something that I could make into a stencil, I walked past my Keurig coffee machine and noticed that the metal drip tray has a star in the middle! The star was the perfect size so I lifted off the tray, grabbed some navy craft paint and added the stars to each strip of burlap! On a recent blog post, I shared this "craft" along with a couple other budget DIY ideas for the 4th of July.
Flowers from the Yard:
Like I said, I didn't want to make an extra trip to the store, so I snipped some flowers from my yard for the centerpiece. As you can see, my hydrangeas having only started blooming so the centerpiece isn't as full as I'd like. Let's just imagine what it will look like with big fluffy hydrangeas! Though, I guess I could have decorated with my artificial hydrangeas. Hopefully, by the time the 4th of July gets here, my hydrangeas will be in full bloom so my centerpiece can be a little more substantial.
Either way, I managed to somewhat disguise the umbrella pole in the middle of the table with this cluster of mason jar "vases". I always have the hardest time with centerpieces for my patio table…and since our backyard gets full sun, we have to use an umbrella.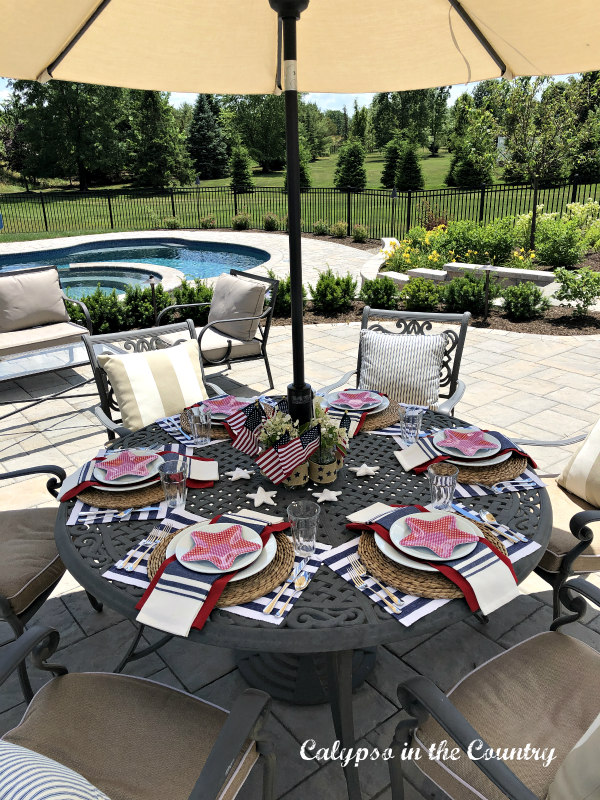 Now, that my patriotic tablescape on the patio is complete, I guess we're ready to celebrate the 4th of July!
I hope I've given you some patriotic decorating ideas for your outdoor table. Enjoy all your alfresco dining and these lovely summer days!
Sources for a Patriotic Tablescape on the Patio:
Once again, thank you to Chloe from Celebrate and Decorate and Andrea from Design Morsels for hosting! Your next stop on our tour is Panoply. Be sure to pop over to see her beautiful table!
Please also visit the rest of the participants on the Patriotic Tablescape Blog Hop from the list below…
Will you be decorating a patriotic tablescape this summer?
Follow along so you don't miss a post!
Subscribe by email – HERE
Pinterest/ Instagram / Facebook / Twitter