My New White Kitchen Reveal (and Links to All the Renovation Details)
After months of planning and renovating, I present…my new white kitchen reveal!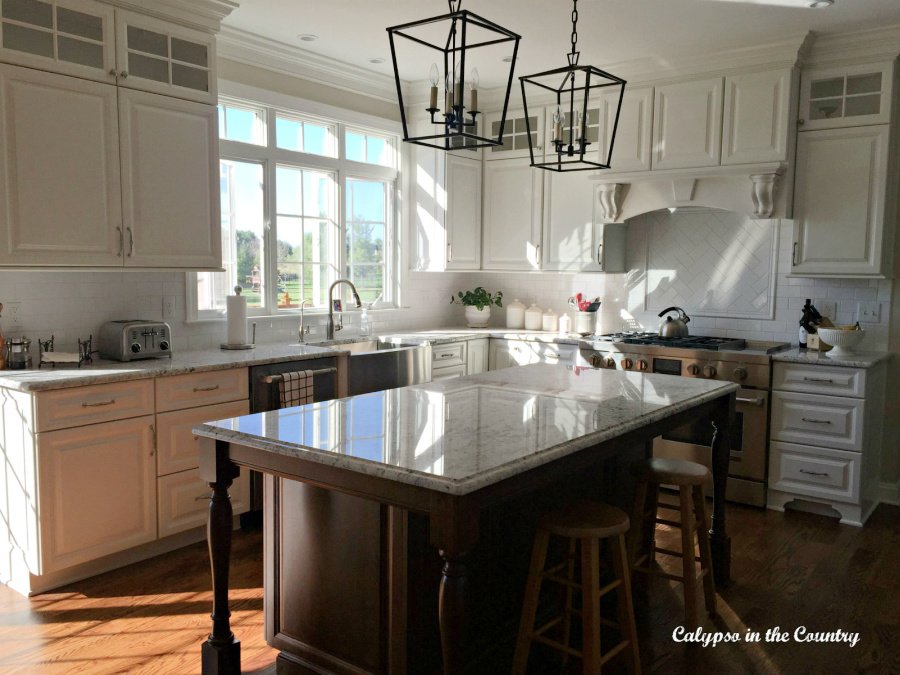 We've been in our home for 16 years and decided it was time for an update.
In case you haven't seen the old kitchen, here is what it looked like before:
This is that same kitchen angle now:
Seriously, I am still pinching myself each morning I walk in here!
I will give you a before and after of each angle in my next post.
For now, I'll take you around the room starting with my big splurge, a 48 inch duel fuel range from Jenn Air.
Cooking on this thing has been a dream. Although, I haven't used the griddle on top yet because I am afraid it won't look shiny and new anymore. Even though my husband keeps telling everyone that I am never going to use it, I do plan to break it in one of these days once the novelty wears off…
After the stove-splurge, we kept our old refrigerator to save on some money.
It's a Kitchen Aid counter depth so it doesn't stick out too much. My contractor still has to add a molding piece above it which should hide the small space and give it a more built in look.
As you can see, I updated the lighting to include two pendants from Circa Lighting over the island.
These are the small Darlana pendants by Visual Comfort E.F. Chapman Collection. The chandelier is the Collins Chandelier from Pottery Barn.
The woman at the tile store suggested this herringbone pattern over the stove.
For some reason, I was hesitant about it in the beginning. Ironically, now it's one of my favorite things!
Speaking of favorite things, enlarging this window was one of our best decisions!
We get so much more light in here and it is no longer 'freakishly' too high!
For now we are using temporary counter stools. Since I haven't decided if I want backless or not, I am still shopping around.
This photo shows a close up of the granite. We chose White Ice after many agonizing trips to the granite suppliers.
Although, I would have loved marble, I had to be practical with 2 boys and a messy husband.
You can also see that we added under-cabinet lighting…another one of our best decisions.
I love having different lighting options in the evening and these light up the working space beautifully.
We also added lighting in the upper cabinets.
This is the view from the dining room.
And the view from the family room. I am also planning on replacing the kitchen table and chairs. I don't think I mentioned that to my husband yet…
This is our new view into the family room with our new stone fireplace. I still need to buy an area rug for that room. Too many decisions to make lately…
Although I loved the baker's rack that used to stand in this place, I am excited about using this new entertainment area.
We need to plan some parties!
Rosie always loves having guests!
Thanks for stopping by to see my new white kitchen reveal!
UPDATE – Please be sure to stop by my newer post – Before and After Pictures from Every Angle to see more! And can also see that I finally purchased New Counter Stools!
And here is a breakdown of sources for my new white kitchen:
For details of the renovation, click any of the posts below:
Is it really done?…Pinch me!
Follow along so you don't miss a post!
Subscribe by email – HERE
Pinterest/ Instagram / Facebook / Twitter