7 Simple Ways to Decorate with Christmas Ornaments
Even though Christmas is rapidly approaching, many of us are still decorating! Yes, I'm one of them. In our home, we decorate at least two artificial Christmas trees and one real tree in the living room. That's where we open our presents Christmas morning and also where we hang all the sentimental family ornaments. Speaking of ornaments, today I'm sharing some ways to decorate with Christmas ornaments that don't even involve the Christmas tree.
*For your convenience, please note that this post contains affiliate links. If you make a purchase after clicking my links below, I will receive a small commission (at no additional cost to you).
7 Simple Ways to Decorate with Christmas Ornaments:
If you're short on time, these are some quick and easy ways to spread some holiday decor around the house…
1. Decorate a Tiered Tray with Christmas Ornaments:
Each year, I simply throw some greenery and a few ornaments on one of my tiered trays. Usually, I use plastic ornaments because they sometimes get knocked around. Sometimes, I place the tiered tray on my island for an easy island centerpiece.
Ever since I bought this cute wooden tiered tray, I have been using it to decorate my spot next to the Keurig. Even though we're not big coffee drinkers in my house, we do love our hot chocolate! This photo is from a previous year, but I just decorated the tray a little different this year.
2. Create a Centerpiece with Glass Christmas Ornaments:
How easy is this? Just grab a pretty bowl and fill it with glass Christmas ball ornaments to match your decor. Recently, I decorated my table for Christmas in the dining room so I used navy blue and red ornaments to coordinate. With the addition of a few pine cones and greenery, I was done!
One year, I decorated my kitchen table with a white ceramic village down the center of the table…
Then to add some color, I scattered around a few red Christmas ornaments. It was just the extra punch of color I needed.
3. Decorate Your Christmas Place Settings with Christmas Ornaments: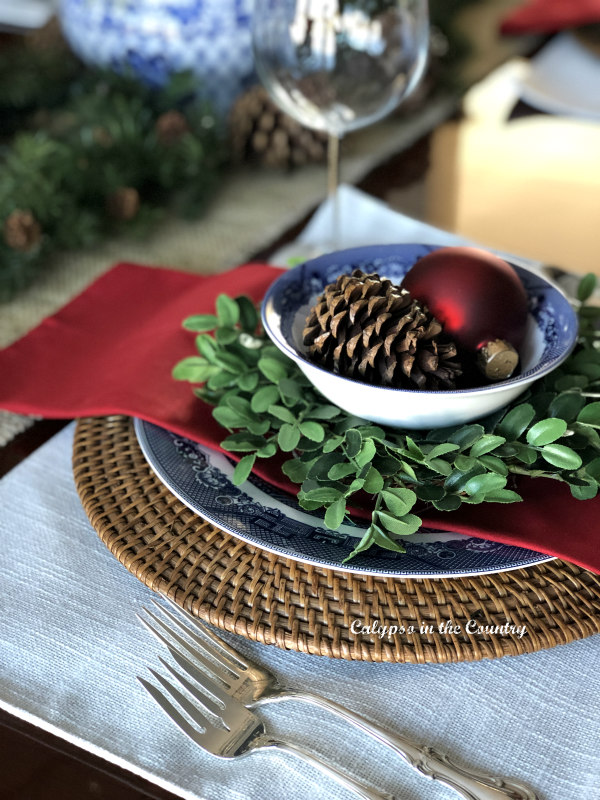 Once again, I decorated with Christmas ornaments on my table…but this time on the place settings. Well, I guess I'm not the only one who liked how it turned out because my Christmas Table in a Navy Dining Room blog post has been one of my most popular!
4. Fill a Tray or Container with Christmas Decorations: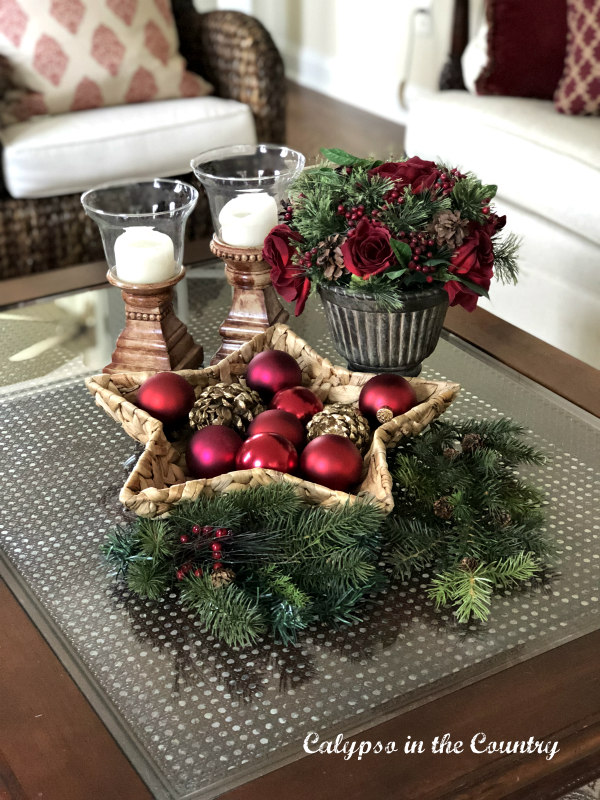 Yes, another super-easy way to decorate with Christmas ornaments around the house. I picked up the star basket years ago at Pier One and have probably used it every Christmas in one spot or another. I've even filled it with apples for the 4th of July! But for Christmas, I usually just throw in a few ornaments and pine cones.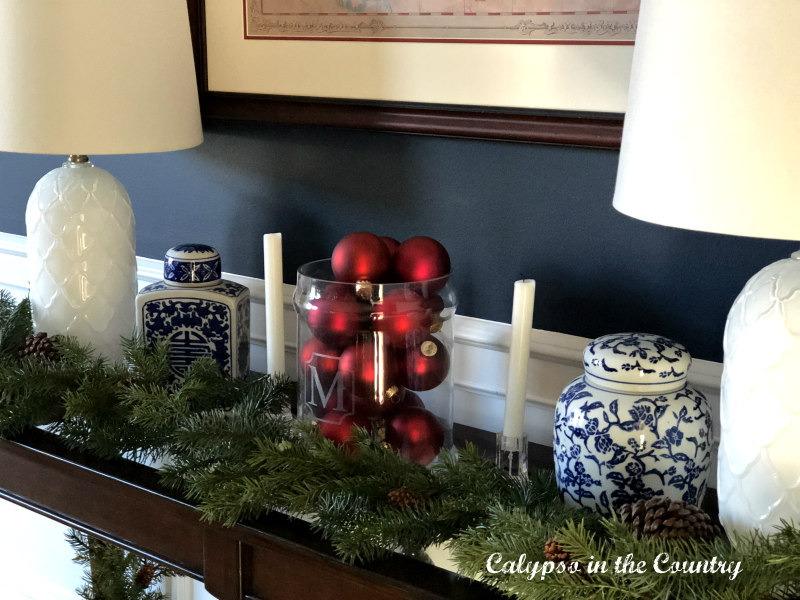 One year, my husband bought me a few glass bathroom containers but I didn't have any use for the largest one in my bathroom. So, I decided to bring it downstairs and fill it with Christmas ornaments. Around the holidays, I'm always looking for pretty containers so this one worked out perfectly.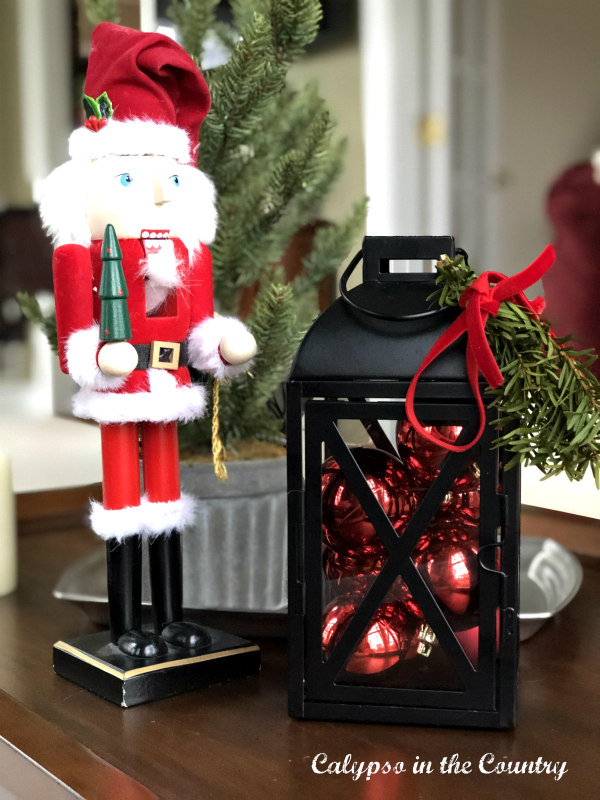 Of course, lanterns work great too! When I fill lanterns, I usually try to use plastic Christmas ornaments because when you open the door, they all roll out. Believe me, I found out the hard way. Though, I guess if you're careful, you could use glass…
5. Add some Christmas Decorations to Your Wall Shelves: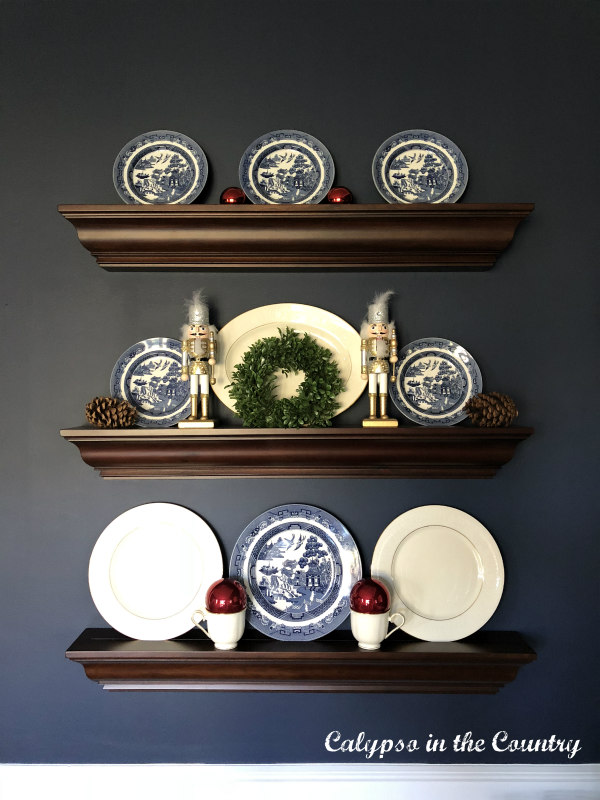 When you need a pop of color on a shelf, just add a few red ornaments. Once again, if the ornaments are in a place where they can roll, go with plastic ornaments. Do I sound paranoid about broken ornaments or what? Ha!
6. Hang Plastic Christmas Decorations in a Window:
Now, if you're going to go with plastic ornaments anywhere, this is the place to do it! This year, I hung simple plastic red ornaments in my kitchen window and I love how they turned out. It's definitely a super easy and creative way to display ornaments. If you want to see how I decorated the whole kitchen this year, swing by this blog post – Christmas Kitchen Decorating Ideas.
7. Decorate Outside by Adding Greenery and Decorations to an Urn:
Since we always have extra pieces of fresh greenery from our Christmas tree, I like to add them to my urns outside. Usually, I throw in some faux stems along with a couple Christmas ornaments as well. It's an easy way to decorate for Christmas outdoors and adds a nice welcome to the garage area.
By the way, I took this photo in a prior year because it hasn't snowed that much yet. But…tomorrow we are expecting 12-18 inches of snow in New Jersey! Needless to say, my boys are thrilled and I am too. The first big snow of the season is always so exciting…and it looks like it will be a big one!
Thanks for stopping by to see how I decorate with Christmas ornaments around the house.
Hopefully, I gave you some quick decorating ideas you can use in your home!
Shop the Look:

What ways have you decorated with Christmas ornaments?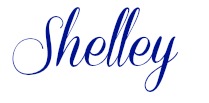 Follow along so you don't miss a post!
Subscribe by email – HERE
Pinterest/ Instagram / Facebook / Twitter