Easy Kitchen Window Sill Decorating Ideas for Every Season
Hello friends! Welcome to the Saturday Spotlight, where each week, I like to highlight a different theme or topic to inspire you. Today, I thought I'd share some easy kitchen window sill decorating ideas…for every season!
*For your convenience, please note that this post contains affiliate links. If you make a purchase after clicking my links below, I will receive a small commission (at no additional cost to you).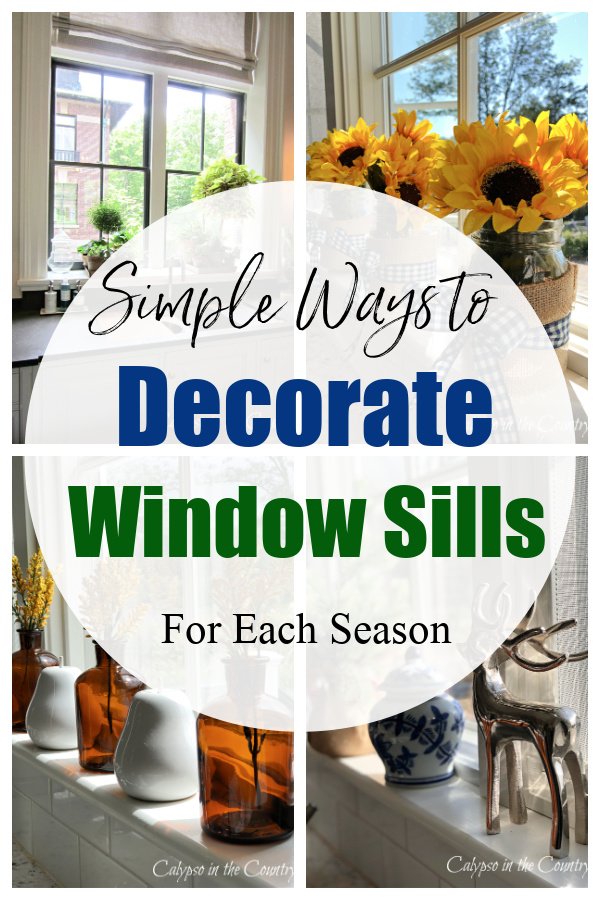 Kitchen Window Sill Decorating Ideas for Any Season:
Do you have a window above your kitchen sink? Depending on the size of your window sill, there's a variety of decorative items you could display there.
For everyday, you could decorate with an herb garden or small plants. After all, why not take advantage of all the natural light?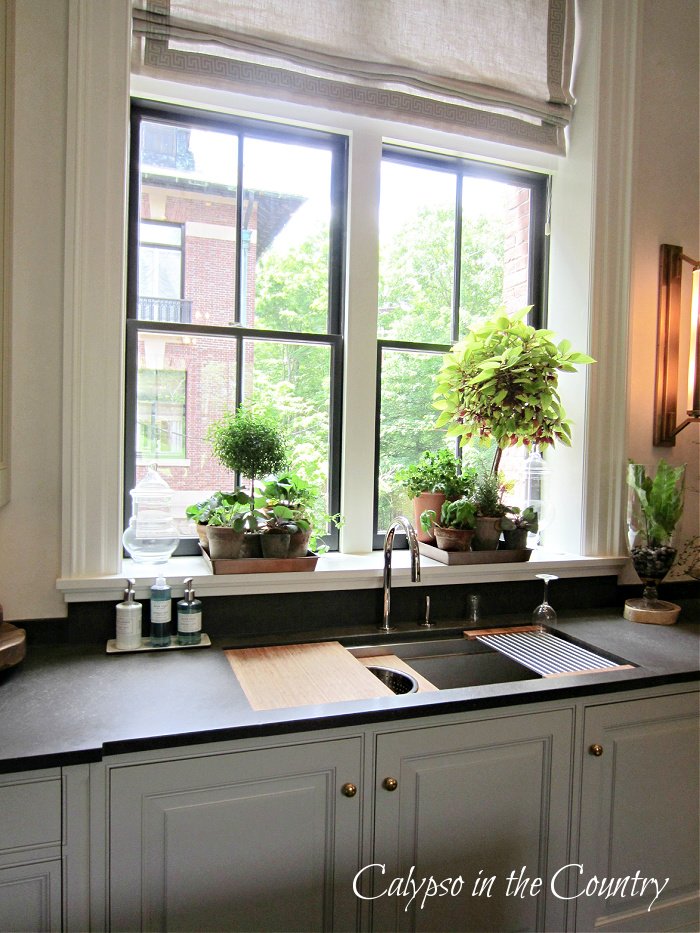 As you can see, this kitchen from a designer showhouse has a nice wide window ledge. Here, they grouped a bunch of plants in terra cotta pots into two square trays. What a practical and clever idea for decorating. Plus, the trays are the perfect size for the window sill.
In another showhouse, the designer had to work with narrow window sills. What a creative idea to fill the entire window space with tall topiaries! These green plants make beautiful focal points without blocking the natural light or the view. In addition, the greenery balances out all the bright colors of this beautiful blue kitchen.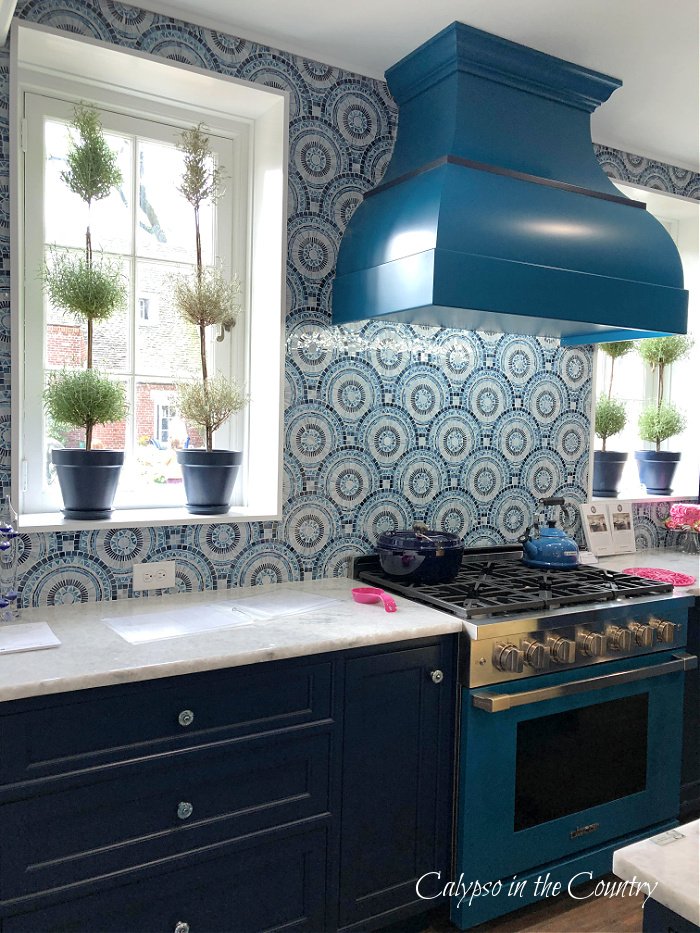 As I mentioned, this kitchen was one of the spaces in a designer showhouse. Apparently, I still need to write a blog post to give you a full tour!
Though not a kitchen window sill, here is another window from that same house. From the chipped paint on the window frame and the wide window sill, you can tell it's an older home. Since this window sill has so much character on it's own, a glass vase with some greenery is all they needed.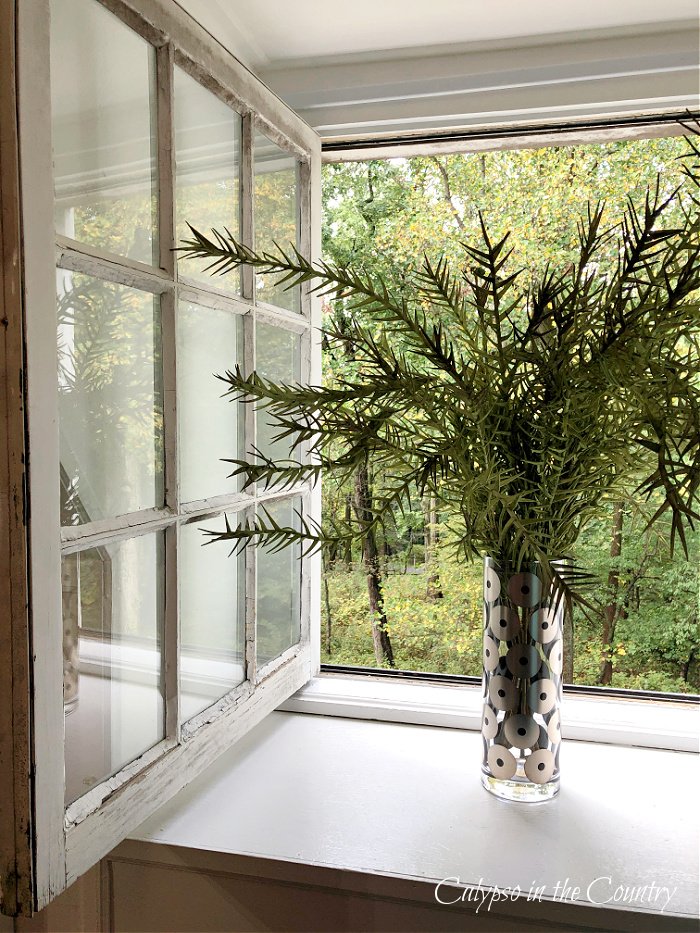 Actually, you could recreate this look so easily with almost any type of greenery. Either, you could cut some branches from your yard or you could fill a vase with your favorite faux stems.
Here are a few more items you could use for everyday kitchen window sill decorating:
Pictures frames
Candles (go with battery operated if you have window treatments)
Pretty teacups
Blue and white porcelain or any other collection
Kitchen Window Sill Decorating Ideas for Spring or Summer:
Freshen up your window sill when the seasons change. Tall, potted daffodils fill the window space and look so cheerful for spring!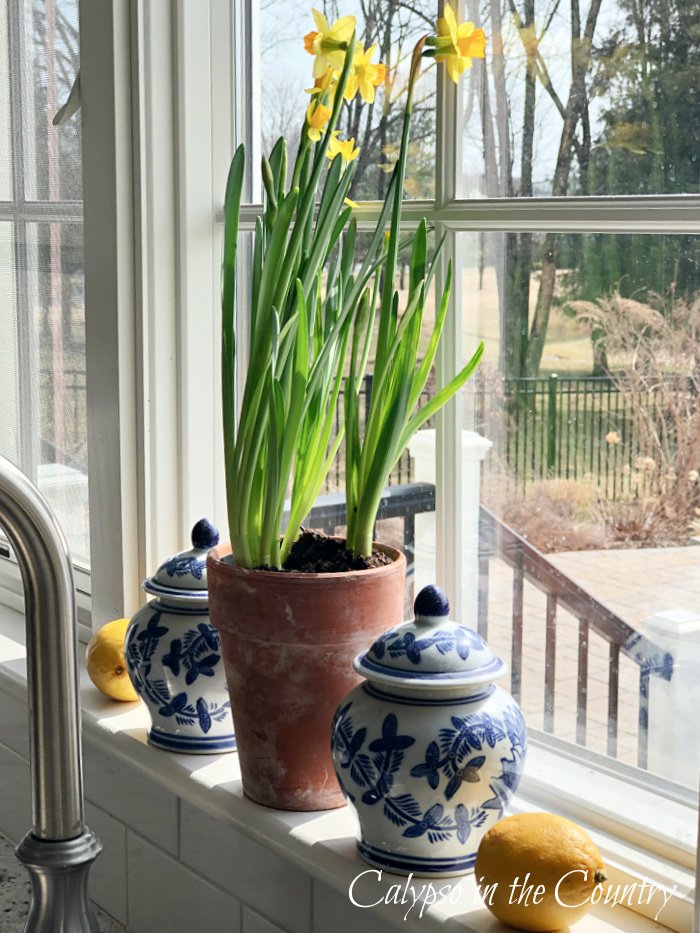 For my spring window, I also added color with some lemons and my blue and white ginger jars.
Cut some flowers from your yard to bring the outside in. If you don't have any flower bushes, head to the grocery store for some inexpensive flowers. Decorating in odd numbers creates interest, so fill three vases with flowers and line them up on your window sill.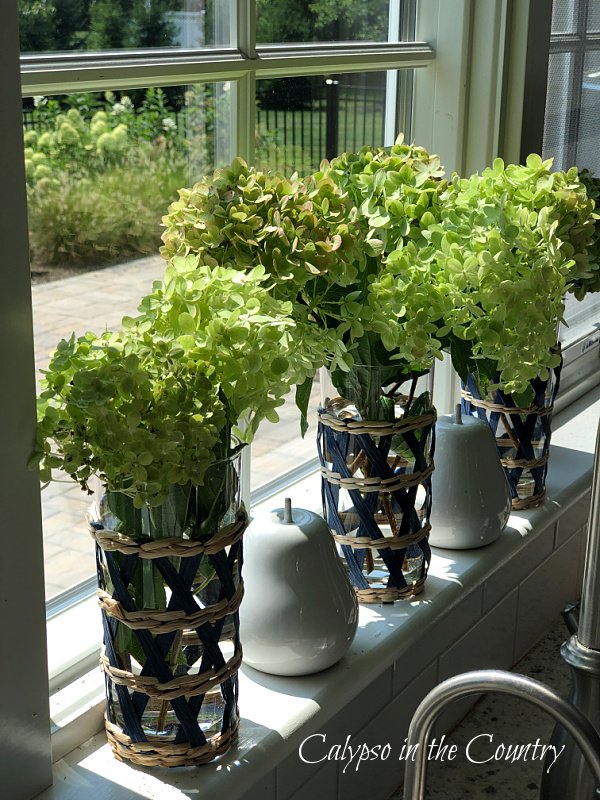 Late Summer/Early Fall Decor Ideas for the Kitchen
For my "vases", I actually used my seagrass wrapped glasses. Not only do they add texture, but they have a coastal summer vibe. If your window sill is narrow, you might have to get creative with your vases so they fit.
Additional ideas for spring and summer:
Line up some large shells across your windowsill
Fill vases with small flags for the 4th of July
Kitchen Window Sill Decorating Ideas for Fall:
For fall, it's easy to get creative with windowsill decorations. This year, I displayed sunflowers in burlap wrapped mason jars. Once again, I used the rule of three for a visually appealing look.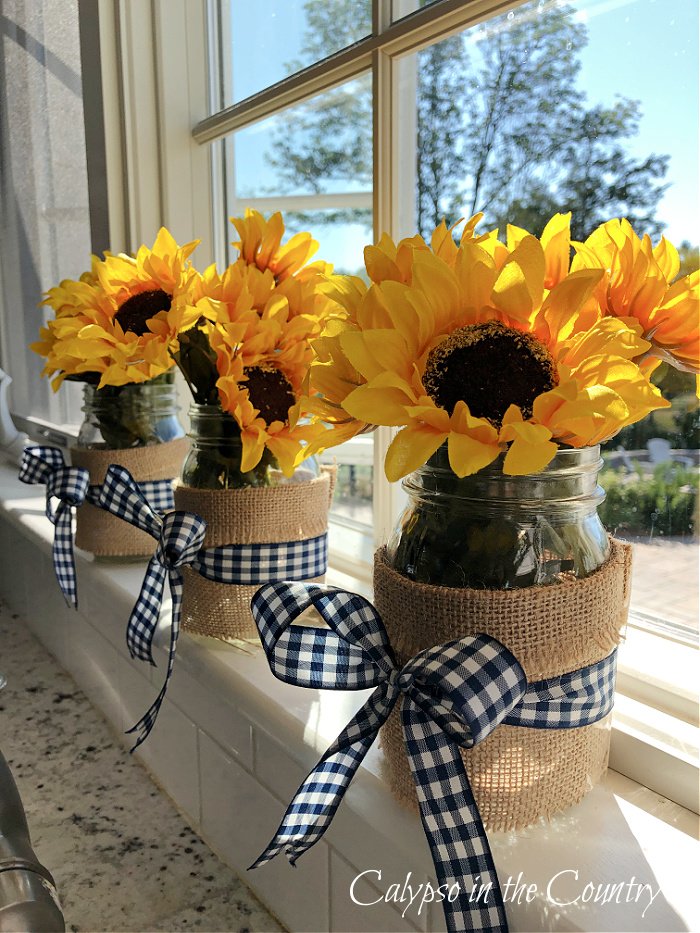 Decorating with Sunflowers – 7 Easy Ways
If your window sill is narrow like mine, go super-simple with a few real (or faux) apples. And if you get hungry while at the kitchen sink, you have a snack right in front of you! Haha!
To embrace the fall colors, decorate with some colored glass. Here, I just added some golden fall stems to my amber glass bottles. With all the natural light, the bottles take on a nice glow.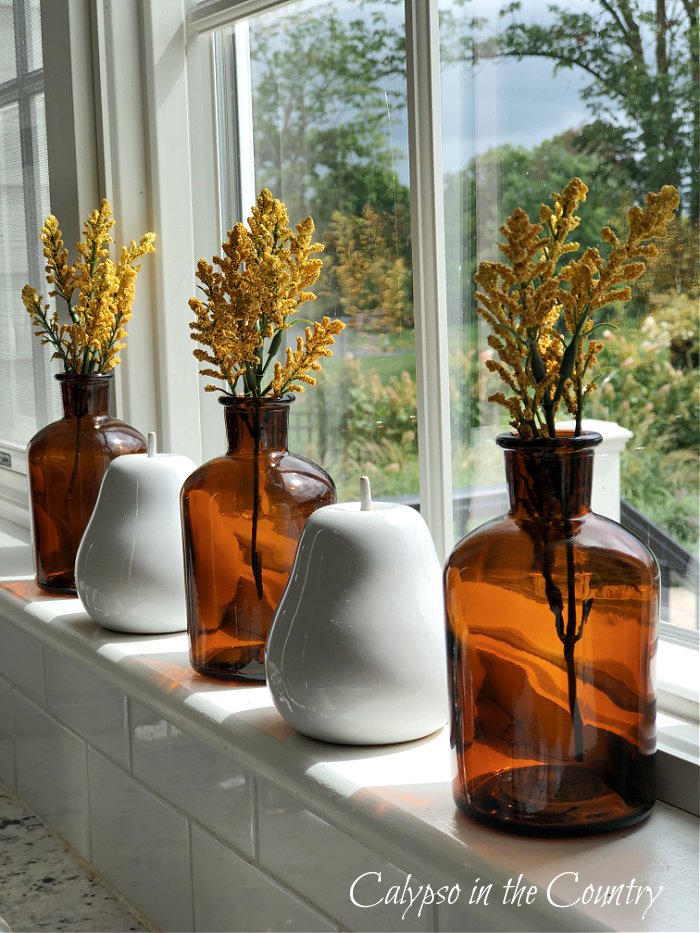 Neutral Fall Decor Ideas for the Home
Here are some more items you could use on your window sill in the fall:
Gourds in various colors
Mini pumpkins – all white, all orange or a mixture of both
This week, I shared some outdoor decorating ideas for fall which included some pretty exterior window sills and ledges. Be sure to check those out for some fall inspiration!
Kitchen Window Sill Decorating Ideas for Winter:

Once winter arrives, there are a bunch of ways you could decorate your kitchen window sill. After all, many of us are decorating for Christmas anyway…so it's easy to get creative.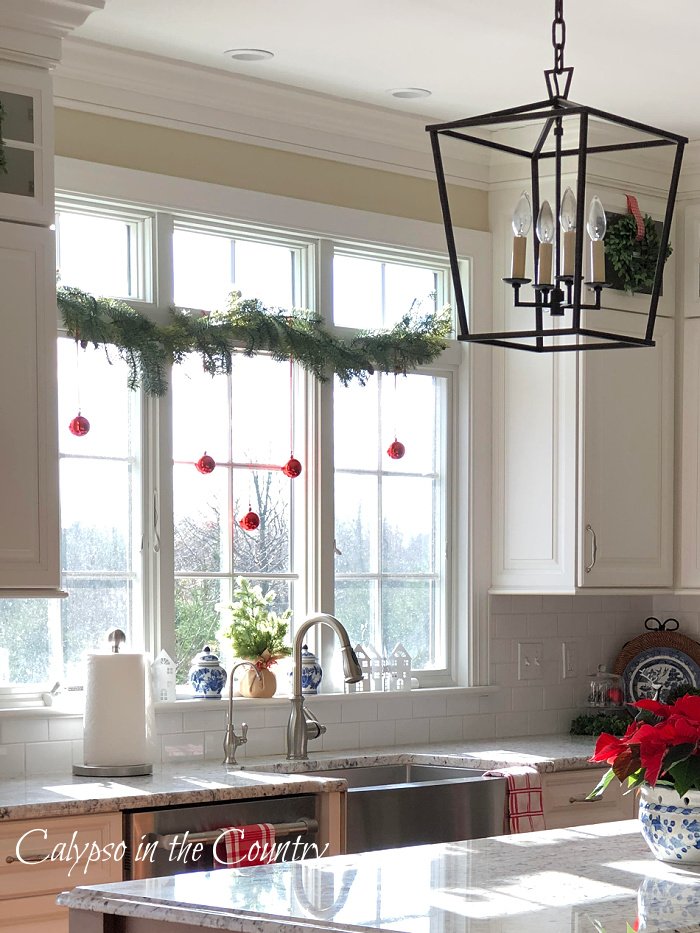 Christmas Kitchen Decorating Ideas
To make things simple, just coordinate your window sill with the rest of the kitchen. You can mix in some Christmas decor with your everyday items (like blue and white porcelain).
And you can't go wrong with mini trees and reindeer…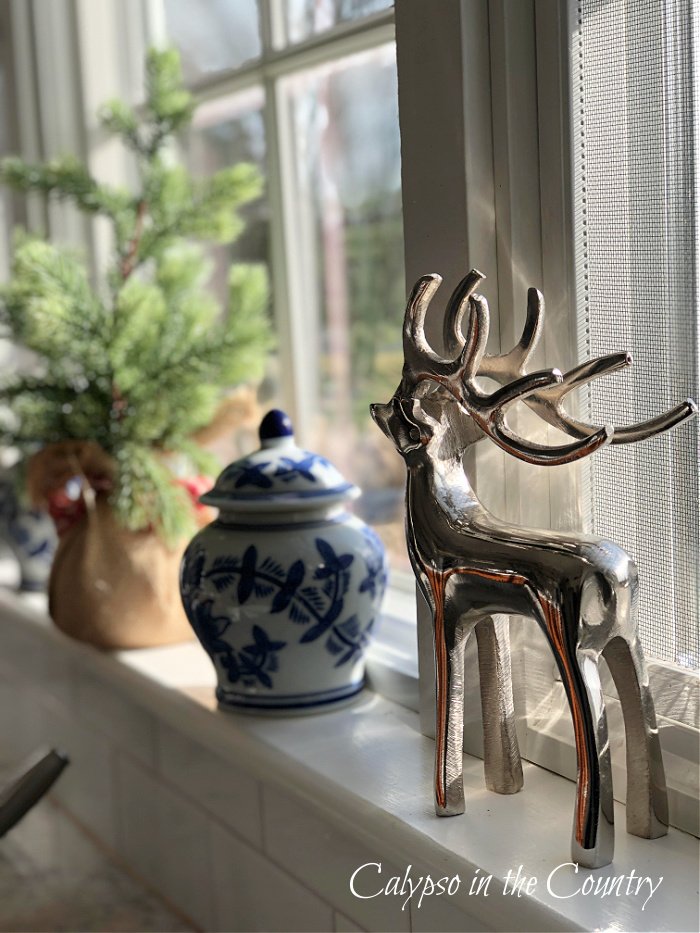 Classic and Cozy Christmas House Tour
Or, just keep it simple and line your window sill with pine cones. There, you're done!
Additional Ideas for Winter Kitchen Window Sills:
Shopping Finds For a Kitchen Window Sill:
If you're like me and you don't have a green thumb, this set of faux topiaries are a great substitute for live plants. Wouldn't they look cute all lined up on a kitchen window sill?

This year, I'm seeing a lot of people decorating with colored glass like I shared above. Here are my exact amber glass vases if you're interested.

If you like my seagrass covered glasses, my exact ones aren't available online anymore. Though, these seagrass wrapped glasses are almost identical.

For even more kitchen window sill decorating ideas, here are some finds from around the internet:
As always, I hope I inspired you with all these kitchen window sill ideas!
Which of these kitchen window sill ideas is your favorite?
Follow along so you don't miss a post!
Subscribe by email – HERE
Pinterest/ Instagram / Facebook / Twitter