Neutral Fall Decor Ideas for the Home (Cozy Inspiration)
Welcome friends! Can you believe fall is almost officially here?!! To celebrate, I've joined a group of talented bloggers for our 2022 Fall Home Tours hosted by the wonderful, Marty of A Stroll Thru Life. This week, you're going to have the opportunity to visit 28 homes for tons of fall decorating ideas! At the bottom of this blog post, you can see the full line up. Be sure to stop back each day so you don't miss any. For my contribution, I hope to inspire you with my neutral fall decor ideas for the home!
*For your convenience, please note that this post contains affiliate links. If you make a purchase after clicking my links below, I will receive a small commission (at no additional cost to you).
Fall Home Tours:
Decorating Ideas from 28 Home Decor Bloggers…
Before we begin, I want to welcome those of you who are arriving from 11 Magnolia Lane! Amy and Christy are so talented so I'm sure you loved their fall tour!
When you're finished here, remember to visit the links at the end of this post to see all the beautiful fall decorating inspiration!
Let's get started with my neutral fall decor ideas for the home !
Today, we'll begin in the family room where I decorated my mantel with neutral fall colors…
Simple Neutral Decor on a Rustic Mantel:
Choosing a color scheme for fall…
If you read my blog regularly, you know that I usually decorate with more color. For some reason, neutrals just felt right this fall so I went in that direction. After all, the neutral colors fit right in with my stone fireplace and rustic wood mantel.
similar white pitcher / similar art prints / similar black mirror
Recently, I bought the framed fall art print and decided to use it as my starting off point. Keeping it simple, I just leaned my large black mirror with the art print against it. Then I filled a vase with faux stems to mimic the greenery in the artwork.
At first, I was going to add more accessories to the mantel but then decided to keep it clean and simple.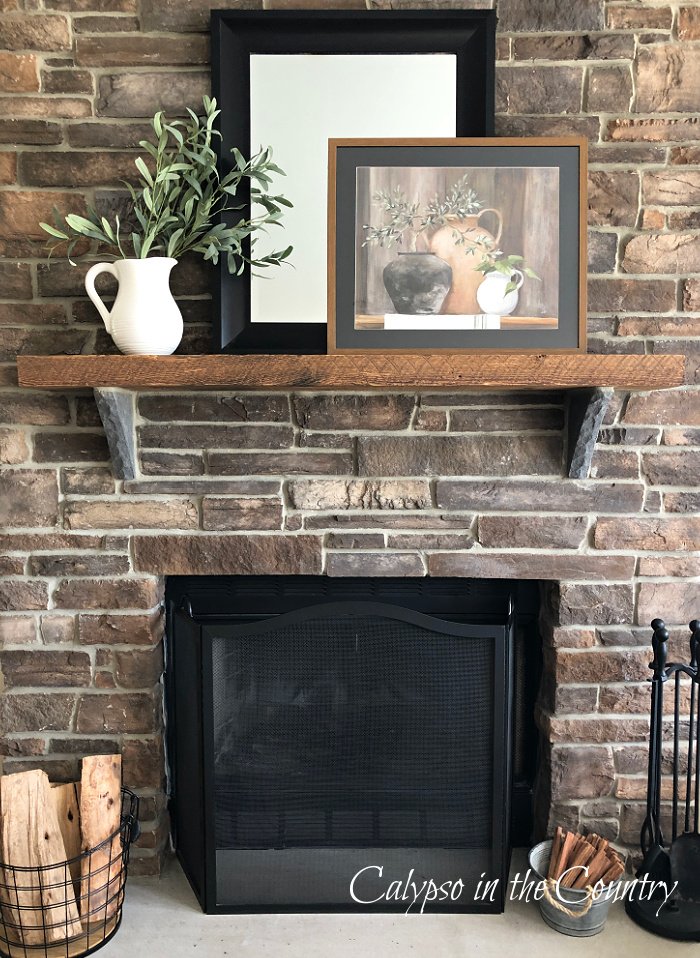 The natural textures in the wood on the hearth added to the rustic feel.
Neutral Fall Family Room Decor:
Continue the color palette…
Since I went with neutrals on the mantel, I carried those colors into the rest of the room. Of course, I didn't go as far as changing the rug, but did swap out some of my navy throw pillows. Also, I shopped my house and ended up switching my blue lamp for the black one.
exact coffee table / exact rug
Since my rustic coffee table already coordinated well with my fall color scheme, I just laid a throw blanket on top for some extra autumn coziness. Did you notice the window pane pattern in the throw blanket actually coordinates with the window pane pattern in my spindle chair?!…Totally not planned!
Then I added more textures to the coffee table with my rattan tray and some natural elements. Pampas grass is trendy this year so I added a small vase filled with some. Also, I filled a wooden dough bowl with wicker spheres to continue the layers of texture.
similar throw blanket / similar rattan tray
As I mentioned, I went with neutral pillows for the family room. Even though I haven't gone pumpkin crazy yet, I just bought the neutral pumpkin pillow on the chair. Since the design is so subtle, you might not even notice it.
Don't worry, I'll be bringing out more pumpkins once we officially change seasons! If you read my blog, you know I love decorating with white pumpkins!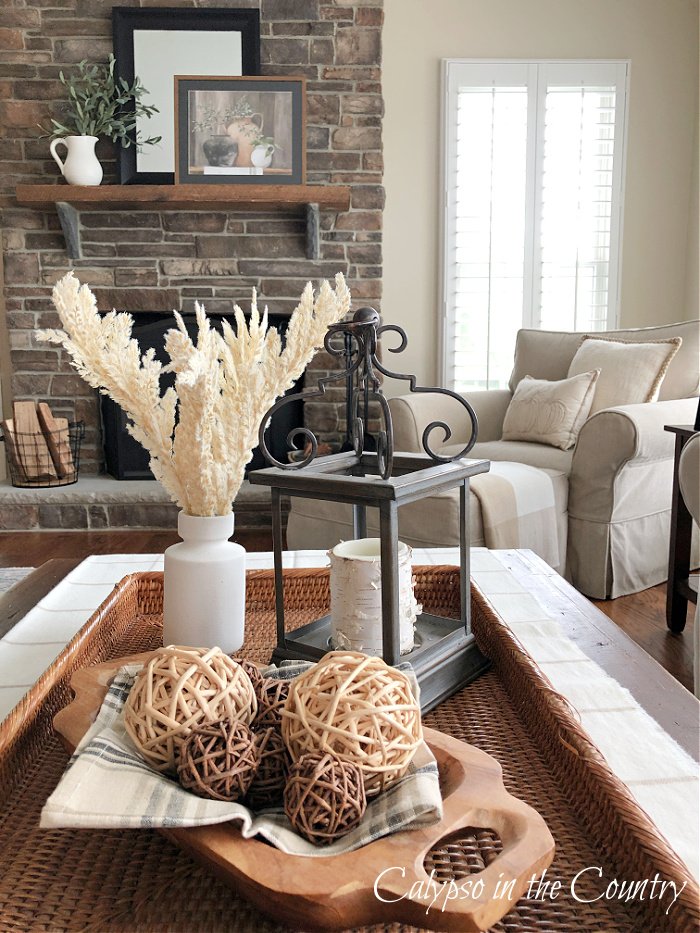 If you're looking for more coffee table ideas for fall, be sure to read – Fall Coffee Table Ideas (Easy and Stylish).
Neutral Fall Decor Ideas for the Home (The Kitchen):
Consider colors in nearby rooms…
Since my family room opens right into the kitchen, let's head in there to see my neutral decor. This fall, I took away most of my blue and replaced it with natural elements to go with the whole neutral vibe. Adding textures was pretty easy since I already have rush seats on my counter stools.
Since I'm always looking for an excuse to create a table setting, I pulled out the black and neutral decor. For extra coziness I placed a couple throw pillows to the chairs. These pillows are actually indoor outdoor pillows but the colors worked with the room. Actually, indoor outdoor pillows are great to use at a table because they clean up well…a helpful tip for a messy family!
Yes, I say this is neutral decor but I had to add a tiny bit of yellow to the table.
The neutral accessories needed something extra to liven them up. Plus, it gave me a reason to pull out my favorite amber glasses. Smoked and colored glass are really popular these days…but I'd love them whether they're popular or not!
similar amber glasses / similar table runner
With these neutral colors, you can easily transition this table from fall to Halloween. See how I used some of the same pieces and colors for a Halloween table setting in a previous year.
Some wheat and wooden candlesticks and amber vases subtlety dress up my stove mantel. To coordinate with the plaid on the table, I wrapped the candles in some checked wired ribbon. It's fun to add a little bit of pattern here and there.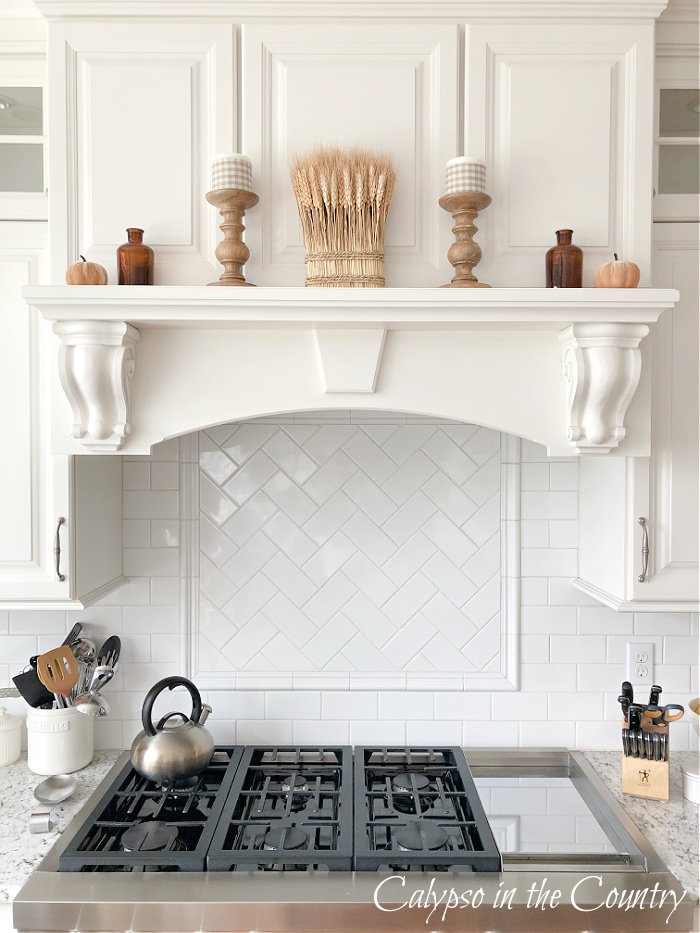 And not only did I add some brown/amber glass vases to my stove, but I placed a few in my windowsill. I'm just loving these for fall this year!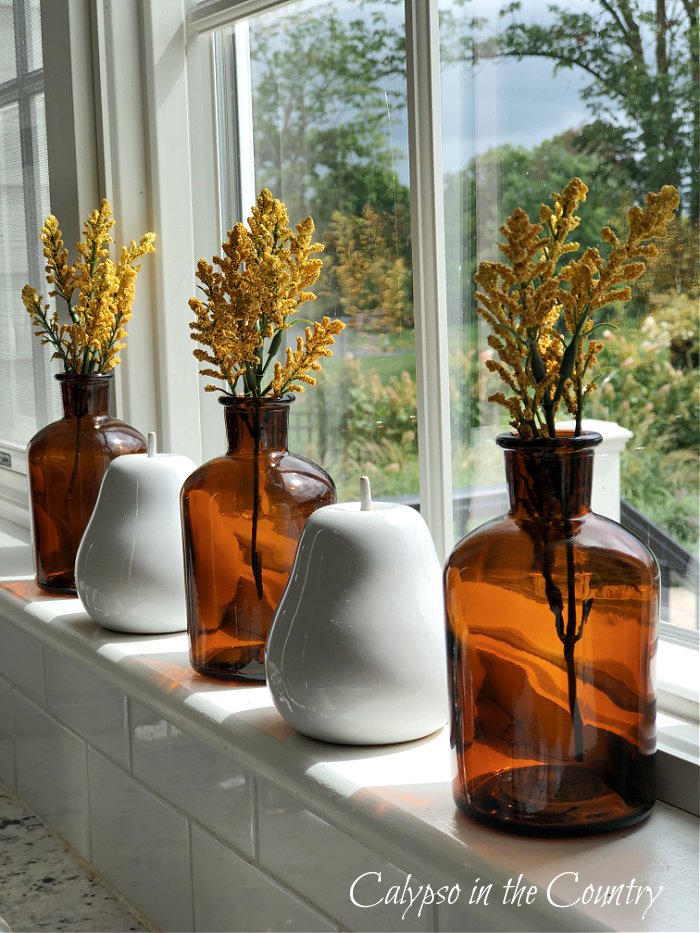 If you're looking for more ways to decorate your kitchen window, read Easy Kitchen Window Sill Decorating Ideas for Every Season.
And that brings us full circle to the view back into the fall family room!
Whether you're going with neutrals or traditional fall colors, I hope I've given you some ideas to decorate your home for fall!
If you'd like to see my 2023 Fall home tour, read – Simple Fall Aesthetic (Ideas to Decorate Your Home).
Neutral Fall Decor Idea Takeaways:
Choose your colors from artwork or an inspiration piece.
Carry the same colors through your rooms.
Swap out colored pillows for neutrals.
Drape some fluffy throws over your furniture.
Bring out the textures.
Wrap your candles in ribbon. (Only if you aren't lighting them…or just used battery operated.)
Don't "over" decorate…sometimes less is more!
Once again, thank you to Marty from A Stroll Thru Life for hosting! To take the full tour, you can start with her beautiful blog.
Or if you're following in order, County Road 407 is next in the line up. Cindy is sharing ways to create a warm and relaxed home for fall! She always has the prettiest ideas!
Also, please visit the rest of the participants on the blog hop from the list below!
Monday September 12 Lineup
A Stroll Thru Life – The Stonybrook House – StoneGable – Shiplap and Shells –
White Arrows Home – Clean and Scentsible.
Tuesday September 13 Lineup
Decor to Adore – Simply2Moms – 11 Magnolia Lane – Calypso in the Country –
Country Road 407 – Pink Peppermint Design
Wednesday September 14
Whispering Pines Homestead – Cuckoo4Design – Southern State of Mind –
This is Our Bliss – Thrifty and Chic
Thursday September 15
Our Southern Home – Southern Hospitality – Hymns and Verses – Worthing Court –
Southern Home and Hospitality – Remodelandolacasa
Friday September 16
Pasha is Home – CitrineLiving – Quarters One – Up to Date Interiors –
Follow along so you don't miss a post!
Subscribe by email – HERE
Pinterest/ Instagram / Facebook / Twitter