Decorating with Sunflowers in the Fall (7 Easy Ways)
Welcome friends! Have you started planning your fall decor yet? Well, if you're looking for ideas (and you love sunflowers), I have a treat for you! Today, I've joined a group of home decor bloggers for a Sunflowers in Bloom – Blog Hop hosted by Amber of Follow the Yellow Brick Home. She's the first stop on the blog hop and I'm sure your going to love her beautiful sunflower decor. For my stop on the hop, I'm sharing 7 easy ideas for decorating with sunflowers in the fall!
*For your convenience, please note that this post contains affiliate links. If you make a purchase after clicking my links below, I will receive a small commission (at no additional cost to you).
Sunflowers in Bloom Blog Hop: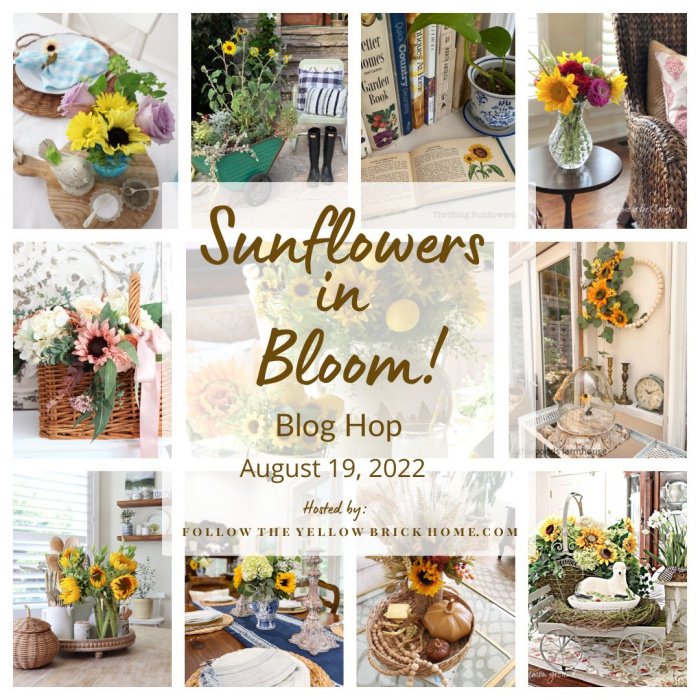 Before we begin, I want to welcome those of you who are arriving from The Crowned Goat! I'm sure you loved Coco's pink sunflower arrangement! Everything she does is beautiful!
At the end of this post, you can find a list of all the participants in the blog hop. Be sure to visit as many as you can for some creative sunflower ideas!
7 Easy Ways to Decorate with Sunflowers in the Fall:
Even though I'm still savoring every moment of the summer, I've started to add a few touches around the house to welcome fall. Since I consider sunflowers to be a late summer – early fall flower, I think they're perfect for transitioning us to the new season!
Here are some simple decorating ideas to try…
1 – Make a Colorful Bouquet with Sunflowers: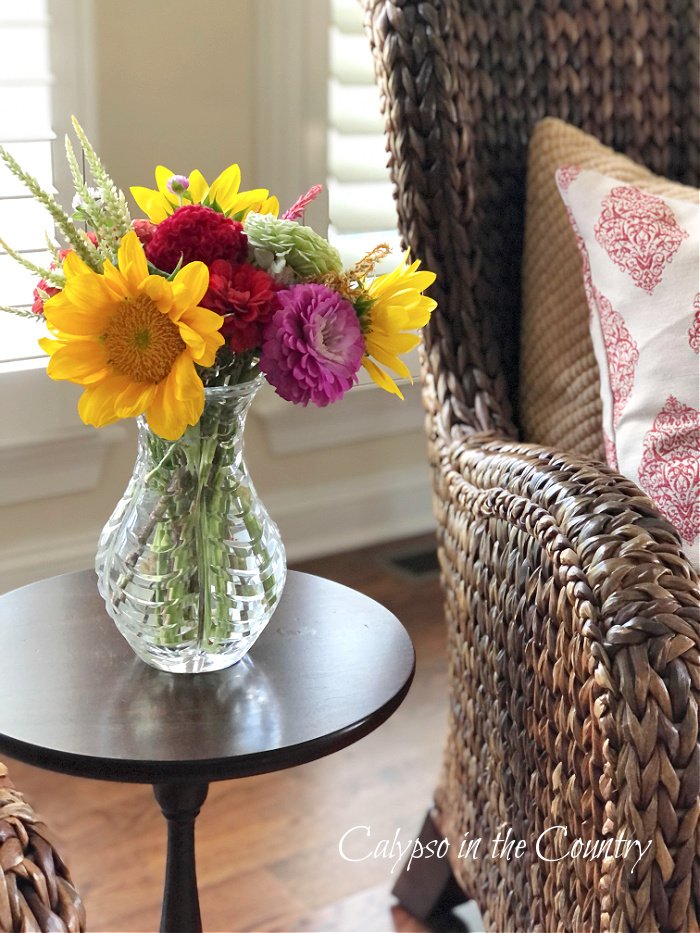 With sunflowers as a focal point, mix in some other late summer – early fall flowers. Place them in a pretty vase and you'll brighten up any room!
If you're not talented with flower arranging, grab a pre-made bouquet at your local grocery store. From what I've heard, Trader Joes has some pretty ones. I actually bought my mixed flower bouquet from a farm stand.
2 – Fill a Vase with Sunflowers for a Simple Centerpiece: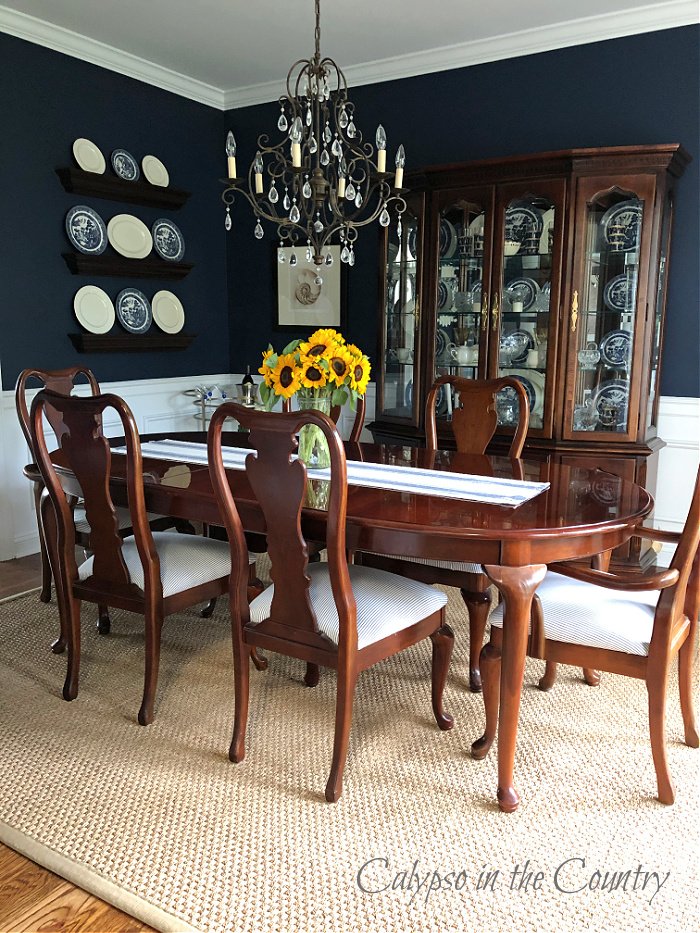 Liven up your dining room table with a bouquet of fresh sunflowers! They make the perfect everyday centerpiece.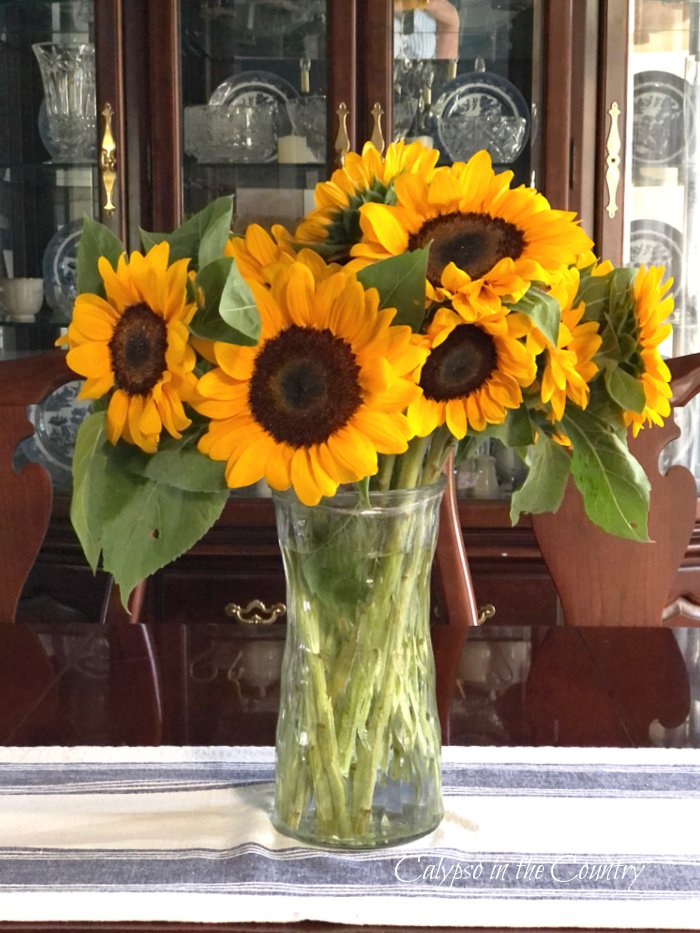 3- Create a Sunflower Themed Table Setting: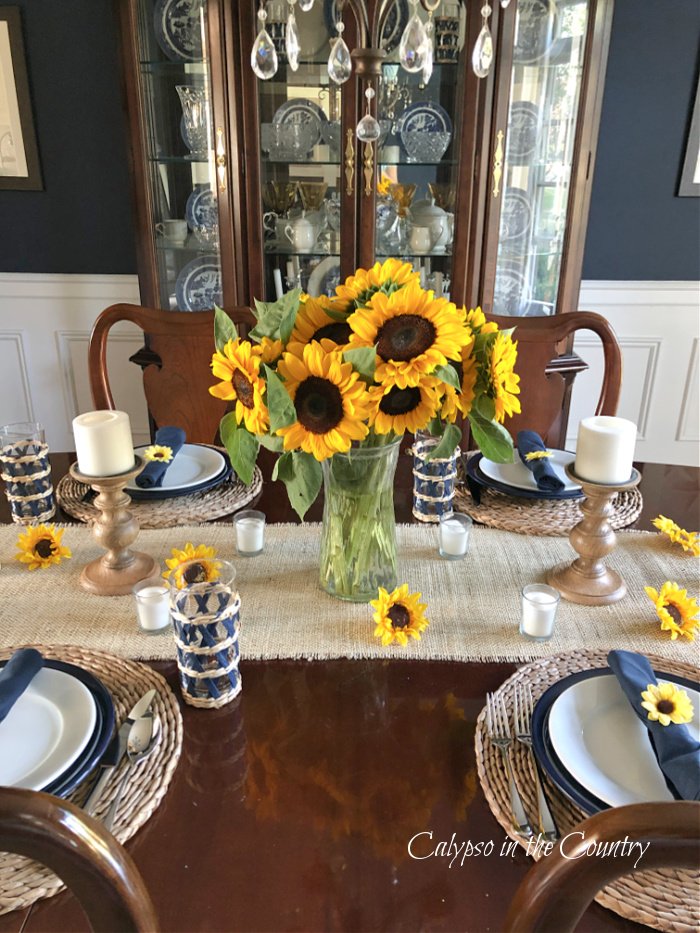 After enjoying the simple centerpiece for a day or two, I decided to create a tablescape around it! I know, I just can't help myself sometimes!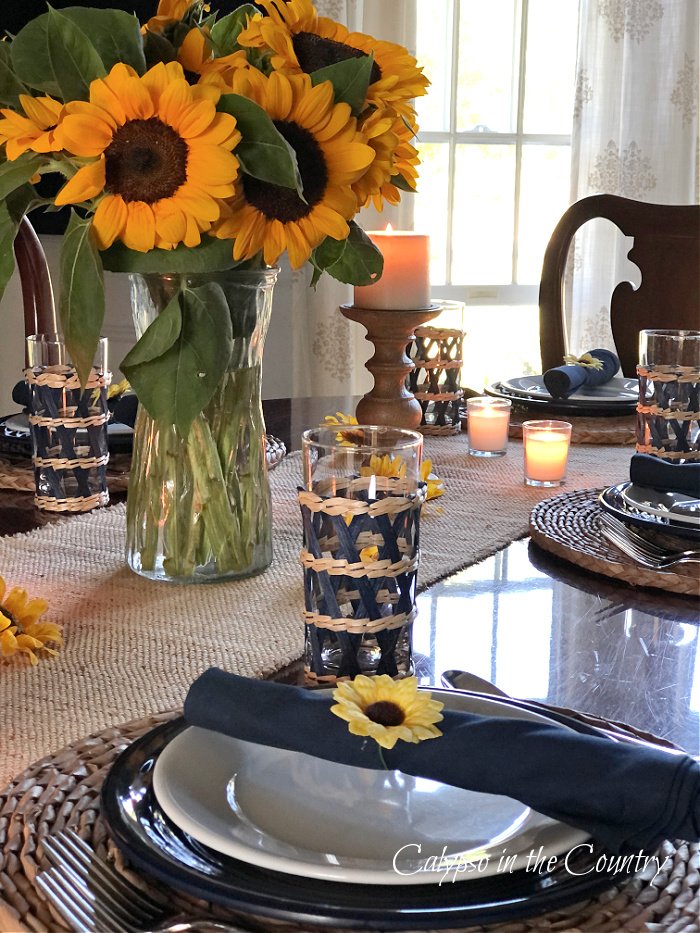 similar blue seagrass glassware / navy salad plates / exact flatware / exact white dishware / similar white dishware / similar seagrass chargers / exact wood candleholders / similar burlap table runner / inexpensive faux sunflowers / sunflower bundle
To create the table setting, I pulled out my blue and white accessories, added some textures and mixed in some faux sunflowers with the real ones. Those little "napkin rings" came in a packet of 6 for under $3.00!
4 – Line Your Windowsill with Sunflowers in Mason Jars: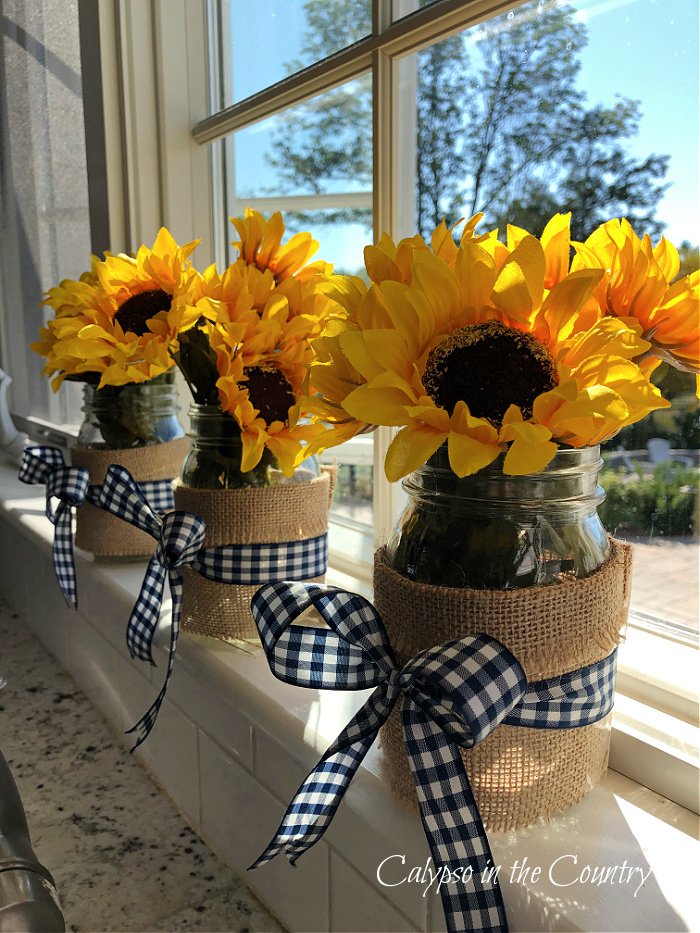 Mason jars are perfect containers to use if your going for a farmhouse vibe…which is great for a kitchen. To dress up my mason jars, I simply wrapped them with burlap and tied around a blue and white gingham bow. In my opinion, blue works for summer or fall. In the past, I've decorated with blue and white in the fall many times.
5 – Fill a Basket with Sunflowers:
Remember that centerpiece I displayed in the dining room? Well, I just took the whole vase and set it inside this basket for a whole new look. Sure, you could use faux sunflowers if you want but why not experiment? In the summer months, I like to decorate in front of my fireplace screen. The basket of sunflowers brightens up the dark and unused spot.
Baskets are a decorating staple in my home. This one actually has a hook on the back and I've hung it on my front door in the past. So versatile!
6 – Frame a Sunflower Photo: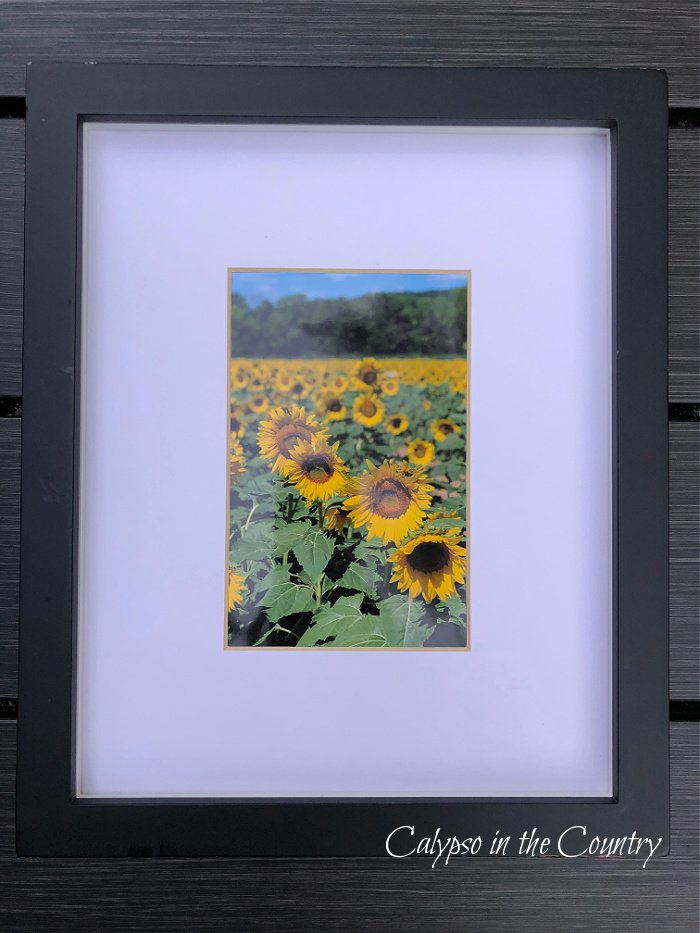 Instead of keeping all your photos on your phone forever, print them out and enjoy them! Last week, I visited a sunflower farm and took a bunch of photos. (You can see some of them on my Instagram reels). Then, I decided to frame a few for some instant artwork around my home.
7 – Get Creative and Paint Your Own Artwork…Or Cheat and Use the Waterlogue App:
If you're artistic, pull out the watercolors and paint away! But if you're like me, it's just easier to use the Waterlogue app on your phone and create "watercolors" from photos. Have you used the app before? It was all the rage a couple years ago. At one point, I even "made" my own artwork from some travel photos.
Thanks for stopping by! Hopefully, I've inspired you with my fall sunflower decorations!
Once again, thank you to Amber from Follow the Yellow Brick Home for hosting. Also, please visit the rest of the participants on the blog hop from the list below.
If you're following along in order, White Arrows Home is next. Kristin has more beautiful ideas for decorating with sunflowers from late summer to early fall. Enjoy!
You are invited to the Inlinkz link party!
Once again, here are all the bloggers participating in this sunflower tour:
Have you started decorating for fall yet?
Follow along so you don't miss a post!
Subscribe by email – HERE
Pinterest/ Instagram / Facebook / Twitter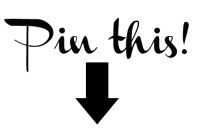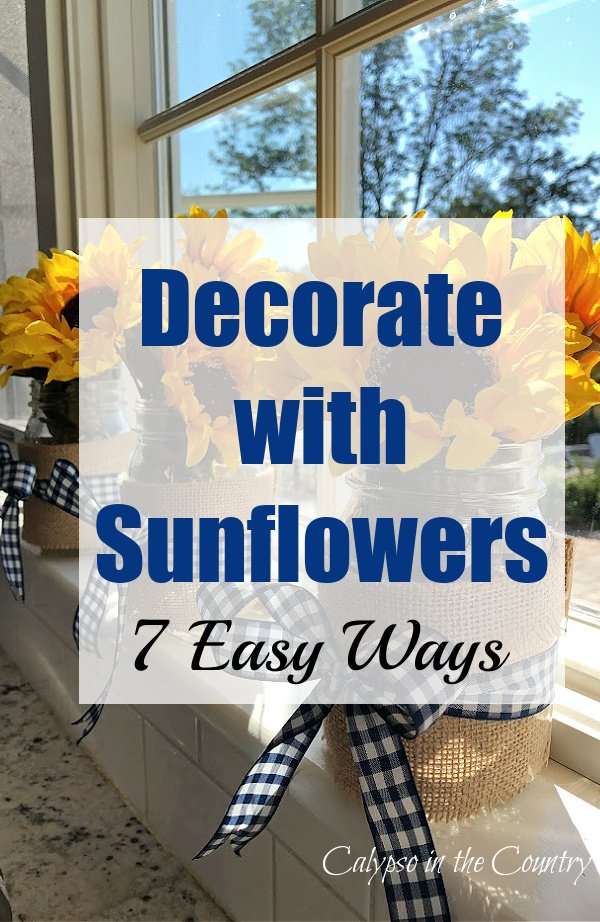 Linking to these blogs:
Two Chicks and a Mom – Funtastic Friday, Pieced Pastimes – Saturday Sparks, The House on Silverado – Sundays on Silverado, Eclectic Red Barn – Happiness is Homemade, Life and Linda – Love Your Creativity, Common Ground – All About Home, My Uncommon Slice of Suburbia – Inspire Me Monday, A Stroll Thru Life – Inspire Me Tuesday, Eclectic Red Barn – Wonderful Wednesday, Eclectic Red Barn – Thursday Favorite Things, Imparting Grace – Grace at Home, County Road 407 – Farmhouse Friday