Kitchen Designs and Decorating Ideas (Saturday Spotlight)
Hello friends! Welcome to the Saturday Spotlight, where each week, I like to highlight a different theme or topic to inspire you. Yes, I'm posting on a Sunday instead of Saturday this week…because I was on a kitchen tour yesterday! Obviously, this week I've got kitchens on my mind…so let's talk about kitchen designs and decorating ideas!
*For your convenience, please note that this post contains affiliate links. If you make a purchase after clicking my links below, I will receive a small commission (at no additional cost to you).
Kitchen Decorating Ideas (this week on the blog):
With Thanksgiving approaching, we'll be spending more time in the kitchen. This week, I shared some of my Simple Kitchen Fall Decor Ideas to inspire you!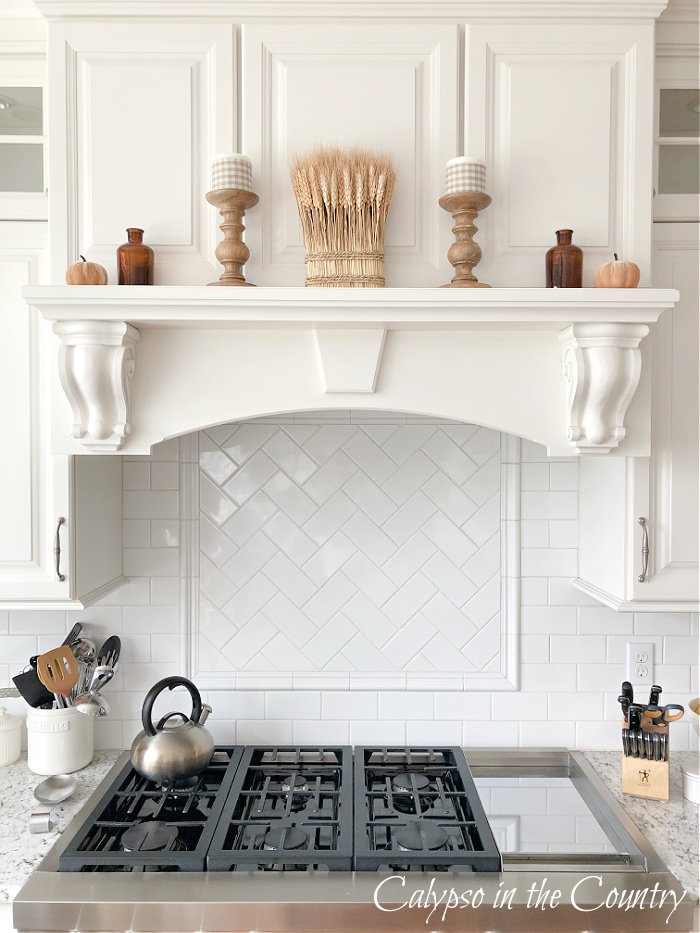 In that post, I highlighted some simple fall vignettes, ideas and even a table setting.
Kitchen Designs and Decorating Ideas – Finding Inspiration:
Just yesterday, I attended the annual Spring Lake Kitchen Tour at the Jersey Shore!
Unfortunately, they didn't allow photographs in any houses on the tour. (Yes, my least favorite phrase in the English language – "No Photography Allowed!") Though, I did find a few photos from a table in House #1 if you want to take a peek! And if you watch the stories on the Spring Lake Kitchen Tour Instagram feed, you might catch a few glimpses!
Even though I don't have my own photos to share from the kitchen tour, here were some of the design elements we spotted in several of the kitchens..
Large islands with plenty of seating
Mostly white cabinets for the perimeter
Statement lighting
Large windows over the sink (one had a pass through window that opened to the patio)
Wood floors – (although I think one had a limestone tile)
Wood beams and coffered ceilings
Gorgeous range hoods
Marble countertops and some quartz as well
Several of the homes were new builds and the rest were older remodeled homes. In the newer builds, the kitchens were open concept and in the older homes most of the kitchens were separated a bit. Basically, what you'd expect.
Dream Kitchen Ideas from Designer Showhouses:
For the most part. if you want to take photos of kitchen ideas, you have to visit designer show houses…
Here is one of the two islands in the stunning kitchen of the Philadelphia Magazine Design Home. If you want to see the whole tour, I shared photos on my blog post, Interior Design Inspiration from a Modern Farmhouse Tour.
Luckily, no one had to stop me from taking pictures that day!
Here is a stove and range hood from a dream kitchen in a Hampton Designer Showhouse…
Even though this tour was a few years ago, I noticed in yesterday's kitchen tour that marble backsplashes and large stoves are still going strong!
Speaking of marble backsplashes, this kitchen from a neighborhood tour had a beautiful marble backsplash as well.
Even though this stunning kitchen was part of a neighborhood tour, the designer, Ellie Mroz encouraged photographs! Believe me, we were thrilled that day!
Kitchen Design – Measurements to Consider:
If you're planning a kitchen design or renovation in your own home, you'll most likely work with a professional. Although, when we remodeled our kitchen, I found it helpful to read blogs that shared their kitchen measurements. So, when our kitchen was finished, I shared – My Kitchen Layout – Kitchen Measurements from Every Angle…
Hopefully, these kitchen measurements will help give you an idea of how a similar layout could look in your home!
Kitchen Shopping Finds:
When touring kitchens, I always like the look of neutral runners by the sink. Here is an inexpensive neutral rug that would work with many styles…

If you're like me and leave your toaster on the counter, it should at least look nice. Here is our exact toaster. We've had it for years and I'd definitely recommend it!

Keep organized and decorate your kitchen at the same time with these pretty glass jars!

For even more kitchen designs and decorating ideas, here are some finds from around the internet:
As always, I hope I inspired you with all these kitchen ideas!
What kitchen designs or decorating ideas inspire you?
Follow along so you don't miss a post!
Subscribe by email – HERE
Pinterest/ Instagram / Facebook / Twitter