Decorating with Apples – Fruits of the Season
On my latest trip to the store, I couldn't resist filling a bag with fresh apples. After all, autumn is apple season! So, if you're looking for simple ways to add some fall touches to your home, consider decorating with apples!
*Please note that this post contains affiliate links. If you make a purchase after clicking my links below, I will receive a small commission (at no additional cost to you).
Simple Ideas to Decorate with Apples:
From simple apple decorations for the kitchen to other areas of the home, here are a few ways I've decorated with apples. Maybe some of these ideas will inspire you!
Fill an elegant bowl with red apples:
Go ahead and display those seasonal apples where everyone can enjoy them. Besides, how many times have you seen apples in still life photography or paintings? Why not create a little of that look for your own home. Maybe you'll be inspired to pull out some paint brushes and paint some of your own apple decorations!
On a side note, I almost always buy organic apples. They aren't always the prettiest so I was happy to find these beauties in the organic section. Pretty and healthy! (I think the stray one above is a Pink Lady and the rest are Honeycrisp – my favorites!)
Be sure to enjoy the look of the apples in a bowl while you can. If you're family is like mine, the apples probably won't last long enough to enjoy them as decorations!
Almost every day, my younger son and I snack on them. Unfortunately, my older son has seasonal allergies which cause him to have oral allergies to a few tree fruits, including apples. Such a shame because he used to love them!
Over the years, I have been decorating with apples for fall. Here are a few more ideas to get your inspired…
Maybe you can try some of these apple decorating ideas in your home!
Decorating with Apples – A Simple Centerpiece:
For my centerpiece one year, I filled two long baskets with apples and placed them down the middle of the kitchen table…
In the center, I filled a vase with wheat which you can see if you click over to the full post. To pick up the colors of the apples, I continued the red with rustic buffalo check place mats. Overall, the table felt casual and seasonally appropriate…and was super easy.
A Fall Table Setting with Apples:
Just last year, I decorated my casual Thanksgiving table setting with apples on the place settings…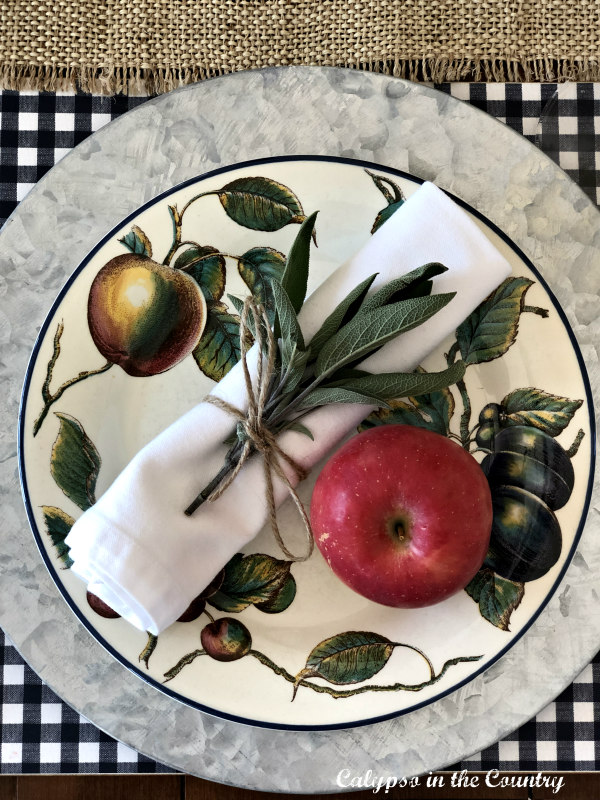 Not only did the red apples coordinate perfectly with my plates, but my flower centerpiece picked up all the colors too.
Since people always ask me about the plates, they are called Macintosh and were discontinued from Pier 1. If you search through Ebay, you can usually find pieces.
Fall Mantels with Apples:
If you're looking for mantel decorating ideas, consider adding some apples. For this colorful fall mantel, I chose apples to coordinate with a piece of art. See, what did I say about the still life art?…
The apples also picked up the color from the leaf garland above. Positioned in front of the black mirror frame, the apples stood out. Plus, I lined up three apples since decorating in threes is pleasing to the eye.
After we updated our fireplace to stone, I decorated another apple inspired mantel...
That year, I centered a piece of apple artwork on the mantel and flanked it with small harvest buckets full of apples.
Make Your Own Apple Art:
Here's a fun idea… If you're like me and not very artistic, take some pretty photos of apples. You can do a whole series, maybe even in black and white. Then frame the apple photos and group them together on a wall or mantel.
Or you could take some photos and use the Waterlogue app to transform your apple photos into "watercolors"! Here's one I made from trip to a farmers' market a few years back…
If you haven't tried the app on your phone, you should really check it out. A couple years ago, I used it to mark artwork for my dining room.
Apple Vignettes Around the House:
Recently, I included green apples in my early fall decorating. On my coffee table, I paired the green apples with green hydrangeas.
The greens stood out against the navy accessories in the room. Besides the coffee table, I continued the apple and hydrangea theme throughout the house. Be sure to check out that blog post to see the apple decor in my foyer and my apple decorated kitchen.
Hopefully, I inspired you to decorate with apples in your home this season!
After all, who says fall decorating has to be all about pumpkins?
If you're hungry after seeing all these apples, here is a simple apple recipe you might like!
And if you want to decorate with apples in your home, here are some various accessories you might like:

Are you decorating with apples this fall?
What is your favorite apple?
Follow along so you don't miss a post!
Subscribe by email – HERE
Pinterest/ Instagram / Facebook / Twitter