Decorating for Thanksgiving and Christmas (How to Make Everyone Happy)
Happy weekend and welcome to the Saturday Spotlight! This week, we're dealing with that mid-November dilemma so many of us face… Should we be decorating for Thanksgiving or transition directly to Christmas decor? Since I don't think there's any "right" answer, today I'm sharing ideas for decorating for Thanksgiving and Christmas along with tips to combine both.
In our family, we're the designated Thanksgiving hosts so I normally keep my fall decor out until Thanksgiving. Then I begin my Christmas decorating the day after…which I'll admit, can be a bit hectic. Since I know many of you have already finished decorating for Christmas, the pressure is on!
*For your convenience, please note that this post may contain affiliate links. If you make a purchase after clicking my links below, I will receive a small commission (at no additional cost to you).
Decorating for Thanksgiving and Christmas:
How to please everyone…
For the past couple of weeks, I've noticed about half of my blog readers are looking at Thanksgiving ideas and half at Christmas. So, today I'll try to make everyone happy with ideas for those of you who are decorating for Thanksgiving and those of you who are decorating for Christmas! Yes, there's something for everyone…gobble, gobble…ho, ho, ho…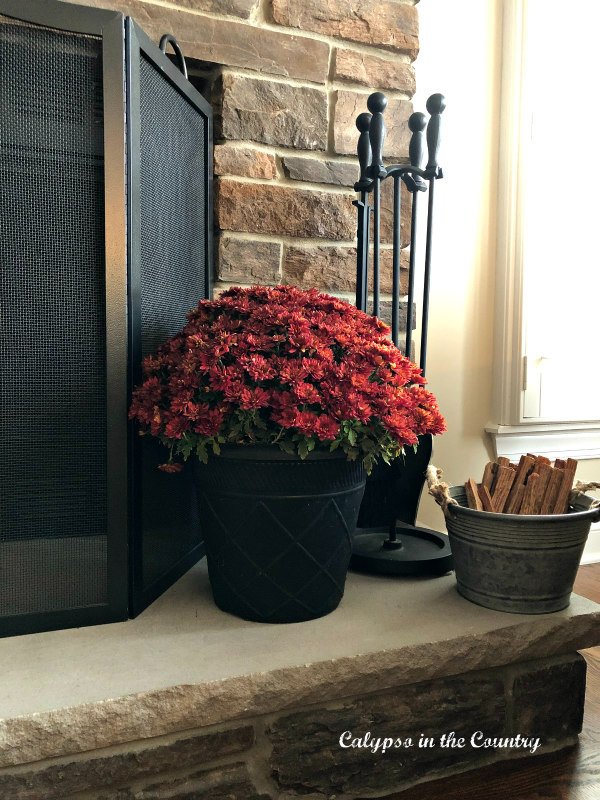 Warm and Cozy Thanksgiving at Home
For more fall shopping ideas that will take you into Thanksgiving, read – Affordable Fall Decor Finds!
Thanksgiving Decorating Ideas:
Simple ways to decorate for Turkey day…
On the blog this week, I shared one area I've decorated for Thanksgiving – my bar cart!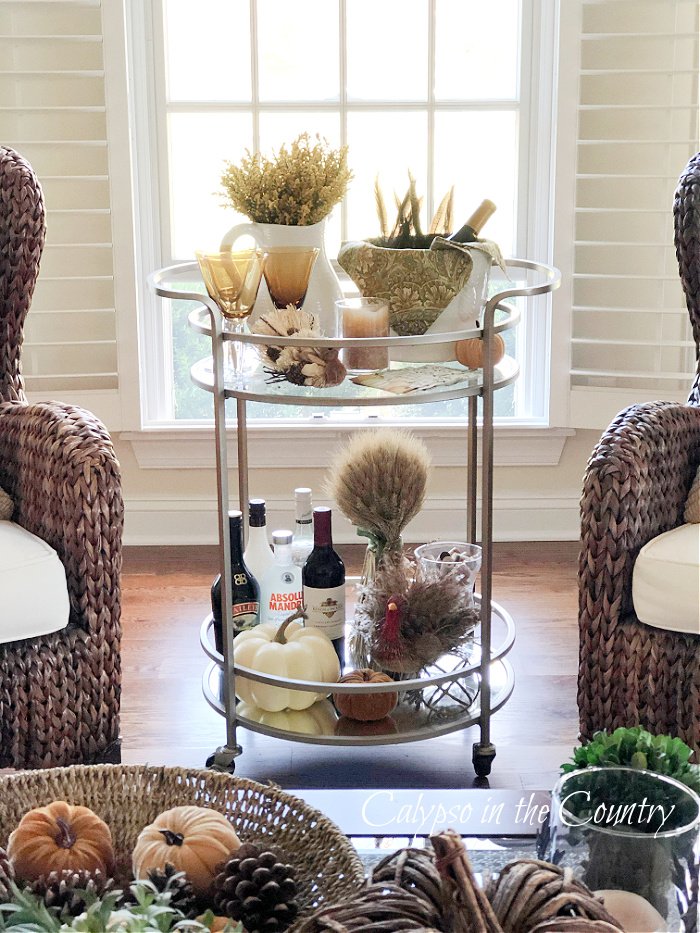 For me, it's important to give Thanksgiving the attention it deserves. So, leaving the fall decor out just makes sense for us. Basically, I decorate a couple vignettes such as the bar cart, I leave the fall plants and decor on the porch (though, they're not doing well at the moment) and of course I decorate the dining room table. Overall, just a few ways to acknowledge the holiday.
Speaking of the dining room table…If you'd like ideas to create an easy Thanksgiving centerpiece, see my my 5 simple Thanksgiving centerpiece ideas.
For even more Thanksgiving inspiration, you can read all about my Thanksgiving planning ideas!
For those of you who will forego the Thanksgiving decor…
Christmas Decorating Ideas:
Looking back at Christmas pasts…
Since I obviously haven't decorated for Christmas yet, here's some inspiration from last year's Christmas kitchen.
As a starting point, I pulled out my blue and white collection and added red and green. For my Christmas dining room, I continued with those colors for a nice flow from room to room.
Some years, I try different Christmas color schemes. For instance, I went through a time when I decorated with red and black.
Instead of buying all new decorations, I find that changing ribbons can make a big impact. Also, if you have a bunch of different Christmas decorations, it's fun to rotate them out of storage each year. If you haven't used some items in a few years, you can feel like you've gone shopping!
Ideas to Combine Thanksgiving and Christmas Decor:
Merry Thanksgiving…uh Happy Christmas?...
If you're hosting Thanksgiving but don't want to confuse your guests with Christmas decorations, here are a couple ways you can subtly combine your Thanksgiving and Christmas decor…
Put up your Christmas tree with white lights but wait to hang all the decorations:
No one is going to be bothered by a pretty tree with twinkly white lights. After all, some restaurants hang white lights in their plants or trees all year. So, why not do the same for Thanksgiving in your home? Plus, if you set up your tree before Thanksgiving, that's one thing you can already cross off your Christmas decorating list!
Sneak in some greenery and pine cones:
With a few strategically placed stands of garland and a bowl or two of pine cones, you can quietly begin your Christmas decorating without being caught! Just don't bring out the bright red decorations and festive nutcrackers until your Thanksgiving guests leave…Unless they've had too many cocktails to notice – ha!
Start displaying your white ceramic houses:
If you're like me, you've been collecting these cute white houses for the past few years. Since they're neutral, unlike the traditional Christmas villages, you can get away with bringing them out early. Just one of the reasons why we love them!
Thanksgiving and Christmas Shopping Finds:
Shopping ideas for both holidays…
If you want to stretch your decorating from Thanksgiving to Christmas, these brass candlesticks are a great place to start. They come in a few sizes as well as a bronze finish.

If you're looking for inexpensive garland, I have several strands of garland similar to this.

If you haven't started a white ceramic house collection yet, here is a cute set for a great price!

And for even more mid-November decorating ideas, here are some finds from around the internet:
So, whether you're "Team Thanksgiving" or "Team Christmas", hopefully, some of these ideas will inspire you!
Follow along so you don't miss a post!
Subscribe by email – HERE
Pinterest/ Instagram / Facebook / Twitter