Easy Thanksgiving Feather Decoration Ideas To Try
If you're hosting Thanksgiving this year, you're probably going to be busy in the next couple of weeks. With all the shopping and preparations, you might not have much time for decorating. If that's the case, I have some simple ideas for you. Today, I'm sharing some easy Thanksgiving feather decoration ideas to make your home feel festive!
*Please note that this post contains affiliate links. If you make a purchase after clicking my links below, I will receive a small commission (at no additional cost to you).
Thanksgiving Feather Decoration Ideas to Try:
Dress up your Thanksgiving table with feathers…
One year, I decorated my Thanksgiving table with warm colors and added brown feathers to each place setting.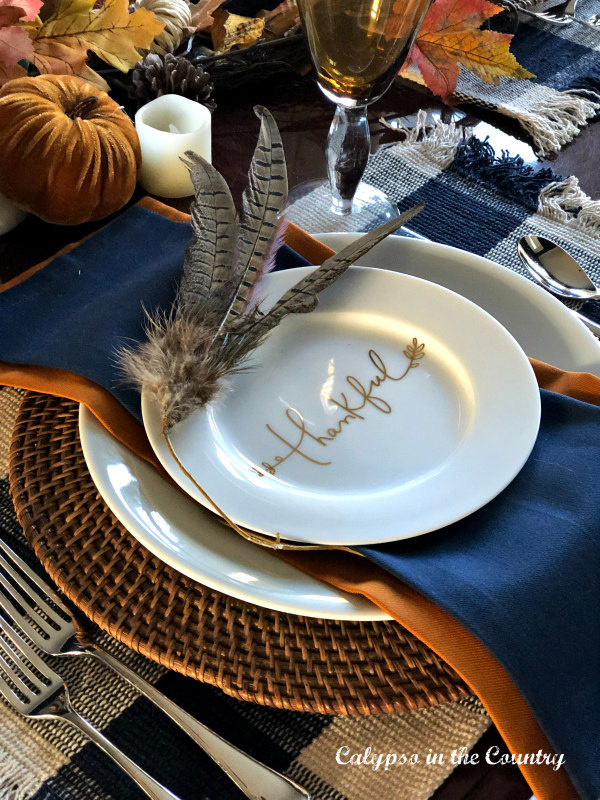 With the layers of warm fall colors, the real feathers added a festive touch to each setting. Now, I'm not sure if these are officially turkey feathers or pheasant feathers since I bought them awhile ago. For all I know, they could even be some other kind of feather! For Thanksgiving decorating, we'll just consider them turkey feathers!
Add some feathers to your table runner for a festive Thanksgiving centerpiece…
Speaking of Thanksgiving tables, here is a festive idea for a Thanksgiving table and centerpiece.
Instead of styling the place settings with feathers, this time I used them in my centerpiece. With the glass hurricane candleholder as the focal point, I scattered pine cones, white pumpkins and feathers across a burlap table runner. For more details on this Thanksgiving table and to see how I decorated each place setting, see that blog post.
Fill a container with feathers for some extra texture this Thanksgiving…
When I decorated my bar cart for Thanksgiving, I felt like the ice bucket needed something more. So, I filled it with large feathers to dress up the wine bottle for the holiday. Of course, I rearranged things when we actually put ice in the bucket but the feather display was pretty while it lasted.
On the rest of the bar cart, I kept up with the same fall colors. I even added a couple decorative turkeys in honor of Thanksgiving. For a cohesive look, I continued with the same color scheme and even more feathers on the coffee table. If you want to see more details and photos, be sure to read that blog post.
Create a Thanksgiving vignette with feathers…and a turkey!
For a rustic Thanksgiving vibe, I decorated my round wooden tray with more feathers and natural elements. For some height, I displayed a wheat bundle and filled a container with the turkey feathers. This time, I used my galvanized milk can to hold them.
similar feathers / galvanized milk can / similar tray / similar turkey
For more feathered fluffiness, I brought out my turkey decoration. Since he only gets to stay out for a couple weeks, I displayed this vignette in the middle of my kitchen island where everyone can see it.
Make your own feather inspired Thanksgiving place cards…
Most of the time, kids are the ones making turkey crafts. Remember using a paper plate and construction paper to create turkey decorations in school? Ahh…memories. Well, for this easy craft, all you need is a piece of card stock, a small feather, glue and a picture frame.
In fact, you could even make this easier by not using the frame. Simply, write or print out place cards on card stock paper, glue on a little feather and you're done! Better yet, if you're artistic, you could draw or paint a feather on each place card.
So, there you have my Thanksgiving feather decoration ideas!
Hopefully, I inspired you to keep your decorating simple this Thanksgiving.
After all, many of us have a ton of Christmas decorating in our futures! Since we host Thanksgiving, I keep most of the Christmas packed away until the day after Thanksgiving…then the craziness begins. Do you decorate for Thanksgiving or do you go straight to Christmas?
For more Thanksgiving ideas, read these blog posts:
Will you be decorating with feathers this Thanksgiving?
Follow along so you don't miss a post!
Subscribe by email – HERE
Pinterest/ Instagram / Facebook / Twitter