Goodbye October Hello November (Decor and More!)
Happy Weekend and welcome to the Saturday Spotlight where each week I highlight a different subject to inspire you. Can you believe it's already November? What the heck happened to October? Perhaps, it flew by because it's known as everyone's favorite month…As they say, time flies when you're having fun! Anyway, today I'm sharing decorating ideas and other ways to say Goodbye October, Hello November!
*For your convenience, please note that this post may contain affiliate links. If you make a purchase after clicking my links below, I will receive a small commission (at no additional cost to you).
Goodbye October Hello November Pictures, Decor and More:
October Sunrise…
Lately, we've enjoyed some beautiful sunrises here in New Jersey. On one of the last mornings in October, I took this pretty photo.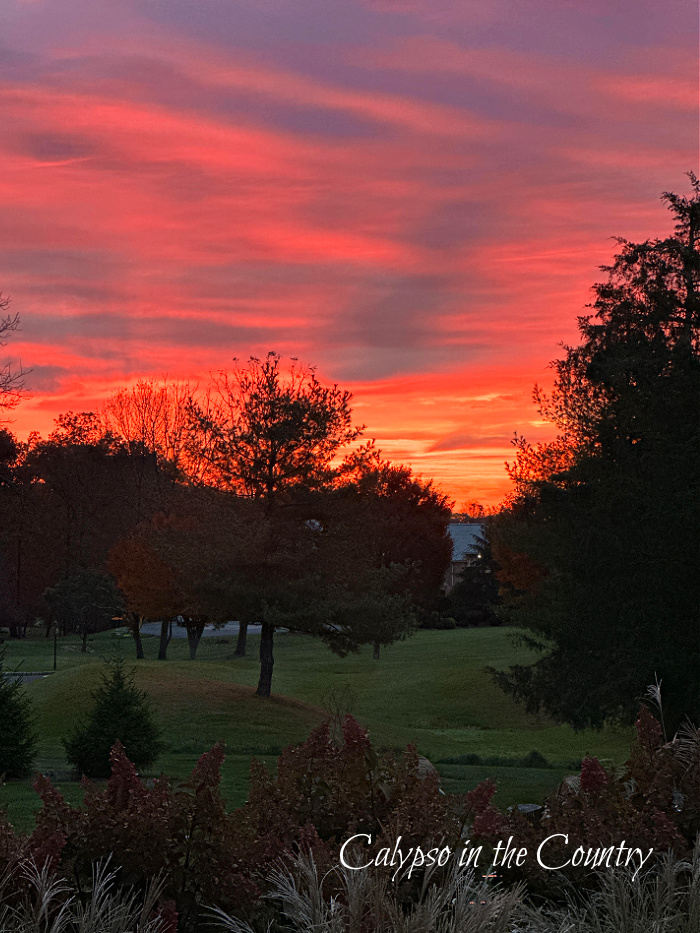 Gorgeous, right? Before long, the leaves will be gone and hopefully we'll get a little bit of snow. Sometimes, it actually snows in October but we just had a few flurries this year.
October House Tour…
Recently, I attended the annual Spring Lake Kitchen Tour. Even though it rained most of the day, we still had the best time touring all the beautiful kitchens. Yes, it was technically a kitchen tour but we got to peek in all the adjoining rooms which were decorated beautifully for fall. Even some of the backyards were dressed up for the occasion…
As in most house tours, photography was not allowed inside…but no one said anything about the outside spaces! Even though, they didn't allow us to take our own photos, their Instagram page is filled with interior photos from the event! Pop over there if you want to take a peek.
If you'd like to attend the Spring Lake Kitchen Tour next year, get on their mailing list or follow them on Instagram. Each year, the tickets go on sale in the spring and they do sell out! Besides being a fun thing to do in October, it's also a wonderful fundraiser for the local school. Plus, you get to sample a variety of treats from all the restaurants involved. So, if you're in the area, put it on your calendar for next October. I'll see you there!
October Decorating Ideas…
In October, I joined a group of bloggers for a tray tour featuring fall leaves. Since I couldn't just stop at one tray, I decorated two trays with a Vermont inspired theme.
If you get a chance, head over to that blog post to see which one you like better.
October Ideas from Last Year…
Speaking of Vermont, last year, I also shared some October ideas included photos from my trip to Farmhouse Pottery in Woodstock, Vermont.
When I visit Vermont, I always love to take a walk through their beautiful flagship store!
Hello November Decorating Ideas…
This week, I shared some Thanksgiving decorating ideas with feathers that might also inspire you!
If you're hosting Thanksgiving, it makes sense to keep it simple. Especially, if you'll be hauling out all that Christmas decor the next day!
Thanksgiving and Christmas Decorating…
For those of you who aren't sure if you should decorate for Thanksgiving or just jump right into Christmas, read: Decorating for Thanksgiving and Christmas (How to Make Everyone Happy) for some helpful ideas!
If you're like me, you wait until the day after Thanksgiving to do most of your Christmas decorating. Since we host Thanksgiving, I like to give that holiday the attention it deserves before I go Christmas crazy!
Shopping Finds to Help you Say Goodbye October Hello November:
Great ideas for gifts or your home…
If you want to keep your Thanksgiving decorating on the simple side, just add a natural fiber turkey or two.

If you read my Thanksgiving decorating ideas with feathers, you'll see some similar turkeys on display!
Whether you're setting a table for Thanksgiving or Christmas, you can't go wrong with classic white cloth napkins.

This year, gingerbread decor seems to be super-popular so you might want to grab a couple of these houses before they sell out!

If you prefer a simpler look, start a collection of white ceramic houses instead. For some ideas to display them, be sure to read: White Ceramic Christmas Houses (Why We Love Them). In that blog post, I shared a bunch of shopping sources.
If you're like me, you'll do anything to make the holiday season easier. Well, I just bought the best little gadget that is going to make Christmas gift wrapping a breeze!
Apparently, this gift wrap cutter was featured on Shark Tank. It's such a simple yet genius idea that will definitely make life a little easier!
And for even more ways to say Goodbye October, Hello November, here are some finds from around the internet:
Hopefully, I've given you some ideas to say hello November…and to make saying goodbye October a little easier!
If you're planning ahead into November, you can look forward to Thanksgiving, Black Friday, Cyber Monday and a bunch of silly holiday like "National Clean Out Your Refrigerator Day" on the 15th, "National Gingerbread Cookie Day" on the 21st and "National Mason Jar Day" on the 30th…among others.
Of course, Daylight Savings time also ends this weekend! Even though I love that extra hour of sleep, I'll be crying my eyes out when the sun sets an hour earlier!
For more October into November ideas, here are a few blog posts you might enjoy:
How are you saying hello to November?
Follow along so you don't miss a post!
Subscribe by email – HERE
Pinterest/ Instagram / Facebook / Twitter