How to Decorate A Festive Bar Cart For Thanksgiving
Are you hosting Thanksgiving this year? Well, if you're looking for some Thanksgiving decorating ideas, you've come to the right place. Today, I'm joining a talented group of bloggers for a "Fall with Feathered Friends" Blog Hop". We're sharing all kinds of fall bird themed decor so I'm sure you'll find something that inspires you. For my contribution, I'll show you how to decorate a festive bar cart for Thanksgiving…
*For your convenience, this post contains affiliate links. If you make a purchase after clicking my links below, I will receive a small commission (at no additional cost to you).
Thanksgiving Bar Cart Decor:
Before we begin, I want to thank my friend, Amber from Follow the Yellow Brick Home for hosting this hop today. For the first stop on the tour, she's sharing how she celebrates fall in her home. Please be sure to stop by her blog to see her beautiful decor. Please also visit the bloggers listed at the end of this post for even more inspiring ideas!
If you are just arriving from Our Southern Home, – Welcome! I'm sure Christy impressed you with her gorgeous table!
Now, I'll share my tips on how to decorate a festive bar cart for Thanksgiving…
Choose a Location for Your Bar Cart:
A few months ago, I moved our bar cart from the dining room into our living room. Now instead of being tucked away in a corner, the bar cart is now a focal point. Plus, it made more sense to place it where we'd be gathering before Thanksgiving dinner.
After all, Thanksgiving is all about the gathering isn't it? Hopefully, you'll be able to spend the day with family and friends as well!
Decorate the Bar Cart with Seasonal Colors:
This year, I chose browns, greens and gold colors to decorate my bar cart. These seasonal colors worked well with the natural elements like the wheat bundles. If you've read my blog before, you know I've previously used the wheat bundles on my fall bar carts and also on my Thanksgiving table.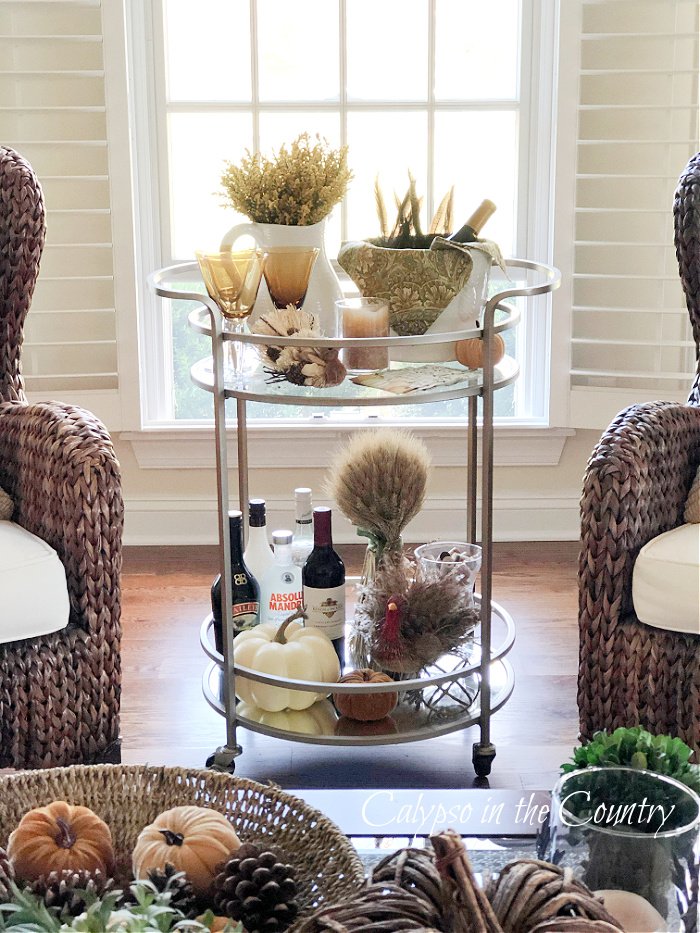 similar bar cart / similar and inexpensive bar cart
By adding a few white accessories like the pitcher, ice bucket (which is actually a planter) and the white pumpkin, I was able to keep my bar cart decor light and bright. Positioning the cart near the window helped too. We'll get to enjoy the afternoon sunset from this spot.
By Thanksgiving Day, the leaves are usually gone from the trees so the view won't be as pretty as earlier in the fall. Unless we get snow! Yes, we have had snow on Thanksgiving in the past.
Include Feathers to Reference Thanksgiving Birds:
After all, this is a "Fall with Feathered Friends" Blog hop so I wanted to add them to my decor. Not only do the brown feathers represent Thanksgiving birds, but they add some soft texture and interest. Last year, I used the same feathers on my Thanksgiving table. More recently, I shared some easy ways to decorate with feathers for Thanksgiving.
As you can see below, I tucked in a couple decorative turkeys as well…Gobble gobble.
exact wine glasses / similar turkey decor
Include Some Festive Thanksgiving Napkins:
Of course, you'll need some cocktail napkins, so why not make them Thanksgiving themed! If you're like me, you probably buy all kinds of seasonal napkins when you see them. In fact, I have quite a collection in my kitchen drawer.
Don't Forget the Liquor:
Not only should your Thanksgiving bar cart be pretty and festive…it has to be practical!
When I picture the perfect Thanksgiving at my house, I always envision whipping up some kind of Thanksgiving themed signature cocktail. Well, I haven't come up with one yet but I'm thinking about it! Most of my family will probably just want wine anyway…
Which is fine since I'll be so busy cooking the turkey and sending my husband to the store for the ingredients I forgot! Honesty, I think he looks forward to his annual Thanksgiving trip to the store. He gets to bond with all the husbands holding their little lists from the wives…good times!
Carry the Colors Throughout the Room:
To keep a cohesive look to your bar cart, decorate another area (like your coffee table) in a similar style.
You don't have to match the bar cart exactly but you should use similar colors and items.
And it doesn't hurt to repeat a few things like the white pumpkins, feathers and velvet pumpkins.
Thanks for stopping by to see how I decorated my Thanksgiving bar cart (and coffee table). Hopefully, I gave you some ideas to use in your home. For some more Thanksgiving tips, be sure to read my Thanksgiving planning ideas!
Once again, thank you to Amber from Follow the Yellow Brick Home for hosting. If you're following in order, White Arrows Home is next on the list. I'm sure you will enjoy Kristin's beautiful decor!
As I mentioned, please visit the rest of the participants of the "Fall with Feathered Friends" Blog Hop from the list below…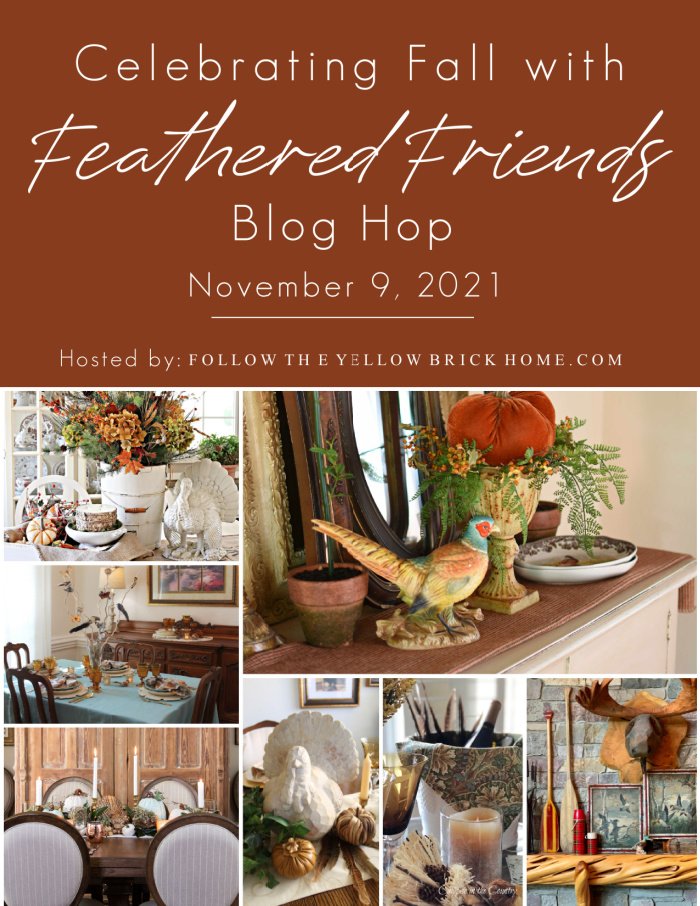 You are invited to the Inlinkz link party!
Once again, here is the full list of the participants for the "Fall with Feathered Friends" Blog Hop…