How to Bring Spring into Your Home (Simple Tips)
Happy Spring everyone! If you're looking for ideas on how to bring spring into your home, you've come to the right place! Today, I'm sharing some inexpensive ways I've decorated my home for the spring season!
*For your convenience, please note that this post contains affiliate links. If you make a purchase after clicking my links below, I will receive a small commission (at no additional cost to you).
Ways to Bring Spring into Your Home:
It doesn't have to cost a ton to add a bit of spring cheer to your home. Here are some simple ideas to try…
Bring in Spring with Flowers and Greenery:
During this time of year, everything is blooming and the stores are filled with all kinds of beautiful spring flowers. Every year, I love adding colorful bouquets around the house.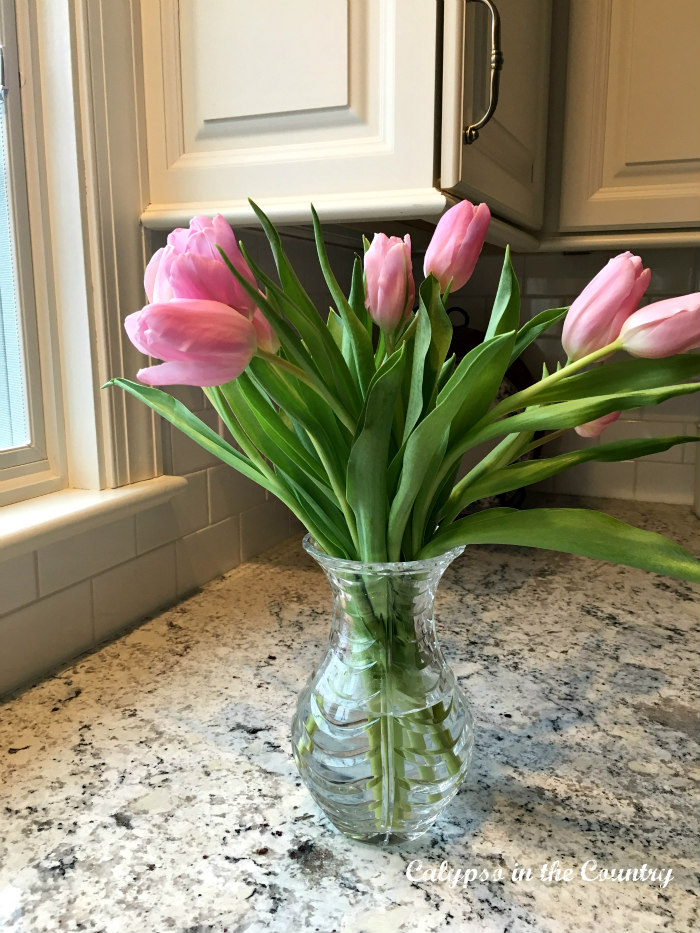 Most of the time, I purchase my flowers at the grocery store. First, I start with a large bouquet and I put them in a pretty vase. As time goes on, I pull out the ones that are dying off, cut down the rest and place them in a smaller vase. Basically, I keep doing this until the vases get smaller and smaller. That way, I get the most out of one bouquet.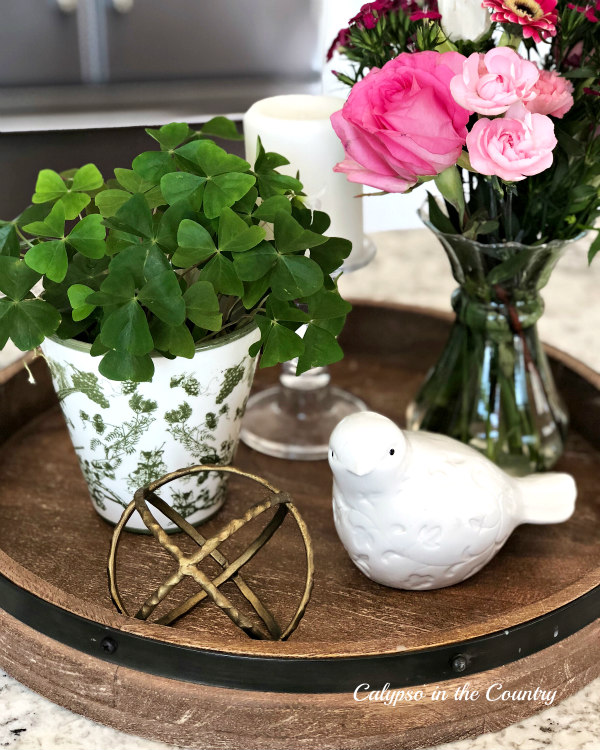 Bring Spring into Your Home with Spring Vignettes:
Buying flowers also gives me an excuse to create some new vignettes. Usually, I find it easiest to start with a tray like the one above and then just fill it with some pretty seasonal items. My kitchen feels more inviting with some spring decor on the middle of the kitchen island.
You might have noticed my cute shamrock plant…
For some reason my "shamrock" plant, otherwise known as oxalis is doing really well. Why am I surprised? Well I don't exactly have a green thumb! Originally, I had the plant in my dining room…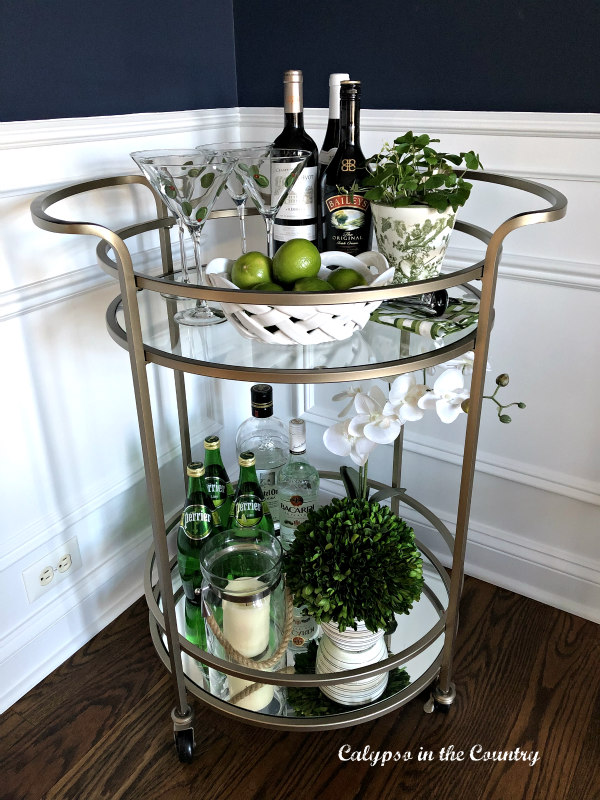 Simple Ideas for Decorating with Green
Since I was decorating for St. Patrick's Day, I thought a shamrock plant would be perfect to add to my bar cart. Then I noticed it was drooping so I moved it to the kitchen window as you saw above. Well, from what I have learned, the oxalis plant (aka shamrock) actually droops at night and perks up during the day. Who knew? Not me of course, but I have realized it is thriving now that I moved it to the kitchen window. It definitely prefers a sunnier location.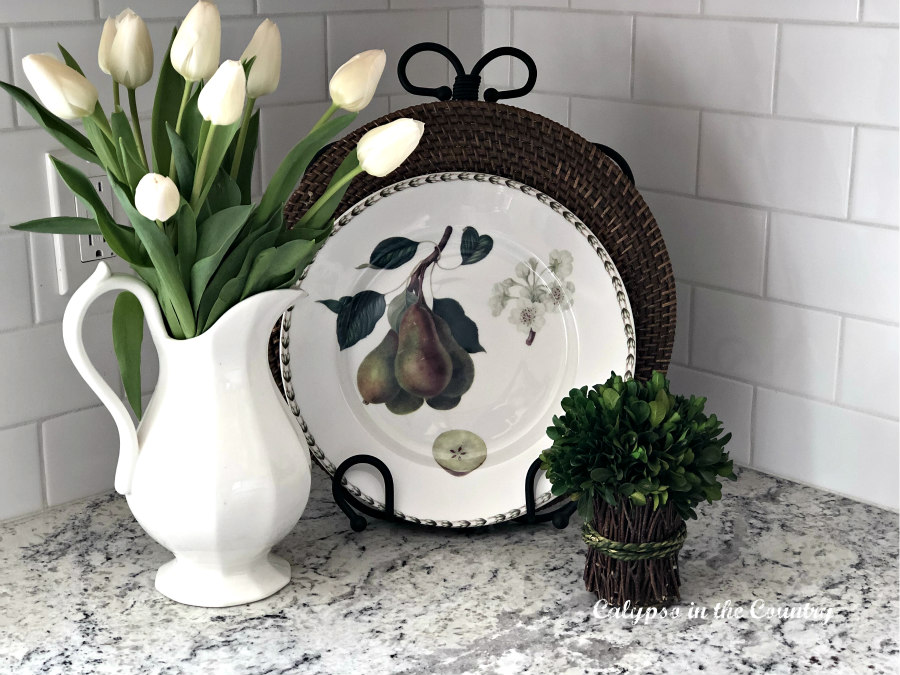 Each season, I love changing the vignette in my kitchen corner. Simply by changing the dish to something springy and adding some flowers and greenery gives the spot a fresh new look. I frequently mix live flowers with faux greenery. Like I said, I don't have a green thumb so I don't need the pressure of keeping too many things alive at once!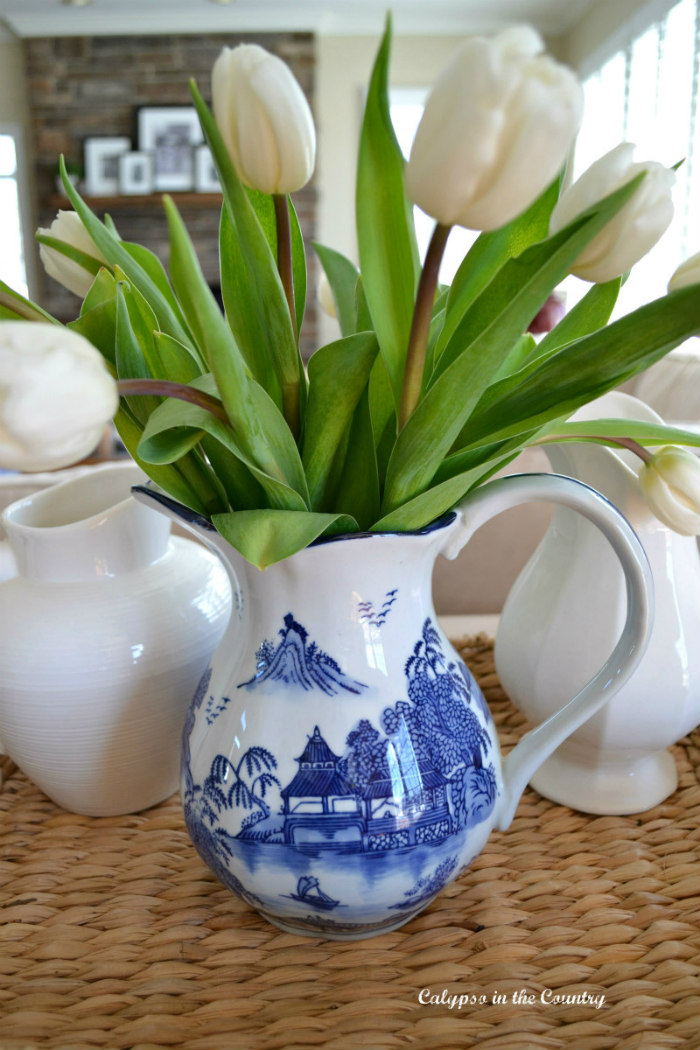 Spring Decor with Tulips and Bunnies
It's hard enough just keeping tulips looking fresh. Apparently, adding a penny to the water to make them last longer. Overall, I think it helps but other types of flowers definitely last longer than tulips.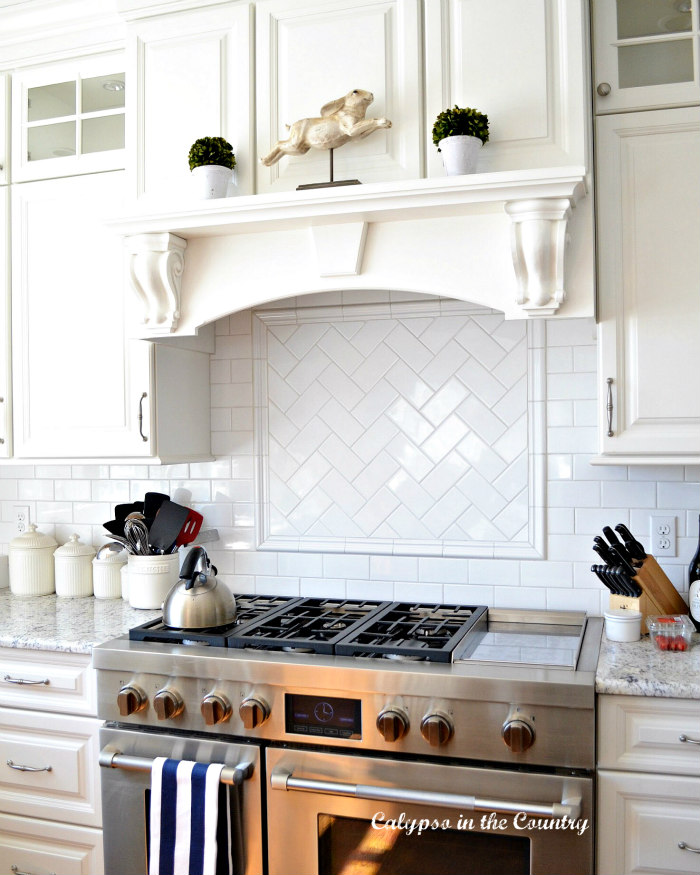 For me, mixing in faux plants makes life so much easier. Even though I don't have too many Easter-specific decorations, a simple bunny above the stove will take us from spring right into Easter!
Bring Spring to Your Table:
One of my favorite ways to decorate for spring is with a table setting..
When I set my simple spring tablescape with flowers, I had spring gardens on my mind. From the galvanized containers to the window pane mirror, I wanted to give a gardening vibe to my table.
Once again, I mixed some artificial greenery in next to the flower arrangement. Yes, the flowers are real – and I bought them all at the grocery store. When decorating a tablescape, I rarely splurge on expensive flowers. In my backyard, I also have a bunch of flower bushes (including hydrangeas) that bloom throughout the spring and summer. If you want to see some other ways I've decorated with hydrangeas, read – 7 Ways to Decorate with Hydrangeas.
For a super-simple spring table setting, here's another option…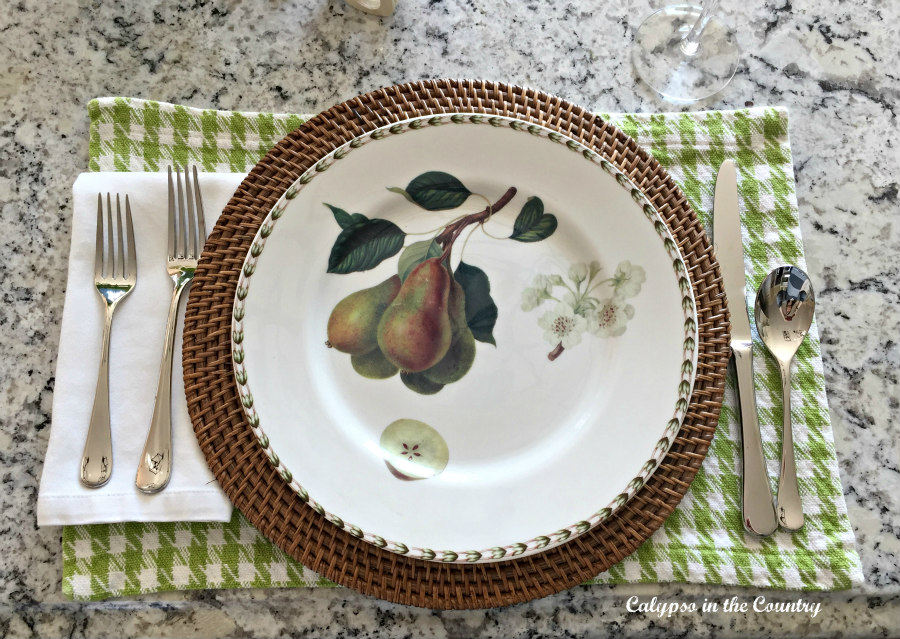 March 1st Table Setting on the Island
In the case above, I actually decorated a counter-setting for two. When you bring spring into your home, it's always great to find ways to keep it simple!
Here are a couple more of my favorite spring table settings:
Change Your Throw Pillows for a Spring Refresh: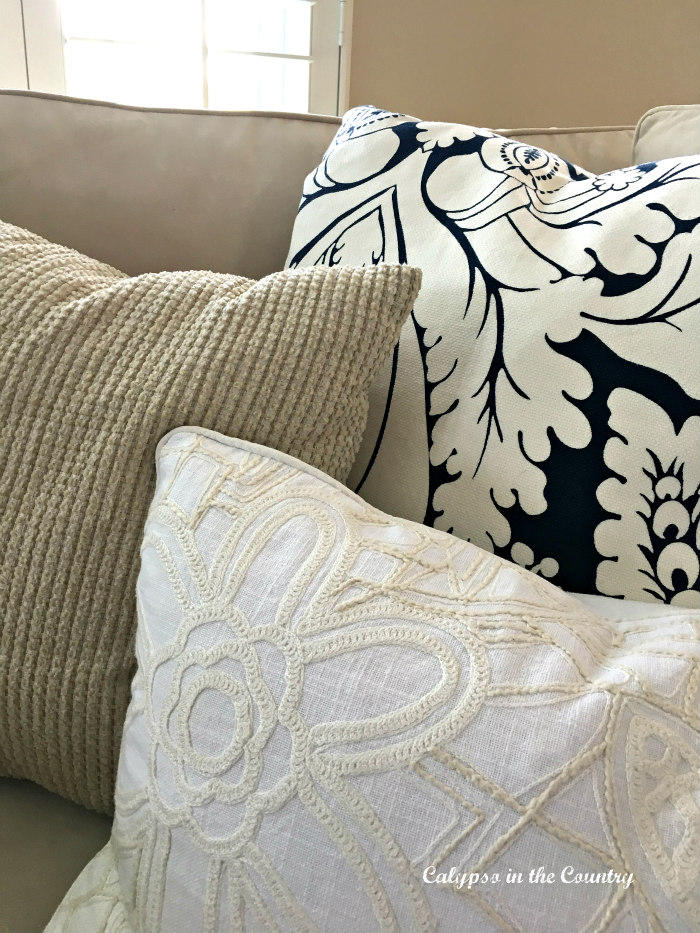 Changing throw pillows are a quick and easy way to update the family room for spring. Since many of my pillows have zip off covers, I don't have to worry about storing a huge pile of pillows either!
Bring Spring to Your Front Door with Flowers: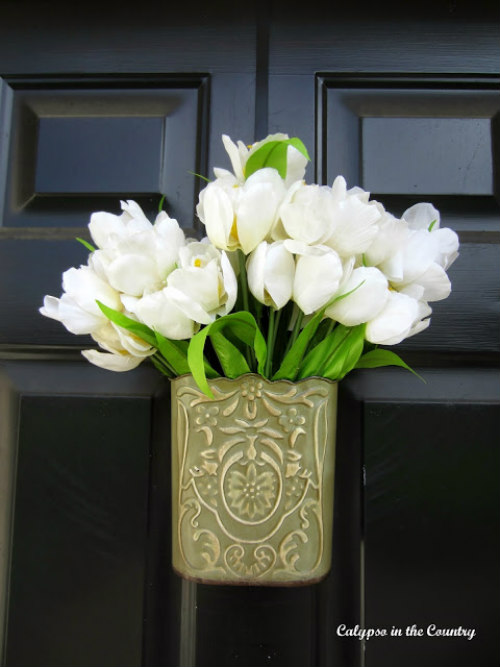 When you add spring to your home, don't forget the front door! In the past, I have used simple forsythia wreaths, baskets and this tin hanger filled with faux tulips. Either way, it's nice to have a spring welcome to our home. For more spring door ideas, read – Spring Door Decor!
Open the Windows and Feel the Breeze this Spring!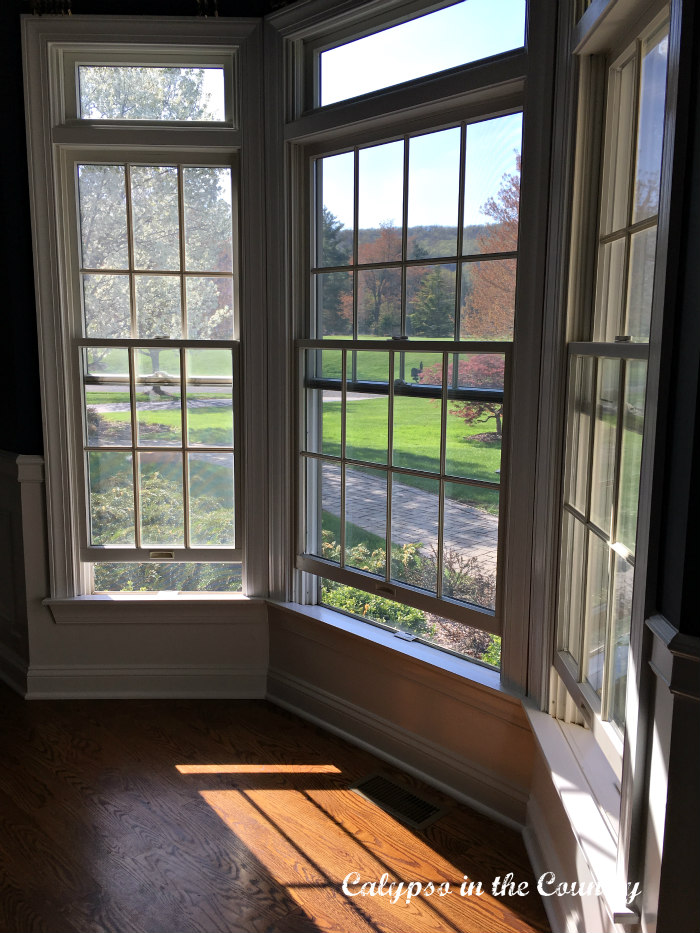 In my opinion, there is nothing that says "welcome spring" more than a fresh breeze through the open windows…and it doesn't cost a thing! So, enjoy that fresh air…unless you have spring allergies!
For even more ways to bring spring into your home, check out my spring home tours:
Let's welcome the new season! Happy Spring everyone!
What have you done to bring spring into your home?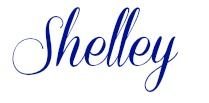 Follow along so you don't miss a post!
Subscribe by email – HERE
Pinterest/ Instagram / Facebook / Twitter