Patriotic Inspiration – Simple Ideas to Celebrate America!
In honor of all the patriotic holidays, I thought I would gather up some patriotic inspiration to share with you! So if you're looking for ideas to celebrate America maybe these will inspire you!
Hang an American Flag:
A couple years ago, I took this photo at a family 4th of July party. I love the relaxed farmhouse look with the way they hung the flag casually on a barn. The large flag stood out as such a focal point in the backyard. So perfect for a family picnic.
Celebrate America with a Patriotic Tablescape:
Last year, I shared my Patriotic Table Setting in the Kitchen to celebrate the 4th of July. Of course, this tablescape would work for Memorial Day or any patriotic holiday!
And a few years ago, I set a simple Patriotic Table Setting in honor of the 4th. At that time, my dining room was red so it was easy to add some patriotic accessories.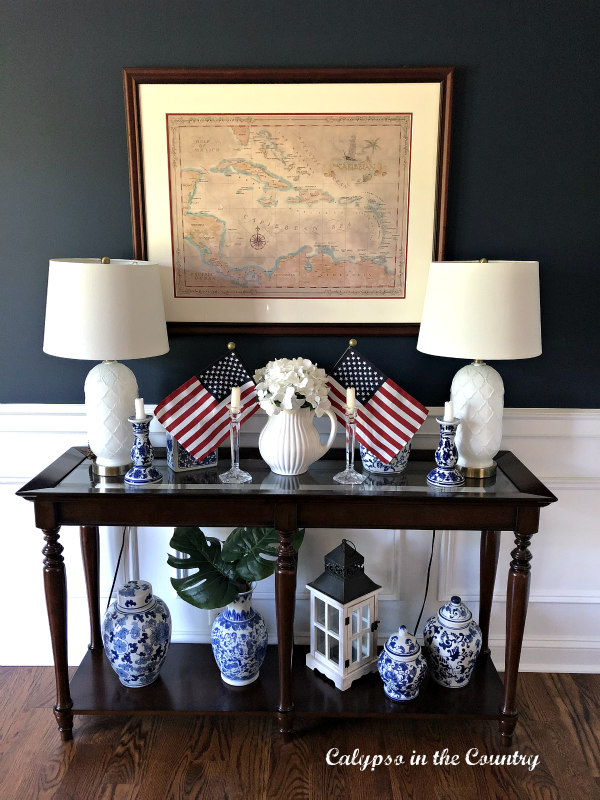 Since then, we've painted our dining room navy but that didn't stop me from decorating with red, white and blue again! As you will see in that post, I decorated the whole room in patriotic decor.
Decorate Your Front Door in Patriotic Decor:
For a quick and easy way to decorate my front door, I shared this Simple Door Decor for the 4th. For the patriotic holidays, we also stick flags in the ground to line the front of our yards. Most of our neighborhood does it and it looks so festive to drive down our streets.
Serve a Patriotic Inspired Dessert:
This recipe from the Book – Gumbo Love would be a great dessert to serve at a 4th of July party. Just throw in some blueberries and you have your red, white and blue! (Or just serve it with blue and white napkins like I did!)
Decorate Your Porch with an American Flag of Course!
Isn't this the most gorgeous yard? I couldn't resist photographing this huge flag hung on one of the homes on the Spring Lake Garden Tour. When you have a white house and white hydrangeas, an American flag makes the perfect final touch!
Patriotic Inspiration is Everywhere:
When you see flags blowing in the wind as you walk down the boardwalk, you know summer is here!
Patriotic Inspiration – Shopping Finds:

Hopefully, I inspired you to decorate with some red, white and blue!
If that's not enough, here are some more patriotic ideas:
Do you add any patriotic decor to your home this time of year?
Follow along so you don't miss a post!
Subscribe by email – HERE
Instagram / Facebook / Twitter / Pinterest