Thanksgiving Table Setting in a Navy Dining Room
Have you set your Thanksgiving Table yet? Since we painted our dining room navy earlier this year, I decided to also try a new color combination for this year's Thanksgiving table setting. Before the navy, the room was red for many years. Now that we made the change, I am loving all the new options I have for decorating with navy!
Please note that this post contains some affiliate links. If you make a purchase after clicking my links, I will receive a small commission at no additional cost to you.
Welcome to our Thanksgiving Table Setting:
Celebrating in the navy dining room…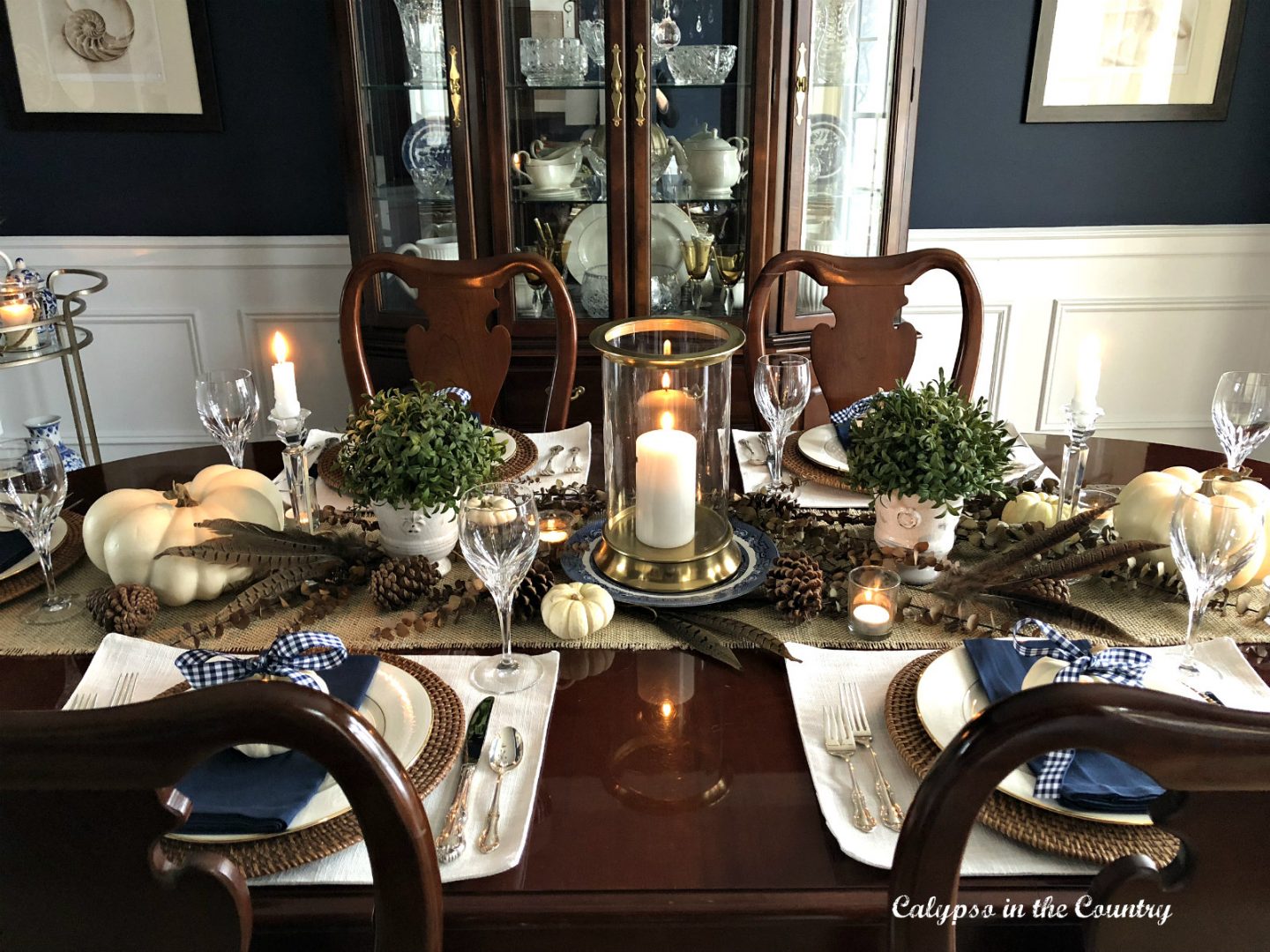 Since I was inspired by the navy on the walls, I decided to add a touch of navy to the table.
(In case you were wondering, the wall color is Sherwin Williams – Naval.)
Maybe navy wouldn't be the first color you would think about for a Thanksgiving table setting, but I love trying something different.
After all, this room is designed for special occasions. Why not put in some extra effort to make it pretty for guests?

similar navy napkins / similar charger / china / similar gingham ribbon
Navy Napkins on a Thanksgiving table setting:
Recently, I found these navy blue napkins and thought they'd be perfect for my table. Not only will they work for my Thanksgiving table setting but I know I'll be using them in the spring and summer.
White pumpkins as a Thanksgiving focal point:
Mix in real and faux pumpkins…
On each Thanksgiving place setting, I used real mini white pumpkins. Then down the center of the table, I mixed in a few faux white pumpkins. Over the years, white pumpkins have become my go-to item for fall decorating. Not only are they are they versatile, they're just so cute! Be sure to check out some other ways I have used white pumpkins in my decor – Decorating with White Pumpkins.

To dress up the pumpkins, I tied a simple bow on each one with a navy and white gingham ribbon.
Honestly, I don't think I will ever get tired of classic gingham…
similar navy napkins / similar charger / china
Layer in the neutrals:
In order to restrain myself from going overboard with all the navy, I kept the other colors subtle for my Thanksgiving table setting.
Simply layering cream colors with brown was just enough to let the navy stand out.

Covering my burlap runner with pine cones, feathers and brown eucalyptus allowed the center of the table to remain neutral.
Thankfully, there are so many natural elements to work with this time of year. Even though this Thanksgiving I used neutrals with the navy, I'm already thinking about the colors I can use next year. Changing from a red to a navy dining room has opened up a whole new world of colors for me to use!
Simple Thanksgiving table centerpiece idea:
Since I didn't do a floral centerpiece, I added one large glass hurricane with a candle in the center of the table.
In my opinion, it never hurts to include some gold to the table. Just in case you didn't notice, my china also has a gold rim. Over 20 years ago, we registered for this pattern and I'm still happy I went with a classic look. Even though we don't use our china very often, I love to take it out for holidays. Why not go a bit formal for Thanksgiving?
Add some sparkle to a Thanksgiving table:
Besides the china, I brought out the wedding crystal and the silver to make each place setting extra festive.
Like I said, we don't use the "good stuff" very often so it's nice to give it some special attention on Thanksgiving.
Although I love the table with the extra decor down the middle, I will be removing the eucalyptus and some of the pieces in the center when we actually eat our Thanksgiving dinner.
Coordinate a Thanksgiving bar cart:
While we're eating dinner, it's nice to have a little candlelight in other areas of the room.
As you can see, I decorated my bar cart to coordinate with the style of the Thanksgiving table.
In another year, I brought my gold bar cart into our living room for Thanksgiving. When entertaining, it's fun to try different things now and then.
Now, here is the simpler version of our Thanksgiving table:
Since I was experimenting, I thought I'd try a pared down version…
Yes, this way is definitely more practical. After all, we need to make room for the food! As it gets closer to turkey day, I'll be adding a few more chairs and settings as well. Each Thanksgiving, we host a large crowd and end up using the kitchen table for overflow too.
Thanks for stopping by to see my navy and neutral Thanksgiving table and dining room decor.
Wishing you and your family a Happy Thanksgiving!
If you would like to see what my dining room looked like for Thanksgiving in previous years, click over to these posts:
Thanksgiving Table Setting Sources:
What colors are you using on your Thanksgiving table setting this year?
Follow along so you don't miss a post!
Subscribe by email – HERE
Pinterest/ Instagram / Facebook / Twitter