Ideas for Outdoor Entertaining Areas – Saturday Spotlight
Happy weekend and welcome to the Saturday Spotlight! If you're like me, you're probably thinking about freshening up your outdoor spaces as the weather gets nicer. To inspire you, today I'm sharing some ideas for outdoor entertaining areas! Soon, we'll all be inviting guests over again so let's be ready!
*For your convenience, please note that this post may contain affiliate links. If you make a purchase after clicking my links below, I will receive a small commission (at no additional cost to you).
Ideas for Outdoor Entertaining Areas – Patio Seating:
If you want your guests to stick around, you're going to need some seating in your outdoor entertaining area. This gorgeous patio caught my eye on a garden tour a few years ago. I love the way they provided seating for dining and lounging and enough umbrellas to keep everyone out of the hot sun.
Beautiful Garden Tour with Ideas for Every Budget
Speaking of seating, don't you just love this idea of hanging swings on a porch? A couple years ago, I spotted this cute idea on a neighborhood tour. Not only were the outside areas amazing, but the interior of this house was gorgeous! Thankfully, they allowed cameras so I took a ton of photos!
Beautiful Homes on a Neighborhood Tour
If you'd like to try this look in your home, here are the swings!
And here is another house with tons ideas for outdoor entertaining areas…the Hampton Designer Showhouse!
Exterior tour of the Hampton Designer Showhouse
Yes, I'll wait a minute while you catch your breath. Isn't this covered porch just stunning? If you want your guests to stay forever, this would be the place to be!
Obviously, my outdoor entertaining areas aren't quite as elaborate!…
Simple Ideas for Outdoor Spaces
Even though my outdoor spaces are more simple, no one seems to complain. In fact, our fire pit has become the hangout spot for kids as well as adults. It's the perfect spot to roast marshmallows or sip a glass of wine.
Ideas for Outdoor Entertaining Areas – Lounging Spaces:
Since we're still being careful to social distance ourselves, our lounge chair area is another great place to relax with friends…
Backyard Staycation – How to Create the Ultimate Escape
Ideas for Outdoor Entertaining Areas – A Place to Dine:
If you plan to entertain for Memorial Day this year, here is a festive patriotic table setting idea…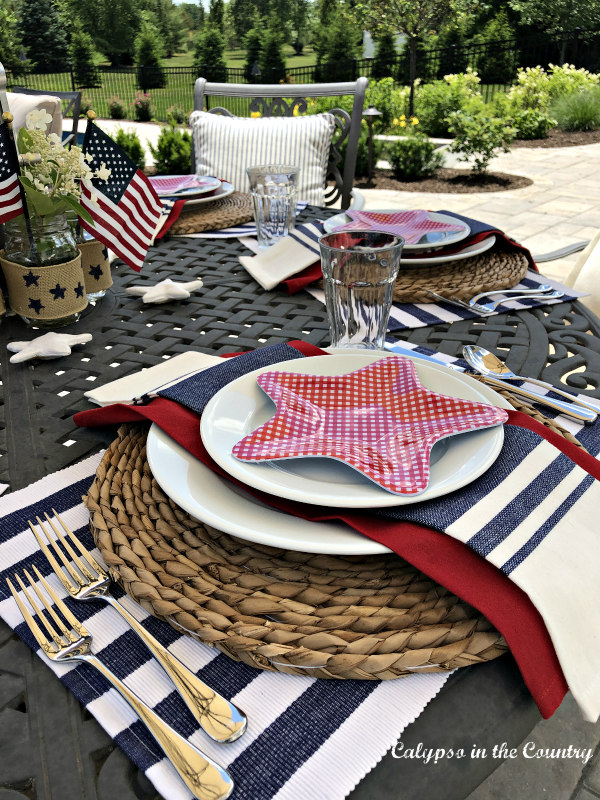 Hopefully, some of these backyard entertaining ideas have inspired you! Now let's do some shopping…
Ideas for Outdoor Entertaining Areas – Shopping Finds:
Rather than lug all your indoor dishes out to the patio, treat yourself to some lightweight melamine dishes. Practical and so cute!
Plus, I'm thinking this set would be perfect for Cinco de Mayo. After all, it's just around the corner!
If a built in firepit won't work in your backyard, this firepit will give you a similar look.
Bring some indoor comfort to your outdoor areas with an indoor outdoor rug.
I'd love to add some of these lights to my patio or even under my umbrella!
If you have space on your lawn, challenge your friends to a game of classic croquet!
Now that I've put you in an outdoor entertaining mood, here are some more creative finds and outdoor decorating ideas that caught my eye this week:
Hopefully, some of these outdoor entertaining ideas inspired you today!
In case you missed last week's Saturday Spotlight, visit –Decorating with Orchids – Saturday Spotlight.
*Also, be sure to see how I decorated my latest outdoor table!
Will you be entertaining outdoors this spring and summer?
Follow along so you don't miss a post!
Subscribe by email – HERE
Pinterest/ Instagram / Facebook / Twitter