I finally got around to decorating my mantel for spring.
I just used things from around the house, so the mantel ended up being more "vacation" than spring.
But since we usually take a spring vacation to the islands, this mantel is "spring" to me!
It kind of says "Calypso in the Country"…LOL!
I have had the Homegoods shell prints laying around the house forever. One was hanging in the dining room for awhile.
But nothing in my house stays in one spot forever!
Oh Rosie, are you trying to get in another picture?
She follows me everywhere!
You will have some glare when you have a cheap camera.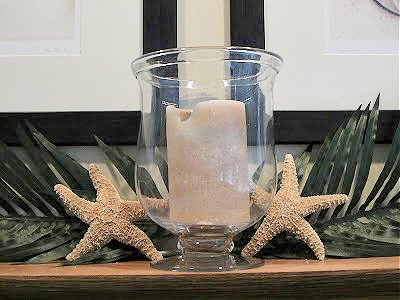 I did try to play around with the light setting a little. I know…such a sad attempt.
You know, it was sunny and 75 degrees here today!
Happy Spring everyone!
Have you decorated your mantel yet?