7 Ways to Update Your Deck for Entertaining
This past weekend's sunny weather made it feel like the perfect time to prepare for some outdoor entertaining! Recently, I made a few purchases for my deck and have been playing around with accessories ever since. I took a bunch of photos and thought I would share some ideas with you!
Please note that this post contains some affiliate links which means I will receive a small commission if you make a purchase after clicking on my links – (at no additional cost to you!)
Here are 7 Ideas to Update Your Deck (or patio) for Outdoor Entertaining:
1. Power wash and re-stain the deck or patio as needed.
Yes, you can see, our deck definitely needed it! When building our deck many years ago, we thought it would be "nice" to go with a cedar deck. Not the best idea for a deck that gets full sun – all day! Every other year, we have ours power washed and re-stained, although, it probably needs it every year!
My little "dog model" insisted on showing how much she loves the new color!
2. Make sure you have plenty of flowers or plants scattered around.
Even if you do nothing else, having some live flowers and plants around will make your outdoor space feel like summer!
I have been faking a green thumb for a few weeks now but I fear that my black thumb will emerge any day now. Better enjoy these while I can! This urn was a Homegoods purchase but I found this similar indoor-outdoor urn which is pretty and lightweight as well! This urn would also look great!
3. Have a few outdoor seating options.
I recently bought this seating set at Home Depot. It was super-inexpensive but we had to put it together – which was not a big deal (for my husband, that is). It's made from powder coated steel which I heard can rust…probably why it was so inexpensive. So, I'm keeping my fingers crossed but so far, I am loving it! *Update – 3 years later it's still looking great! Only a tiny bit of rust on a couple corners. Home Depot now sells a newer version of this seating set.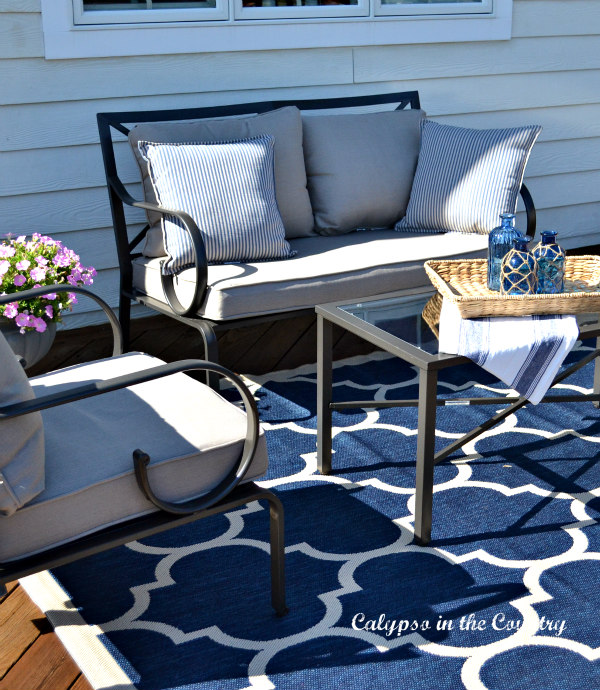 4. Anchor the seating area with an outdoor rug.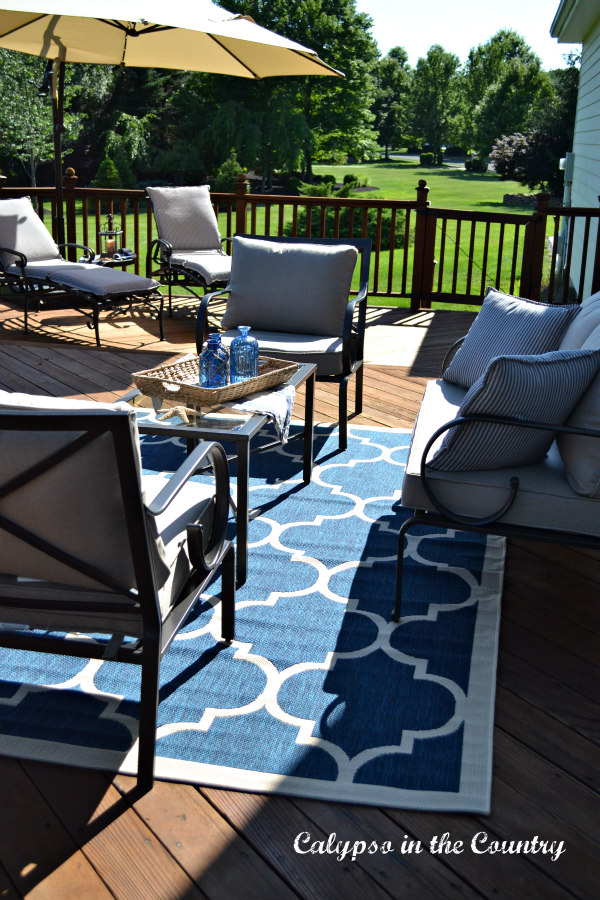 This outdoor rug just might be my favorite purchase all year! It's surprisingly soft for an outdoor rug and I love the pattern and colors!
5. Add a tray and some colorful accessories.
You can't go wrong with a cute seagrass tray – just add some lemons and limes for color! I bought the white woven bowl in Homegoods but this white ceramic basket is also adorable!
We are ready for margaritas! I have had those plastic margarita glasses forever but these colorful margarita glasses would be fun as well!
Since I couldn't decide which look I liked best for the tray, I also tried it with some glass bottles.
Don't you love the coastal vibe they give? These are more Homegoods purchases but I found this blue bottle with netting which has the same look along with this lighter blue coastal bottle.
I think the blue goes with the rest of the deck decor!
6. Add some shaded areas if you have full sun (like we do).
This 11 foot umbrella could be my 2nd favorite purchase this year! Luckily, I was able to find it on sale and it's one of those cantilever umbrellas so it covers a large area. This one is also lined with solar lights underneath and gives off a surprising amount of light at night! If you want a similar look, this 10 foot cantilever umbrella (without lights) looks nice too!
The big umbrella provides a nice shaded spot to sip on some cool drinks…
7. Coordinate your table setting with the rest of the deck decor…
On my deck, I went with a coastal setting to pick up on the blues and also to go with the throw pillows.
You can't go wrong with shells when decorating for summer!
For some reason, I couldn't find the rest of my striped napkins so I alternated striped napkins with some white ones. I actually like both looks.
Here is a view of the whole deck so you can see the layout.
Speaking of "laying out", my fluffy photo-bomber loves getting some sun out here!
8. (Bonus Tip!) This tip is totally optional, but it doesn't hurt to have a cute dog waiting to greet guests! I mean, who wouldn't want to pet this little darling?!!
Thanks for stopping by to see how I updated my deck for summer. I hope I gave you some great entertaining ideas to use in your outdoor area!
If you are looking for more outdoor inspiration, stop by my recent Garden Tour post with ideas for every budget!
Also, since writing this post, we have done some major renovations in our backyard! See how we've updated our outdoor entertaining spaces!
Do you have plans to update your deck for entertaining?
I'd love for you to follow along so you don't miss a post!
Follow by email – HERE
Bloglovin / Instagram / Facebook / Twitter / Pinterest