Early Fall Decorating Ideas (Simple Vignettes with Flowers)
As summer begins to wind down, let's embrace the change of seasons! Today, I'm sharing some early fall decorating ideas using seasonal flowers…hydrangeas from my backyard! Hopefully, I'll inspire you with ways to transition your decor from summer to fall…
*Please note that this post contains affiliate links. If you make a purchase after clicking my links below, I will receive a small commission (at no additional cost to you).
Early Fall Decorating Ideas: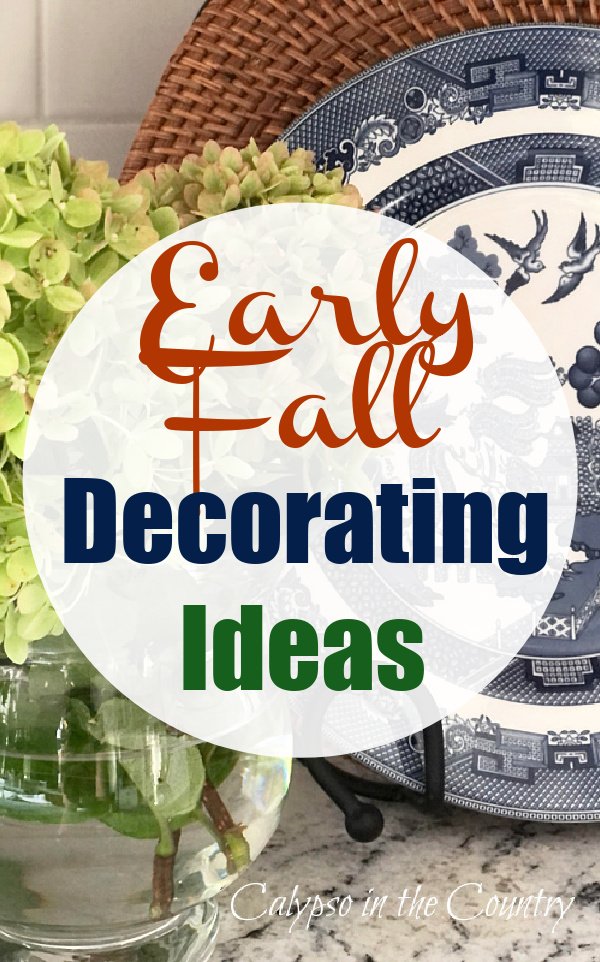 Early Fall Decorating Ideas to Transition from Summer to Fall:

In addition to sharing my early fall decorating ideas, I'm joining a group of 9 other bloggers for a Fall Home Tour!
My friend, Andrea from Design Morsels is hosting us and she is the first stop on the tour! Be sure to swing by to see her beautiful fall decor. If you are just arriving from Bluesky At Home …Welcome! Carol's fall mantel ideas were wonderful! Also remember to visit the rest of the bloggers listed at the end of this post. Get ready for tons of early fall decorating inspiration!
Early Fall Decorating Ideas:
Now, if you've read my blog before, you know that I don't normally rush from one season to the next. That's especially true when it comes to transitioning my decor from summer to fall. In fact, I usually don't even start decorating for fall until September. This year I decided to make an exception and start a little early with my fall decor. After all, in 2020 nothing is normal!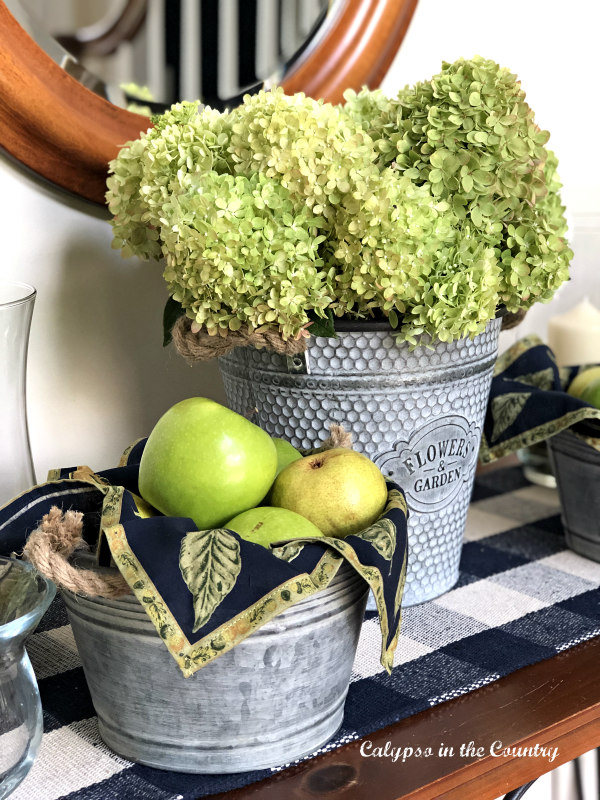 Early Fall Decorating in the Foyer:
Since my hydrangea bushes have been bursting with flowers, I decided to use the hydrangeas as the starting point for all my early fall vignettes. And what better place to start than the foyer…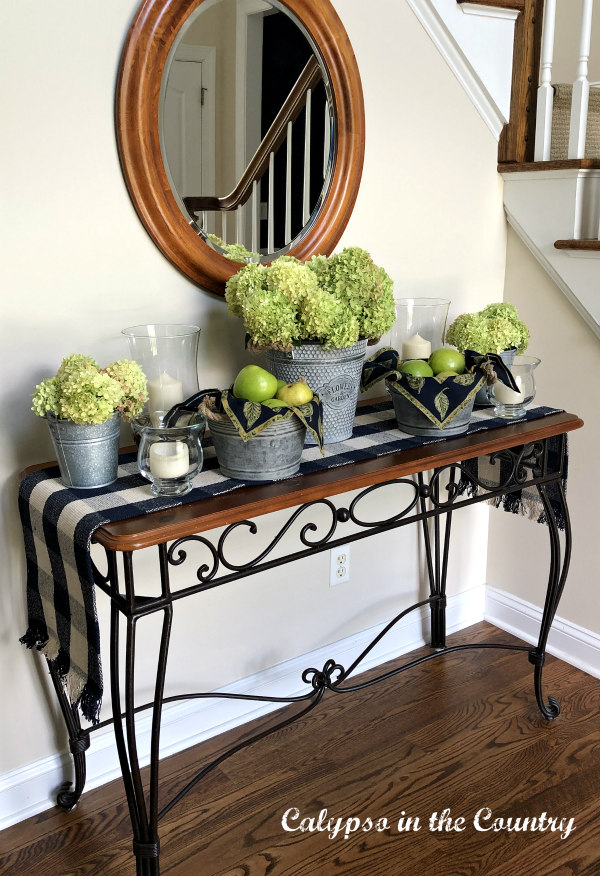 similar galvanized container / similar buffalo check table runner
Each season, I like to update the decor on my foyer table. Recently, I purchased the buffalo check table runner at the Pier 1 – Going out of Business sale. Since I love mixing navy with green, I felt the runner worked well with my green hydrangeas…and green apples! In the past, I've decorated for fall with red apples too.
Lately, I've been loving galvanized metal containers. They're great if you want to decorate in farmhouse style and they can make even simple grocery store flowers look festive! I've used mine many times over the past few years.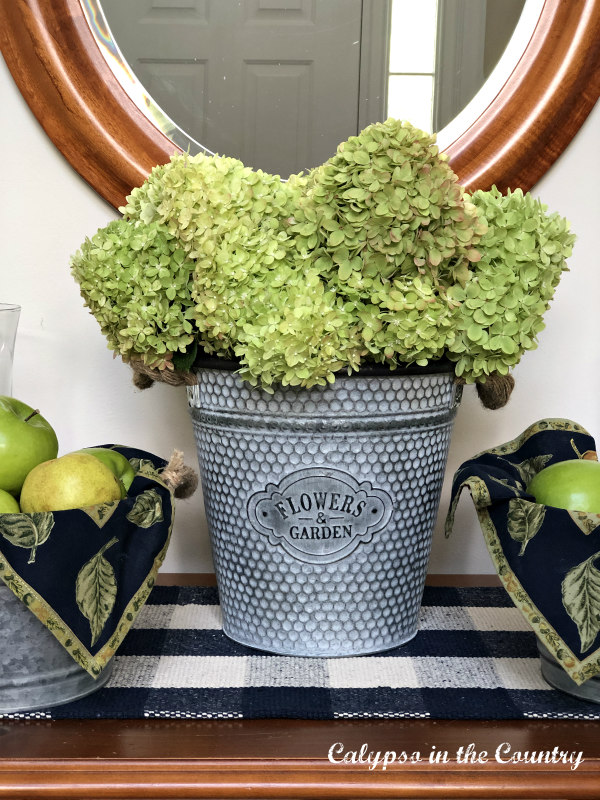 Shop Similar Items for Early Fall:

Early Fall Decorating Ideas in the Kitchen:
Since I already had some blue in the kitchen, I added more hydrangeas and green apples to a corner vignette. To highlight the green apple decorations in the kitchen, I simply placed one of the apples inside a glass cloche.
Blue Willow Dish / similar rattan charger
Then I just continued with the blue accessories, hydrangeas and more green apples on the kitchen island…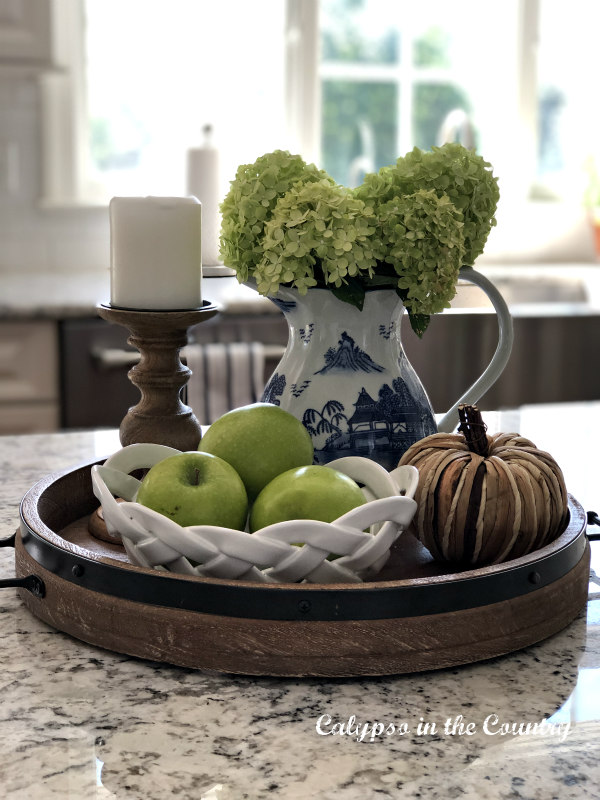 Exact Wood Candle Holder / similar candle holders / similar pitcher
I love decorating with this round tray. Because of its rustic farmhouse look, it seems to work with everything. As you can see, I added a textured pumpkin to the mix for just a hint of fall. Obviously, I'm not going too crazy yet. Since I couldn't decide between the wooden candlestick (above) or the glass hurricane filled with hazelnuts (below), I'll show you both options…
Similar Round Wood Tray/ Round Tray – rattan option
Both looks incorporate my green apple and blue theme…
For even more ideas for hydrangeas in the kitchen, check out my more recent early fall ideas.
Early Fall Decorating Ideas in the Family Room:
Let's step into the family room where I already had some navy accessories…
On my coffee table, I added more green apples and hydrangeas to my rattan tray. To tie in with the navy in the room, (and hide a frayed section of the rattan), I simply placed a navy napkin under my dough bowl. By the way, this rug is also new! I'll write a post on that along with a full room reveal once I replace a chair in the corner.
Rattan Tray (smaller version) / similar galvanized container
For now, we'll just focus on the blue and green fall vignette.
Like I said, trays make a great base for tabletop decor. Normally, you'd find our remotes here…and probably various items my boys left around. Today, I prettied it up for early fall though. We'll see how long this lasts…
Shop the Early Fall Look:

Early Fall Decorating Ideas for the Living Room:
We'll wrap up the early fall tour in my living room. Once again, I simply added a bouquet of hydrangeas to the coffee table. This time I used a textured seagrass vase to go with the British Colonial vibe in this room.
But I haven't put away my shells yet! Soon, I'll probably switch them to pine cones. For now, I'll just hang on to summer just a little bit longer!
Hopefully, I inspired you with my early fall decorating ideas!
Once the temperatures get a little cooler, I'll be adding more seasonal items and colors to my home. For now, I'm slowly easing into fall while I enjoy what's left of summer!
Once again, thank you Andrea from Design Morsels for hosting this lovely tour!
Please visit the rest of the participants on the Fall Home Tour from the list below. If you are following along in order, My Hubbard Home is next. Rachelle has some great tips to transition into fall!
What are your favorite early fall decorating ideas?
Follow along so you don't miss a post!
Subscribe by email – HERE
Pinterest/ Instagram / Facebook / Twitter