Sherwin Williams Naval – Dining Room Ideas for Every Season
Are you afraid that painting a room navy will limit your seasonal decorating options? At one point, that idea did cross my mind. Though, after we painted our dining room Sherwin Williams Naval, all my worries disappeared.
Sure, it's easy to decorate for the seasons when you have white or light colored walls. Yet, I now believe that colorful walls can be almost as versatile as white…and possibly more interesting.
Today, I'm going to share the variety of ways I've decorated my dining room through the seasons. I think you'll agree that navy walls provide plenty of options for seasonal decorating!
Sherwin Williams Naval – Dining Room Ideas for Spring:
To me, green and white accessories make a room feel so fresh for spring…and they look fabulous with navy!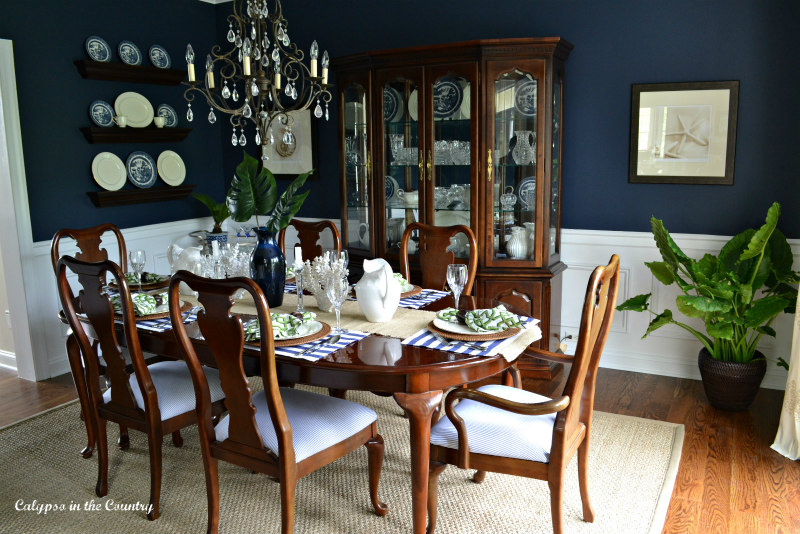 When you have dark navy walls, (and dark furniture) it helps to add some white to lighten it all up. As you can see, I leaned towards a coastal look which can work for spring or summer. See more photos and read about all the room details in my dining room reveal post.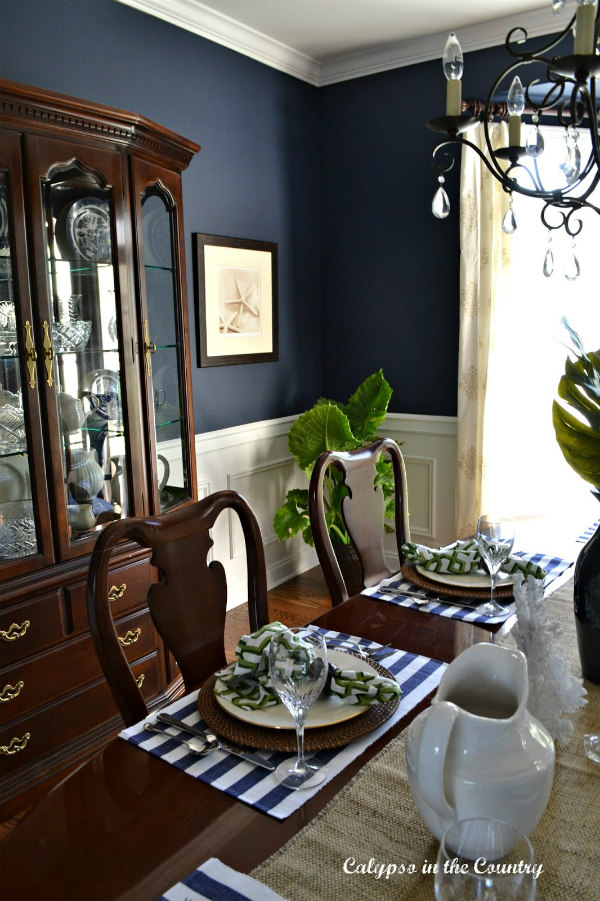 Sherwin Williams Naval – Dining Room Ideas for Summer:
When your walls are navy, it's easy to pull off a patriotic look for summer!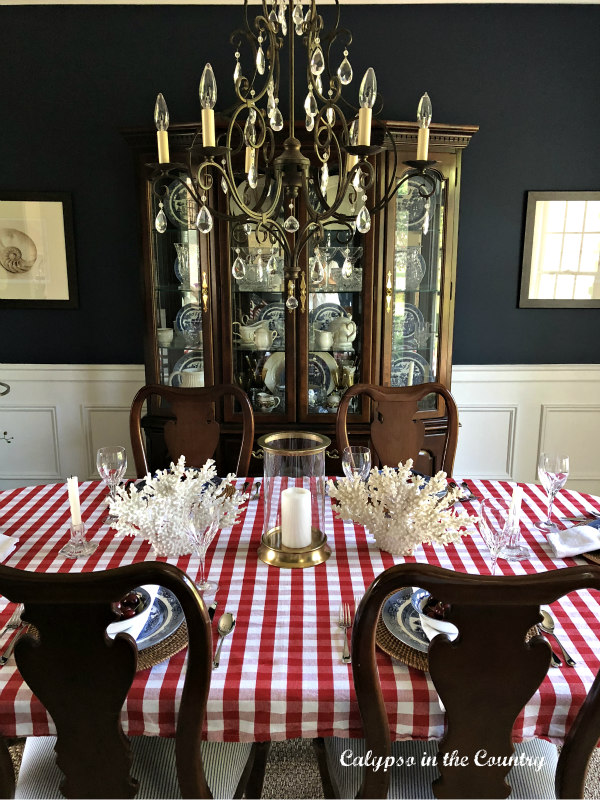 Just by adding a red and white checked tablecloth and some simple American flags, you can make a big impact in a navy room. Be sure to hop over to that patriotic dining room post to see the table details and my festive bar cart.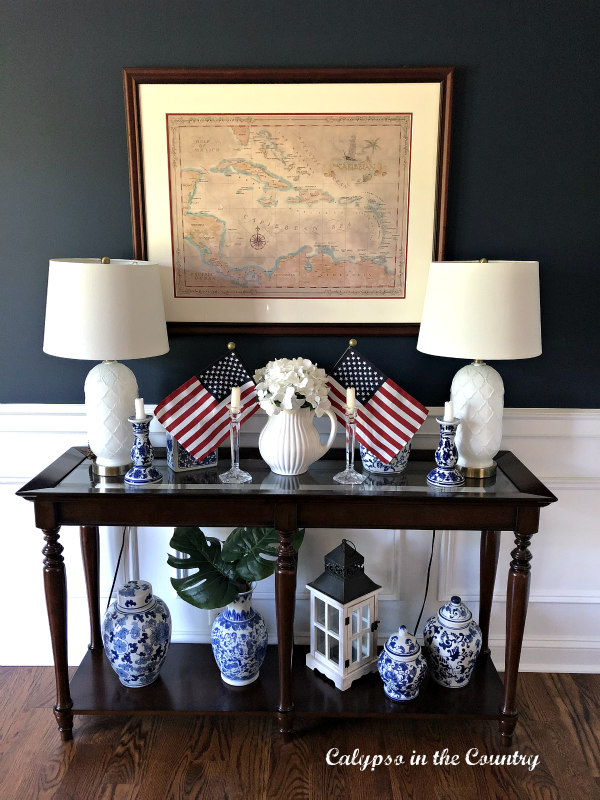 Patriotic Decor in the Dining Room
Sherwin Williams Naval – Dining Room Ideas for Fall:
Since orange is the complementary color of blue, I thought pumpkins were the perfect fall accessory to go with the navy walls.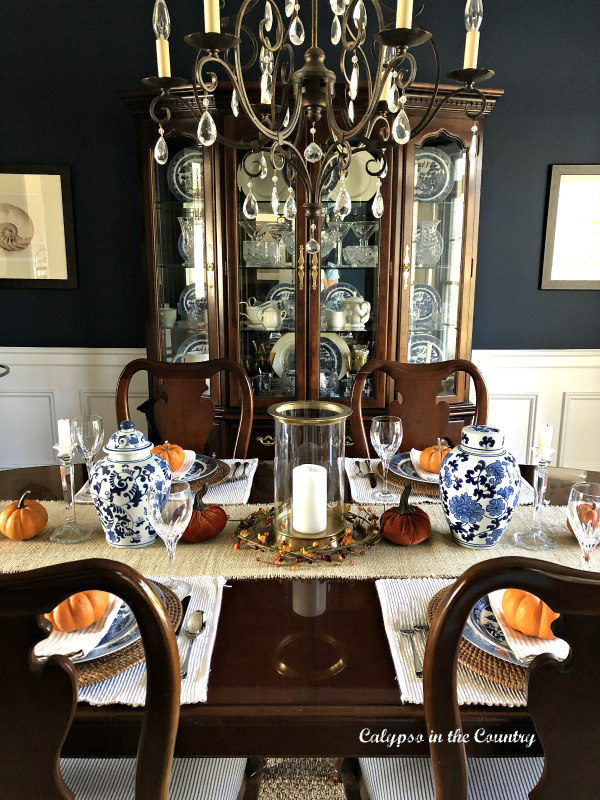 Embracing Fall in the Dining Room
Sure, some people avoid decorating with orange but I love the warmth it gives a room in the fall. To keep it interesting, I also added in plenty of neutrals and textures. If you prefer to forgo the orange, here is a fall table with a more neutral color scheme.
On my bar cart, I continued those colors and textures and even added some painted pumpkins. As you can see, the Sherwin Williams Naval walls make a perfect backdrop for all these festive fall colors. Be sure to swing by my Embracing Fall in the Dining Room blog post to read about my inspiration for my painted pumpkins…
If you are looking for more fall bar cart ideas, check out my 3 Ways to Decorate a Bar Cart for Fall.
Ideas for Thanksgiving Decorating:
Since we host Thanksgiving every year, I needed the navy walls to work with my Thanksgiving decor…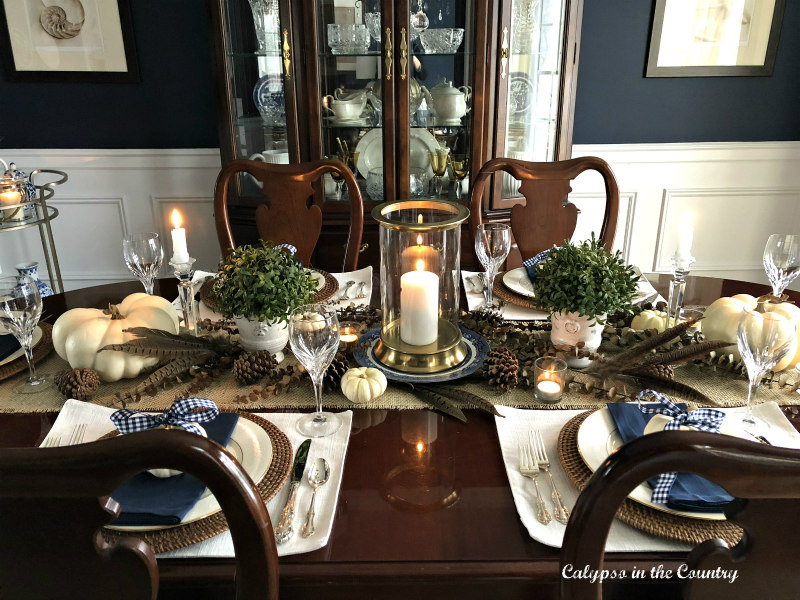 Luckily, my china is off white, so that was an easy starting point. Basically, I stayed with browns and neutral accessories. Then I added some navy napkins to coordinate with the navy wall color.
To dress up each place setting, I set a mini white pumpkin with a simple gingham bow on each napkin…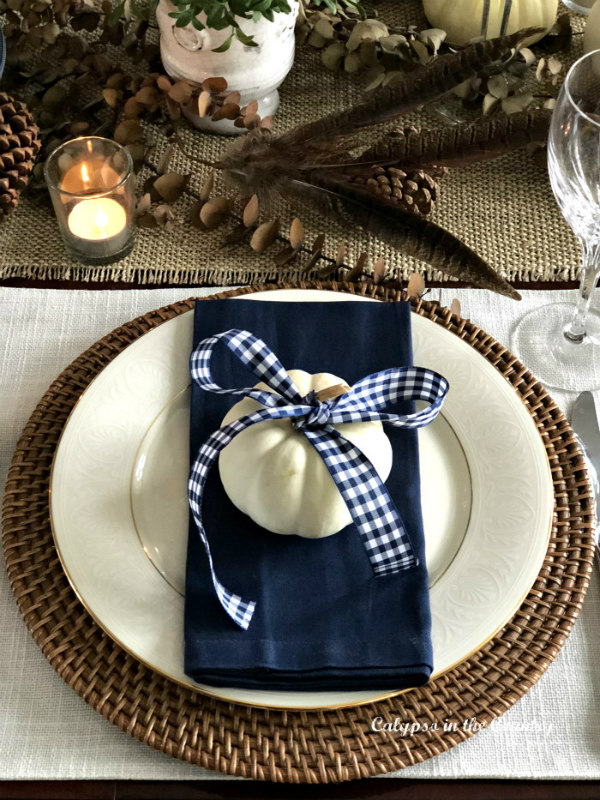 Thanksgiving Table Setting in a Navy Dining Room
I thought this added just the right amount of navy to the table.
Sherwin Williams Naval – Dining Room Ideas for Christmas:
When I decorated for Christmas, I wanted to add enough green to keep the room from being too red, white and blue…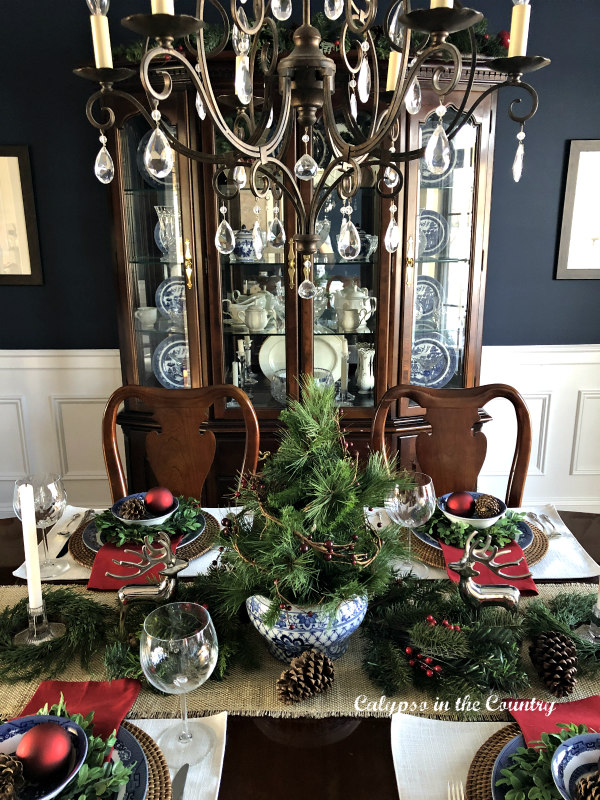 Obviously, that wasn't too much of a problem with all the garland and Christmas greenery I had in my stash. After experimenting a little, I ended up using mostly green with splashes of red in the dining room that Christmas. You can see all the details here – Christmas in the Navy Dining Room.
Christmas in the Navy Dining Room
Luckily, all my blue and white porcelain fit right in. Now that my dining room is navy, I leave those pieces out all year!
Hopefully, I inspired you to take a chance and paint a navy room in your home.
As you can tell, I'm thrilled with the way Sherwin Williams Naval works in my dining room!
Do you have any navy rooms in your home?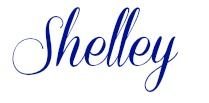 Follow along so you don't miss a post!
Subscribe by email – HERE
Pinterest/ Instagram / Facebook / Twitter