Buffalo Check Inspired Fall Decor (for the Mantel)
Do you love buffalo checks? Well, I can't get enough of them…especially in the fall. So today, I'm sharing my fireplace mantel all dressed up with black and white buffalo check fall decor. I hope you will "fall in love" with it!
*Please also note that this post contains affiliate links. If you make a purchase after clicking my links below, I will receive a small commission (at no additional cost to you).
Before I get started on my fall mantel details, I'd like to announce that I'm joining a group of 20 other bloggers for a Fall Ideas Tour! Today, my group is sharing mantel decorating ideas. So, when you're done here, be sure to visit the other blogs on the list to see all the beautiful fall mantels!
Fall Ideas Tour:
Come get inspired by all our fall decorating ideas!
First, I'd like to thank Angie from Postcards from the Ridge who is hosting us today. So, be sure to swing by to see her beautiful fall tiered tray. If you are just arriving from Thistle Key Lane…Welcome! I'm sure you loved Michelle's gorgeous fall mantel as much as I did! Also remember to visit the rest of the bloggers listed at the end of this blog post for tons of fall decorating ideas! Let's get inspired!
Fall Mantel Decorated with Buffalo Checks: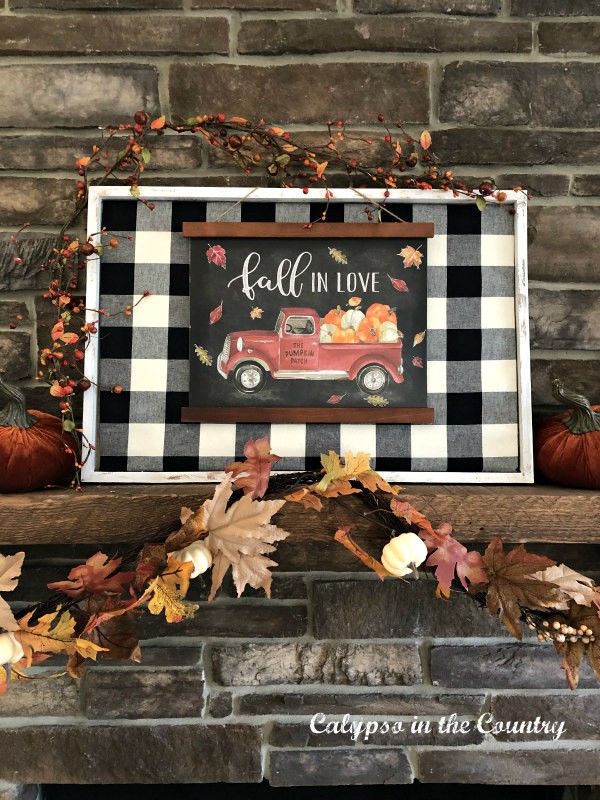 Finding Fall Decor Inspiration:
Whenever I'm trying to find inspiration for a decorating project, I like to take a look around my house to see what I can reuse.
Since I happened to have some black and white buffalo check fabric laying around, I decided I would try to create a background with it somehow. Then I came across this winter sign that I used to decorate a Christmas mantel years ago...
Suddenly, my wheels started turning and I decided to cover the winter sign with the buffalo check fabric. This way, I would have a nice frame around the black buffalo check decor. Since I didn't want to damage the sign by attaching the fabric directly to it, I decided to wrap a piece of foam board with the fabric.
Super Easy Buffalo Check DIY Project:
Basically, I cut the foam board to size and then wrapped it like a present.
To keep the fabric secure, I used packing tape.
Then, I simply flipped over the buffalo check board and pressed it into the frame. Easiest DIY ever!
Since I had recently picked up this cute, "Fall in Love" hanging sign, I hung that in front of the buffalo check frame…
similar faux bittersweet / similar velvet pumpkins / similar fall sign / another fall sign
From there, I added some artificial bittersweet and some velvet pumpkins. Even though I tend to decorate my mantel in a simple style, I felt like this year's fall mantel still needed something more.
Buffalo Check Fall Decor for the Mantel:
Since I think more is better when it comes to buffalo checks, I decided to paint some mini pumpkins to coordinate with my framed buffalo check fabric.
Luckily, I found two white pumpkins in my craft stash that were the perfect size to paint small checks. After all, I thought the scale of the buffalo check pumpkins should be smaller than the checks in the frame. In my opinion, varying check size makes the display more interesting. To see all the details on how I painted my pumpkins, read my easy pumpkin painting tutorial.
If you don't want to bother painting your own buffalo check pumpkins, these cute ones have a similar look – at a great price!
similar fall garland / similar buffalo check pumpkins
On the day I bought the "Fall in Love" sign, I also picked up this fall garland. It was on sale and I figured I could always use another garland…
From there, I mixed in my "old standby" black candlesticks and some white candles…and basically I was done!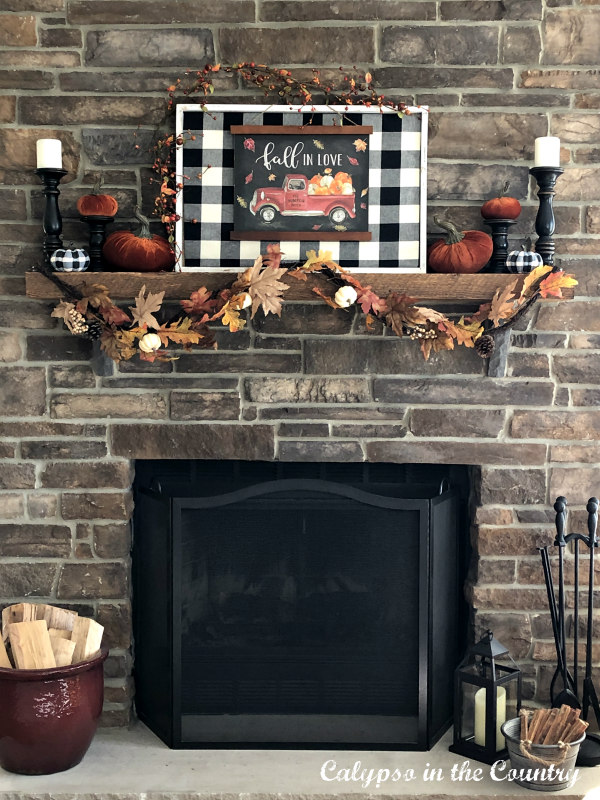 Hopefully, my buffalo check fall mantel inspired you to start decorating for fall! After all, it will be here before we know it!
Once again, thank you Angie from Postcards from the Ridge for hosting this wonderful Fall Ideas Tour!
Please visit the rest of the participants on the Fall Ideas Tour from the list below. If you are following along in order, Virginia Sweet Pea is next. Paula has such a gorgeous fireplace so I'm sure you are going to love her fall mantel!…
Fall Mantel Decor Ideas
Fall Tablescape Decor Ideas
Fall Porch and Deck Decor Ideas
Fall Tiered Tray Decor Ideas
Fall DIY Crafts
Will there be buffalo checks on your mantel this fall?