10 Most Popular Posts of 2019
Happy last few days of the year…and decade!  Since we all love a countdown, I gathered up my most popular posts of 2019 to share with you.
Countdown of the 10 Most Popular Posts of 2019: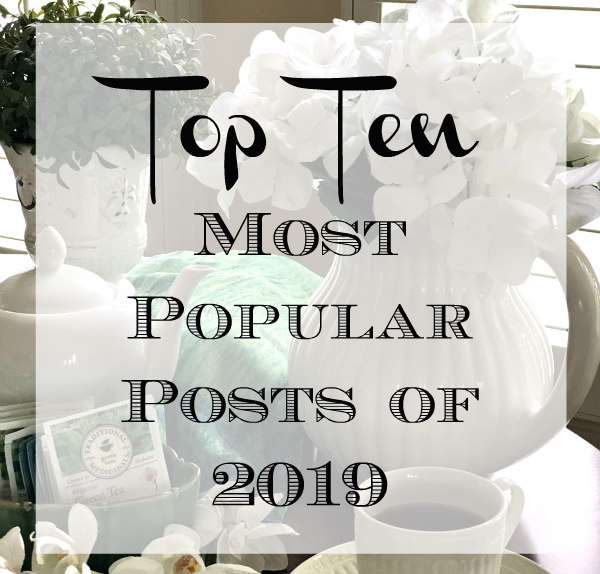 (Please click the link below each photo to take you to the full post.)
#10 Favorite:
#10 – Afternoon Tea in the Spring
As a tea drinker, creating an afternoon tea vignette was a lot of fun for me.  Plus, I was able to share my ideas in a blog hop with a bunch of talented bloggers!
#9 Favorite:
#9 – Summer Entertaining – New Patio and Pool
This year, my kids and I finally convinced my husband to put in a pool.  Although the process took forever, we were so happy with the results.  In my summer entertaining post, I gave you a mini tour of the pool area focusing on the entertaining spaces.  We literally spent all of our free time out there this summer and can't wait for warmer weather so we can do it again this year!  Also, this year I finally plan on sharing a whole "before and after" of our backyard.  Stay tuned for that!
#8 Favorite: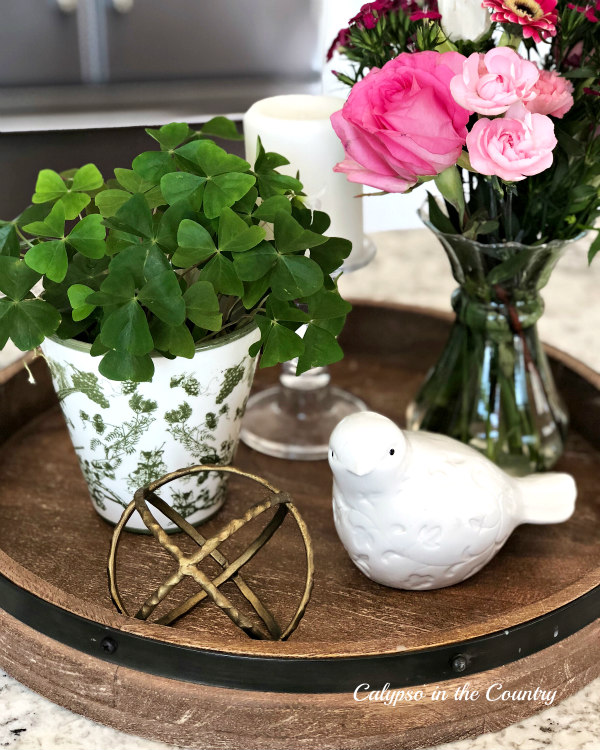 #8 – Simple Ideas for Decorating with Green
Although, I don't go too crazy with St. Patrick's Day decorations, I came up with some simple ways to decorate with green for spring and St. Patrick's Day.  Of course, one of them involved my bar cart which I manage to squeeze in whenever possible!
#7 Favorite:
#7 – Updating a 20 Year Old Master Bathroom
Ok, so I'm a bit embarrassed over this one!  When I wrote this post, I was all motivated to get moving on my bathroom renovation.  At that point, I envisioned weeks of updates and decision making where I would document all the exciting renovation details.  Well….things didn't exactly go as planned.  Since we were also in the midst of a backyard makeover, I ended up focusing on that instead.  But I'm happy to report that in 2020, the bathroom renovation will be at the top of my list.  Stay tuned for an update to my now 21-year old master bathroom!
#6 Favorite:
#6 – Winter Decorating Inspiration with Pine Cones and Candles
If you're like me, you'll agree that it can be challenging to decorate right after Christmas.  Sure, it can be a relief to put away all the Christmas clutter but then our homes feel a little bare.  In this post, I came up with a few simple ideas to decorate during that in-between time.
#5 Favorite: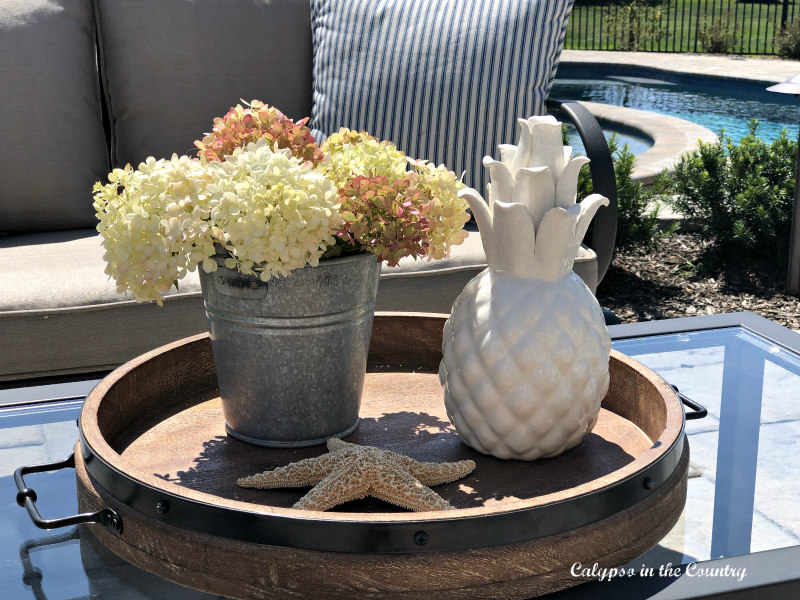 #5 – How We Transition from Summer to Fall
Another in-between period is summer to fall.  As someone who adores summer, it's surprising that I even came up with any ideas for this one… But actually, I realized there are certain things I do each year that helps me transition my home to fall.
#4 Favorite:
#4 – Warm and Cozy Thanksgiving at Home
When I decorated for Thanksgiving this year, I didn't have too much of a plan until I discovered my pretty botanical tablecloth packed away.  I used it as a starting point to decorate my dining room for Thanksgiving.
#3 Favorite: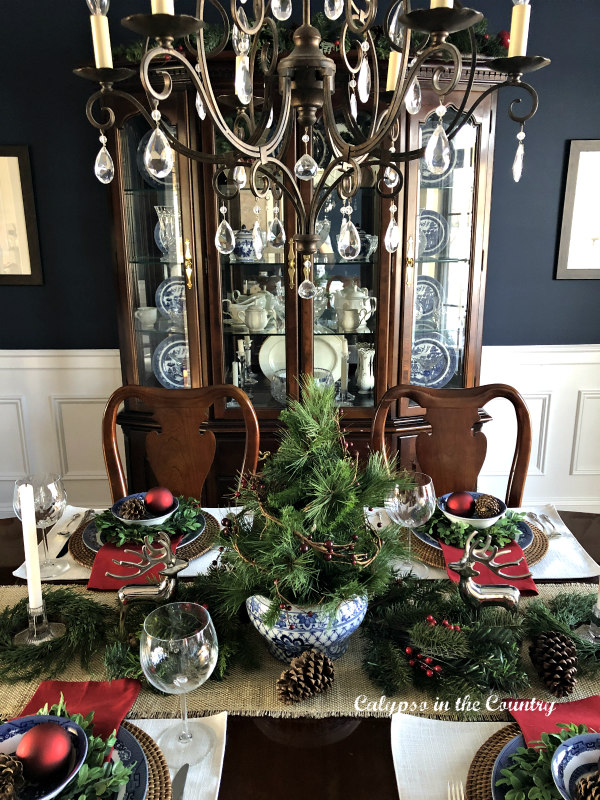 #3 – Christmas Table in a Navy Dining Room
While we're in the dining room, let's talk about Christmas!  Since I love decorating with color, I enjoyed embellishing my dining room for the holiday season.  In fact, I loved it so much that the room is still decorated for Christmas at this very moment!  Don't worry, I plan to take everything down on New Year's Day.
#2 Favorite:
#2 – Casual Thanksgiving Table Setting in the Kitchen
Not only did I set my dining room for Thanksgiving but I also set my kitchen table.  After all, we host a houseful of people and we need to overflow into the kitchen each year.  Why not make that table equally pretty – yet a bit more casual.  For this table setting, I used galvanized accessories, fun colors and simple items from the grocery store.
#1 Favorite:
#1 – Embracing Fall in the Dining Room
Even though many people say they don't like decorating with orange for fall, my fall dining room with orange pumpkins ended up being my most popular post of 2019!  Surely, it must have been the combination of the blue and orange that drew everyone in.  In my opinion, blue dishes go with everything and every season!
In addition to the 10 popular posts above, the following posts remained popular during the year…but were written in previous years:
If you would like to see my most popular blog posts from previous years, visit the links below:
Thank you so much for reading this year!  As always, I appreciate all your comments, feedback and friendship. 
Also, I want to take this time to thank Amber from Follow the Yellow Brick Home and Chloe from Celebrate and Decorate for inviting me to join your blog hops this year.  Many of my posts made it to my most popular list due to the exposure on your blog hops!
Best wishes for a happy and healthy New Year!
Cheers!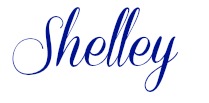 I'd love for you to follow along so you don't miss a post!
Follow by email – HERE
Instagram / Facebook / Twitter / Pinterest