Patriotic Home Decor Ideas for the 4th of July – Saturday Spotlight
Happy weekend and welcome to the Saturday Spotlight! Can you believe June is almost over? Even though, I'm not thrilled about how fast the summer is going, I am looking forward to the 4th of July. So in honor of the upcoming holiday, this week I'm highlighting some patriotic home decor ideas for the 4th of July!
*For your convenience, please note that this post may contain affiliate links. If you make a purchase after clicking my links below, I will receive a small commission (at no additional cost to you).
Patriotic Home Decor Ideas From My Blog:
In my opinion, it's so easy to decorate for the 4th of July. Just add some flags to your decor and basically you're done! No need to overthink it.
Red, White and Blue Decorating Ideas:
Last year, I repurposed my red roses (leftover from our June anniversary) and made them the focal point in our foyer…
4th of July Decorating in the Foyer
By using some galvanized containers and a blue and white grain-sack style table runner, I gave my summer vignette an American- farmhouse feel. After adding in a few flags, I was set for the 4th of July!
Decorate with Some Simple and Patriotic DIY Projects:
If you're like me, you probably have a bunch of mason jars in your decorating stash. Well, pull them out and use them as vases for your summer flowers…and of course, add some flags.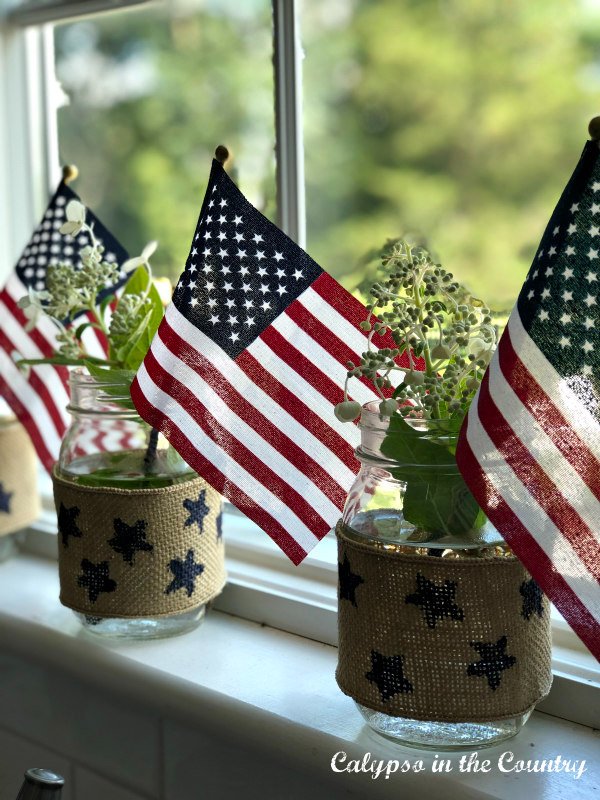 4th of July Decorating on a Budget
Yes, I use the word "flowers" loosely when describing the photo above. At the time, my hydrangeas had barely started to bloom but I didn't want to buy flowers for the project. Just pretend they look full... Also, be sure to read about my little "trick" to stencil the stars onto the burlap.
Patriotic Home Decor Ideas for the Table:
If you regularly read my blog, you've probably seen my patriotic baseball table...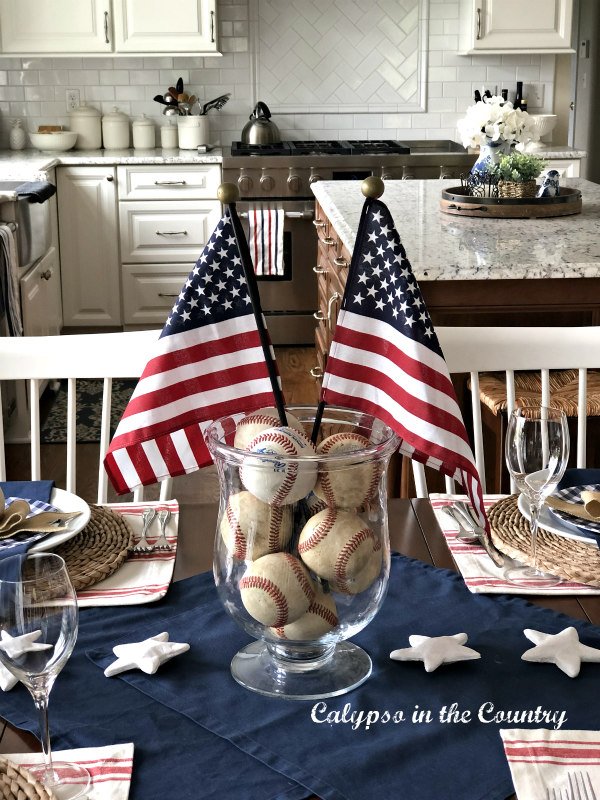 Patriotic Tablescape with Baseballs
When I found a bunch of old baseballs lying around in the garage, I had the idea to create a patriotic tablescape around them! After all, baseball is known for being "America's pastime"!
Patriotic Home Decor Ideas for the Dining Room:
Once again, by adding a few flags to my existing decor, I created another patriotic vignette!
This was just one of the patriotic decor ideas I shared last year.
Patriotic Home Decor Shopping Finds:
Of course, it's always fun to shop for some festive patriotic decor…
Since we're all inviting guests back to our homes again, make them feel welcome…with this stars and stripes doormat!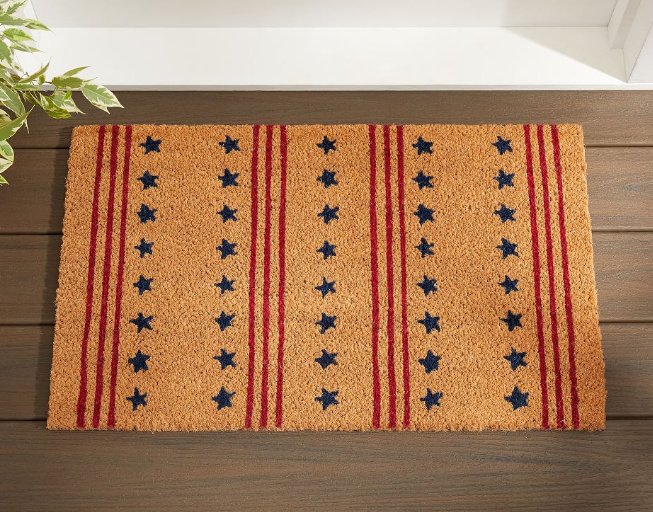 While you're spending time outdoors, freshen up your outdoor living spaces with a stars and stripes outdoor pillow…

Add a splash of patriotic decor to your home with this patriotic banner!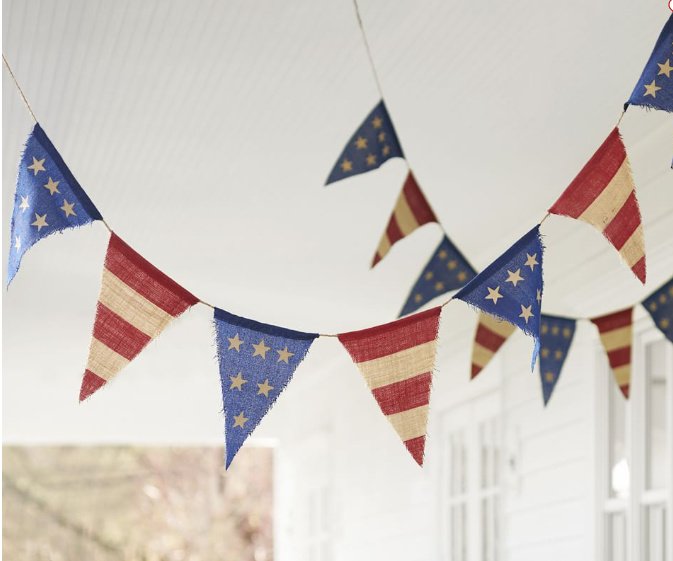 And here are some more patriotic shopping finds you might enjoy:

For even more ideas to celebrate the 4th of July, here are a few patriotic home decor finds from around the internet:
Hopefully, some of these ideas will help you get ready for the 4th of July!
In case you noticed – last week, I skipped the Saturday Spotlight to be the guest blogger at Welcome Home Saturday. Be sure to swing by to see what the hosts and I shared –Welcome Home Saturday – Summer Inspiration!
What are your plans for celebrating the 4th of July this year?
Follow along so you don't miss a post!
Subscribe by email – HERE
Pinterest/ Instagram / Facebook / Twitter