Summer Nights – Entertaining on the Patio
June is here and summer will officially arrive in a few weeks! Today, I am going to show you how we spend our summer nights and give you some summer entertaining ideas for your patio or deck. Of course lately, the only entertaining we've been doing on the patio has been socially distant entertaining… But that's something, right?
Summer Entertaining by the fire pit:
Our fire pit has been a lifesaver these days. Between toasting marshmallows and making smore's to just sitting out on a cool evening, this has been the place for us to gather. We even got daring one night and invited neighbors over for a socially distant glass of wine. Not only were our chairs spread out at least 6 feet but I am sure that roaring fire in the middle killed any airborne viruses!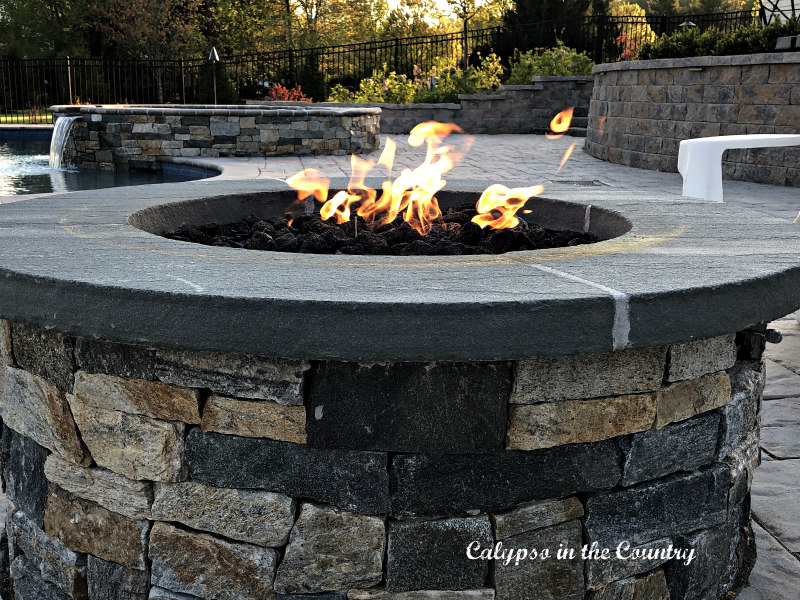 *Please note that this post contains affiliate links. If you make a purchase after clicking my links below, I will receive a small commission (at no additional cost to you).
Before I share the rest of my summer entertaining ideas, I'd like to tell you that I'm also joining a wonderful group of bloggers for an Summer Nights- Mini Blog Hop! This blog hop is hosted by my sweet friend Cecelia of My Thrift Store Addiction. To begin our tour, she's sharing her beautiful pallet picnic so be sure to stop by! Please also be sure to visit the links at the end of this post for more inspiring summer nights ideas from the rest of the group.
Now, let's continue with my summer entertaining ideas…
Summer Entertaining – Dinner Ideas:
In the summer evenings, we grill every chance we get. In my opinion, grilling makes everything taste more delicious. Besides the traditional hamburgers and hot dogs, we also grill chicken and other cuts of beef on a regular basis. We've also grilled tuna and swordfish on occasion.
Though lately, my absolute favorite things to grill are fruits and vegetables! Of those, my favorites are peppers, onions and pineapple. I just cut them into small pieces, toss in some balsamic vinegar and grill them on a copper grill mat. Until recently, I hadn't even heard of these grill mats. Then one day my neighbor recommended them and I've been hooked ever since. They are amazing and make grilling vegetables a breeze. The mats are also easy to clean and are reusable. Definitely check them out if you are planning to do some summer barbecue grilling.
Entertaining on the Patio – Landscape Lighting:
Our landscape lighting has been one of my favorite features on our patio. We set the lights on a timer so they turn on at dusk to illuminate the walkways, stairs and seating areas. I love the welcoming vibe they give the backyard. If you have considered adding landscape lighting to your yard, I say go for it! You won't be disappointed!
Summer Evening Entertaining with Candles:
There is nothing like the glow of candlelight to add to the ambiance of the evening. Even though we have plenty of landscape lighting on our patio, I also love to bring out the lanterns. They look so pretty lined up on the stairs and on the center of the table.
In addition to regular candles, I also scatter some citronella candles around. Who needs bugs spoiling all their outdoor fun?
Speaking of fun…
When we added our pool, my son requested the pool lights that change colors. Originally, we had just planned on one color but he convinced us to go with the fun changing lights and we were glad we did. The pool lights are linked to our phones so we can set the lights to cycle through a series of colors or stay on one. The kids love it and it's nice to look at while we are sitting out there.

You might also notice the tall lights by the fence. Those lights turn on with the landscaping lights but they also double as tiki torches. We can take the top off and light them for a real tropical look around the pool. They're filled with a citronella fluid so they keep the bugs away and look so cute when they're all burning. For some reason I don't have any photos of them in action though…I need to do that.
Summer Entertaining and Appreciating the Sunset:
As the weather gets nicer, we spend more days in our backyard…which means more days to appreciate the sunset. When we look out at the beautiful sky, all seems right in the world for those few minutes.
Hopefully, I inspired you with ways to appreciate the summer nights along with some nighttime summer entertaining ideas.
Now, for some more Summer Nights inspiration, visit Coco at The Crowned Goat to see her beautiful summer bedroom refresh!
Where are you spending your summer nights?
I'd love for you to follow along so you don't miss a post!
Subscribe by email – HERE
Pinterest/ Instagram / Facebook / Twitter