How to Decorate a Patriotic Tablescape with Old Baseballs
Happy Memorial Day! Sure, we might be celebrating a little differently this year but that's no reason not to decorate! Of course, these days we have to get creative and use what we have. Recently while cleaning out the garage, I came across a bucket of old baseballs. Since my kids haven't used them in awhile, I decided to use those old baseballs to decorate a patriotic tablescape! Take a look at what I created…
*Please note that this post contains affiliate links. If you make a purchase after clicking my links below, I will receive a small commission (at no additional cost to you).
Patriotic Tablescape with Old Baseballs: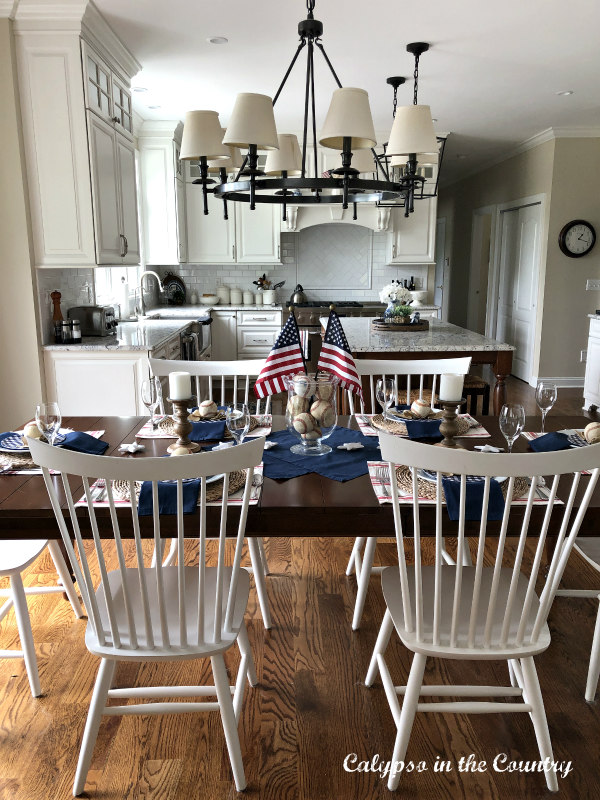 Baseball – America's Favorite Pastime:
Since we all recognize baseball as "America's favorite pastime", I decided to use that as my theme for the tablescape. Though instead of going overboard with too many baseball items, I tried to keep a balance between patriotic and a sophisticated baseball theme table. That way the tablescape could work for kids or adults.
For my centerpiece, I simply filled a glass hurricane with a bunch of the old baseballs and stuck some flags on top.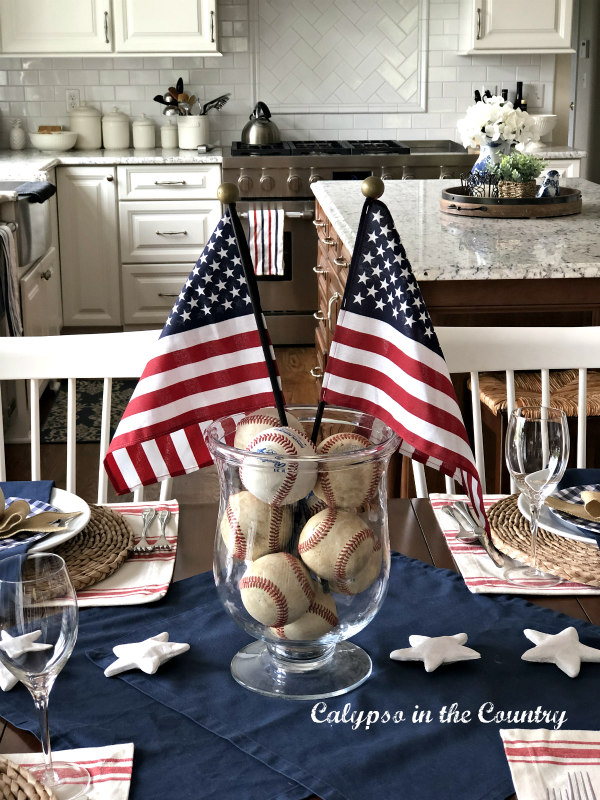 Red, White and Blue:
Obviously, red, white and blue colors are essential for a patriotic tablescape. I anchored my baseball centerpiece with some layered navy blue napkins and lined up some white stars against the blue. I made the stars with a flour dough mixture, baked them and then painted them white. Originally, I had planned to paint flags on the stars but I ended up liking the way the white stood out against the blue napkins. After all, our American flag has white stars on a navy blue background.
I continued the red, white and blue on each place setting…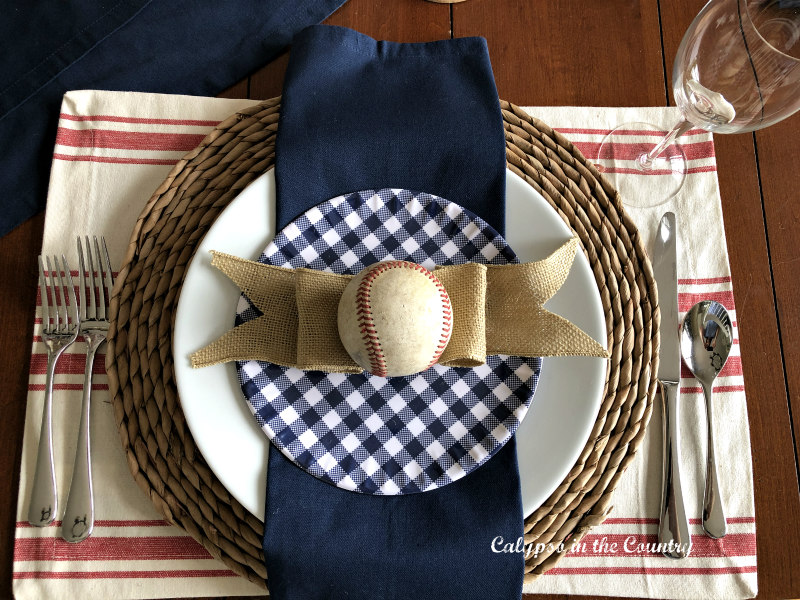 To coordinate with the baseballs, I used my red and white striped place mats and then layered navy and white plates and napkins. In my opinion, the mix of patterns and textures gives the table a classic Americana type of vibe.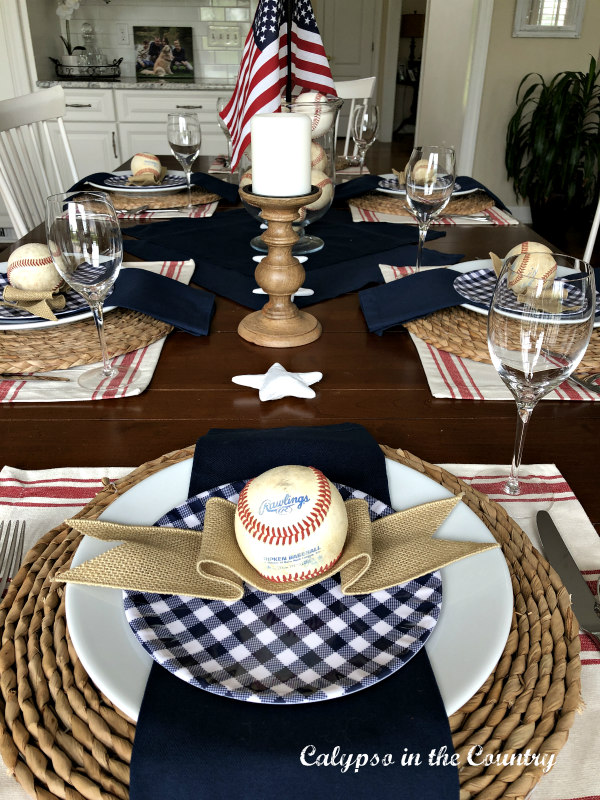 Repeat the baseball theme on each setting:
In keeping with my simple-sophisticated baseball theme, I placed one baseball on each place setting. At first, I couldn't figure out a way to keep the baseball on each plate stack without having it roll around. Then I decided to use some wired burlap ribbon. First, I cut the ends to give a baseball pennant look to the ribbon and then folded the middle part under. This left a nice resting place for each baseball so it wouldn't roll around.
Plus, the burlap ribbon made the ball stand out as a focal point on each place setting. The ribbon also coordinated well with the seagrass chargers and my wooden candlesticks. Since this is a baseball themed table, those wooden candlesticks could represent the baseball bats, don't you think?!!
Keep it Casual:
As you can see, I didn't bother with a tablecloth. Since a baseball themed table generally has more of a masculine vibe, I didn't want anything too fussy. That way I could go with this look for a birthday, Father's Day, 4th of July…Basically, any summer holiday where we want to keep it casual but festive…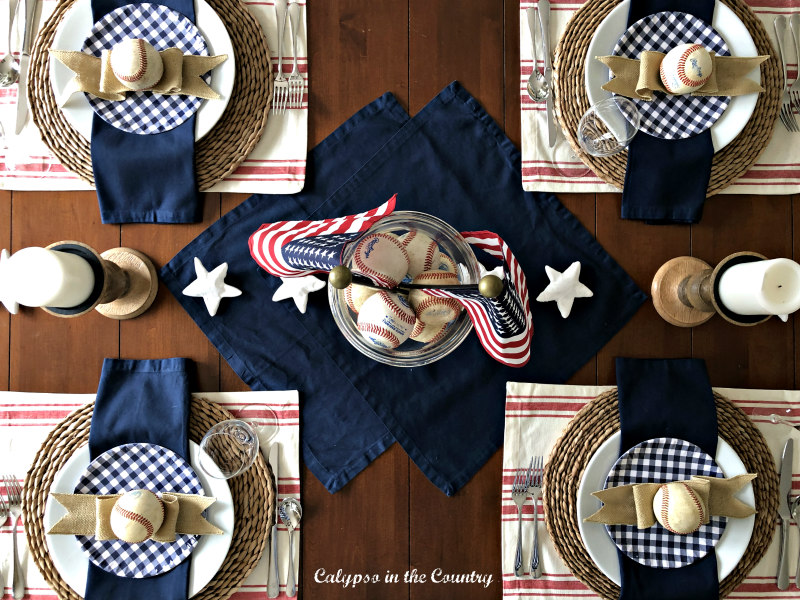 In our kitchen, our table is just steps from the patio so this casual look works just fine for us!
Hopefully, my patriotic tablescape with old baseballs inspired you to decorate with some things you already own. After all, you never know what you will find when you clean out your garage!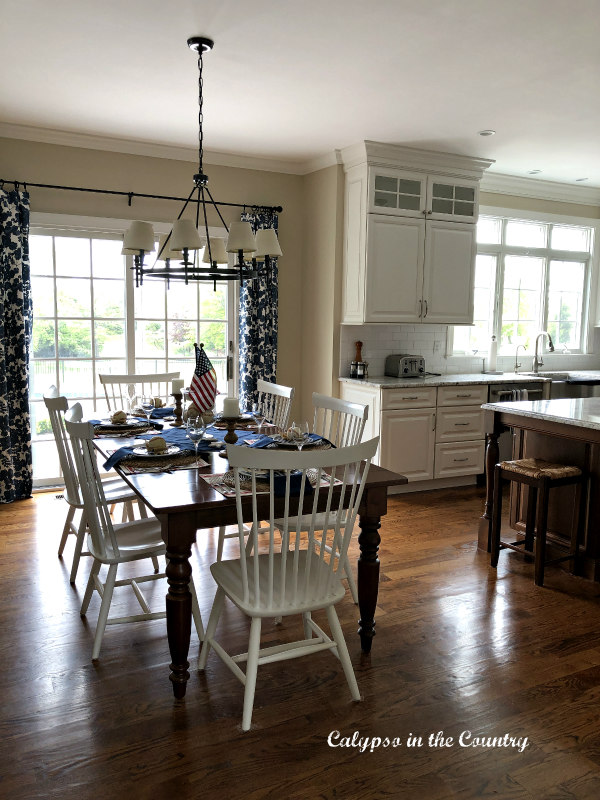 exact blue curtains / similar chairs / similar light / another similar light
Wishing you a Happy Memorial Day! Let's honor those who have sacrificed their lives for our country. Be well.
Sources for a Patriotic Tablescape with Baseballs:
*If you are looking for more patriotic inspiration, here are some more ideas:
Have you decorated any patriotic tablescapes recently?
I'd love for you to follow along so you don't miss a post!
Subscribe by email – HERE
Pinterest/ Instagram / Facebook / Twitter