St. Patrick's Day Table Decor (Pretty and Simple)
Are you looking forward to spring and the spring holidays? Well, since St. Patrick's Day is coming up on March 17th, I've started decorating with some green. In fact, if you're looking for St. Patrick's Day table ideas, you're in luck! Today, I'm sharing my simple St. Patrick's Day table decor along with a group of talented bloggers for a St. Patrick's Day Table Setting Blog Hop!
*For your convenience, please note that this post contains affiliate links. If you make a purchase after clicking my links below, I will receive a small commission (at no additional cost to you).
St. Patrick's Day Table Decor:
Before we begin, I want to welcome those of you who are arriving from Celebrate and Decorate! I'm sure you enjoyed Chloe's St. Patrick's Day table decor and her adorable idea for a table centerpiece. She always creates something special!
Also, a big thank you to our host Debbee from Debbee's Buzz for organizing the blog tour! Debbee always decorates such amazing table settings. I'm sure you will love her latest table featuring some lucky shamrocks!
Let's continue the tour with my St. Patrick's Day table decor…
Welcome to my kitchen!
This year, I set my kitchen table in a St. Patrick's Day theme using traditional green and white…
St. Patrick's Day Table Ideas – Shop Your Home:
Just like most of my seasonal decorating, I kept my St. Patrick's Day table simple.
Rather than buy a bunch of new things, I challenged myself to create a table setting using mostly items I already owned.
Though, I did buy the daisies and the shamrock plant. As always, I'll try again to keep the plant alive…although the one I bought a few years ago didn't make it very long. Unfortunately, I've never been known for having a green thumb!
Lately, I've been thinking about buying some colored glassware. Recently, I've seen some cute ones and I love the way they add a nice splash of color to a table. Then again, so do the green S. Pellegrino bottles used as vases! Don't you think they're perfect for St. Patrick's Day?! Since I like to keep my table centerpieces simple, the bottles and shamrocks were just enough.
Also, I love the way the green bottles stand out against the white runner. Originally, I thought about creating a custom St. Patrick's Day table runner by drawing or stamping shamrocks on a piece of burlap. Sure, a shamrock table runner would have been cute but once I placed the green bottles on the white runner, I was sold. Plus, I didn't have to spend all that time on the DIY project – ha!
St. Patrick's Day Table Decor – Classic Green and White:
As I mentioned, I like to keep a subtle approach to holiday decorating.
For my St. Patrick's Day table, I just decorated with some simple greens and whites…
And as a nod to the holiday, I created some super easy DIY napkin rings. To make them, I just cut up some cardboard paper towel rolls, wrapped a piece of wired burlap ribbon around them and drew a green shamrock with a Sharpie. So easy! If you want some more DIY napkin ring ideas, be sure to check out – How to Make Easy DIY Napkin Rings.
So, you might have noticed that I have two napkins on each of the place settings. Yeah, we're messy eaters…just kidding. Actually, the white napkins are the "real" napkins and the green and white checked ones are just pieces of fabric rolled up. Since I was using white dinner plates, white salad plates and white napkins, I needed more color. Luckily, I had the green and white checked fabric laying around so they added the pop of green I needed on each place setting!
Like I said, I didn't want to spend a lot of time or money to create my St. Patrick's Day table decor! It's not like Christmas, where the decorations stay out for a month or two. Even if you're having a St. Patrick's Day party, you don't have to do a ton of decorating. Basically, most people eat some corned beef and cabbage, drink a little green beer and their St. Patrick's Day celebration is complete! In my opinion, a simple table setting is all you need!
Though I must admit, I'm not really a big fan of St. Patrick's Day themed food. Even though I'm happy to provide a traditional St. Patty's day dinner for guests, I don't eat much of it. Well, maybe a bite or two of Irish soda bread…but that's it. Then again, if someone comes up with some fun Saint Patricks Day cocktails, I'm willing to give those a try!
Is it just me, or is all this green and white getting you excited for spring?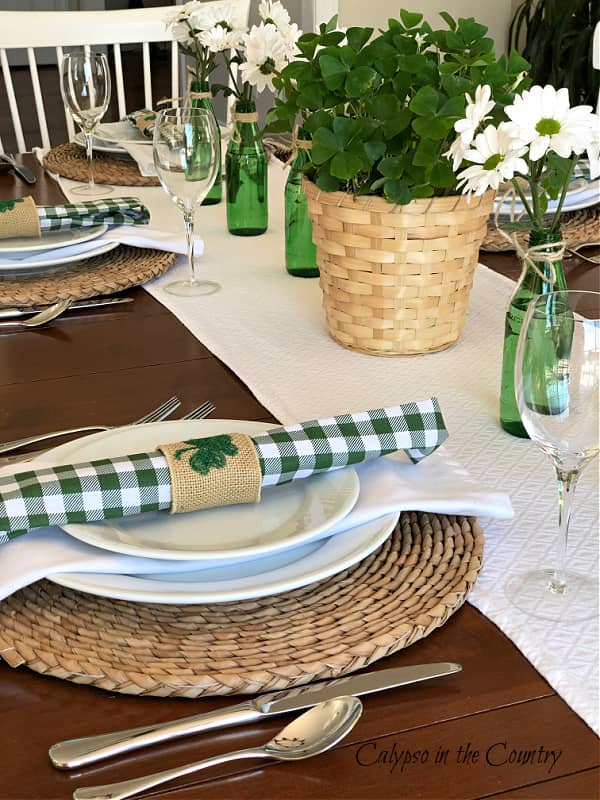 St. Patrick's Day Table Decorations – Natural Textures:
Besides all the green and white, I threw in some texture for interest.
Adding texture was easy to do with a wicker basket for the plant, some twine on the bottles and my go-to seagrass placemats. In fact, I just wrote a blog post on 7 Ways to Set a Table with Natural Fiber Placemats if you want some more inspiration.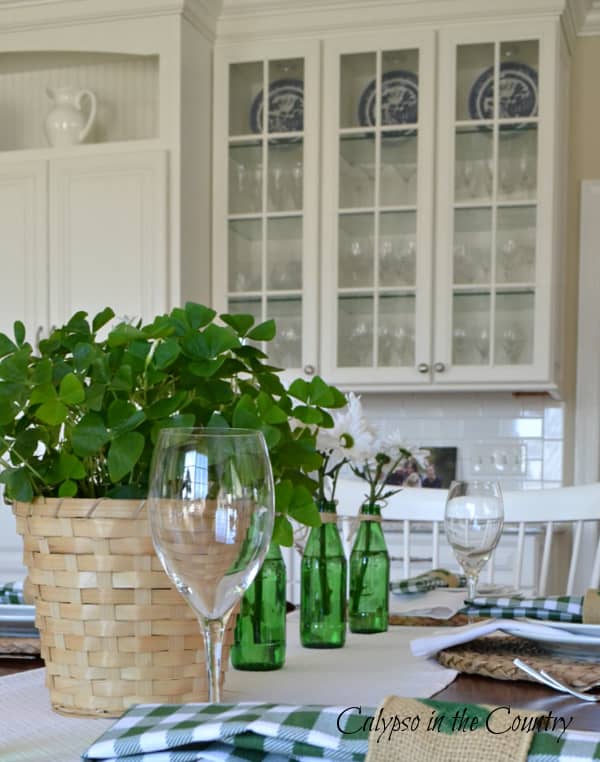 Overall, between the white, green and natural elements, I think my table is ready St. Patrick's Day…and spring! For more ideas, here are even more ways to decorate in the month of March – Goodbye February, Hello March!
Shop the look:
Hopefully, these are some simple ideas you can use for St. Patrick's Day table decor!
Once again, thank you to Debbee from Debbee's Buzz for hosting! Also, please be sure to visit all the pretty St. Patrick's Day dining tables from the list below. You'll see all kinds of festive table decorations from pots of gold to leprechaun hats to four leaf clovers and more!
If you're following along in order, Design Morsels is next! I know you're going to love Andrea's beautiful St. Patrick's Day table! Enjoy!
Debbees Buzz ☘ Vintage Dishes & Lucky Clover Fold Napkins
Home is Where the Boat Is ☘ Loads of Shamrocks St. Patrick's Day Table
Panoply ☘ An Unpretentious St. Patrick's Day
My Hubbard Home ☘ Putting on the Green & Yellow
Life and Linda ☘ Keeper of the Traveling Shamrock Cloth
Corner of Plaid and Paisley ☘ Reprise of Ewe & McGreggor St. Patrick's Day Table
Me and My Captain ☘ Not Lucky, Just Very Blessed
Red Cottage Chronicles ☘ Channeling My Inner Irish
Celebrate and Decorate ☘ St. Patrick's Day Luncheon Tablescape
Calypso in the Country ☘ St. Patrick's Day Table Decor
Design Morsels ☘ St. Patrick's Day Table
The Painted Apron ☘ Celebrating the Green Table
Hyacinth for the Soul ☘ Lucky in Life ~ Celebrating Green Table
Zucchini Sisters ☘ Green & Orange St. Patrick's Day Table
Will you be decorating your table for St. Patrick's Day this year?
Follow along so you don't miss a post!
Subscribe by email – HERE
Pinterest/ Instagram / Facebook / Twitter