Decorating a Spring Bar Cart – 3 Simple Ideas
Does all this winter weather have you craving spring? As much as I love each season, I'm definitely looking forward to some warmer spring weather. Even though I haven't started my spring decorating yet, I'm beginning to search around for inspiration. Today, I'm looking back at how I've styled my bar cart in past seasons. Sometimes, I find it helpful to review my decor from the past to come up with inspiration for the current year. So, if you're thinking of decorating a spring bar cart, maybe some of my ideas will inspire you!
Here are 3 Simple Ways to Decorate a Bar Cart for Spring:
*For your convenience, please note that this post contains affiliate links. If you make a purchase after clicking my links below, I will receive a small commission (at no additional cost to you).
1. Decorating a Spring Bar Cart – Keep It Fresh and Clean:
If you're like me, you like a fresh, clean slate at the beginning of the year. After packing away all that Christmas decor, I think we all crave a little simplicity going into the spring season.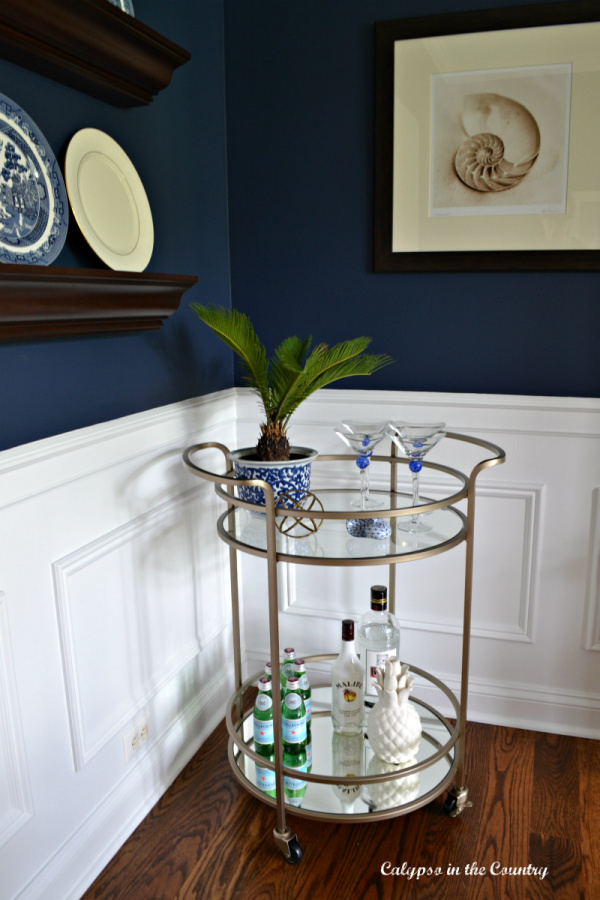 Gold Bar Cart in Navy Dining Room
When I decorated this bar cart, I just stuck with some simple bar cart essentials – some colorful martini glasses, bottled water and a couple bottles of liquor. Then I added a tropical palm in a blue and white pot to coordinate with the colors of the martini glasses and the other blue accessories in the room. Since I had just redecorated the dining room at that point, I didn't want to go overboard with my decor. Overall, I think this pared down look worked perfectly for spring.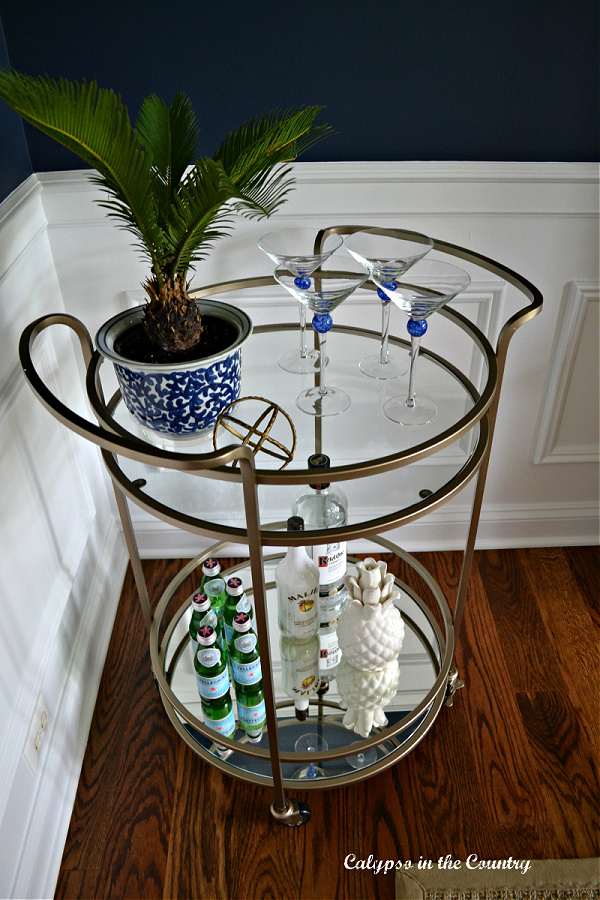 Shop the Look:
2. Decorating a Spring Bar Cart – Embracing Green for St. Patrick's Day:
As the days get longer and the trees start blooming, it just feels right to decorate with green. Plus, if you want to decorate for St. Patrick's Day, green is the way to go!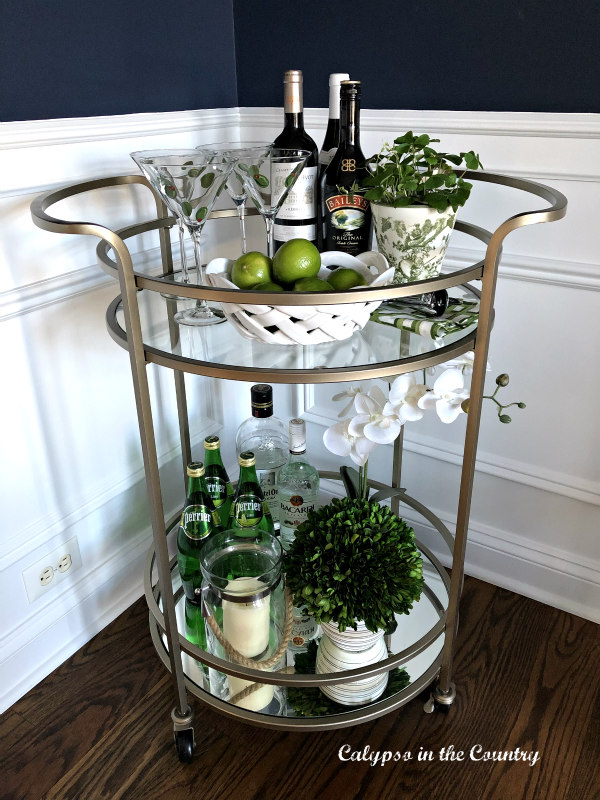 Gold Bar Cart Decorated in Green
For this bar cart, I gave a subtle nod to St. Patrick's Day with green accessories, a shamrock plant – and of course a bottle of Bailey's Irish Cream! After all, it is a bar cart so we can't forget the liquor! Actually, I found it pretty easy to decorate with green since you can always use plants – real or artificial. By the way, even with my "black thumb", I managed to keep that shamrock plant alive for many months…a record for me!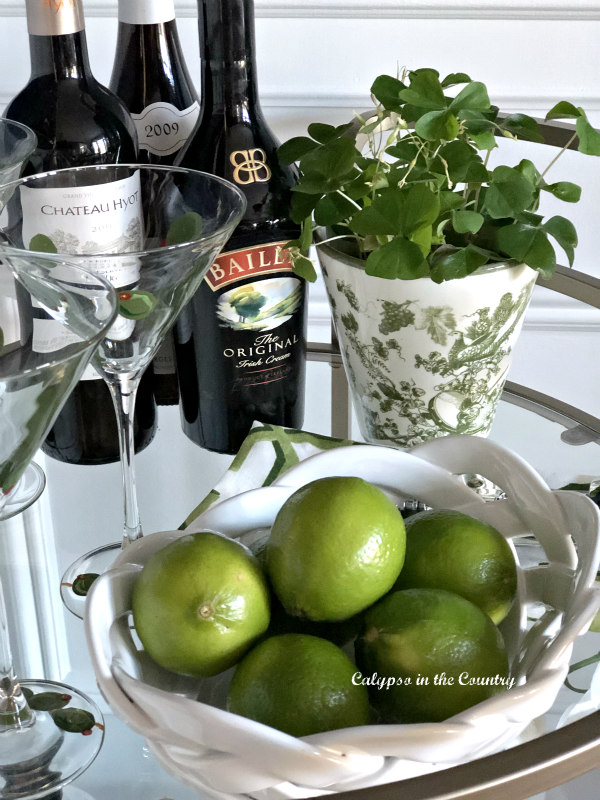 Shop the Look:
3. Decorating a Spring Bar Cart – Soft Colors for Mother's Day:
If you decorate your table for Mother's Day, consider carrying over the decor to your bar cart.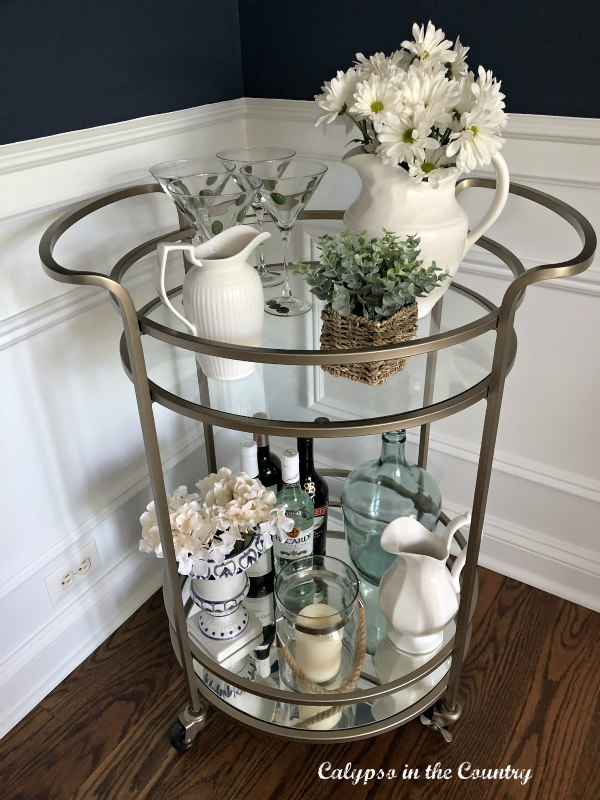 Gold Bar Cart Decorated for Mother's Day
For that year's Mother's Day table, I used a green and blue blocked print tablecloth as my inspiration. Then I carried those soft colors over to decorate the spring bar cart. By repeating the white daisies and white accessories from the table, I created a cohesive and feminine look in the room.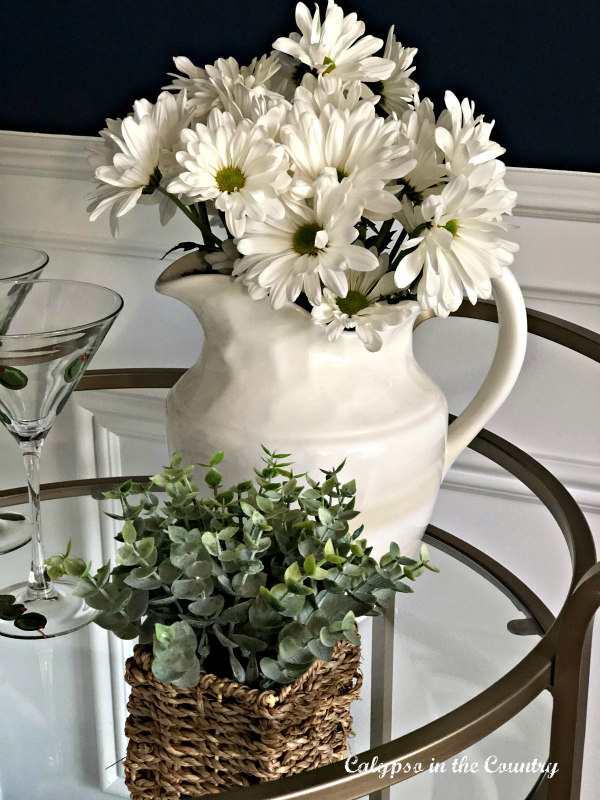 Shop the Look:
So, did I get you in the mood to decorate for spring?
Hopefully, by sharing my spring bar cart ideas, I inspired you to at least start thinking! Just don't look out the window at all the snow!
And if you're stuck at home but would like to check out the latest spring decor in the stores, don't miss my recent blog post highlighting the Spring home decor at Target!
And when you're ready to start decorating for summer, check out my tropical bar cart styling tips!
Have you started decorating for spring yet?
Follow along so you don't miss a post!
Subscribe by email – HERE
Pinterest/ Instagram / Facebook / Twitter