How to Make Easy DIY Napkin Rings
If you feel like getting creative today, how about making some easy DIY napkin rings? Today, I'm sharing 3 ways to make easy DIY napkin rings with items you probably have around your home.
Easy DIY Napkin Rings: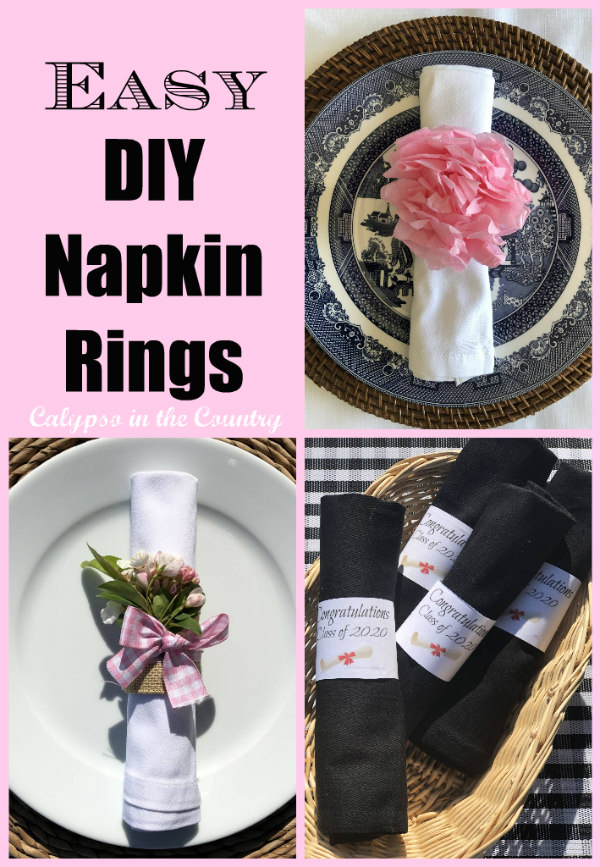 If you're going to dine at home, why not make your table pretty?!
Before I share my easy DIY napkin ring creations, I want to tell you that I'm joining a talented group of bloggers for an Creative Craft Blog Hop! This blog hop is hosted by the talented Chloe of Celebrate and Decorate and she is the first stop on the tour. Please also be sure to visit the links at the end of this post for tons of creative craft ideas from 25 bloggers!
If you are just arriving from Debbees Buzz – Welcome! I've admired Debbee's blog for a long time and I'm sure you enjoyed reading about how she made her beautiful floral fascinator!
Here are Three Ways to Make Easy DIY Napkin Rings:
1. Simple Paper Printouts for Napkin Rings:
One super-easy way to make a napkin ring is to print out some simple graphics on paper, cut the paper down to size and wrap it around a rolled up napkin. Just go to one of the free services like Picmonkey, Canva or Ribbet and play around with their designs…
Obviously, I have graduation on my mind. It breaks my heart that my younger son won't get to enjoy all the traditional 8th grade festivities due to the pandemic. Hopefully, schools will find some way to celebrate the graduates.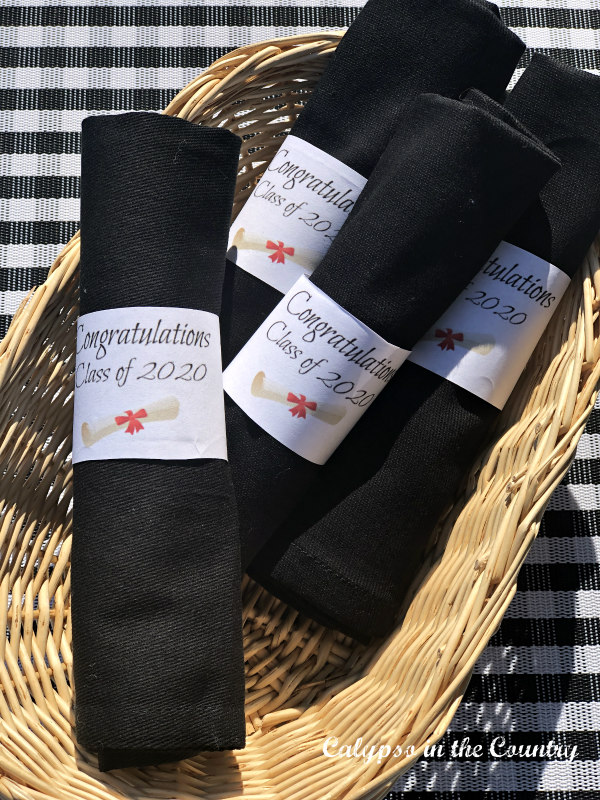 For now, we'll just enjoy these diploma-themed napkins and hope for the best!
Not only are these paper napkin rings easy to make, but the possibilities are endless…You can design them for any occasion!
When you're looking for ideas online, I've also seen paper napkin rings called 'napkin bands' as well. Actually, 'napkin bands' is is probably the correct term for the paper ones…but call them what you want!
2. Easy DIY Tissue Paper Flowers as Napkin Rings:
If you can't get to the store to buy flowers, just make your own! Since most of us have tissue paper in our wrapping supplies, here is an easy project to try.
Tissue Paper Flower Supplies:
tissue paper
scissors
staples
hole puncher
pipe cleaner or string

Instructions:
Fold a sheet of tissue paper several times until it gets down to about a 6″ x 6″ square. Depending on the original size, it may end up being a rectangle. In that case, fold over one corner and cut off the excess so it ends up square.
Cut all the folded edges so you end up with a stack of approximately 6″ x 6″ loose squares. Keep eight of them.
Fold the stack back and forth like a fan. You will probably end up with 6 or 7 folds.
Staple in the middle and begin to carefully pull up each layer.
After one side is done, pull up the layers on the other side.
Flip over and use a hole puncher underneath the middle (by the staple) and thread through the pipe cleaner or string. You might have to punch a couple layers at a time if the tissue paper is too thick in spots.
Flip back over and you have your flower!

* Please note, on the bottom left of the step 5 picture you can see that I cut the ends of the folded stack in a curved shape. (I forgot to take an individual photo of that step). That step is optional but it gives shape to the petals and makes the finished flower look more authentic in my opinion.
Next, you can simply tie your paper flower napkin ring around a rolled up napkin and you are ready to set your table!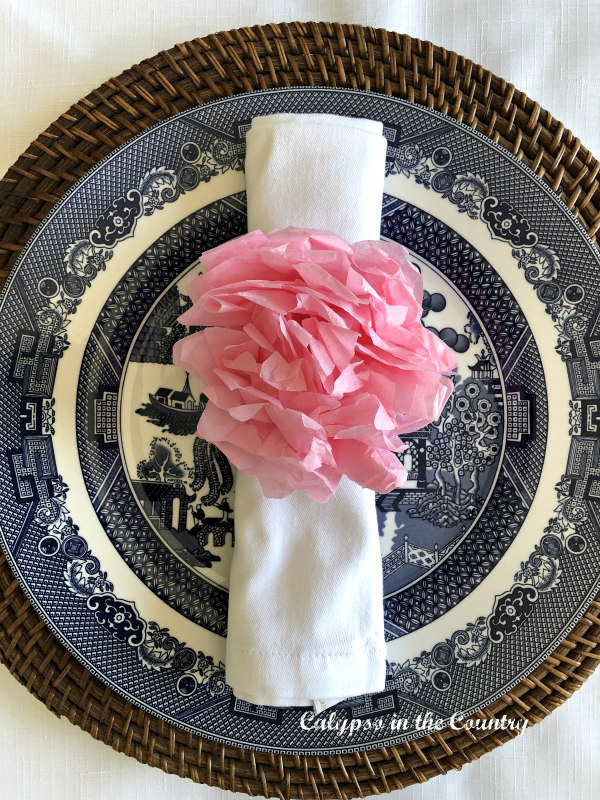 Remember, Mother's Day is right around the corner. These DIY napkin rings would be pretty on each place setting.
3. Napkin Rings from Paper Towel Rolls and Flowers from Your Yard:
For my third easy DIY napkin ring, I cut a cardboard paper towel roll and wrapped a wired burlap ribbon around it. Obviously, a toilet paper roll would work as well…if you have any! We all know how hard it is to find toilet paper these days. Anyway, if you don't have any wired burlap ribbon, you could also use a piece of burlap. And…if you don't have burlap, a natural textured piece of fabric would work for this napkin ring too! We definitely have to use what we have while we're home…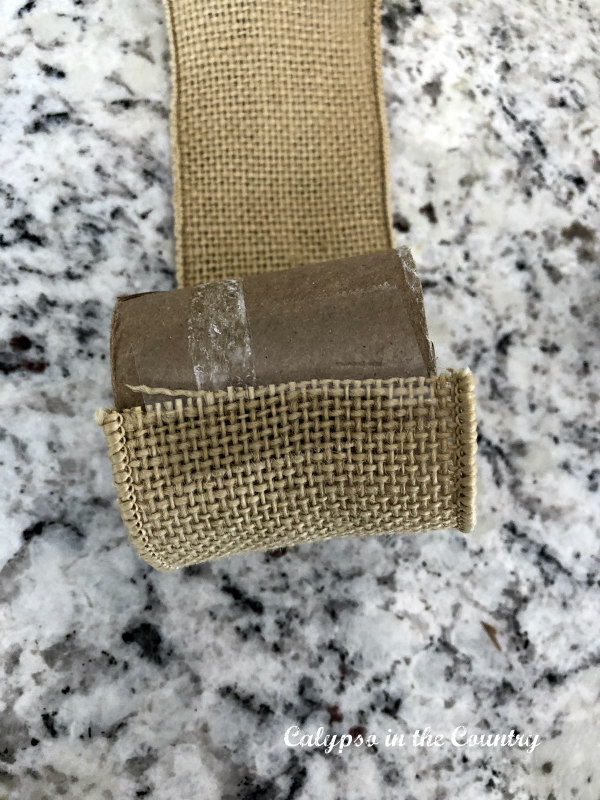 Just tape the burlap (or fabric) around the cardboard roll. Of course, you could use glue if you want but I took the easy route.
Then take a colorful ribbon or piece of fabric (I used a pink gingham ribbon) and tie it around the the burlap. Stick a fresh or faux bunch of flowers in the top (I used a small section from a flowering tree). Finally, just roll up a napkin and slide it through the DIY napkin ring!
This look would also be pretty for a Mother's Day table or any spring occasion! If you like this look, check out how I created easy DIY burlap napkin rings on this table.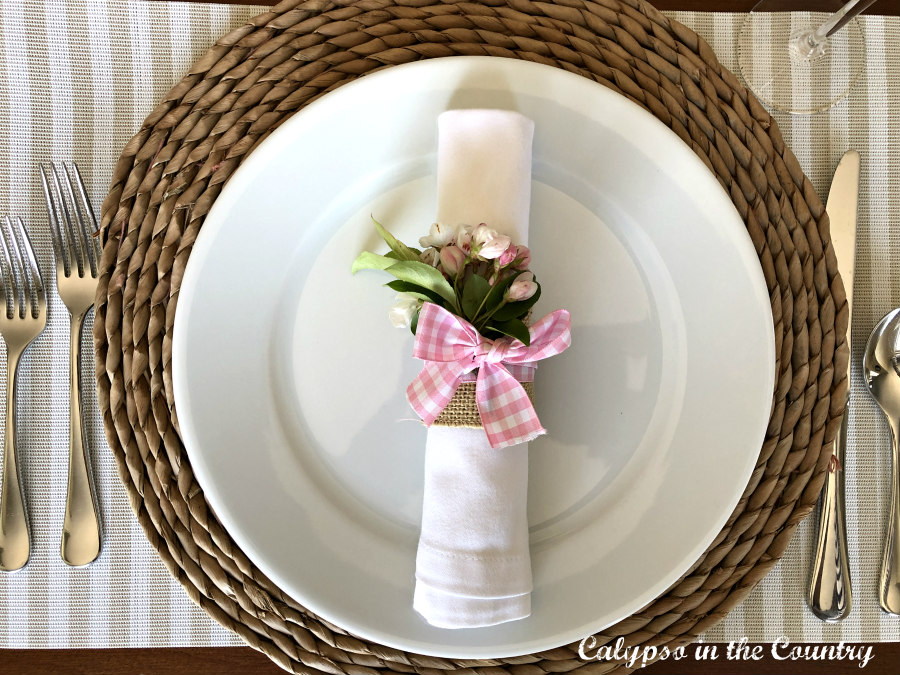 Hopefully, I've inspired you to create some easy DIY napkin rings with items from around your home.
Since you are probably cleaning and organizing your home these days, take a look through your wrapping supplies and craft boxes to see what you can come up with! You might even find some ways to repurpose items you've used before like I did for my Easter table this year. Get creative with the time you have at home!
Once again, thank you to Chloe from Celebrate and Decorate for hosting! Your next stop on our tour is B4 and Afters. Liberty is sharing a toilet paper tree for her creative craft. Be sure to swing by and say hello!
Please also visit the rest of the participants on the Creative Craft Blog Hop from the list below…
Celebrate & Decorate
At Home With Jemma
Hearth and Vine
My Hubbard Home
My Thrift Store Addiction
Home is Where the Boat Is
The Painted Apron
Chas' Crazy Creations
Harbour Breeze Home
My Family Thyme
Sustain My Craft Habit
Birdz of a Feather
Decorate and More with Tip
Our Crafty Mom
Design Morsels
White Arrows Home
Create With Cynthia
Debbee's Buzz
Calypso in the Country
B4 and Afters
Purple Hues and Me
Bluesky at Home
Raggedy Bits
Faeries & Fauna Craft Co.
Elle Marie Home
Zucchini Sisters
What kind of easy DIY projects have you tackled lately?
Follow along so you don't miss a post!
Subscribe by email – HERE
Pinterest/ Instagram / Facebook / Twitter