Kitchen Island Decorating Ideas to Celebrate Spring
Have you started decorating for spring yet? If you're thinking about ways to decorate your kitchen island (or countertops), I have some great ideas for you! From simple kitchen island centerpiece ideas to ways to decorate your island for entertaining, I've got you covered. So, get ready to welcome spring to your home with these kitchen island decorating ideas!
*For your convenience, please note that this post may contain affiliate links. If you make a purchase after clicking my links below, I will receive a small commission (at no additional cost to you).
Spring Kitchen Island Decorating Ideas:
Easy Kitchen Island Centerpiece:
We'll begin with an easy way to dress up your island for spring…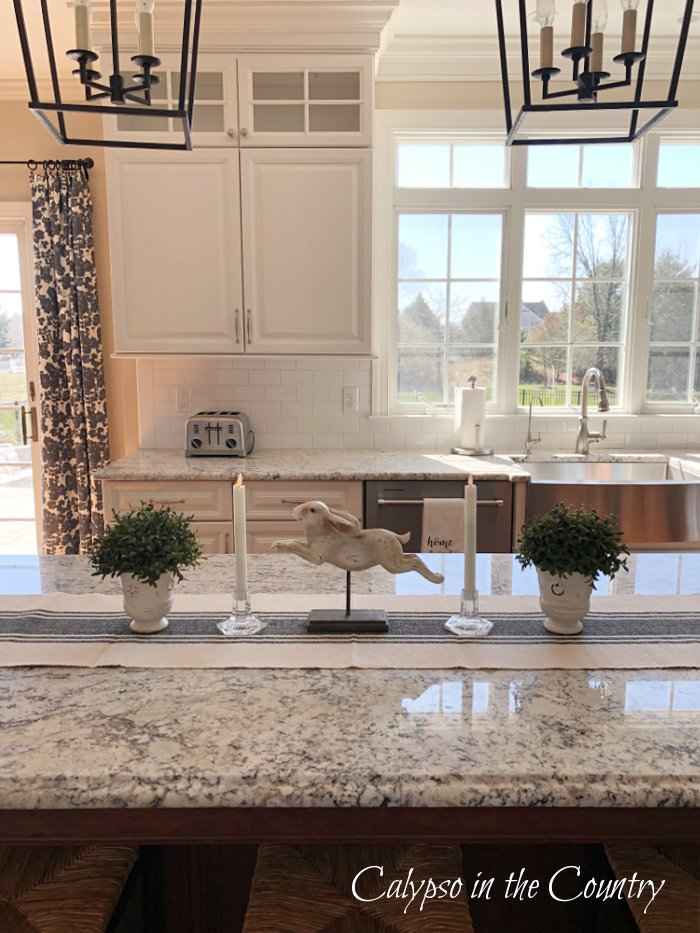 For this island centerpiece, I started with a striped table runner. On a large island, you can use a table runner to designate the decorated area so the items don't look like they're just floating around. Plus, if you need a little extra work space, you can slide over the whole centerpiece all at once. So, basically, this island decor is pretty and practical.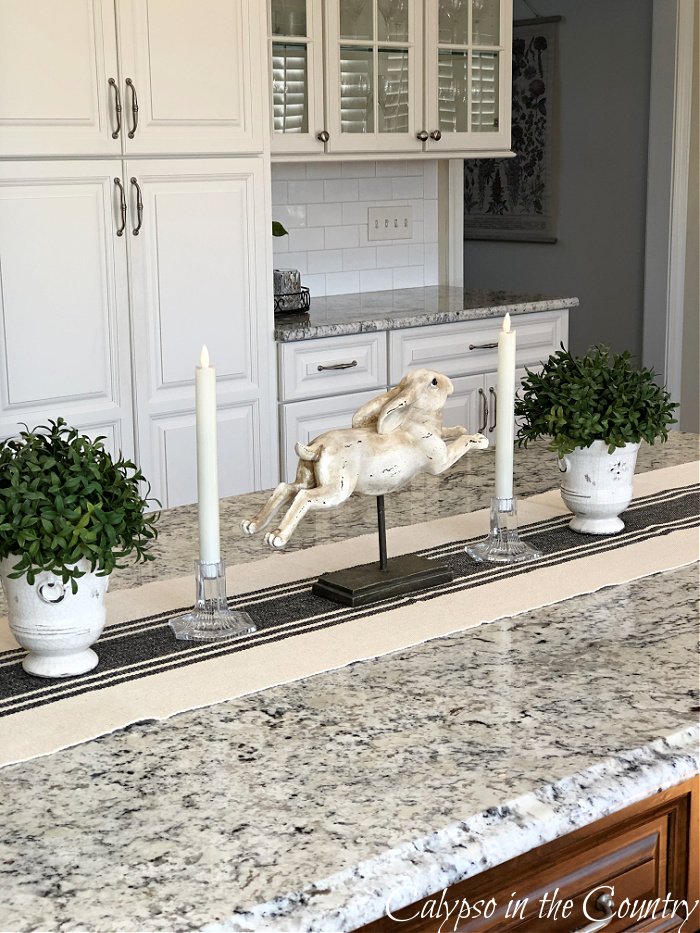 From there, I added a touch of Easter with my bunny statue as the island focal point. For a symmetrical display, I added candles and plants on either side. Since this island centerpiece takes up a lot of space, I went with neutral colors to blend in with the kitchen.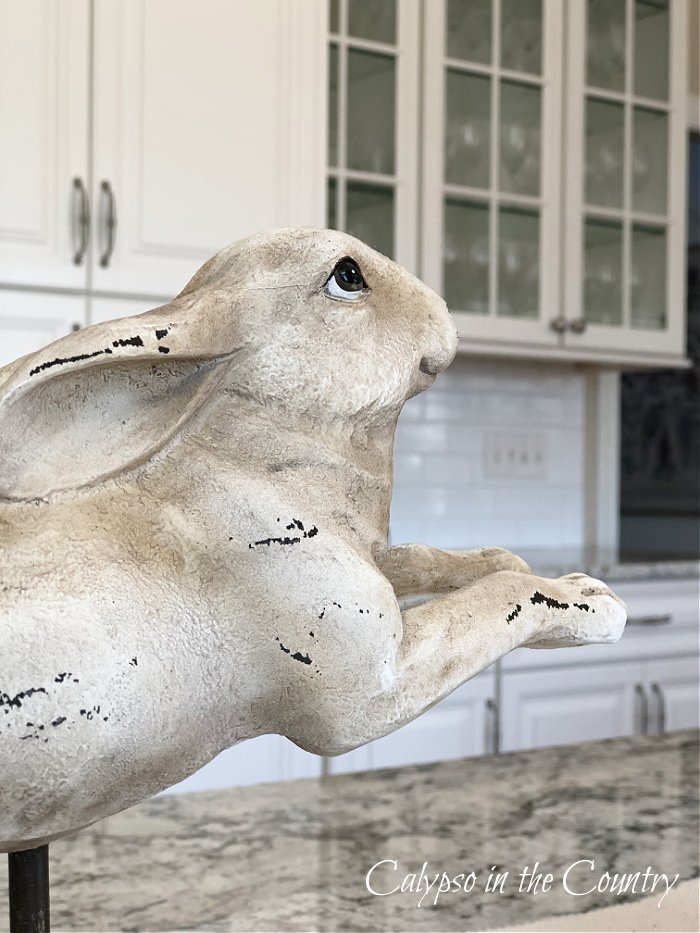 By the way, I bought this bunny on a stand years ago at Homegoods. I've used it in several vignettes, tablescapes and on my stove mantel. You can see all those bunny ideas here.
If you're looking for something similar, this wooden bunny has the same vibe. If you want a more sculptured look, these bunnies have a nice texture even though they're not on a stand.
Fresh Fruit Centerpiece – Colorful Kitchen Island Decorating Idea:
To add a pop of color to the kitchen island, you can't go wrong with fresh fruit! After all, how many times do you see people decorate with a bowl of lemons? Instead of using bowls, I used large glass hurricane vases…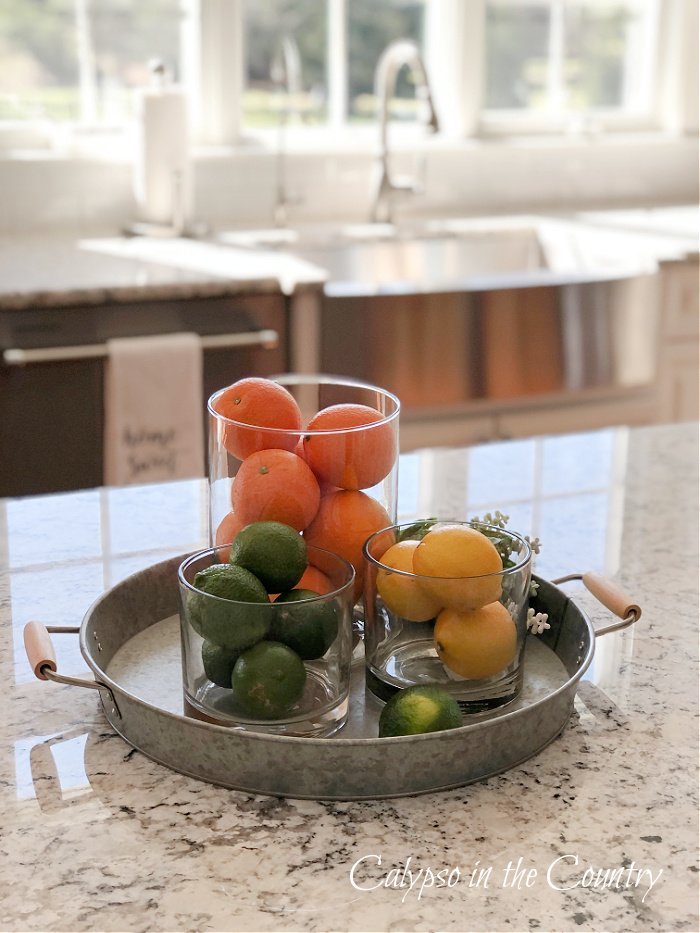 For this fresh fruit display, I grouped simple glass hurricane vases with citrus fruit on a galvanized metal tray. In my home, I decorate with trays all the time. Not only are they practical for serving and keeping things organized, but they make a great base for decorating! To see more tray decorating ideas, read – How to Decorate with Round Trays.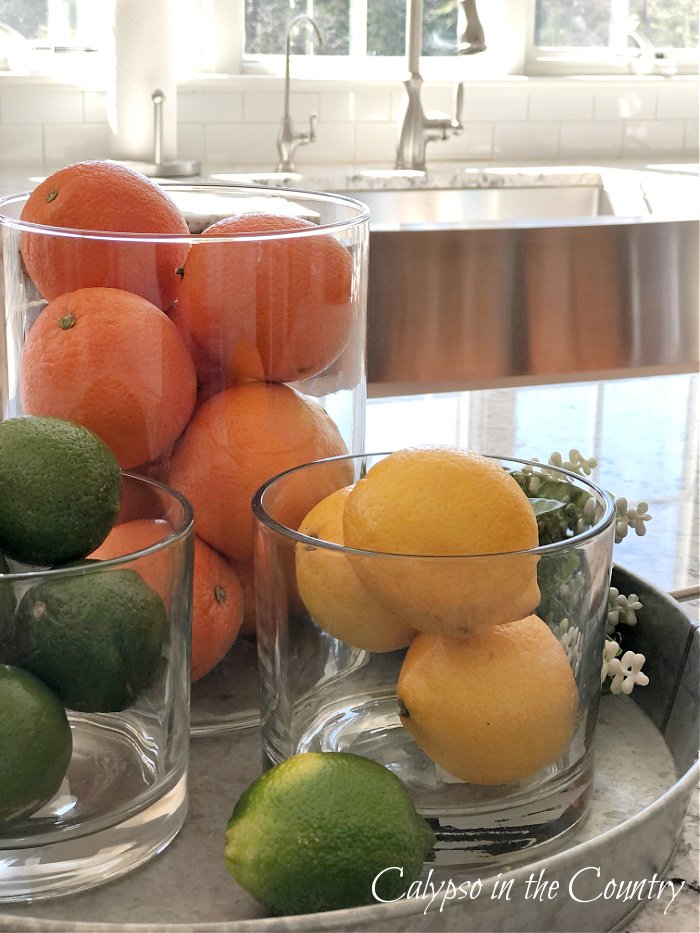 To me, citrus feels so fresh and springy but any seasonal fruit would look pretty. This tray vignette would make a cute island centerpiece for a brunch, especially if you're serving fresh squeezed orange juice or even lemonade.
While we're squeezing things, why not make some margaritas with the limes?!! In fact, this could be the best of my kitchen island decorating ideas…a brunch that turns into happy hour! Pull up some bar stools and stay all day! Haha!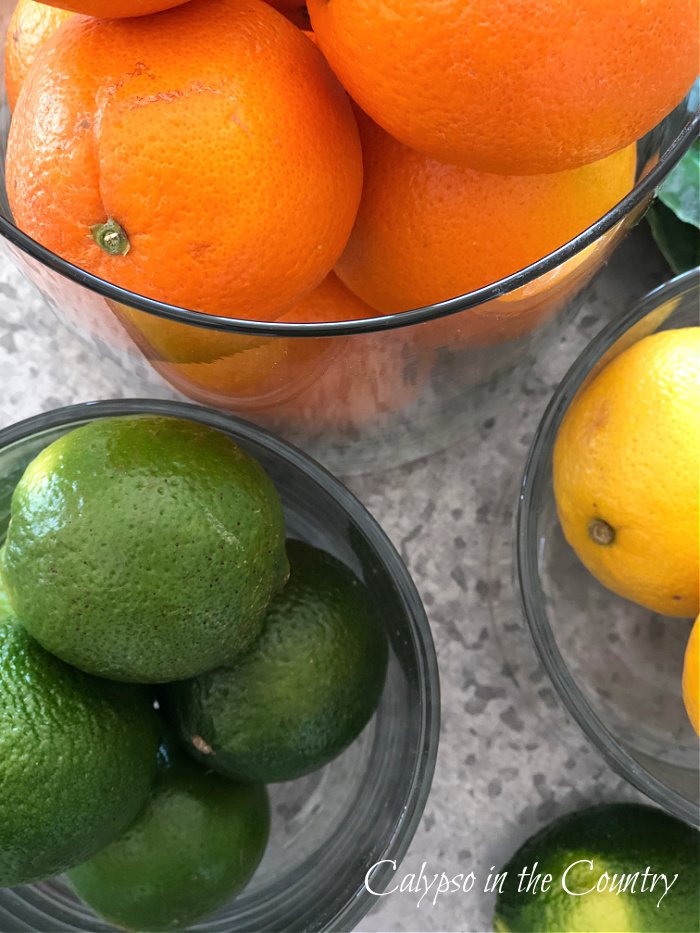 If you want to keep the look of this centerpiece interesting, use different sizes of glass containers or jars. If you don't have any glass containers, simply fill a large bowl with fruit for the center of your kitchen island…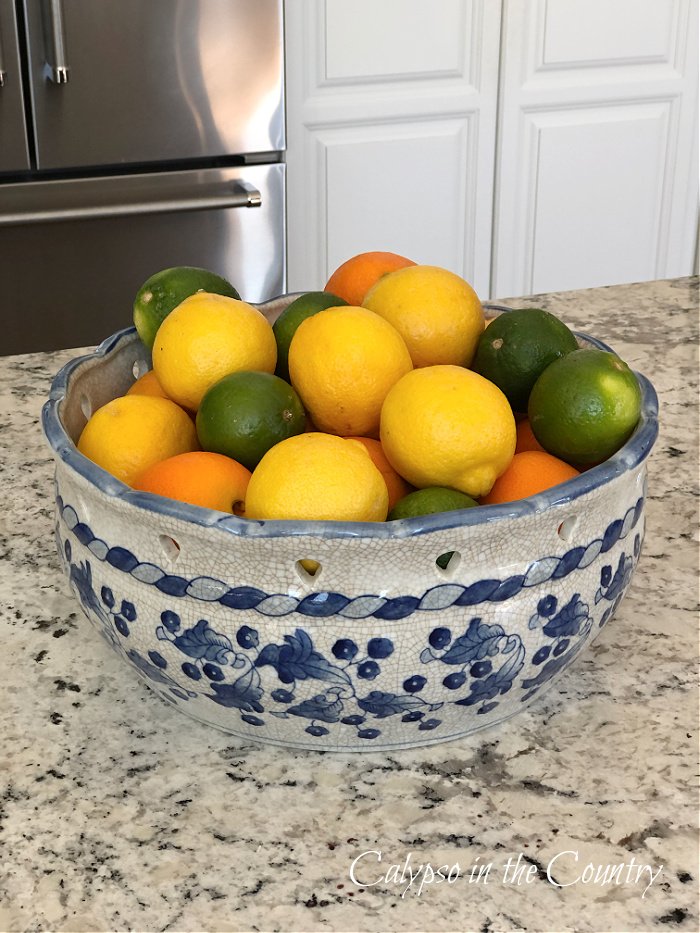 Yeah, that fruit bowl is quite large. Actually, I think the bowl is technically a planter. Either way, it's a versatile piece for seasonal decorating. Over the years, I've used it as an island centerpiece many times. Probably my favorite was when I filled it with red poinsettias for Christmas! I've also filled it with hydrangeas when I've decorated for late summer/early fall. For spring, it would also look pretty with potted flowers or small plants.
Simple Kitchen Island Decorating Idea – Vase of Faux Flower Stems:
To add some height to the center of your island, a pretty vase filled with flower stems is all you need. Here, I filled my favorite blue and white vase with faux cherry blossom stems. Above my island, I have two hanging light fixtures. The vase of flower stems filled in the space between the light fixtures making a nice focal point for the center of the island.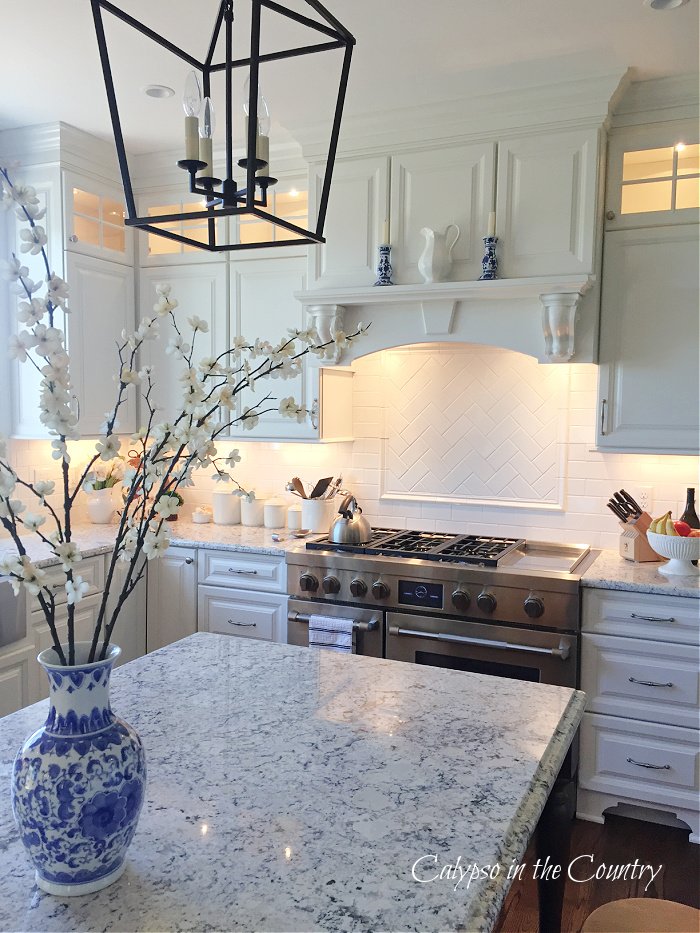 When you're setting a table for dining, a large centerpiece can block the view across the table. On a kitchen island, you're not normally sitting across from anyone, so a tall vase with flowers works well as island centerpiece.
Also, if you don't want to spend money of faux stems, you could bring in some fresh branches from your yard. Though, if you have allergies, artificial flowers are probably a better idea!
Fresh Flowers – Tulips for Spring:
If you're like me, you can never get enough tulips in the spring! (Yes, there's that bunny up on the stove mantel.)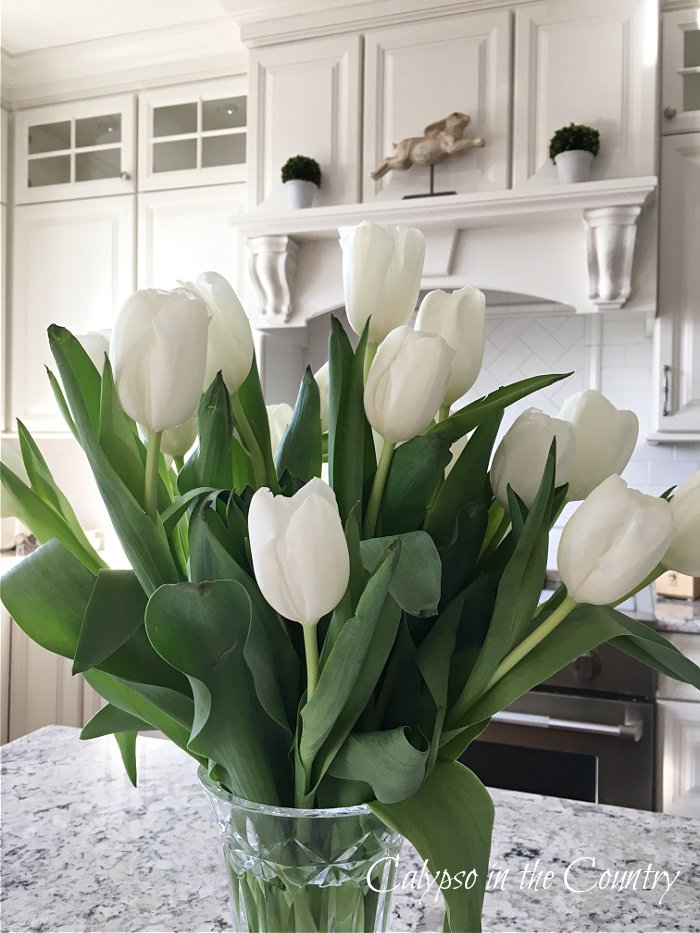 Whether you have a small kitchen island or a large one, a vase of fresh flowers makes a great island centerpiece. Besides being pretty for spring, it doesn't take up a ton of space so you have plenty of room for food preparation.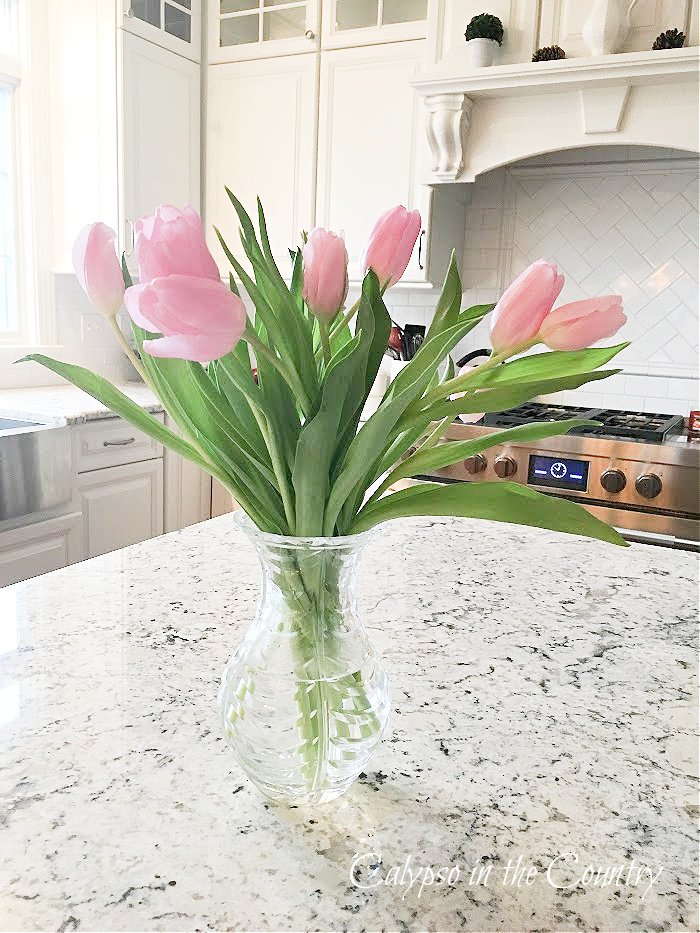 This time of year, you can find a huge variety of tulips in the grocery stores. Though, if you've bought tulips before, you know they don't last very long. Sure, you could cut them back, keep them out of the sunlight and even add a penny to the water to keep them fresh…but they only look nice for about a week.
Each year, I mix in a few bouquets of faux tulips in my home. If you're looking for some, I just bought these and love them. Also, these artificial tulips come in a variety of colors – and have great reviews!
Kitchen Island Decorating Ideas – Dining Tablescape for Two:
Instead of having dinner at the dining table, set some place settings for a casual dinner on your kitchen island…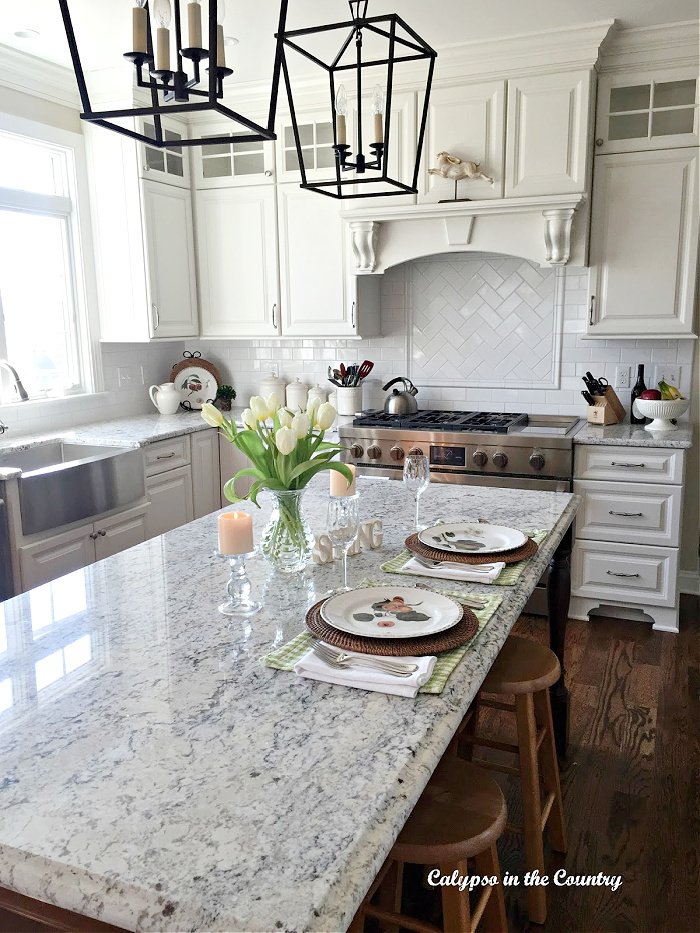 For two people, this setup could be nice for a change. One could cook while the other keeps them company…Plus, cleanup is super-easy! By the way, this kitchen island decor was done a few years ago before I bought new counter stools. If you're interested in the stools I bought to replace these, read New Wooden Counter Stools.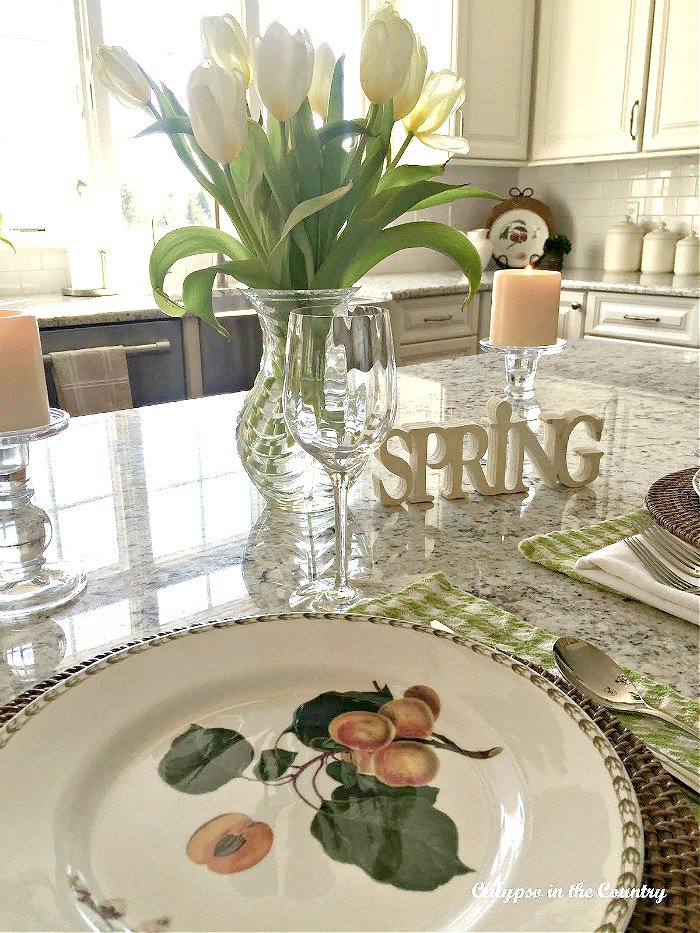 In my home when you dine at the kitchen island, you can face the windows. Now that the days are getting longer, it's so nice to enjoy some evening sunshine! Such a great way to end the day!
Kitchen Island Decorating Ideas – Tray Vignette for Spring:
In addition to my fruit tray mentioned above, I love creating spring tray vignettes on the center of my kitchen island. Recently, I shared my spring home tour where I decorated my kitchen with blue and white pieces and pops of pink.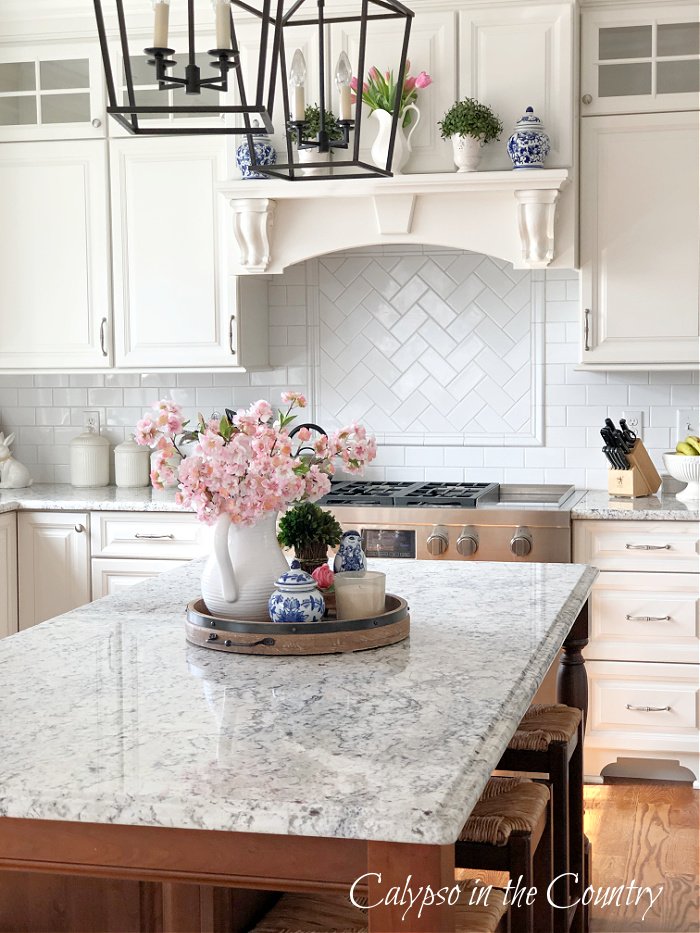 For my kitchen island centerpiece, I filled my favorite wood tray with pink flowers, candles and more blue and white.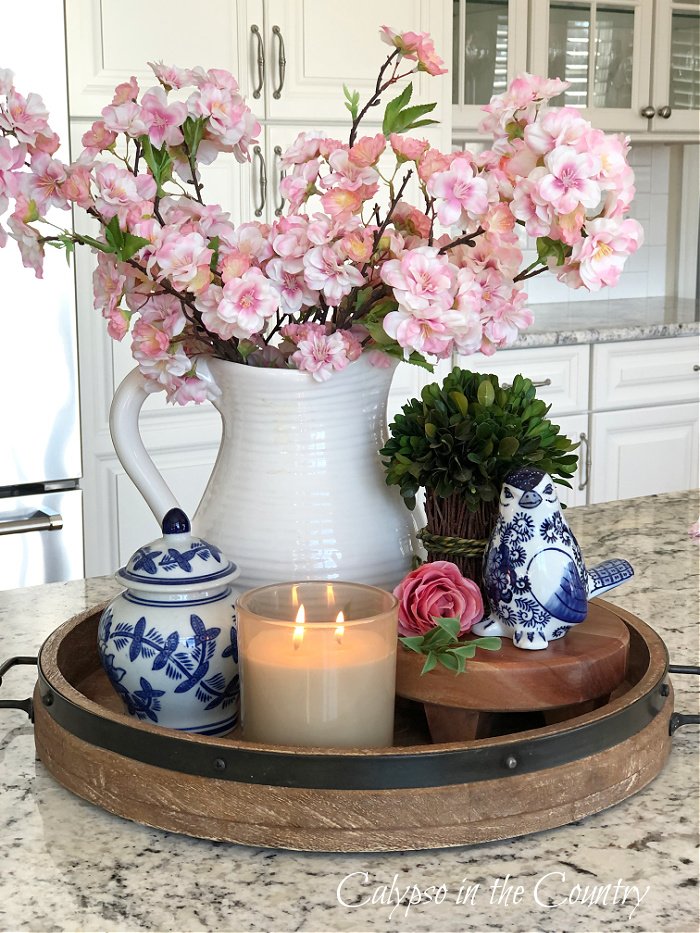 Instead of pink, last year I used yellow as my accent color…
Once again, I styled my round wooden tray for spring. This time, I filled a galvanized milk can with fresh tulips and used a footed bowl for lemons. In fact, I went with a lemon theme in the kitchen last year.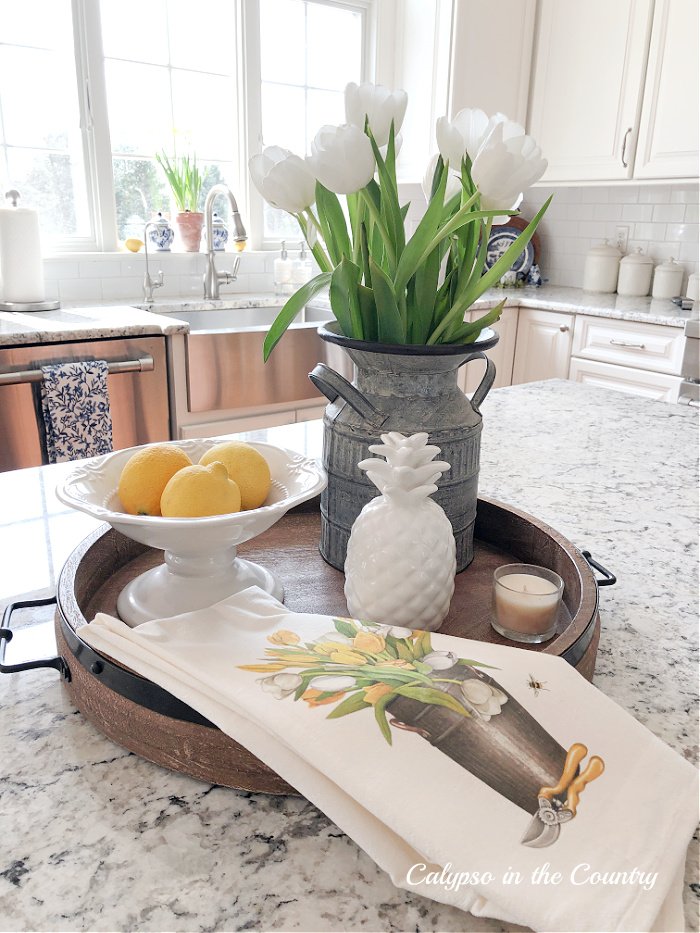 If you're interested in this round tray, here is my exact one. If you want to use what you have, a wooden cutting board or a round basket would give you almost the same look.
Kitchen Island Decorating Idea for Entertaining:
While most of these kitchen island decorating ideas could be for everyday, it can be fun to decorate your kitchen island for special occasions. Here's how I decorated my island with a tiered tray for afternoon tea…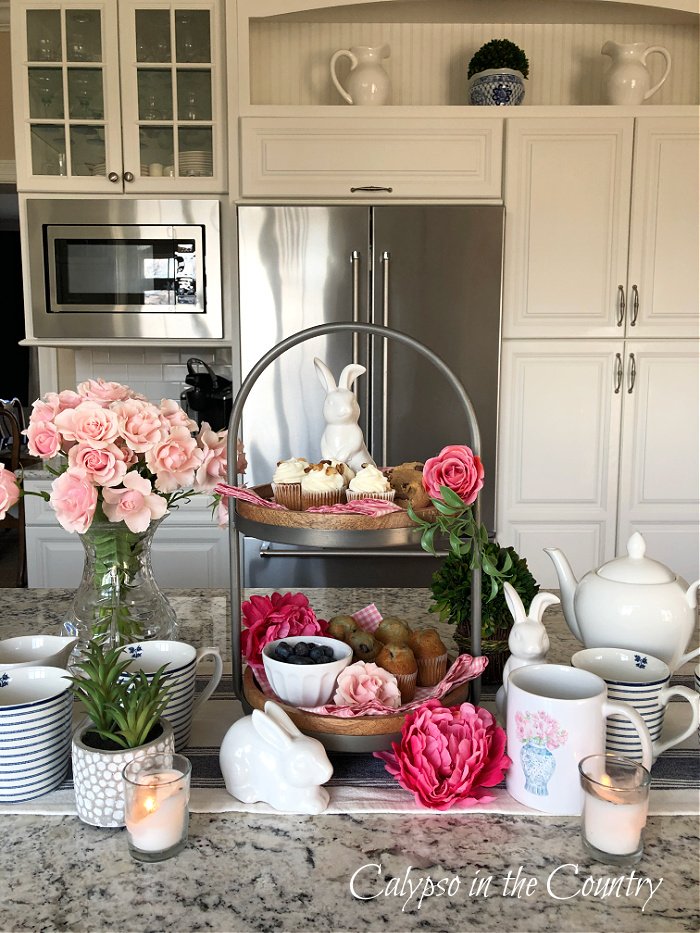 Once again, I used a table runner at my base. This runner is blue and white instead of black like the one above. (Yes, I own a bunch of table runners!) Then I layered in fresh and faux flowers, a variety of tea mugs, candles and bunnies. On each level of the tiered tray, I displayed various tea snacks.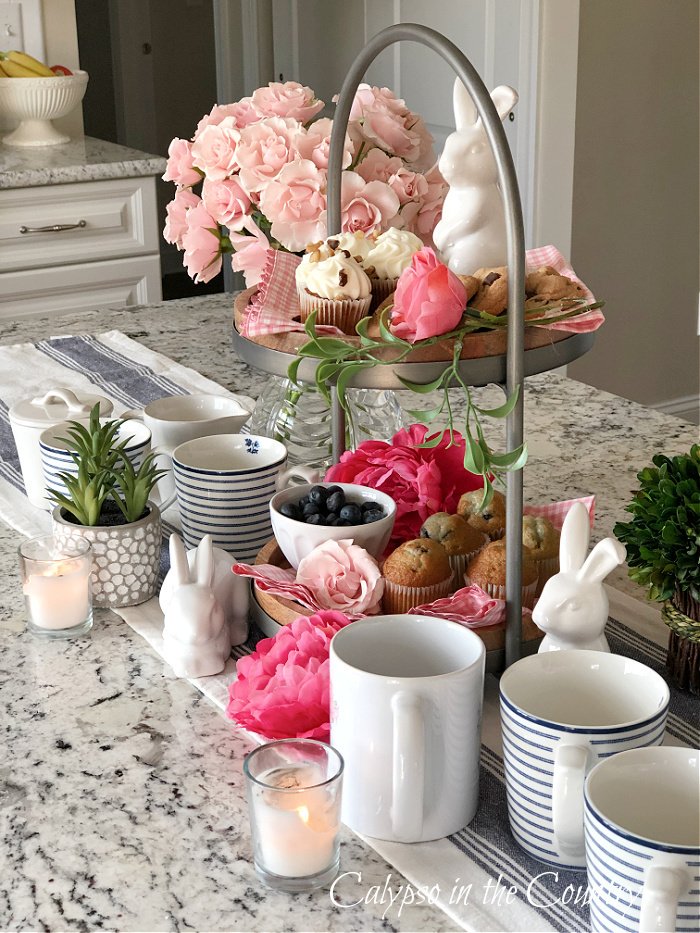 If you're hosting an Easter or Mother's Day brunch, a shower or just a girls' get together, this is a fun kitchen island decorating idea to consider!
If you like my wooden tiered tray, this is my exact one. To achieve a similar look, you could also decorate a cake stand. Anything to add different levels to the island centerpiece would look pretty. If you're like me, you try to find different uses for things you already own. That way you can save on money and on storage space!
Shop the Look:

Hopefully, I've given you some ideas for your kitchen island decorating!
If you don't have an island in your kitchen, most of these ideas would make great kitchen or dining table centerpieces as well!
What are your favorite kitchen island decorating ideas?
Follow along so you don't miss a post!
Subscribe by email – HERE
Pinterest/ Instagram / Facebook / Twitter