Valentine's Day Ideas – Decor and More
Is it just me or is February flying by? After suffering through the seemingly endless month of January, we're now scrambling to gather up our Valentine's Day ideas! Time is running out, friends! So, in honor of Valentine's Day, I thought I would highlight some posts I've shared over the years. Maybe some of these will give you a few creative last minute ideas for Valentine's Day decorating and celebrating this year!
Valentine's Day Decorations – Vignettes:
If you don't want to go overboard when decorating for Valentine's Day, how about some simple Valentines kitchen decor?…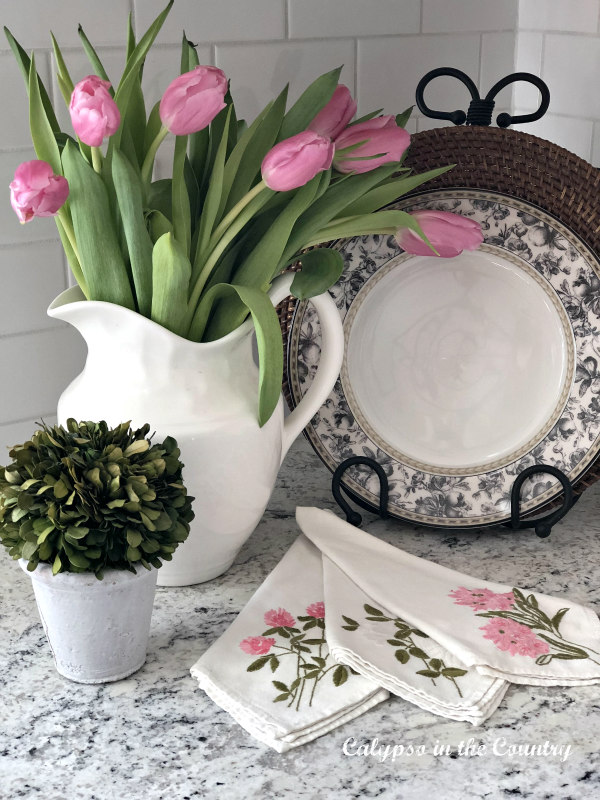 Vintage Valentine's Day Vignettes
Last year, I challenged myself to use some vintage items to decorate for Valentine's Day. Sometimes, it can be helpful to shop your home! Take a look around at the pieces you have stored away and maybe try displaying them in a different way like I did.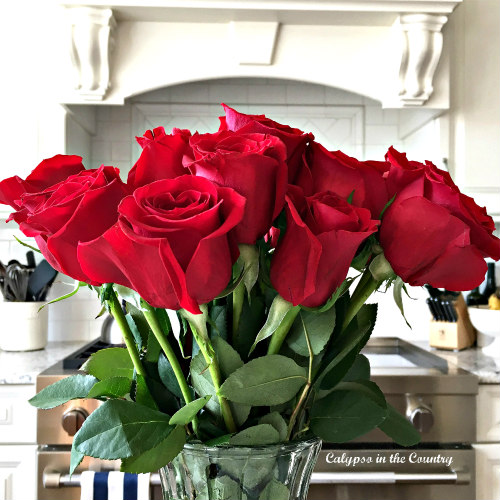 Since we all love flowers for Valentine's Day, I dedicated a post to ways I have decorated with flowers in my home. Since many of us don't own many "Valentine specific" decorations, you might want to just decorate with some flowers and be done!
Red Dining Room for Valentine's Day
For years, our dining room was painted red. Obviously, it was so easy to decorate for Valentine's Day in that room! When your walls are red, you don't need to do much more! By the way, our red dining room has since turned into a navy dining room. See all the details here!
Kitchen Tablescape for Valentine's Day: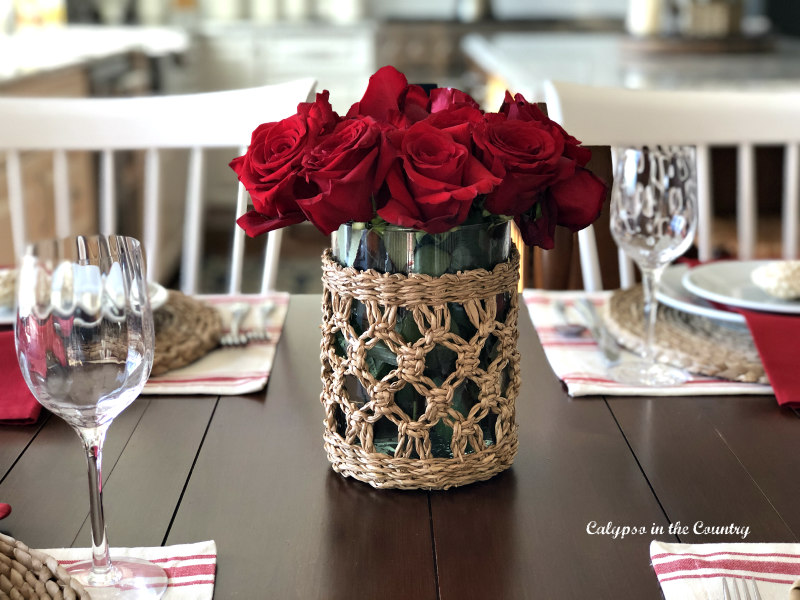 Recently, I shared a simple farmhouse inspired table setting with classic red roses. Surprisingly, I found these roses at the grocery store for just $12.00! When you read that post, you'll also see my newest Valentine's Day find on each of the place settings…
Recipes to Try for Valentine's Day:
In my opinion, almost any dessert can be a Valentine's day dessert if you add some red decorations! And if you add fruit, you don't have to feel guilty about the cake…or whipped cream…
Amazing White Chocolate Silk Pie
Speaking of whipped cream…you'll love this! Even though I made this white chocolate silk pie for my husband's birthday, it would be perfect for Valentine's Day as well. Simply, throw some red strawberries or hearts on top and you have a festive Valentine treat!
Favorite Romantic Comedy:
Do you have a favorite romantic comedy? Well, this photo of Venice, Italy will give you a hint of my favorite! Pop over and see if you agree…and feel free to share your own!
Love Stories to Read on Valentine's Day:
Who doesn't love a sweet love story to read around Valentine's Day?
Book Review – Lies and Other Acts of Love
If you read my blog, you know I'm a huge fan of Kristy Woodson Harvey. This sweet love story was one of my favorites!
A Love Story – For People Who Don't Read Love Stories
And if you don't consider yourself someone who reads love stories, this could be the book for you!
Creative Valentine Gift Idea:
If you are looking for gift ideas that don't involve the traditional roses and candy, why not sign up for a class! This would be fun whether you are celebrating Valentine's Day or Galentine's Day! Read all the details about a cooking class I took with friends.
Of course if your Valentine is a bit of a hypochondriac (like me), you could always check out my gift guide for the hypochondriac! Even though that gift guide was originally written for Christmas, you'll find great gift ideas that would be appropriate for any time of year. Nothing shows love like being able to embrace each other's phobias!
Hopefully, my round up of ideas gave you some inspiration for celebrating Valentine's Day…
If you still need even more inspiration, visit my Pinterest Board dedicated to Valentine's Day for more creative ideas and Valentine's Day decorations!
What are your favorite ways to celebrate Valentine's Day?
Follow along so you don't miss a post!
Subscribe by email – HERE
Pinterest/ Instagram / Facebook / Twitter