Goodbye September, Hello October! (Pictures and Tips)
Happy weekend and welcome to the Saturday Spotlight! Wow, September really flew by, didn't it? Here in the northeast, the leaves are just starting to turn. Since we've had so much rain, I'm hoping we get some beautiful fall foliage over the next few weeks. Like many of you, I love this time of year and can't wait to enjoy all the season has to offer. So, now it's time to say goodbye September hello October!
*For your convenience, please note that this post may contain affiliate links. If you make a purchase after clicking my links below, I will receive a small commission (at no additional cost to you).
Goodbye September, Hello October:
Pictures of Fall Foliage (from October last year)…
Obviously, October is a great month to enjoy the fall foliage! Like I mentioned above, the leaves have just started changing here in New Jersey so I'll share a few photos from last year.
How gorgeous is that tree lined street? Last year, we really got lucky with the colors. I'm hoping for the same this year! Hopefully, we won't get any more crazy rain storms that will knock the leaves down too early.
As you've probably heard, Vermont is one of the best places to enjoy the fall foliage. So, I guess it makes sense that National Vermont Day falls in October. Actually, the exact date is October 12th if you're wondering…
Each year, we take a trip up to Vermont in the fall. Though, it can be hard to time it perfectly for peak leaf peeping season. With all the rain this summer, it looks like the leaves will turn a little later this year…but we'll have to see!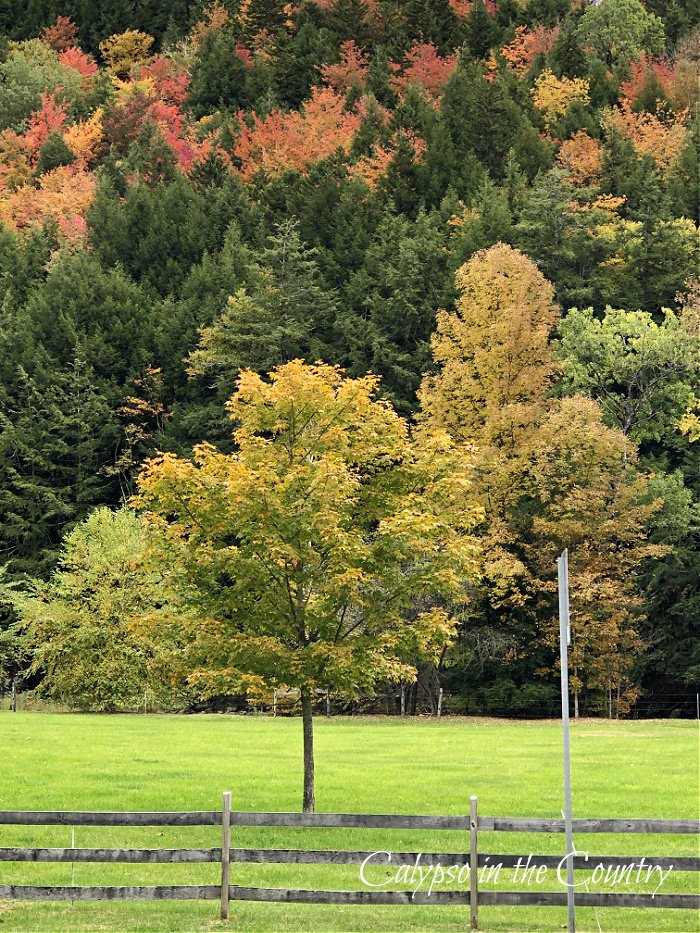 Last year, while driving through the Vermont mountains, I had to pull over to admire the changing leaves! Can you blame me?
During that trip, I spent the day in the charming town of Woodstock, Vermont…
While walking around, I picked up so many great ideas for fall outdoor decorating. If you want to see more of those photos, be sure to read – Woodstock Vermont in the Fall (Outdoor Decor Ideas)
And no fall trip to Woodstock is complete without a stop in the Farmhouse Pottery flagship store!
To take a peek inside, check out my Instagram reel or read my End of October blog post from last year.
*Woodstock Travel Tip: If you're planning a trip to the Woodstock area this year, you can take Sleepy Holly Farm in Pomfret off your list. Due to an overabundance of fall visitors in the past, the town has closed the road to non-residents. After all, it is private property so I can't blame the town for their decision. I mean, influencers were actually setting up makeshift changing booths to switch outfits for fall photos…crazy! To learn more, read this article.
If you're looking for more places to visit in Vermont, read my blog post – Vermont in the Fall…Is There a Better Place to Be?
More Places to Enjoy in October:
Have you ever been to Peddler's Village, PA (an outdoor shopping and dining village)? Through the end of October, their "Scarecrows in the Village" event takes place. Over 100 scarecrows are on display and guests are able to vote for their favorites.
On my visit, here are a few of the fall scarecrows I spotted…
How cute is he?
With the popularity of the Barbie movie this year, I had to include this one…
If you're a fan of sunflowers in the fall, this "scarecrow" is very festive.
To see more sunflower ideas for fall, read – Decorating with Sunflowers in the Fall – 7 Easy Ways.
Even though my friends and I only had lunch that day, this wine slushy idea looked very appealing! Next time…
If you're interested in visiting Peddler's Village, see their website for all the seasonal events. Throughout the year, it seems there's always something going on!
Goodbye September, Hello October Decorating:
Now that September has come and gone, we can officially jump right into all things fall!
Pumpkin Spice latte anyone? Actually, October 1st happens to be National Pumpkin Spice Day…how appropriate!
Anyway, there's no need to wonder if it's too early to display mums on your porch or start buying pumpkins. Go ahead and start all your fall and Halloween decorating if you want! To get you started, here's one of may favorite fall porches from the past.
And for even more fall inspiration, say "Hello October" with ideas from this October blog post.
Hello October Shopping Finds:
If you'd rather not deal with real pumpkins when decorating for fall, this speckled pumpkin is a great faux one and it's super-inexpensive!

Or if you want to spend a little more for artificial pumpkins, these faux gourds are beautiful!

If you plan to entertain this October, stack these pumpkin salad plates on top of plain white ones for an instant fall table!

For even more ways to say goodbye September, hello October, here are a few ideas from around the internet:
If you'd like to see what I've shared in previous Octobers, here are some more blog posts to read:
Are you ready to welcome the month of October?
Follow along so you don't miss a post!
Subscribe by email – HERE
Pinterest/ Instagram / Facebook / Twitter