3 Ways to Decorate a Bar Cart for Fall
As we all know, there are so many places in our homes where we can add touches of fall. Let's start with some fall bar cart ideas!
Ever since I purchased a bar cart for my dining room, I have been thinking of new ways to style it. Originally, I kept the styling very simple so it would blend in with my freshly painted dining room. Now that the fall season is here, the bar cart seems like the perfect spot to add some fall decor! Just to alert you, these decorated bar cart ideas are more about the decorations and less about the "bar" so don't expect a whole bunch of alcohol-inspired looks!
Here are 3 ways to decorate a bar cart for fall…
1 – Fall Bar Cart with Neutral Accessories:
In my first bar cart example, I used neutrals colors which help prevent the decor from competing with a bold wall color.
A cozy candle helps keep this corner from being too dark.
A bundle of wheat, a white pumpkin and a basket of mums give a neutral/textured feel.
Actually, I used a couple of these pieces in a recent table setting in my kitchen.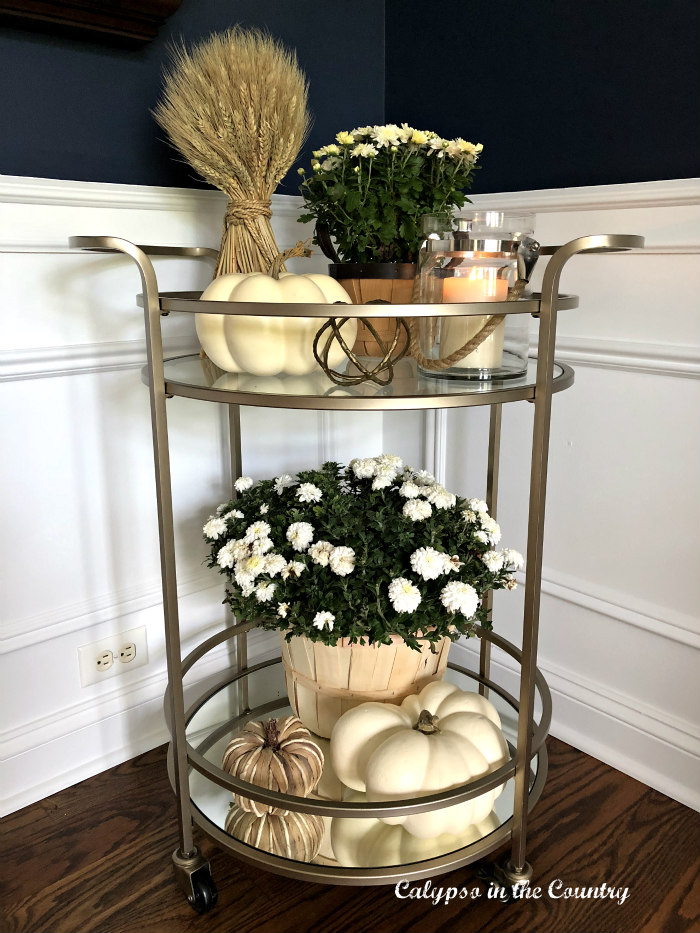 In order to give the bottom shelf some height, a large mum and some more pumpkins work perfectly.
If you are going to decorate a bar cart in the fall, these are probably the easiest accessories to find.
Since this back corner doesn't get much light, I will have to be careful keeping these mums in this spot. They actually need more light than this…says the woman who kills every plant…
In order to brighten things up, I moved the bar cart to the bay window for my second example…
2 – Fall Bar Cart with Blue and White Accessories:
For my second bar cart example, I enhanced the neutrals by adding blue and white accessories along with a touch of gold.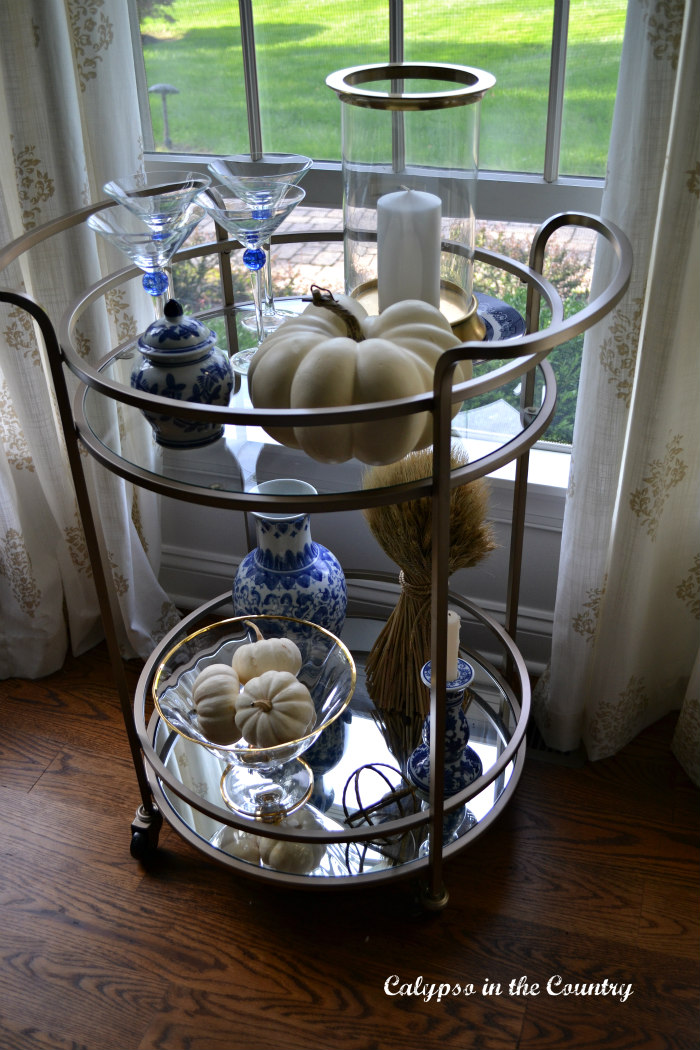 It always helps to repeat the colors and textures on both shelves to keep it looking cohesive.
With all the bright light in this spot, the glasses and mirrors really sparkle.
What bar cart is complete without a cute set of martini glasses?
Actually, this look is a good transition from summer to fall (for those of us who have a hard time saying goodbye to summer!).
Last, but not least, I went for a totally different look for my third way to decorate a bar cart ...
3 – Fall Bar Cart with Traditional Fall Colors: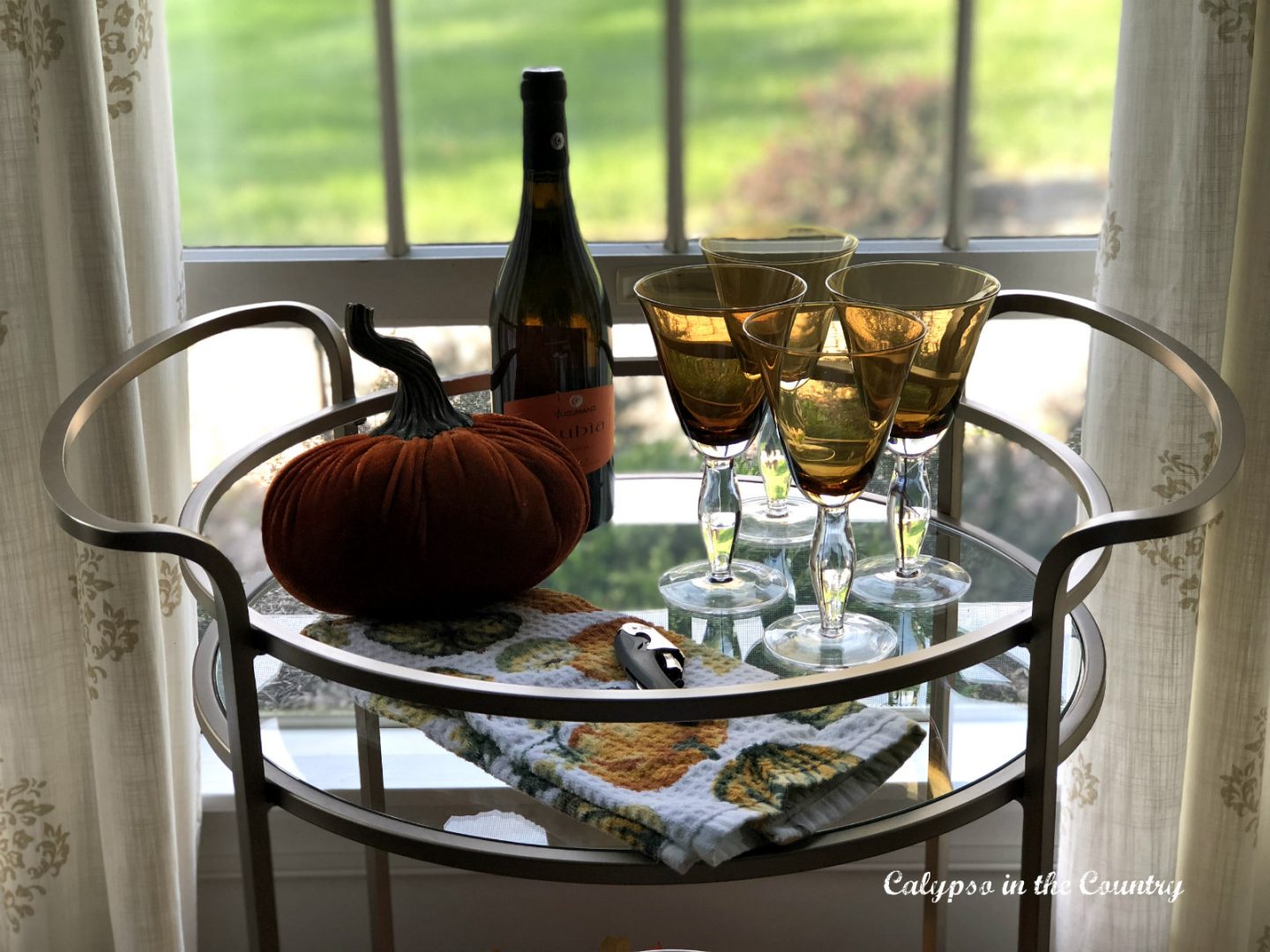 The amber colored wine glasses work perfectly for fall… and it helps when you find a bottle of wine with an orange label!
To carry the colors to the shelf below, I just used a vibrant wreath from my storage. In the past, I have used this wreath on my front door for fall.
There's no confusion on the seasons with this one!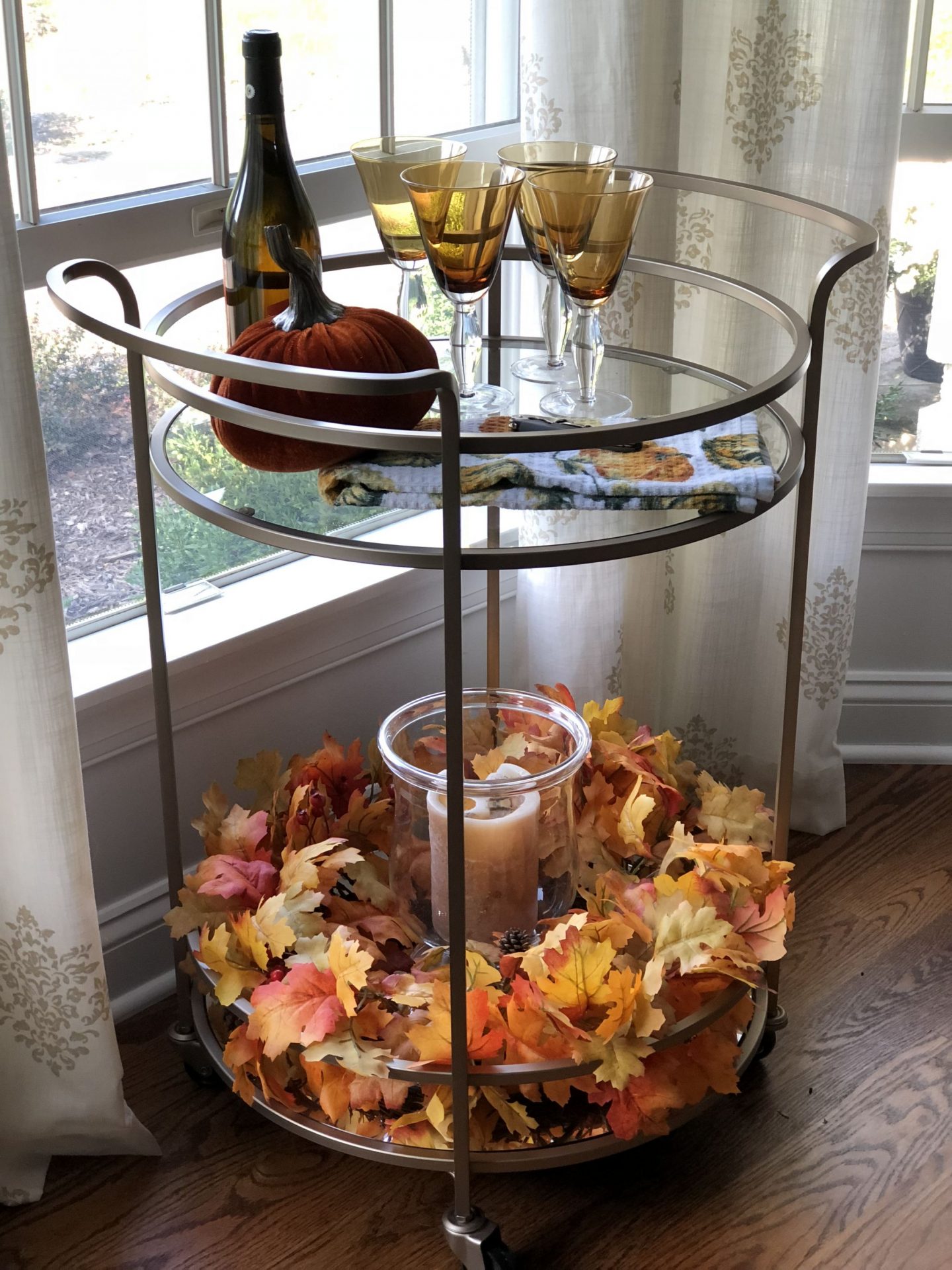 Some people don't like to use orange in their fall decor but I have always loved some color in my home!
Plus, darker colors feel cozy for autumn. Cheers to October!!
It's always fun to play around with accessories, isn't it? I swear, this bar car is like a new toy to me!
Hopefully, I inspired you with my 3 ways to decorate a bar cart for fall!
For you convenience, I have provided sources below. Please note that this post contains some affiliate links and I will receive a small commission if you make a purchase after clicking my links.
Fall Bar Cart Sources:
Which is your favorite way to decorate a bar cart for fall?

I'd love for you to follow along so you don't miss a post!
Follow by email – HERE
Instagram / Facebook / Twitter / Pinterest