Vintage Valentine's Day Vignettes You'll Love!
Happy February, everyone! Today, I'm sharing some vintage Valentine's Day vignettes and decorations as part of a Vintage Valentine's Day Blog Hop! Thank you to Amber from Follow the Yellow Brick Home for hosting! At the end of this post, you can find a list of all the talented bloggers sharing their vintage Valentine's Day decor. Be sure to visit as many as you can for some creative Valentine decorating ideas!
If you are just arriving from County Road 407 …Welcome! I am sure you enjoyed Cindy's beautiful table as much as I did! Of course, I also adore her decorating style and her lovely blog as well!
For my post, I decided to design two Valentine's Day vignettes using flowers and a few vintage items…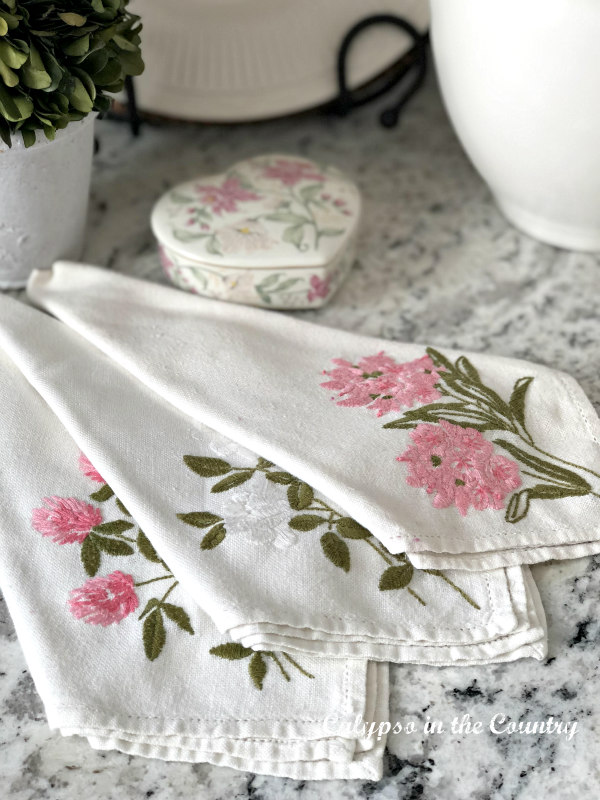 Beginning with my first vintage inspiration…these napkins.
A few years ago, my mother-in-law handed down these very special napkins to me. Aren't they beautiful? She embroidered them herself and I am so honored to have them in my possession. Since she created them when my husband was just a baby, they definitely count as vintage! Although she gifted me a whole set, I chose the pink and white ones for my Valentine's vignettes.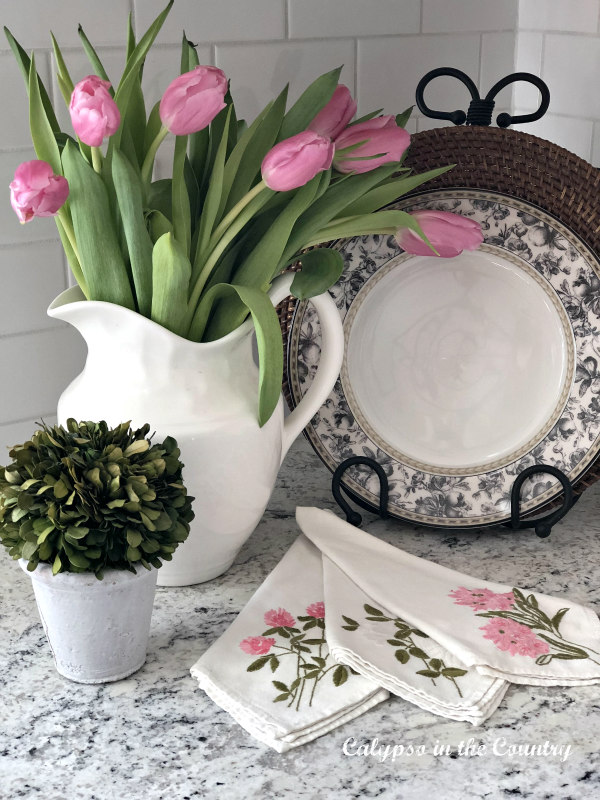 In my first Valentine vignette, I paired the napkins with pink tulips.
Of course, you have to have flowers for Valentines Day and you can't go wrong with pink! This look could work beyond Valentine's Day into spring. Ah, spring…the thought of it makes me smile after the frigid winter we've had so far! For more tulip inspiration, be sure to read my ways to decorate with tulips post.
Besides the napkins, I knew I must have more vintage items around the house to work with. After all, I have been married for 20 years so basically half of our things should be vintage by now!
My second inspiration – the vintage silver bowl.
Not only is it a pretty piece, but it has special meaning to us. The silver bowl belonged to my father-in-law who passed away a few years ago. Engraved on the other side of the bowl is his name and an award he received back in the 70's.
Since I thought the silver bowl would look beautiful filled with flowers, I polished it up a bit and placed a grid of tape across the top. This is an easy way to arrange flowers in a bowl without having to use floral foam.
After the tape was in place, I simply cut some grocery store flowers down to size and placed them into the grid. A fluffy hydrangea filled up a good portion of the arrangement and I used pink and purple flowers to fill in around it. Of course, I must remember to keep it watered.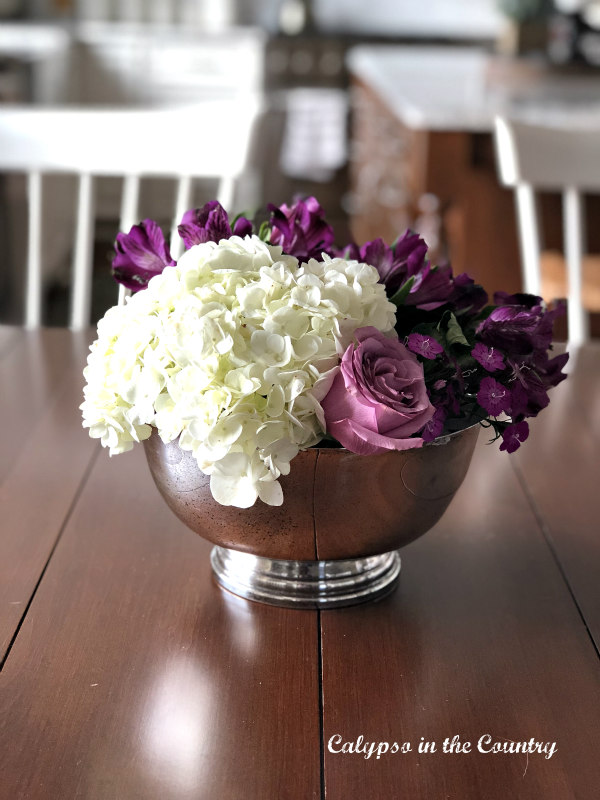 Although, the flower arrangement makes a lovely centerpiece for the table, I decided to combine it with some other pieces for a vintage Valentine's vignette…
Luckily, I also came across a pretty ceramic heart that my mom bought for me years ago. Certainly, a perfect addition to a Valentine's Day vignette.
From there, I grouped everything together in a wood tray I recently bought at World Market. We all love our trays, don't we?
With the addition of some pearls and a framed "I Love You" heart, the 2nd vintage Valentine's Day vignette was complete.
Obviously, lots of love in this vignette…I think we are ready for Valentine's Day!
Don't you agree that sentimental items make decorating much more meaningful? If you look around your home, I am sure you will find special pieces you can use in your Valentine's Day decor.
I hope you enjoyed my Vintage Valentine's Day Vignettes!
Next, be sure to hop over to Bluesky at Home. Carol always has so many creative ideas and I love her style. I'm sure she will inspire you with her vintage Valentines Day decor as well!
Remember to visit each of participants on the tour for tons of beautiful vintage Valentine's inspiration!

Follow the Yellow Brick Home/A Stroll Thru Life/Let's Add Sprinkles/Botanic Bleu
Have a Daily Cup of Mrs. Olson/Art and Sand/Itsy Bits and Pieces/Adirondack Girl at Heart/My Thrift Store Addiction
Petite Haus/Virginia Sweet Pea/County Road 407/Calypso in the Country/Bluesky at Home
The Crowned Goat/Thistle Key Lane/Lora Bloomquist/Le Cultivateur/Beauty for Ashes
White Arrows Home/The Tattered Pew/Welch House 1900/Decorate and More with Tip/Belle Bleu Interiors
Enjoy all the vintage Valentine's Day decor on the tour!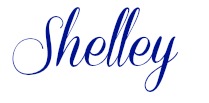 Follow along so you don't miss a post!
Subscribe by email – HERE
Pinterest/ Instagram / Facebook / Twitter