January to February – Ways to Enjoy the Winter Months (Saturday Spotlight)
Happy weekend and welcome to the Saturday Spotlight! Each week, I like to highlight a different theme or topic to inspire you. So…how did your January go? After beginning 2022 feeling optimistic, I ended up getting sick with Covid…ugh. I'm totally fine now but the past two weeks were not fun. In fact, I didn't even bother with the blog since I was so tired and had no creativity whatsoever… So much for January, right?! Well, I'm back on track and still have high hopes for the year. Now as we transition from January to February, I'll share some ideas to enjoy what's left of the winter months.
*For your convenience, please note that this post may contain affiliate links. If you make a purchase after clicking my links below, I will receive a small commission (at no additional cost to you).
January to February Decorating:
Whether you've been under the weather or just don't feel like dealing with the weather, if you make your home cozy, it can be a little easier to get through the winter months. Each year, I pull out some some simple winter decor to warm up my spaces. After all, our homes can end up looking a little bare after all the Christmas decor is packed away.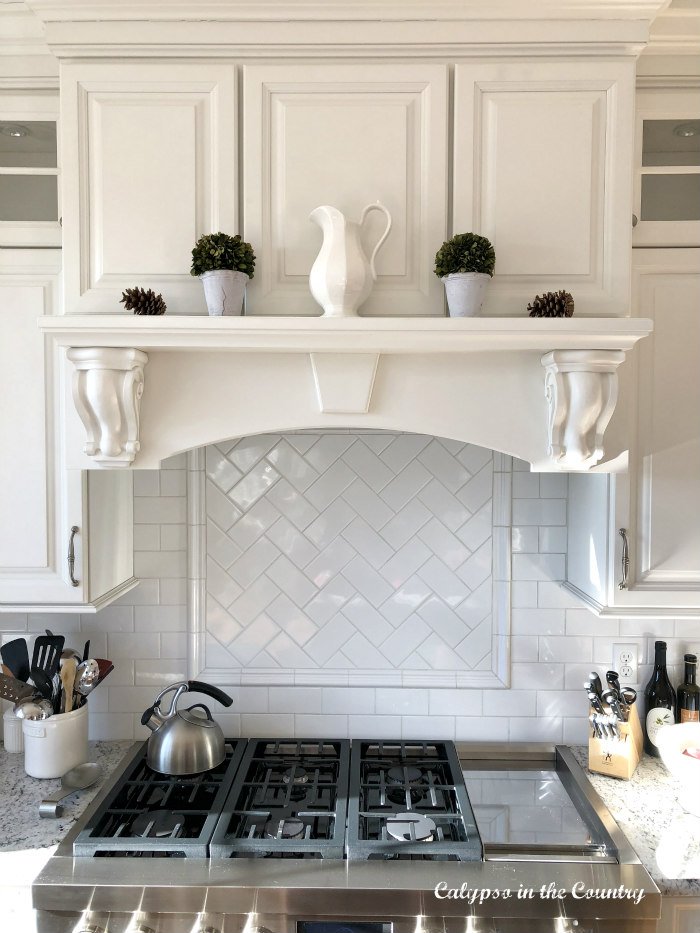 Winter Decorating Inspiration with Pine Cones and Candles
Valentine's Day Planning and Decorating:
Besides decorating specifically for winter, it can be fun to add some festive Valentine's Day decorations in February. A little color can get you through those dreary winter days. Here are a few Valentine's Day Ideas…
Once we flip the calendar from January to February, Valentine's Day is just around the corner! For those procrastinators out there, here are some Last Minute Valentine's Day Ideas!
Comfort Food for January to February:
During the winter, we seem to crave comfort food. My family loves when I add our Best Ever Chili recipe to our winter dinner rotation.
If you're planning to invite guests over to watch football, this is a great recipe to make for a crowd!
TV Shows to Watch this Winter:
While sick in bed for days, I made the mistake of watching too many news shows. Between Covid updates, violent crimes and the basic state of the world, the news was doing nothing to boost my mood. Seriously, I had to break away and change the channel!
Luckily, these shows cheered me up:
The Amazing Race – Up until this season, I'd never watched this show. Then I heard Penn and Kim Holderness (of the Holderness Family) were joining the cast and I just had to watch. If you follow me on Facebook, you've probably noticed that I adore them and their hilarious family videos. Anyway, I started watching the Amazing Race to cheer them on and now I love the show. Not only is it fun to watch the contestants race around the world but I love the way they support each other. After years of watching all the back stabbing reality shows like Survivor, I was tired of that drama. While I'm sure there will be some drama here and there, the Amazing Race gives off a more positive vibe. It's the perfect escape and a great way to forget all the depressing things going on in the world. If you haven't checked out the show, I highly recommend you do!
The Drew Barrymore Show – Although I've never been a fan of daytime TV (unless it's a decorating show), I now adore watching Drew! She's so adorable and her approach to life is so refreshing. She's down to earth, she's a huge animal lover and she's just so kind and likeable. Give her feel-good show a try!
February Shopping Ideas:
Stay warm and cozy this winter with one of these fireside velour throws…
Embrace the winter with these snowy art prints…
Whether you're celebrating Valentine's Day or Galentine's Day, pretty watercolor wrapping paper will make your gift even more special!
So soft and feminine…and if you like this look, you'll love her whole Valentine's collection!
For even more ideas to transition from January to February, here are some finds from around the internet:
Hopefully, some of these ideas will help you make the most of these chilly winter months!
As I've mentioned in the past, I hope you're getting some value out of my Saturday Spotlight posts each week. If there is anything specific you'd like me to highlight in the coming weeks, please let me know.
Sharing with these blogs:
The House on Silverado – Sundays on Silverado, Eclectic Red Barn – Happiness is Homemade, My Uncommon Slice of Suburbia – Inspire Me Monday. A Stroll Thru Life – Inspire Me Tuesday, Follow the Yellow Brick Home – All About Home, My Wee Abode – Tuesday Turn Around, My Life Abundant – Wonderful Wednesday, Eclectic Red Barn – Thursday Favorite Things, Imparting Grace – Grace at Home, Pieced Pastimes – Saturday Sparks