How to Decorate An Entry Table (Spring into Summer Ideas)
Do you freshen up your home decor each season? Though it might not be realistic to make updates in every room, it's nice to add a few seasonal items around the house. In my home, I like to start with the foyer. Today, I'm sharing ideas on how to decorate an entry table for spring as part of the 2021 Spring into Summer Home Tour, hosted by Kristi of French Creek Farmhouse.
At the end of this post, we've provided links to the other bloggers on the tour. Hopefully, we'll inspire you with some great ideas you can use in your home this season!
*For your convenience, please note that this post may contain affiliate links. If you make a purchase after clicking my links below, I will receive a small commission (at no additional cost to you).
Tips on How to Decorate an Entry Table for Spring (and Summer):
Start with a Clean Slate:
While you're preparing to decorate, take the opportunity to do a little spring cleaning. Clear off all the accessories from your foyer table. Then dust and wipe down the table and surrounding area. If you're like me, you find that clean spaces motivate you!
Choose a style that's consistent with your home:
Since the foyer sets the scene for the rest of the house, use that space to showcase your decorating style.
As you'll see, my style leans toward casual-traditional. Even though I can appreciate trendier furnishings, I prefer a timeless look. In fact, I've had this foyer table and mirror for years. Eventually, I'd like to replace the table with a chest with drawers for storage but obviously I'm not in a rush. The table is classic enough to work with my style. Plus, they say every room should have a little black…so there you go!
Pick a Color Scheme to Decorate Your Entry Table:
In my home, I love to decorate with blue. So for my spring foyer table, it made sense to accessorize with my collection of blue and white porcelain. Not only do the blue and white pieces work with my traditional style, but I think they look fresh for spring and summer!
similar blue and white pitcher / similar candleholders
And since I also love pink, I mixed in a few shades of pink flowers. Honestly, I don't think I'll ever get tired of those colors together. In fact, for my wedding almost 23 year ago, my bridesmaids wore navy blue and we carried pink flowers. I guess I've stayed true to my traditional style!
To ground all the color, I used my "old-standby" burlap table runner as a base. When I decorate, I usually like to mix in a little bit of neutrals and textures for variety. Plus, the neutrals really allow the bright colors to stand out. As you can see, the burlap runner also coordinates with my sisal-look carpet runner on the stairs..
Vary the Heights of the Items on Your Foyer Table:
When you vary the heights of your accessories, you add visual interest. In my case, I used different sized items. You could also vary heights by elevating your accessories on books or other objects.
Mix Real and Artificial Flowers When You Decorate Your Entry Table:
Yes, I'll be the first to admit that I don't exactly have a green thumb! So, whenever I can get away with using artificial flowers and greenery I do it. Though, I do love decorating with fresh flowers too. In the spring, you can find a beautiful variety of inexpensive flowers in the grocery stores. That way you can mix in some real and faux flowers without spending too much.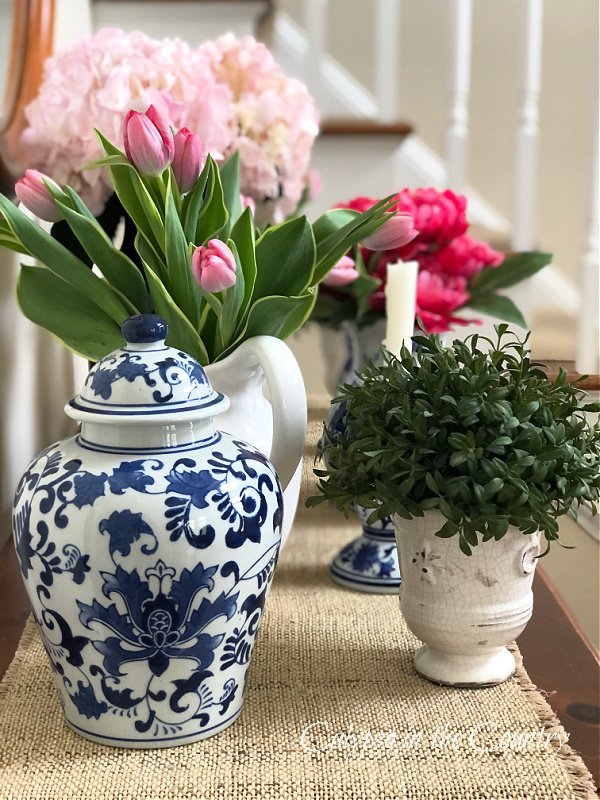 For my entry table vignette, I used real hydrangeas and tulips but the peonies and greenery are artificial. Can you tell? Well, I guess when the real ones start drooping it will be more obvious! Maybe I'll end up switching them all to faux to stretch out the life of my spring foyer vignette. With the way this table vignette brightens up my foyer, I'd like to keep this look from spring through summer.
Be Mindful of the Colors in Adjoining Rooms:
As I mentioned, I've carried the color blue throughout my house. My dining room walls are navy and my curtains in the kitchen (around the corner) are also navy. I think repeating the blue helps with the flow of the rooms.
Speaking of repeating, I also added coordinated flowers to a basket on the front door. Usually, I hang a wreath or basket on the outside of the front door but this year I also hung one inside.
The basket of flowers really livened up that side of the foyer. So, I think I'll be doing that from now on. Also, I ordered a navy rug to replace the red one but it hasn't arrived yet. That red rug is still hanging around from my old color scheme. But since we're basically focusing the entry table today, we'll get back to the rug another time…
Hopefully, I gave you some helpful ideas on how to decorate an entry table for spring or summer!
Shop the look:
Now, let's continue with the Spring into Summer 2021 Home Tour!…
I'm thrilled to be joining in today as 29 talented bloggers bring you the best of all things home! Please continue along this inspiring Spring Into Summer tour, and visit the other participants in each of the following categories.
Enjoy all the spring and summer home tours today!
Do you plan to decorate an entry table this season?
Follow along so you don't miss a post!
Subscribe by email – HERE
Pinterest/ Instagram / Facebook / Twitter