Christmas Table in a Navy Dining Room
Happy December everyone! Have you been thinking about how to decorate your Christmas table? Today, I am joining a group of talented bloggers for a Christmas Tablescape Blog Hop hosted by Chloe of Celebrate and Decorate. Each day this week, several bloggers will be sharing their Christmas tables. Today, I'm sharing my Christmas table in a navy dining room. Also, please be sure to visit the links at the end of this post for tons of inspiration.
*Please also note that this post contains affiliate links. If you make a purchase after clicking my links below, I will receive a small commission (at no additional cost to you).
Christmas Table in a Navy Dining Room:
Classic navy blue as a background…
Ever since we painted our dining room (Sherwin Willams – Naval), I've been thrilled with all the decorating possibilities. Although, a white background is probably more versatile for most people, I've come up with plenty of ideas that go with the navy.
For me, navy blue is a color that fits with the way I decorate…and the way I dress, for that matter. Supposedly, you should look at your clothing choices to see what colors you should use in your decor. Well, that rings true for me because most of my wardrobe is navy!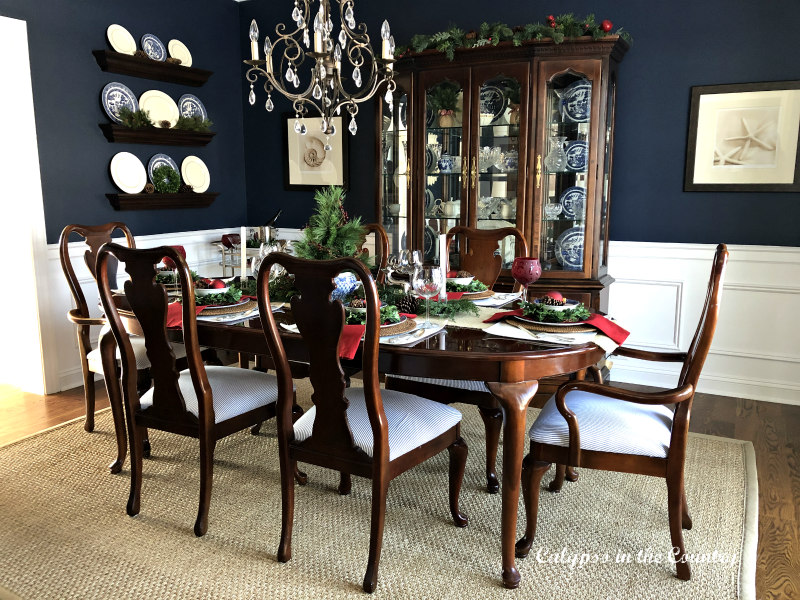 Because my walls are navy, my red decorations really stand out. With such strong colors, I just have to be careful not to overdo the accessories. Otherwise, the room could look cluttered. That's one reason I love having a seagrass rug in my dining room. The neutral color provides a great background for anything I want to do on the table. Plus, the seagrass rug tones done the formal feel of the traditional cherry furniture.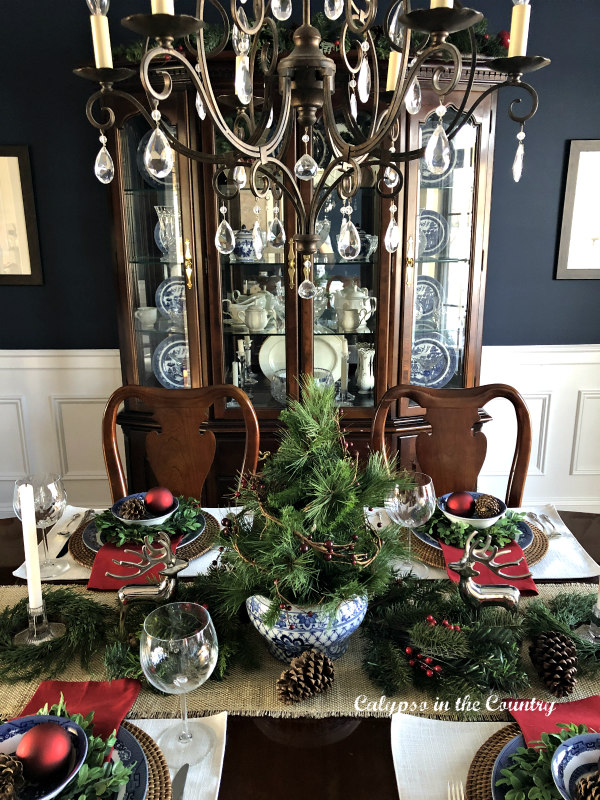 Decorating with Blue and White for Christmas:
A classic color combination for a traditional room…
For my Christmas tablescape, I wanted to use my blue and white pieces so I mixed in plenty of Christmas greenery and splashes of red. Originally, I planned to use a combination of red and white roses for the centerpiece but we had a snowstorm yesterday and I never made it out to the store. Now, if I wasn't such a procrastinator, I would have planned ahead and purchased the flowers earlier. Then again, with my black thumb, they might have been dead by now anyway – ha!
So, as a backup plan, I plopped this little Christmas tree in my blue and white porcelain and flanked it with a couple silver reindeer. How's that for any easy centerpiece? Sometimes being "done" is better than trying to be perfect, right?
Christmas Table – Colors and Textures:
Add layers for interest and variety…
To continue the brown color from the furniture and pine cones, I used my rattan chargers. Of all my table decor, the rattan chargers are one of my most used. If you read my blog, you've probably seen them many times!
blue and white plates / similar rattan charger
On each place setting, I layered mini wreaths on top of the red napkins.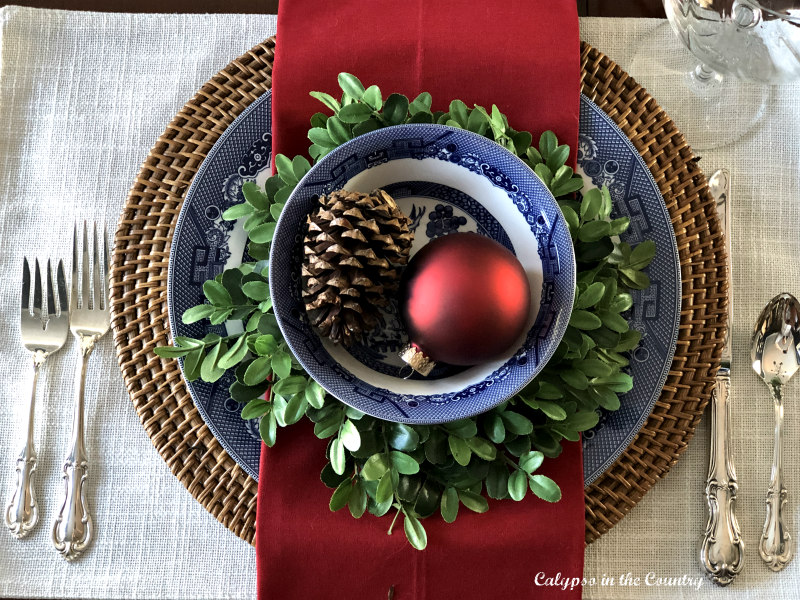 Another over-used accessory in my home is the burlap table runner. It really does go with everything!
Simple Holiday Touches in the Dining Room:
Add some shine with metal and glass…
Here is a close up of one of the reindeer. Recently, I bought the pair at Homegoods after I made over our boys' bathroom. Originally, I planned to put the reindeer in the bathroom for some minimal Christmas decor. Instead, they ended up on the Christmas table in the dining room where they have become part of the centerpiece. Speaking of reindeer, if you are looking for a fun (and delicious) Christmas cookie recipe, be sure to check out my reindeer cookie recipe.
To give a festive touch to each place setting, I added a simple red glass ornament and pine cone. Why limit Christmas ornaments to the tree? Check out my other easy ways to decorate with ornaments.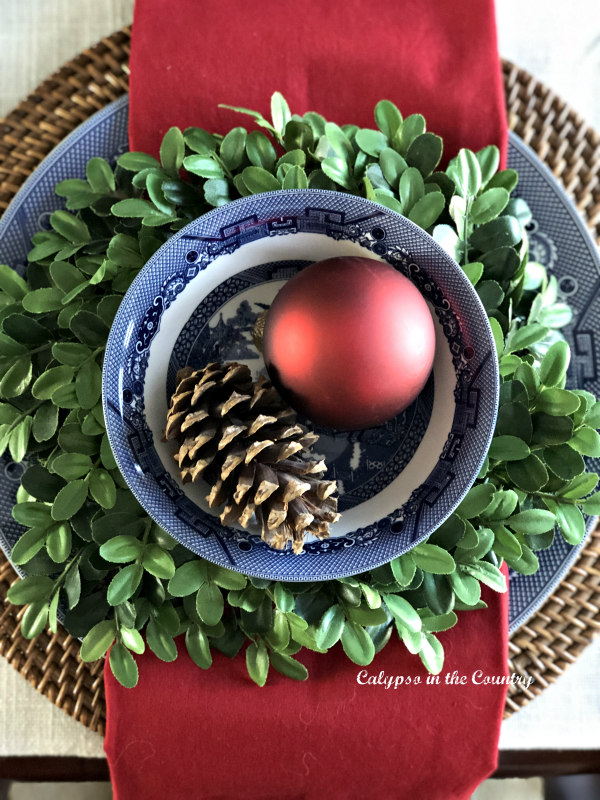 Christmas Decor Around the Dining Room:
Add a few more touches of holiday cheer…
From the table, you can see my decorated shelves and bar cart in the background…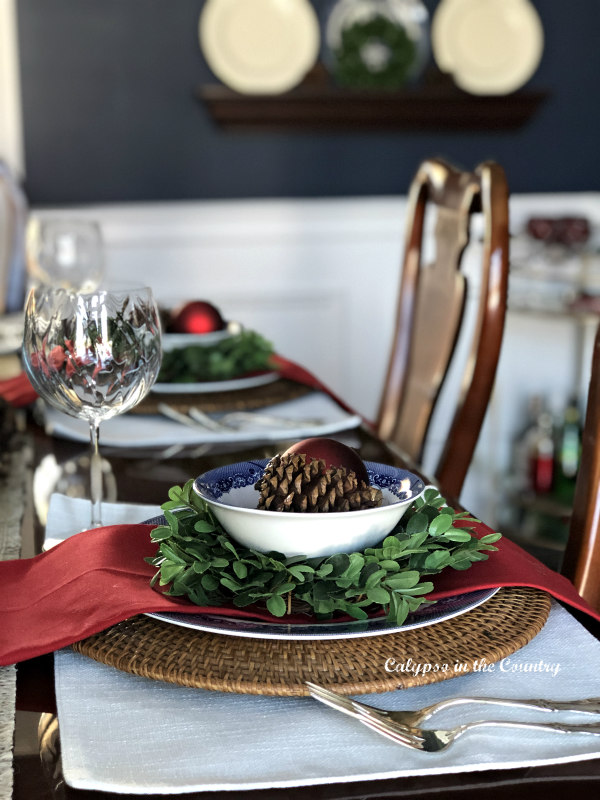 Yes, I've said it before and I'll say it again…I love decorating my bar cart. Not only is the bar cart practical (well, kind of) but it's the perfect place to corral a bunch of fun seasonal items. It's like an instant holiday party…Cheers!
Above my bar cart, I placed more blue and white china on the wall shelves. Just by adding a bit of greenery, I turned the shelves from everyday to Christmas.
On the opposite side of the room, I added a little more greenery to the sideboard.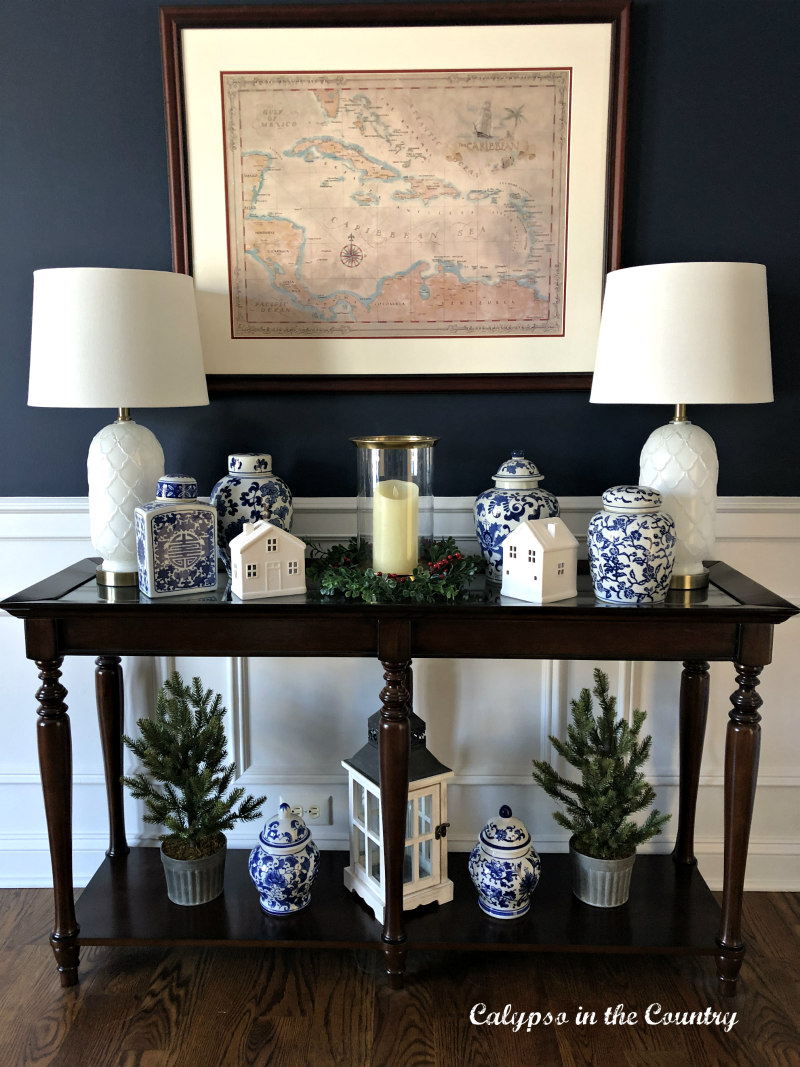 similar ginger jar / ginger jar option
It's amazing how some simple Christmas greenery can make the blue and white pieces feel like Christmas.
Obviously, the little white ceramic houses add a festive touch as well. This year, I am placing them in vignettes around my house but last year I gathered them all for a Christmas table setting in the kitchen.
Navy Dining Room at Night:
Ambiance for festive dining…
Although it's hard to photograph the room at night, I'll share one photo of a Christmas evening in the dining room…
I hope you enjoyed the tour of my navy dining room!
Hopefully, you picked up some ideas to decorate your own home for the holidays!
If you want to see how I decorated my kitchen this year, take the tour here – Farmhouse Christmas Decor for the Kitchen.
*Update – here is my latest Christmas tablescape!
Sources for my Christmas table in a navy dining room:
Once again, thank you to Chloe from Celebrate and Decorate for hosting!
Please visit the rest of the participants on the blog hop from the list below…
Monday
Tuesday
Wednesday
Thursday
Friday
How are you decorating your Christmas table this year?
Follow along so you don't miss a post!
Subscribe by email – HERE
Pinterest/ Instagram / Facebook / Twitter