8 Creative Patriotic Crafts and Decor for Your Home
Welcome friends! Today, I'm joining 7 DIY and home decor bloggers to share our patriotic projects. After all, Memorial Day is just around the corner and the 4th of July isn't far off! It's time to bring out those flags and all your red, white and blue! Thank you to our friend, Rachel from The Ponds Farmhouse who is hosting this round up of creative patriotic crafts and decor. With this group of talented ladies, I'm sure you will be inspired! Let's get started…
*For your convenience, please note that this post may contain affiliate links. If you make a purchase after clicking my links below, I will receive a small commission (at no additional cost to you).
Creative Patriotic Crafts and Decor:
As we head into the warmer months, you might be thinking of ways to add some patriotic decor to your home. Well, let us inspire you with our red white and blue crafts and DIY patriotic decorations!
First, we're going to start with Rachel's adorable DIY project…
DIY Ticking Patriotic Napkins with Cutlery Pocket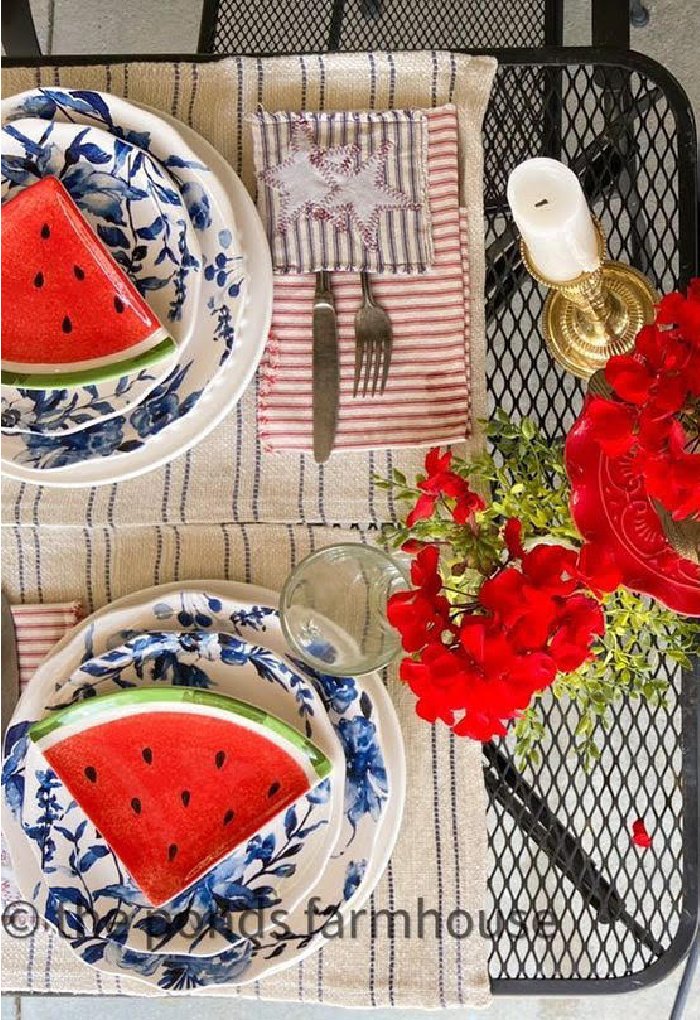 Since Rachel couldn't find what she wanted in the store, she got creative and made her own patriotic napkins! With her step by step instructions, she makes this DIY project look easy. What a cute idea to add that stars and stripes pocket for the cutlery. See, I told you these ladies are talented!
Now, let's head over to see Jennifer's lovely patriotic creation…
How to Make a Patriotic Flag Shutter
With a little paint and some coastal touches, Jennifer turned an old shutter into a showpiece! Seriously, this proves that you shouldn't overlook those beat up antique store finds. Don't you love the way she styled her patriotic vignette as well? Between the lantern and the galvanized pot, there's definitely a farmhouse vibe. So pretty!
While we're talking farmhouse vibes, take a look at Jen's pretty patriotic craft…
Fourth of July Galvanized Farmhouse Flag Wreath
Wow, her galvanized wreath is bursting with patriotic color! Surely, a welcoming way to greet guests. The wooden star and the bright red number 4 really makes her wreath unique. On her blog, Jen lists all the supplies you'll need to create a similar red, white and blue wreath of your own. While visiting, be sure to take a look at how she styled her porch. So festive and patriotic!
For another beautiful flag DIY, you're going to love Debra's project…
Easy Patriotic Decor with Vintage Flags
By: Common Ground
Not only is this patriotic door basket super cute but it's easy to create! This is just one of the lovely DIY projects Debra shared on her blog. You're going to love her pretty patriotic vignettes and centerpieces as well!
As we head towards Memorial Day, check out Coco's ideas for celebrating the holiday…
10 Easy Ways to Celebrate Memorial Day
By: The Crowned Goat
Doesn't her porch look inviting? Visit her blog for patriotic decorating ideas and along with ways to honor those who have served our country. After reading her blog, you're going to feel inspired!
Since we all love a festive front porch, take a look at how Janine decorated hers for the 4th of July…
Front Porch Ideas for 4th of July
From the basket full of flags to all the red, white and blue, Janine's porch is ready for the 4th of July…or any of the patriotic holidays! Visit her blog for her porch decorating tips and sources to buy her pretty accessories – like that adorable star garland!
Now, let's head over to see Cindy's beautiful and creative patriotic craft…
How to Make a Denim and Lace Fabric Scrap Flag
By: DIY Beautify
If you're looking for ways to recycle old fabric scraps, you're going to love Cindy's creative ideas! On her blog, she gives an easy step by step tutorial so you can create a fabric scrap flag of your own. No need to spend a ton of money when you decorate for the patriotic holidays!
For our last DIY project on the list, I'm sharing my patriotic tablescape…
How to Decorate a Patriotic Tablescape with Old Baseballs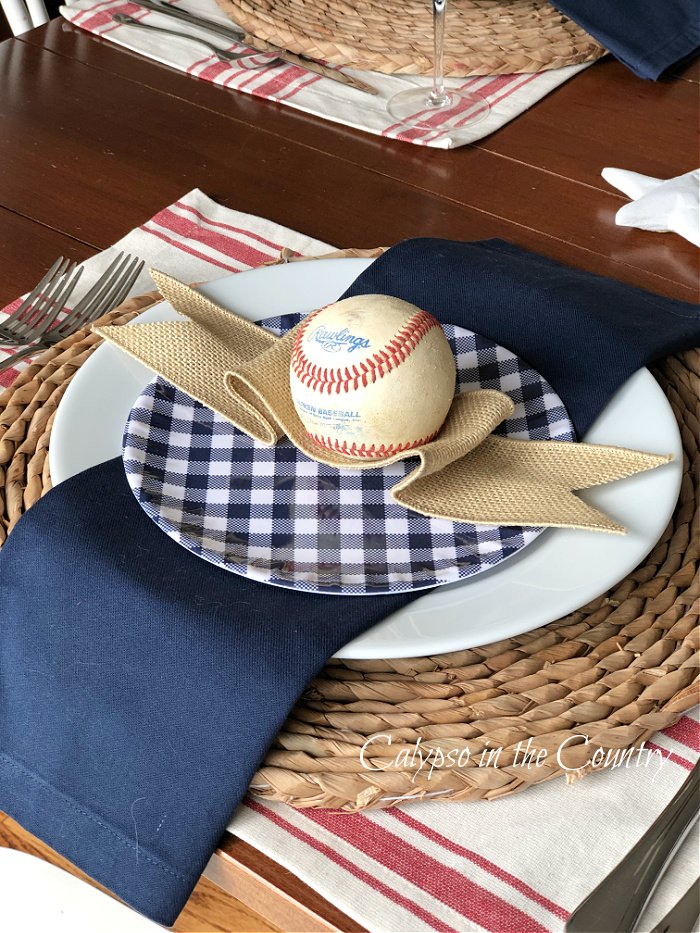 Who would have thought that my spring cleaning would turn into a table setting? While organizing the garage I came across a bucket of old baseballs and decided to put them to use! So, I created a tablescape mixing the baseballs with red, white and blue accessories. After all, baseball is known as "America's pastime" so it made sense to use baseballs as a starting point for a patriotic table! See more photos all the details in my blog post.
Hopefully, we inspired you with our DIY patriotic crafts!
Thanks for joining us today!
Follow along so you don't miss a post!
Subscribe by email – HERE
Pinterest/ Instagram / Facebook / Twitter