Before and After: Boys' Bathroom Makeover (On a Budget)
Welcome, friends! Who's up for a good before and after boys' bathroom makeover?
*Please note that this post contains affiliate links. If you make a purchase after clicking my links below, I will receive a small commission (at no additional cost to you).
Today, I am excited to share a fun before and after project with you – our boys' bathroom makeover!
Take a look at our budget friendly, teen bathroom transformation…
Since my boys are now teenagers, their childish fish-themed bathroom just wasn't cutting it anymore. Actually, who am I kidding? The bathroom never looked good! After all this time, I finally decided to do something about their sad looking little bathroom. It had gotten to the point that the boys were totally embarrassed to let their friends in there. "It's too babyish", they'd say. Honestly, I can't say I blamed them…
Dramatic boys' bathroom updates on a budget…
Sometimes, you don't need a full remodel…
Luckily, our bathroom tile was in good shape so I didn't need to rip it out or do anything structural. Why spend all that extra money if you don't have to? Instead, I focused on the cosmetic changes which didn't cost too much. Simple updates like paint color can make a big impact when making over a bathroom.
Let's start by looking at a scary "before" photo:
For many years, our boys bathroom was just a little too colorful for our liking…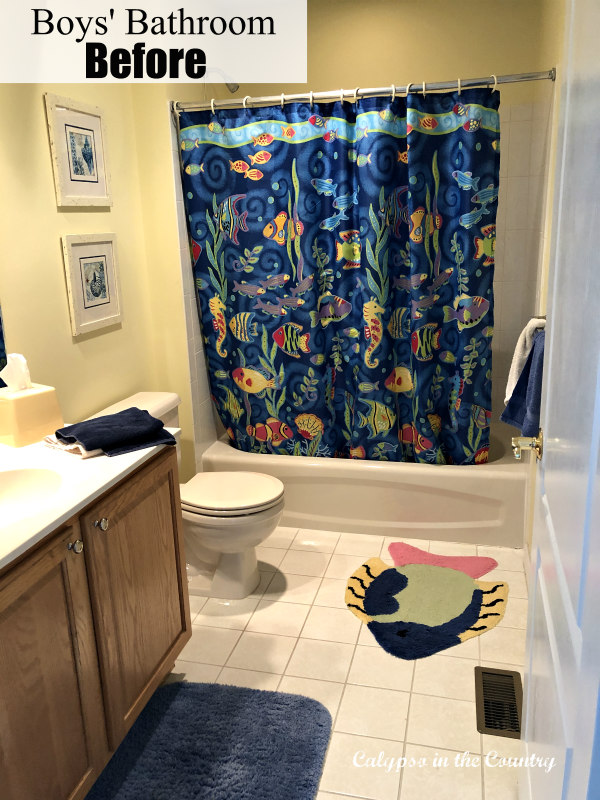 Yeah, I know…what was I thinking? Oh the horror…haha From what I can remember, I wanted their bathroom to feel bright and cheerful with a Caribbean vibe. After all, we vacation in the Caribbean once a year. Apparently, I wanted to bring some of that style home. Since there aren't windows in this bathroom, I thought the yellow would make it feel lighter. Did I take into account that the tub and toilet were a bisque color?…No, I did not. To me, the yellow just looked horrible.
When the kids were little, I didn't have time (or energy) to update the bathroom. Plus, when the boys were younger, they actually liked having a bright cheerful bathroom.
Fast forward about 12 years and our boys' bathroom hadn't changed. One day, I just couldn't take it any longer and decided it was time for a makeover.
My plan to freshen up our boys' bathroom:
From Caribbean nightmare to a cool teen bathroom…
Paint the walls and ceiling (the ceiling had a water stain from an old leak in the attic)
Replace shower curtain to something teen appropriate.
Buy new accessories – towels, tissue box, etc.
Replace toilet seat – because, you know…boys
Replace the rugs
Update the worn out builder-grade oak cabinet
Overall, the boys' bathroom makeover took me a couple weeks and was totally worth it!
Are you ready to see the boys bathroom "after" photos?…
A dramatic transformation…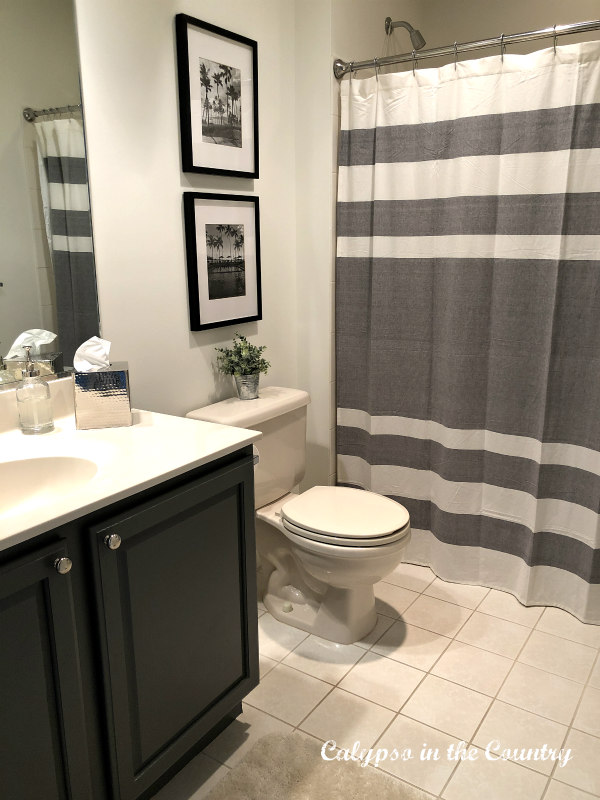 Consider the power of paint when updating a bathroom:
From a colorful Caribbean nightmare to a cool and sophisticated teen boys' bathroom.
Finally, no more glaring yellow on the walls. First, I painted the ceiling and the walls – White Dove from Benjamin Moore (Aura Bath and Spa line) in the matte finish. Since the toilet and tub are a bisque color, I thought the creamy shade of White Dove worked well and didn't clash like the yellow.
*Painting Tip – Since the Benjamin Moore – Aura Bath and Spa paint is specially formulated for steamy rooms, my paint dealer told me to let it cure for two weeks before letting the room get steamed up.
Because I was using a shade of white, I had decided to paint the ceiling and walls the same. It made the painting project much easier since I didn't have to cut in at the ceiling line. With my back and neck problems, I wanted to spend as little time as possible reaching up. Plus, using the same color was cheaper because I didn't have to buy additional paint for the ceiling.
Now, let's take a look at the bathroom vanity:
Oak vanity before…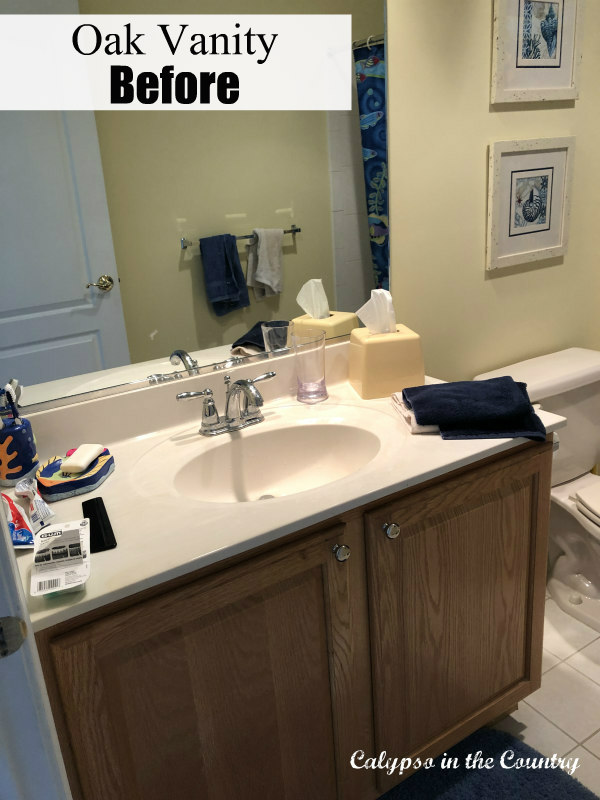 Boy bathroom updates – painting the vanity:
After painting the walls, it was even more obvious the oak vanity needed an update.
With a couple coats of primer and paint, I was able to transform the look of the vanity as well. In the future, I might also frame out the builder-grade mirror but it's fine for now.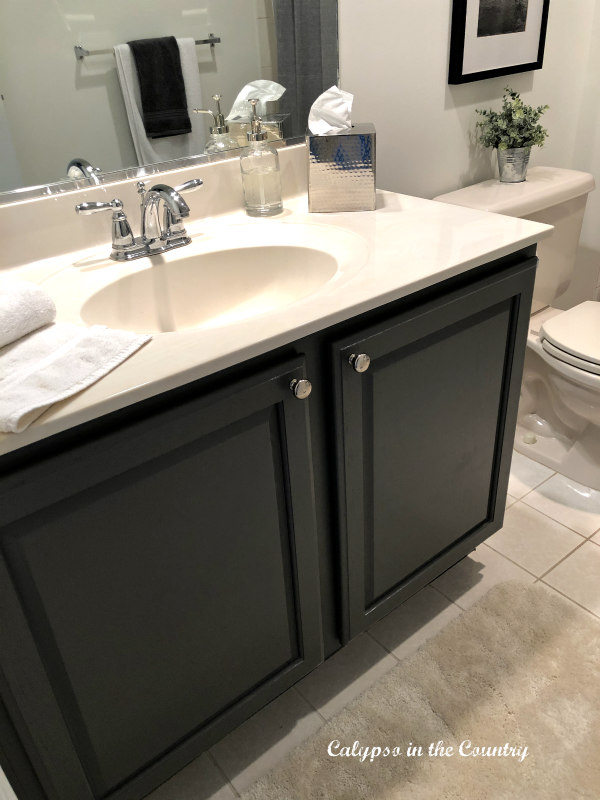 For the vanity color, I chose Benjamin Moore – Kendall Charcoal in a satin finish. In my opinion, it's the perfect vanity color for a boy bathroom and I liked the contrast with the white walls. Also, I wanted the vanity to be a little darker than the gray in the new shower curtain. It had been years since I painted a cabinet and this time it seemed a little easier. Not that I plan on doing it all the time though!
If you want all the details on how I painted this vanity, be sure to read – How to Paint a Bathroom Vanity.
New accessories make a big difference in a boys bathroom:
Update the shower curtain to be more age appropriate…
Probably, our most dramatic change came with the shower curtain. After all, it's the first thing you notice when you walk in the room.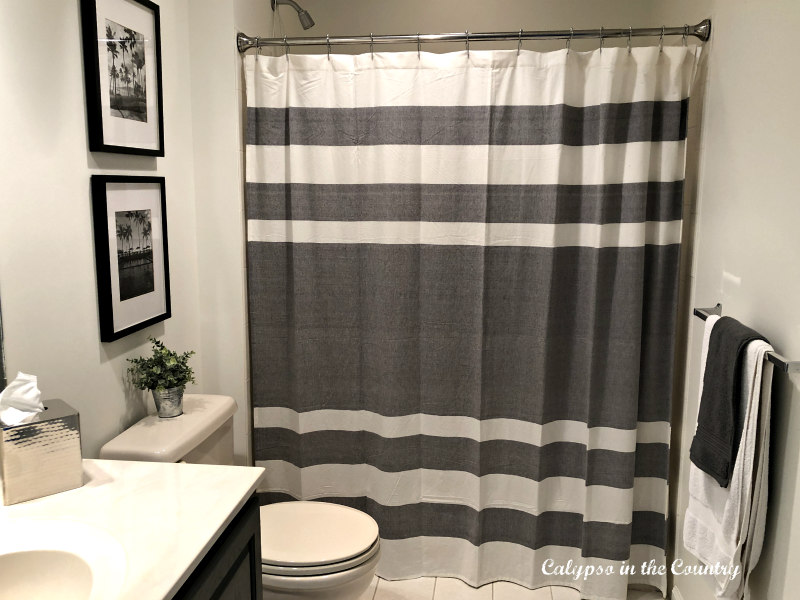 From crazy bright colors to calm gray and white, this change made a huge difference. On a successful trip to Homegoods, I found the shower curtain, rings and new pole. Obviously, Homegoods changes their inventory frequently, so I listed some similar shower curtains and accessories at the end of this blog post.
Coordinate the sink accessories…
For our boys bathroom, I chose chrome and white items for a fresh, clean look.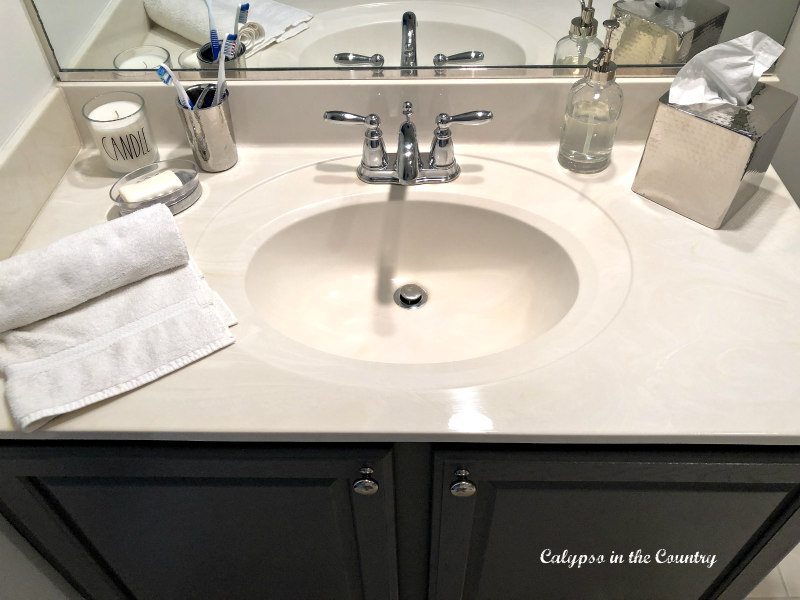 toothbrush holder / faucet / soap dispenser / similar tissue box
Due to a leak, we had already replaced the faucet a couple years ago. Luckily, the counter top was neutral and in good shape so I just bought some new accessories to freshen up this spot.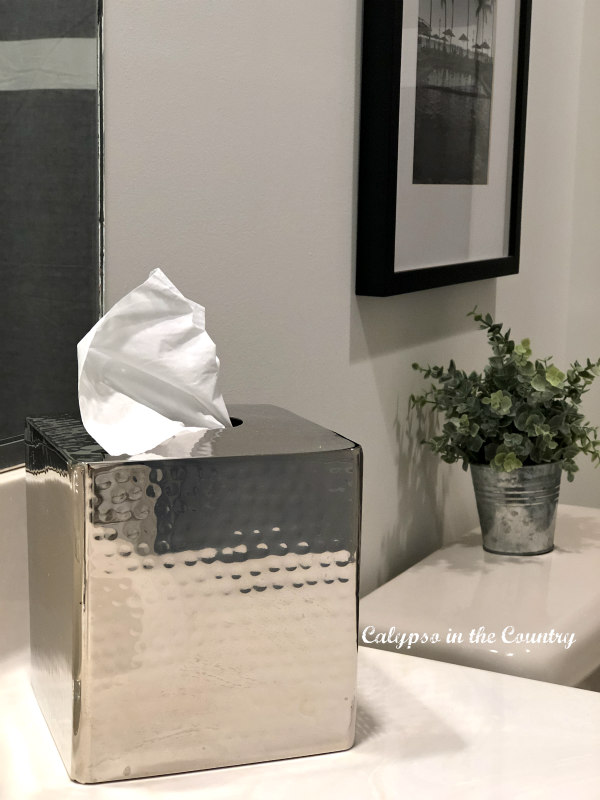 Since I wanted to continue with the look of shiny chrome from the faucet, I chose some chrome for the accessories like this tissue box. I like that it has a hammered look for some texture.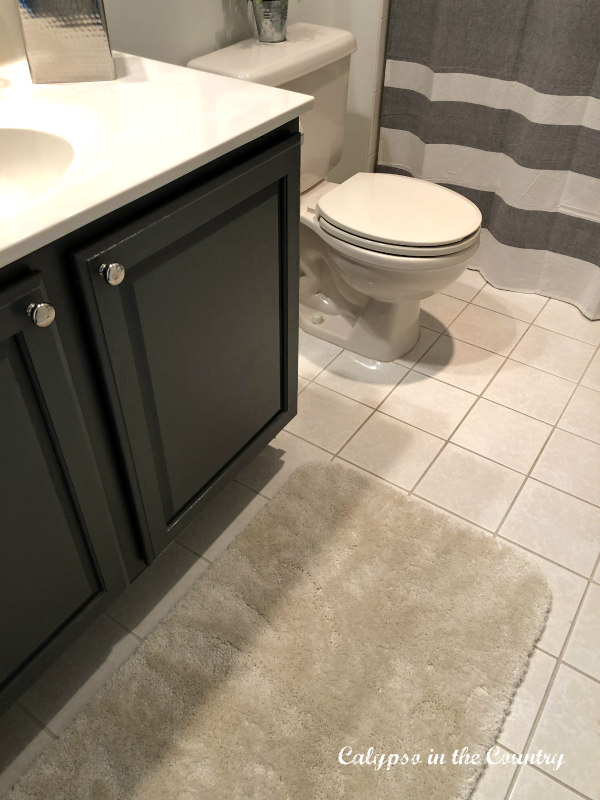 While we are discussing texture, the boys wanted a super soft rug in front of the sink. I can't say I blame them, this one is so cushy on bare feet! Who says a boy bathroom can't be a little luxurious?
Simple artwork for a boys bathroom:
Since every room should have a little black, I framed some tropical black and white photos above the toilet.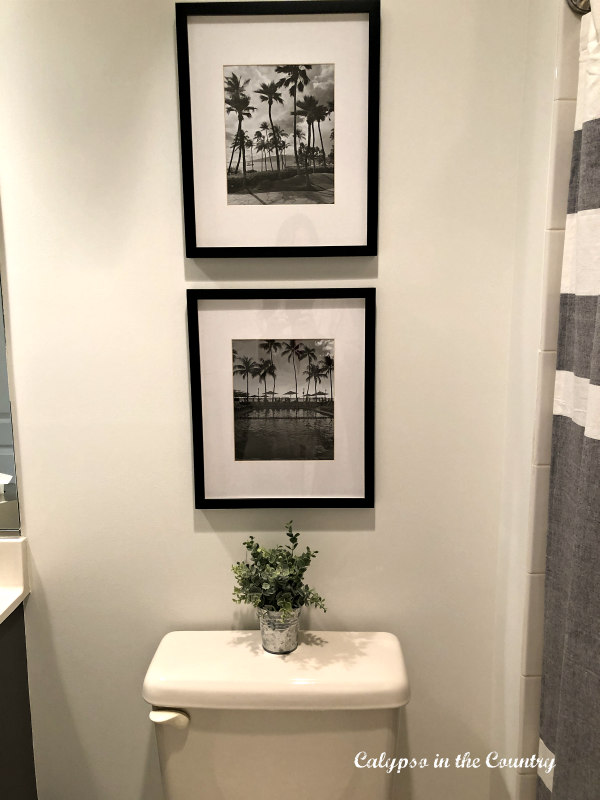 On our trip to Hawaii last year, I took these photos. Rather than buy art, I wanted the space to feel more personal and remind the boys of places they have traveled. Of course, I still need to hang another a black and white photo of the Caribbean on another wall. Believe me, that will be the only remaining Caribbean reference in this room!
*Money saving tip: When using black and white photos, just print them on paper directly from your computer. Why spend the extra money when you really can't tell?!! This is also a good idea if you don't want to commit to a certain photo. Just a heads up, we haven't taken any long steamy showers in here yet so I am not sure how long the paper will hold up to a ton of humidity…a good reason to turn on the fan! Then again, the photos are behind glass so I am assuming they will be okay…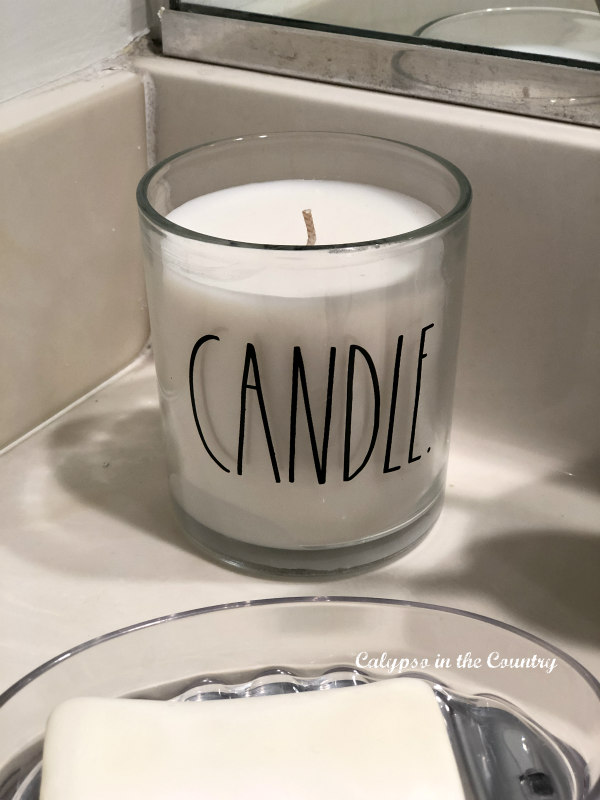 Rae Dunn candle – Homegoods
In my opinion, every bathroom should have a candle. For a boys' bathroom, the scent (Sugar Bush) is subtle and just perfect. Nothing perfume-y in here! If you get a chance to go to Homegoods, check out all the Rae Dunn candles. They are so cute and smell heavenly!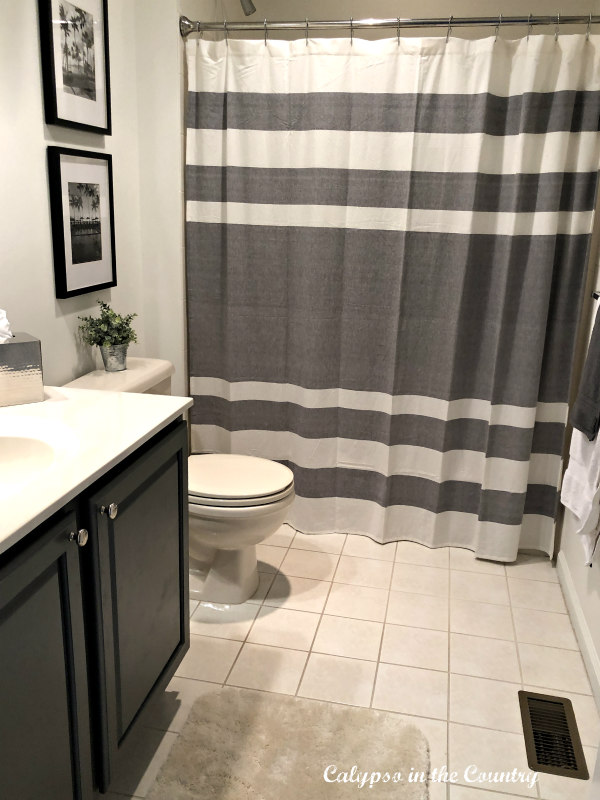 Shower curtain – Homegoods (similar shower curtain)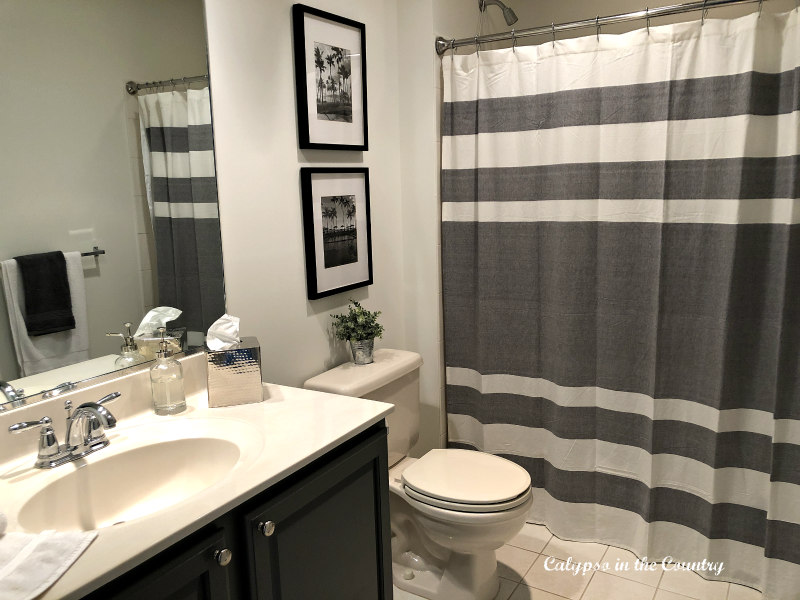 Our teen boys' bathroom makeover is complete!
Hopefully, this boy bathroom makeover is proof that you don't need to spend a ton of money for a fresh new look.
If your tile and main fixtures are still in good shape, you can extend the life of a bathroom with simple cosmetic changes…and a little work! Plus, something like painting bathroom cabinets can really be accomplished in a weekend.
Once again, let's take a look at our boys' bathroom before and after photos: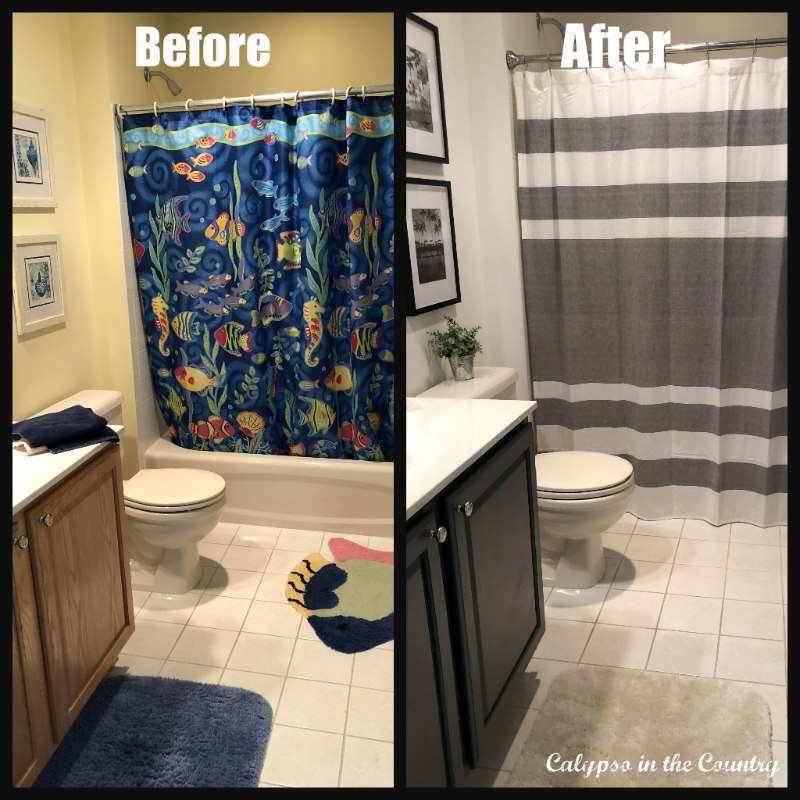 I hope I inspired you to take another look at an outdated bathroom in your home.
Do you have a boy who might like a bathroom update?
Maybe you can make some simple changes instead of tackling a full blown bathroom renovation. Wouldn't you rather spend your money on a vacation or something?…Perhaps to the Caribbean -ha!
Sources for Boys' Bathroom Makeover:
What was your favorite update in our boy's bathroom makeover?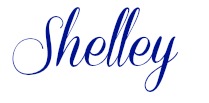 Follow along so you don't miss a post!
Subscribe by email – HERE
Pinterest/ Instagram / Facebook / Twitter