2 Easy Ways to Decorate Your Mantel for Spring
Hello friends! Who else is looking for a distraction from reality today? For the last couple of weeks, I have been hesitant to blog. Honestly, the idea of posting decorating photos seemed so frivolous with everything that is happening in the world. Since I've been looking for ways to keep busy, I started experimenting with spring decor on my fireplace mantel. For that short period of time, I was able to escape reality a bit. So today, I'll share my 2 easy ways to decorate your mantel for spring. I'm assuming I 'm not the only one looking for an escape…
Spring Mantel Decorating: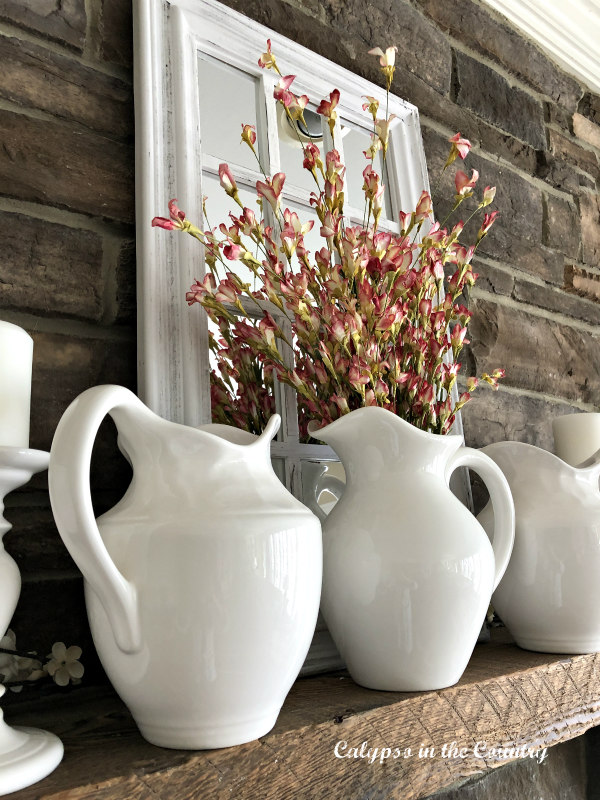 So, at the last minute I decided to join a Spring Ideas Tour Blog Hop hosted by my friend, Paula from Sweet Pea. If you don't already follow Paula, please be sure to stop by her beautiful blog! She has an amazing collection of sentimental vintage treasures that she incorporates into her lovely home. Also, be sure to visit the links at the end of this post for tons of spring ideas from a talented group of bloggers!
If you are just arriving from Marty's Musings Welcome! Marty's home is always so beautiful and I am sure you loved her mantel!
Since we aren't leaving our house much these days, I challenged myself to decorate my spring mantel with things I already owned. Hopefully, I will inspire you to pull out some of your accessories and try a new look…
*Please also note that this post contains affiliate links. If you make a purchase after clicking my links below, I will receive a small commission (at no additional cost to you).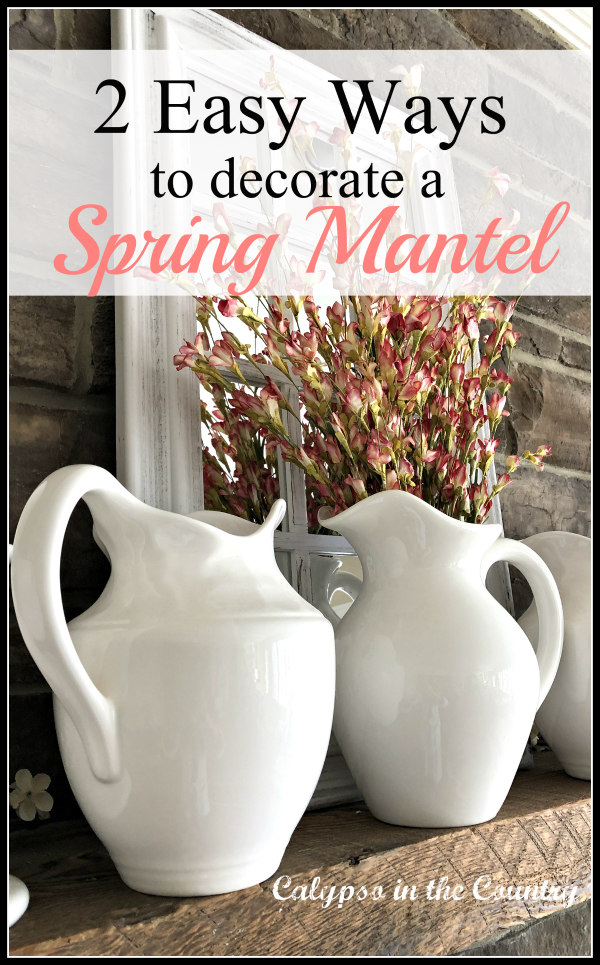 A Simple Spring Mantel with White Pitchers and Flowers:
For my first attempt at decorating a spring mantel, I pulled out my collection of white pitchers. I filled the center one with some artificial flowers I had in my storage. Since I haven't bought any fresh flowers recently, the artificial ones were my only choice anyway. Last year, I used the same flowers for my Easter table.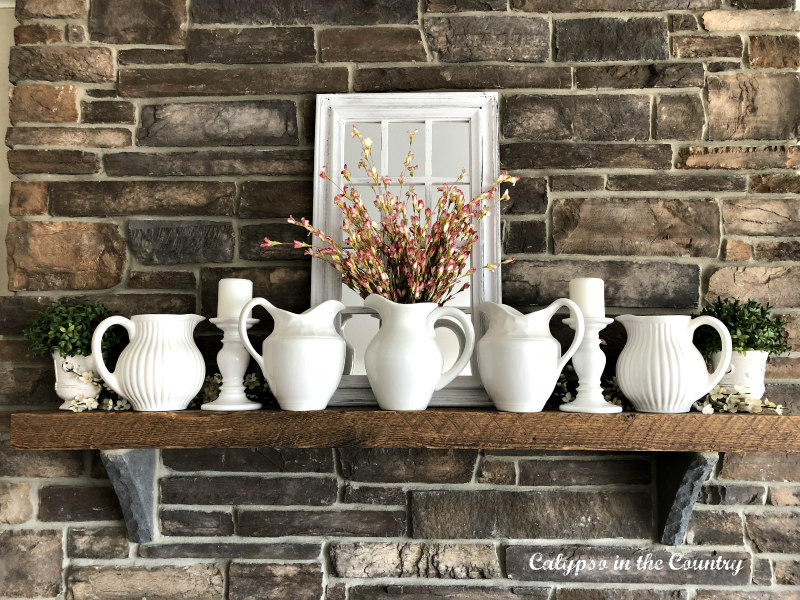 similar white pitcher / another similar pitcher / another option for window pane mirror
To add some height in the middle, I propped up a window pane mirror. Recently, I used that for a spring tablescape.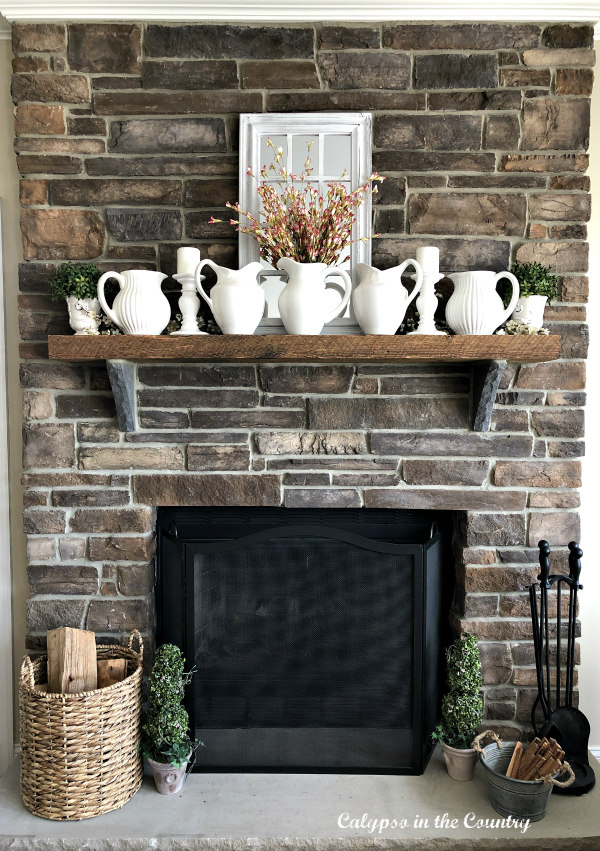 similar white pitcher / another similar pitcher / another option for window pane mirror
Since my fireplace stone is on the dark side, all the white stands out and feels fresh for spring!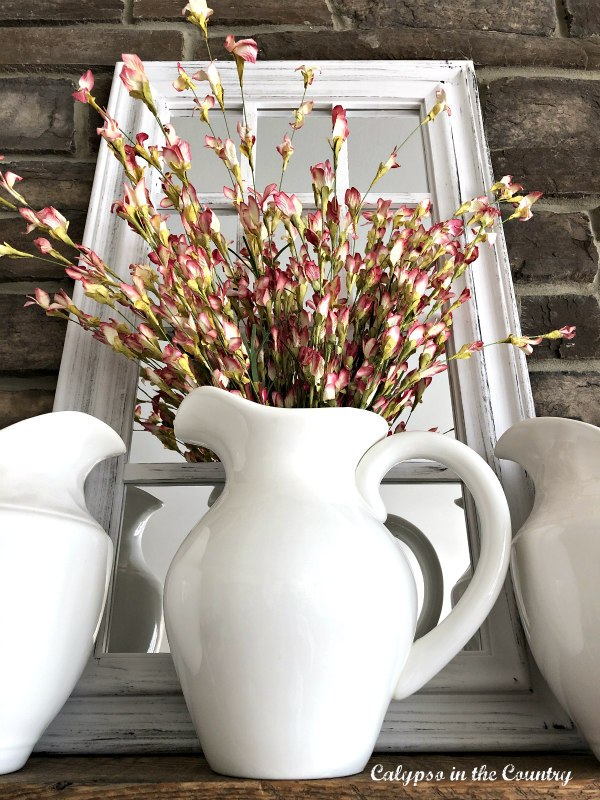 Get the Look:

Then, since I had plenty of time…(I mean, who doesn't these days), I also tried another spring look for my mantel using some of my blue and white pieces…
Spring Mantel with Blue and White:
Once again, I pulled out all the faux flowers…
If you read my blog, you know that I collect blue and white pieces.
For this version, I left the window pane mirror and just switched out a few of the white pitchers for blue and white accessories. Then I simply gathered up my faux orchids and hydrangeas…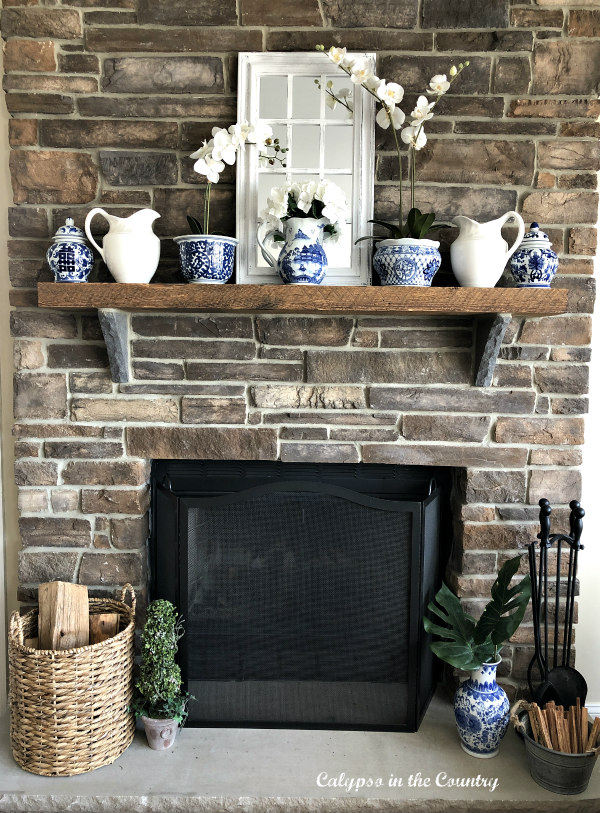 With just a few changes, I had two different spring looks for my mantel.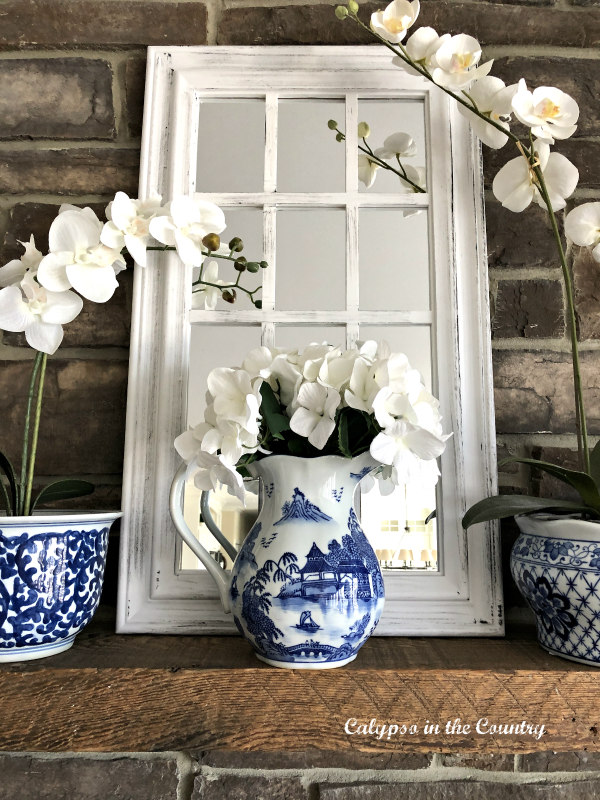 It's always fun to shop your home, isn't it? Hopefully, I've inspired you to look through your collections to find new ways to display them. Maybe you'll discover some ways to decorate your mantel for spring! If you're like me, you will also enjoy escaping reality for a bit!
Get the Look for Your Spring Mantel:

Once again, thank you to Paula from Sweet Pea for hosting this Spring Ideas Tour! Please be sure to visit the rest of the participants in the links below throughout the week!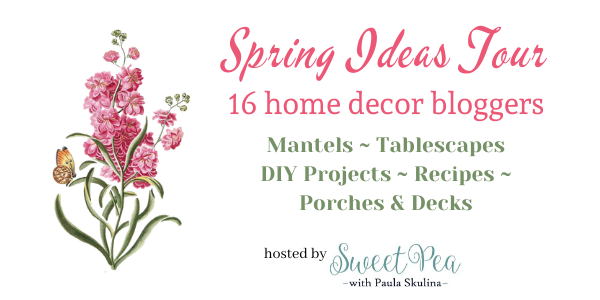 Monday – Spring Mantels:

Hearth and Vine | Postcards from the Ridge | Marty's Musings | Calypso in the Country
Tuesday – Spring Tablescapes:

Lora Bloomquist | Our Southern Home | The Painted Hinge
Wednesday – Spring DIY:

Sweet Pea | 2 Bees in a Pod | The How to Home | Our Crafty Mom | What Meegan Makes
Thursday – Spring Recipes:

My Wee Abode | Thistle Key Lane | Harbour Breeze Home | First Day of Home
Friday – Porches and Decks:

Redhead Can Decorate | Worthing Court | Follow the Yellow Brick Home
Are you decorating your mantel for spring?
Follow along so you don't miss a post!
Subscribe by email – HERE
Pinterest/ Instagram / Facebook / Twitter