The Door Dilemma – Raised Panel or Shaker in the Kitchen
Through all the craziness these past few weeks, I somehow managed to make all the necessary decisions and order my kitchen cabinets – yay! They should be arriving in about 6 weeks. Of course, I had one last minute dilemma…deciding between raised panel or shaker cabinet doors!
The other night, I happened to leave a door sample sitting on my kitchen counter. My husband looks at it and says, "Those aren't the cabinets we are getting, are they?" (Shoot me now…) "Yes, they are. You don't like them?"…I asked. "They look dirty.", he replied. (The sample had a glazing on it, even though I don't think I am doing a glaze.)
Why is it that someone around here is second guessing my decisions and has suddenly developed an interest in decorating? This brought back a flashback to our wedding planning when suddenly he needed to be involved in choosing the china. Yeah, my golfer, former college football player, doesn't care about clothes, man's man of a husband suddenly cares about making the kitchen pretty! Ugh.
So the next day, my very patient, saint-of-a-kitchen-designer dropped off a bunch of door samples to look over again. I had to show my husband what a raised panel looked like without the glazing (and I had to reassure myself that I made the right decision because I still loved the shaker look as well!) The cabinet order had already been placed at this point so I had to decide quickly!
Even though I had debated on shaker for a while, my 'decorator' husband was definitely against that one because he thought they looked too much like the Vermont ski house…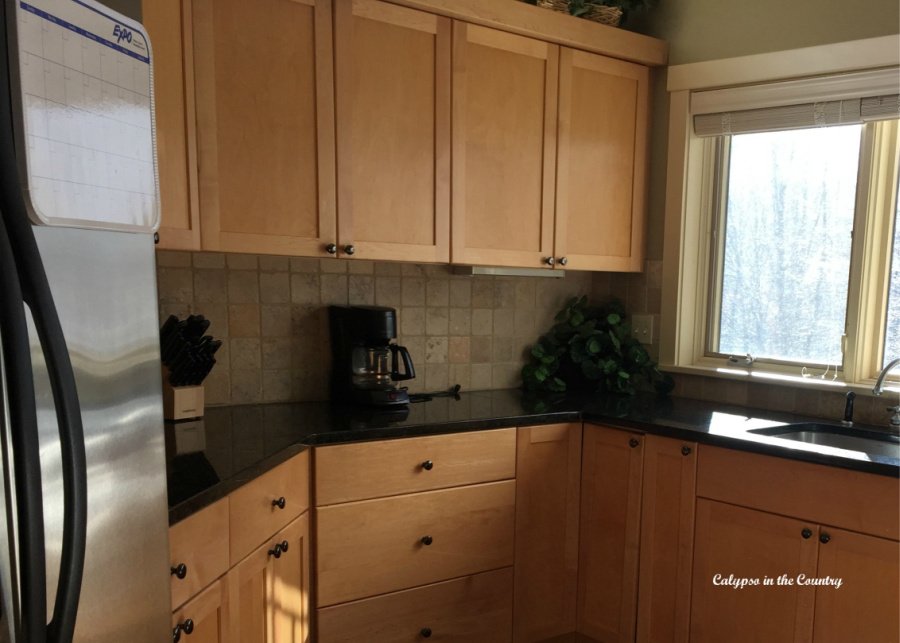 I guess he just can't envision these in white…
So I went back to focusing on raised panel, which I always loved anyway. After all, many of my favorite kitchens have raised panel cabinets and it helped to show my husband these inspiration pictures.
Like I said, the cabinets will be White Dove (but not glazed like the above picture) the island will be stained and the floors will be wood (but a little lighter than the floors above.)
Here's another look I love:
Traditional Kitchen by Northfield Design-Build Firms Orren Pickell Building Group
I think I might even buy those lanterns above. I love how the floor and beams make the kitchen less formal. Too bad I won't be adding beams (or marble) to mine…
Here's another example of the white with the stained island. My floors will never be that shiny though! (Not with kids and a golden retriever!)
source unknown
And probably my favorite kitchen:
Traditional Kitchen by Charlotte Interior Designers & Decorators Carolina Design Associates, LLC
This is the view I envision when you look in the kitchen from my dining room.
Just to refresh your memory – here is what the view looks like now…
I am just so tired of this.
And once again, here is what it could look like…ahhh
Traditional Kitchen by Charlotte Interior Designers & Decorators Carolina Design Associates, LLC
As you can see, all the photos above have raised panel doors, yet most all white kitchens we see these days have shaker doors. Up until this very moment I wonder if I made the right decision. I am hoping that the raised panel will always be classic.
There are so many kitchens with shaker cabinets that I absolutely adore as well:
Traditional Kitchen by Toronto Interior Designers & Decorators Cheryl Scrymgeour Designs
Another one of my favorites:
Traditional Kitchen by Alpharetta Interior Designers & Decorators Great Spaces!
Love this…
Traditional Kitchen by Atlanta General Contractors Blake Shaw Homes, Inc
Then there is another one of my favorites that kind of looks shaker but is a simple raised panel.
Traditional Kitchen by Atlanta General Contractors Dresser Homes
I keep going back to the look of a traditional raised panel door.
In fact, this was my inspiration picture (about 3 years ago) when we decided to renovate the kitchen…
Traditional Kitchen by Bellingham Kitchen & Bath Fixtures Scandia Kitchens Inc.
I still love the look and needless to say I didn't change my order. My husband feels a little more comfortable with my choice. I am sure my kitchen designer is relieved even though I will probably second guess my upcoming decisions – counters, back splash, sink, lighting…
What are your thoughts on white kitchens?
Do you prefer a shaker or raised panel cabinet?
Is one more timeless than the other?
(Don't worry, you won't stress me out if you choose shaker!)
**Update! – See the big kitchen reveal here – My New White Kitchen Reveal
Follow along so you don't miss a post!
Subscribe by email – HERE
Pinterest/ Instagram / Facebook / Twitter