How to Paint a Bathroom Vanity (Helpful Tips)
Last week, I shared how I updated my boys' bathroom on a budget. Since some of you asked a few questions on how to paint a bathroom vanity, today I will share the steps I used!
*Please note that this post contains affiliate links. If you make a purchase after clicking my links below, I will receive a small commission (at no additional cost to you).
Choosing a Paint Color for the Bathroom Vanity:
Painting a wood cabinet…
Yes, I agree that the idea of painting over wood cabinets can sound intimidating. At first, I was hesitant to even start. Though after I finished, I was thrilled with the result. If you need some motivation, take a look at how my bathroom vanity turned out…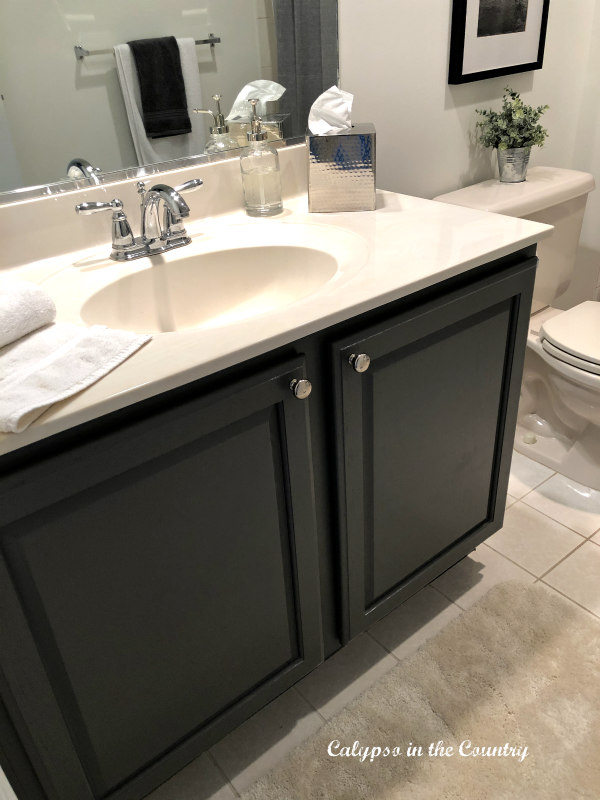 After painting the room, White Dove (Benjamin Moore), I decided to go much darker on the vanity paint color. Since my boys requested some gray in the room and I had already purchased a shower curtain, choosing a color wasn't too difficult. Usually, I agonize for months over a paint color!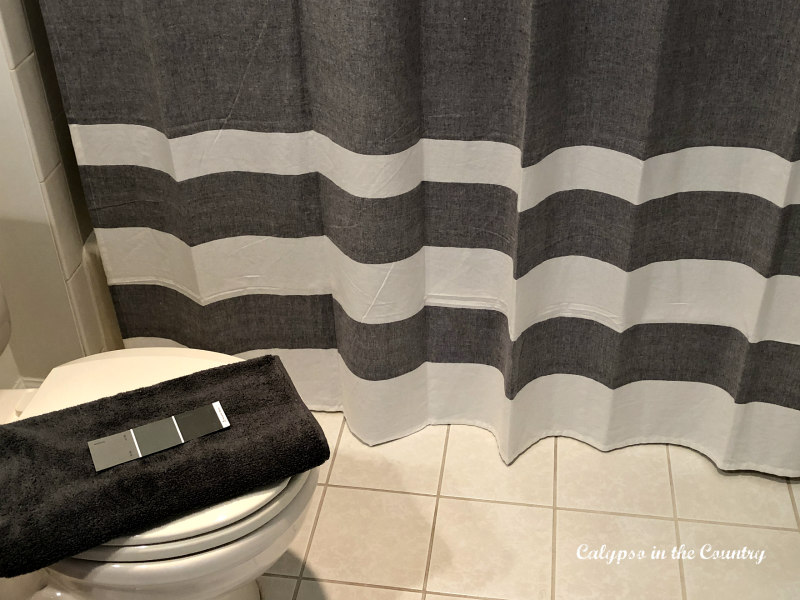 Because I didn't want all the grays to be the same shade, I went with the darkest one on the paint swatch – Kendall Charcoal (in the satin finish). Luckily, I found these towels which work perfectly with the dark gray. (The shower curtain is from Homegoods.)
Let's take a look at what the vanity looked like before I painted it…
Oak vanity before…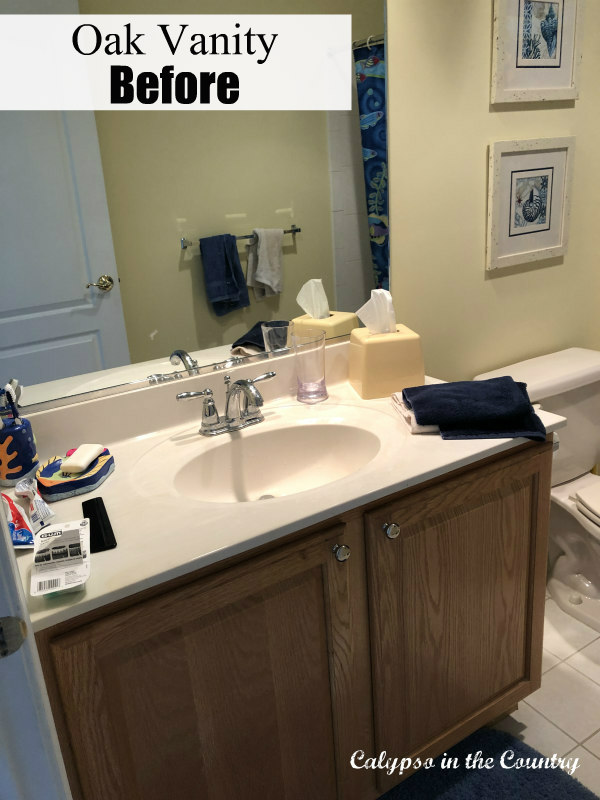 Although, the vanity was in good shape, the light colored oak looked dated to me.
In the photo above, you can see the grain of the oak. My local Benjamin Moore dealer reminded me that paint won't completely hide the grain, so I knew that from the start. So, if you are painting an oak cabinet, don't expect a completely smooth finish in the end.
Then, what kind of paint should you use to paint over a wood cabinet?
At the recommendation of my paint guy, I bought Benjamin Moore Advance Paint which gives a smoother finish. Like I said, it won't hide the grain completely but it does a nice job. Years ago, I used the Advance paint when I painted the bookcases in my office and was very happy with the results. Most recently, I've used Advance Paint to make over a breakfast tray.
How to Paint a Bathroom Vanity:
Here are the steps I followed:
Remove the vanity doors and hardware.
Wipe down the surfaces to remove any dirt or oils. Some people use a de-glosser type of product but I just used some water and Dawn dish detergent.
Lightly sand the wood using a fine sandpaper or sanding sponge. (I used a sanding sponge).
Wipe the wood with a damp sponge or cloth to remove any dust. I also vacuumed the vanity inside and out to make sure I had a clean, dust free area to work in.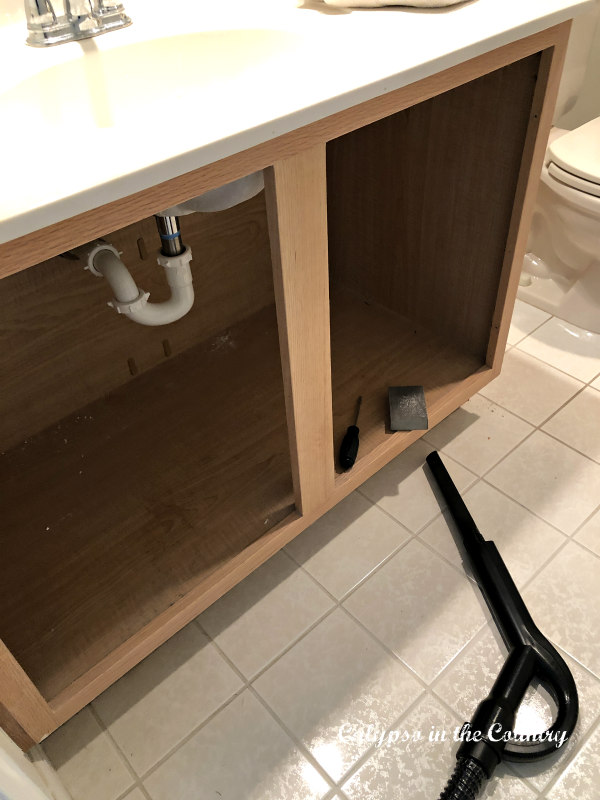 Apply a primer. I used Stix Primer in white because I had some left over from another project. – First, I applied the primer to the back of the vanity doors and let them dry for about 2 hours before coating the other side. I worked on the doors in my garage since there was more room to lay them out. To keep them away from any dust out there, I placed them on some cardboard boxes to paint them.
Don't forget to use painter's tape to keep the paint and primer neat. I used Frog Tape, which I highly recommend. (When I painted the bathroom walls, I just used some standard painter's tape I had laying around and the edges weren't as crisp at the Frog Tape.)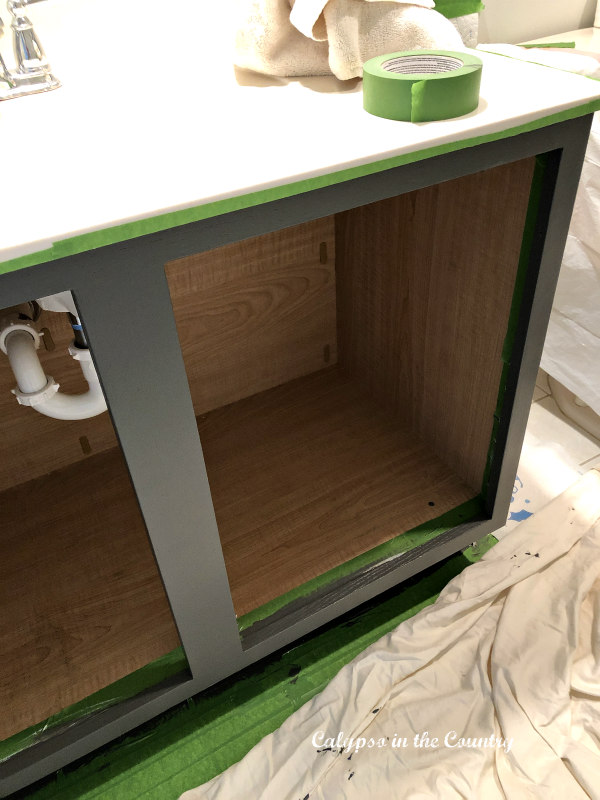 After the primer dries, (about 2 hours), lightly sand again, wipe with a damp cloth and start applying the paint. Once again, I started with the back of the doors. I rolled on the paint with a small paint roller and on the middle part of the door and used a brush on the edges and creases.
Use a small paint roller and brush to apply the paint to the vanity box. Once again, alternate between the small roller and the brush.
Let the first coat of paint dry for 16 hours. Yes, I know it's tempting to start the second coat after the first one feels dry but I didn't want to take any chances. On the Benjamin Moore Advance paint can, it states 16 hours…so I waited 16 hours…actually I probably waited 24 hours. I'm such a rule follower!
Once again, lightly sand away any drips or imperfections, and wipe with a damp cloth.
Apply the second coat of paint. To be honest, I didn't apply a second coat to the back of the doors. Since I didn't think you would notice it much, I didn't bother. Why do extra work, right?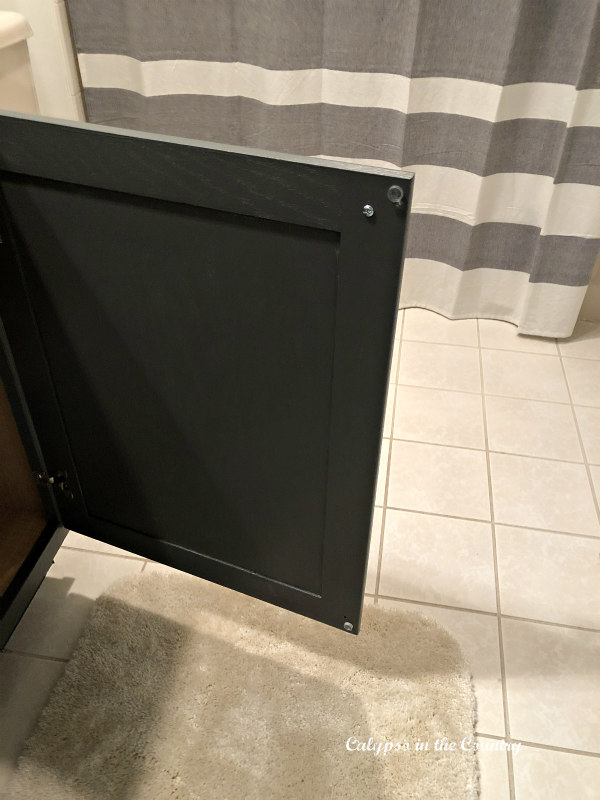 Wait at least 24 hours to hang the doors and reattach the hardware. The doors will feel dry but the paint takes a few weeks to fully cure. As you can see, I also attached some cabinet door bumper pads to help with the door slamming sound. As I mentioned earlier, you can still see some of the wood grain after painting. You can see what I mean in the photo above.
And the painted bathroom vanity is finished! From builder grade oak to Kendall Charcoal!
Hopefully, you found my tips to be helpful and answered your questions about how to paint a bathroom vanity.
If you are thinking about painting a vanity in your bathroom, I say go for it. If I can do it, so can you!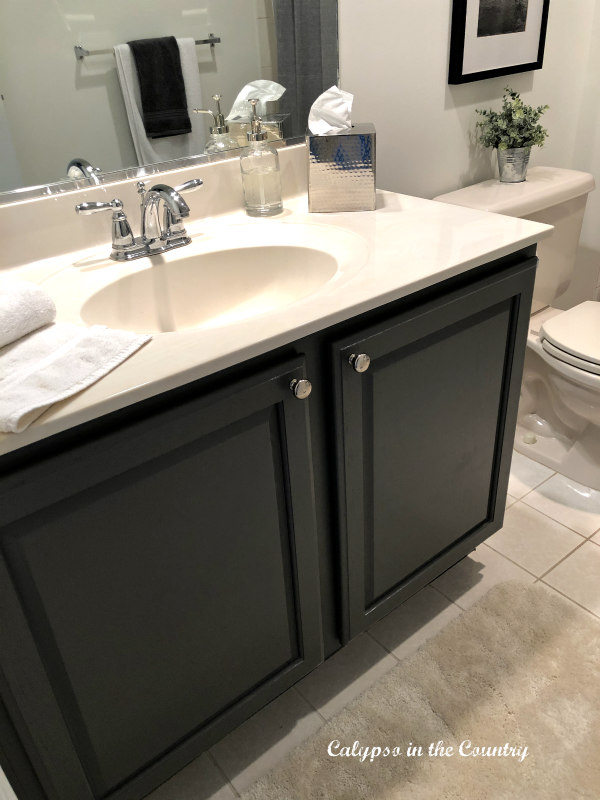 Once again, if you want to see how the whole bathroom turned out, check out my recent post – Before and After: Boys' Bathroom Makeover.
Have you painted any cabinets in your home?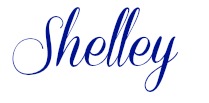 Follow along so you don't miss a post!
Subscribe by email – HERE
Pinterest/ Instagram / Facebook / Twitter