Black and White Fall Table Setting with a Farmhouse Look
As the weather gets cooler, we have have the perfect excuse to set a cozy table for fall.
Since we all love the simplicity of farmhouse style these days, I was inspired to create that look with a black and white fall table setting…
For the farmhouse look, a casual metal lantern is a great place to start:
This lantern is from Southern Living at Home which is now discontinued. Though I did list some alternatives at the bottom of this post if you like that look.
Black and white checked tablecloth:
Don't you agree that black and white buffalo checks look perfect for fall? They make it easy to add any color or just work with neutrals and textures like I did.
Since it is a gorgeous fall day here in New Jersey, I have the sliding door and all the windows open. (Yes, that is Rosie way back there trying to make an appearance in the above photo.)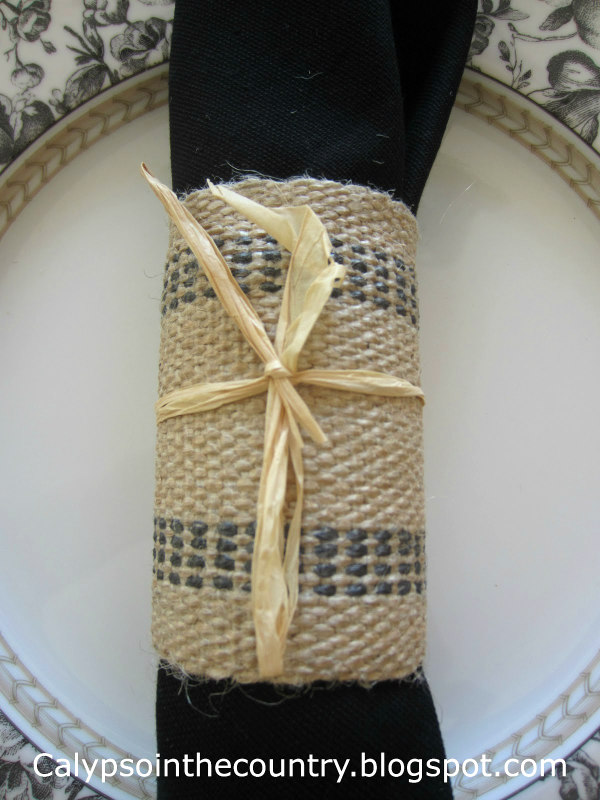 Farmhouse Style Napkin Ring:
For my napkin "rings", I just cut out strips of jute and wrapped them with some raffia. As you can see, they give the table setting a bit of a rustic farmhouse look. Most likely, you will see that jute again in an upcoming project… I am sure you are on the edge of your seat…
Black and White Fall Table Setting with China:
In order to dress up the table a little, I added some of my favorite china to the mix. In case you are wondering, this is Royal Doulton Provence Noir which is now discontinued. Unfortunately, I can't find pieces anywhere! Don't even get me started on that…
Black and White Rug in the Kitchen:
As you can see, it doesn't hurt that I have a black and white rug under my table. Obviously, I didn't buy it to go with my table setting but I think it helps to keep larger pieces neutral in your home. In addition to working well with my decor, the rug is an indoor-outdoor rug so it's perfect for busy places like a kitchen. In fact, I have a few indoor-outdoor rugs in my home.
Simple accessories for a black and white table:
Using simple accessories like white pumpkins, seagrass chargers and black napkins make it easy to accomplish a farmhouse look. No need to go overboard with too many pieces.
Hopefully, I have inspired you to set your own black and white table for fall! Enjoy the weekend everyone!
Sources for a black and white fall table setting:
I have provided sources below for your convenience. Please note that this post contains some affiliate links and I will receive a small commission if you make a purchase after clicking my links at no additional cost to you.
Checked Tablecloth – Kohl's, but if they stopped carrying it, this black and white checked tablecloth looks just like it! Or you could just go with black and white checked napkins instead!
Dinnerware – Provence Noir by Royal Doulton (discontinued). If you know where I can get more of these at a reasonable price, you will be my new best friend! You could always go with this simple and elegant china if you still had your heart set on mixing in some fancier pieces.
Napkins – Homegoods but these black cotton napkins would work as well.
Seagrass Chargers – similar Seagrass Chargers
Wine Glasses – similar wine glasses
Jute Webbing for Napkin Rings – Michael's but if they are out this jute webbing looks identical!
White Faux Pumpkins – Michael's or any craft store
Lantern – Willow House (discontinued) this lantern is also cute though.
Oh, and by the way, I am still looking for more suggestions on my upcoming trip to Charleston! Either none of you have been to Charleston, or I don't have any blog friends reading my posts…boo hoo…
What are you using for your fall table settings?
I'd love for you to follow along so you don't miss a post!
Instagram / Facebook / Twitter / Pinterest
Joining these parties: