A Sisal Substitute for the Stairs
During our recent renovation, we removed our carpet runner from the stairs, refinished the oak with a darker stain and replaced the spindles with white painted ones.
Eventually, I knew we would need a carpet runner.
My kids run around in socks all the time and I have to think of my golden retriever, Rosie. Those bare stairs were just too slippery.
I have always loved the look of sisal or seagrass but we didn't want the rough feel on our stairs. Essentially, what we needed was a "sisal substitute".
Recently, I shared my stair runner options with you – Choosing a Stair Runner.
After some consideration, I ended up choosing a synthetic sisal-look runner and couldn't be happier!…
This "sisal alternative" carpet is from Masland Carpets. After sampling all their colors and choices, I chose their Sisaltex line in the color Indochine. By the way, I'm not being compensated in any way to mention them, in case you were wondering.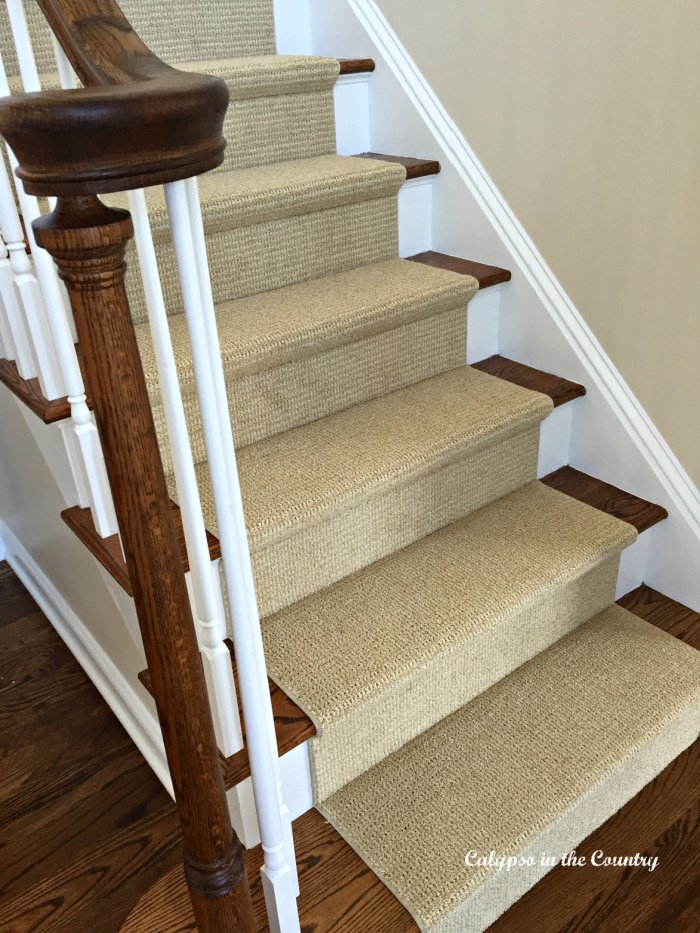 This is definitely the sisal look I wanted for the stairs.
And it feels so nice on our feet! So much softer than real sisal…
We were able to choose the width we wanted and they cut the carpet to our specifications.
Our stairs are 41 inches wide (above the landing) and 39 1/2 (below the landing)…I never realized that until we measured for the carpet…weird. Anyway, we had the carpet cut at 31 inches wide.
I also had them cut me a runner for the upstairs hall…
My husband isn't sure if he wants the runner because he (the previous carpet lover) got used to the look of the wood floor up here. We'll keep it up here for now though.
And back down we go…
The subtle color works well with our recently painted foyer. (Benjamin Moore White Sand). Plus, the rug is golden retriever color…a necessity in our home! Yes, we have to decorate around the dog in our house. Doesn't everybody do that?…
Not only does it match the dog but the runner is neutral enough to work with the existing foyer rug…or something else if I decide to change it!
So, a sisal substitute is what worked for us! A sisal-looking rug, without the sisal feel…
That's one more thing I can cross off my list! On to the next project!
If you want to catch up with all my recent renovations, click over to My New White Kitchen Reveal and Links to All the Renovation Details.
And if you are looking for more rug inspiration, visit my post, Area Rug Ideas for Every Room.
Do you love the look of a sisal runner?
Follow along so you don't miss a post!
Subscribe by email – HERE
Pinterest/ Instagram / Facebook / Twitter