Spring Afternoon Tea Ideas (for Entertaining at Home)
Let's celebrate the spring season! With all upcoming special occasions from Mother's Day to wedding showers, it's the perfect time of year for spring tea parties! Today, I'm sharing my Spring Afternoon Tea ideas as I join a wonderful group of bloggers for a Spring Tea Party Blog Hop! So, grab a cup of tea (or your favorite beverage) and let's get started!
At the end of this post, you will find a list of all the participants in this spring tea party blog hop. Be sure to visit as many as you can for some creative spring tea ideas!
*For your convenience, please note that this post contains affiliate links. If you make a purchase after clicking my links below, I will receive a small commission (at no additional cost to you).
Spring Tea Party Ideas and Blog Hop:
Before we get started, I want to thank Amber from Follow the Yellow Brick Home for hosting! If you don't already follow Amber, be sure to swing by and visit her gorgeous blog to see her vintage spring tea ideas!
If you are just arriving from Virginia Sweet Pea, Welcome! Paula is a dear blogger friend and she always decorates her home so beautifully. Today, she's sharing her ideas for spring tea in the garden.
Spring Afternoon Tea – Decorating Ideas:
For my spring afternoon tea, I decorated a living room table in a spring garden style. With all the flowers and trees blooming, it made sense to use nature as my inspiration. Although, I must admit, I do not have a green thumb. Though, I am working on it! To play it safe, I used faux greenery and flowers for my spring tea table.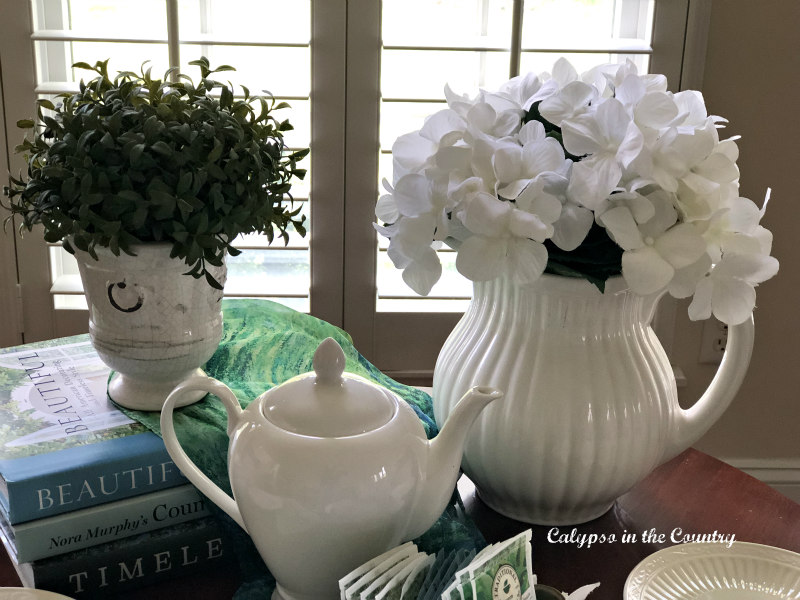 Since my table is situated near the window, I do have a view of all the green grass and trees outside. Too bad it has been raining for the millionth day in a row! With all the precipitation we've been getting, I am expecting some amazing flowers this spring!
Spring Color on a Spring Tea Table:
To decorate my table for a spring afternoon tea, I tried to bring the outside in. Beginning with greens and blues, I then accented those colors with lots of white. From the flowers to the dishes and containers, bright white feels so fresh for the spring season!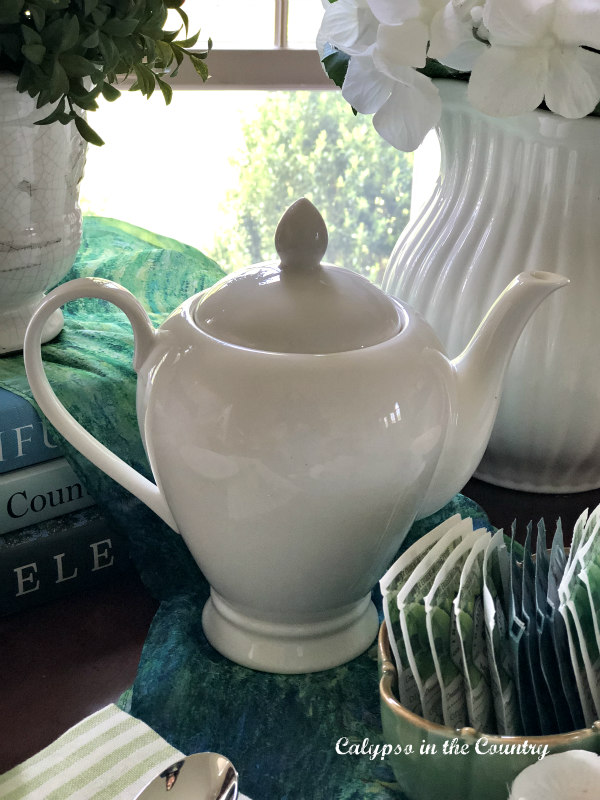 To go along with my color scheme, I even matched the tea bags! (Haha, that wasn't even planned!) Of course, I have tons of tea bags since I'm a tea drinker. Even though I love the smell of coffee, I prefer to drink tea for my caffeine fix. Usually, I'll drink earl grey tea or green tea in the morning and then have an iced tea or two during the day. Sometimes in the late afternoon, I'll make a cup of one of my decaf specialty teas…a perfect way to wind down the day!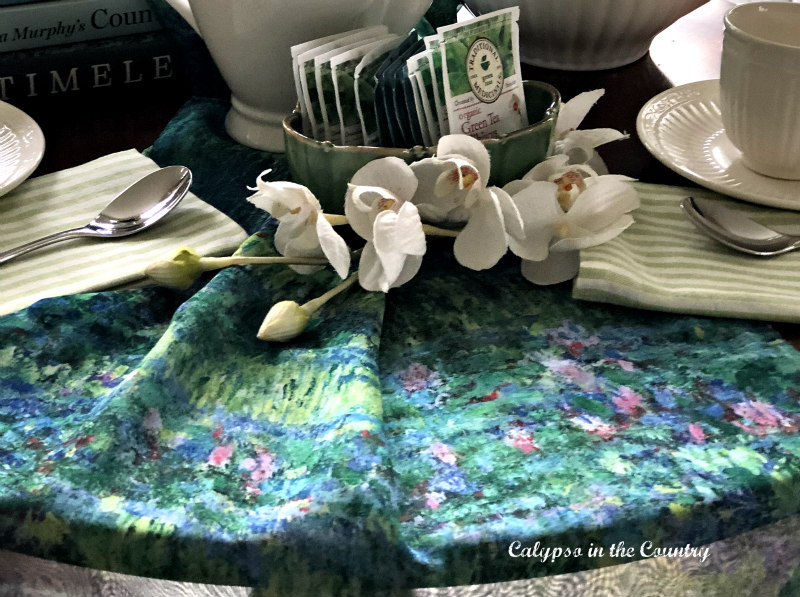 In order to pull the colors together on my tea table, I used this colorful "tablecloth". Actually, it's a Monet printed scarf that my mom bought me a few years ago. Scarfs can be great for adding splashes of color and I use them often in my vignettes.
Most of the time, I use white dishes as well. Even though I love decorating a table with my blue and white dishes, I feel the white is just so classic…and it goes with everything!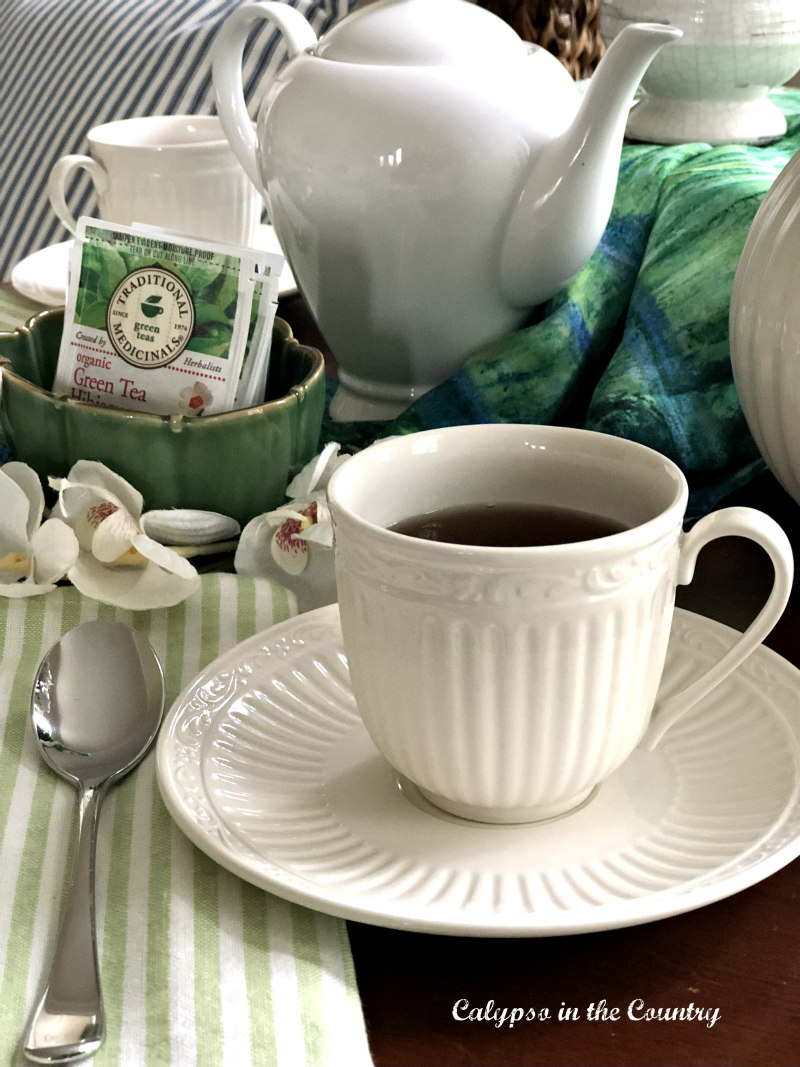 Whether you're entertaining guests or just relaxing at home, it's always nice to make time for a cup of tea!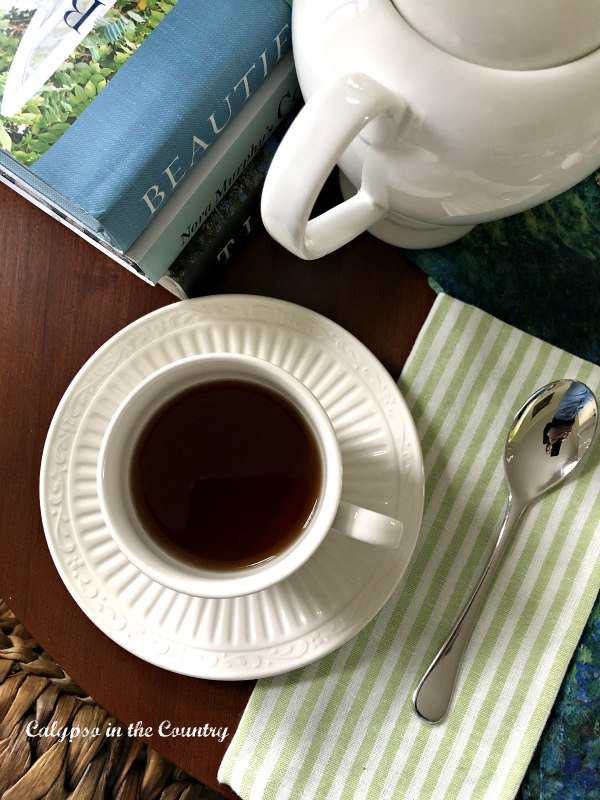 Afternoon Tea vs. High Tea:
Just in case you were wondering, afternoon tea is generally served on a "low table" with lighter food selections such as finger sandwiches and scones. Usually, it's served in the late afternoon around 4:00 p.m. Traditionally, high tea is served a little later at a "higher" table such as a dining room table. For the high tea, a heavier supper is generally served.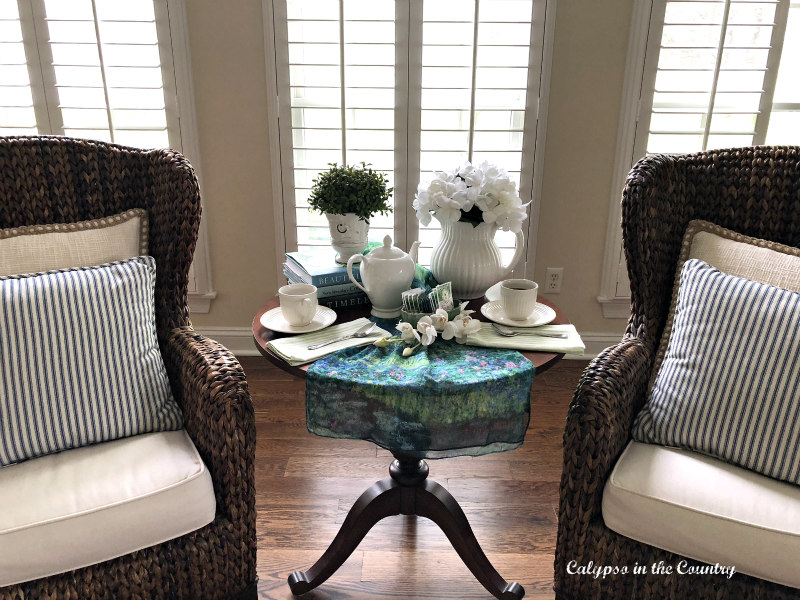 Tiered Tray of Tea Snacks:
What is a spring afternoon tea without the fun snacks to go along with it? Traditionally, you would use a 3 tiered tray for the 3 "courses". The bottom tray would hold the tea sandwiches, the middle would hold the scones and jams and the top would be for the sweets.
Unfortunately, I could only find my two tiered tray…so I just went with all sweets. I don't hear anyone complaining…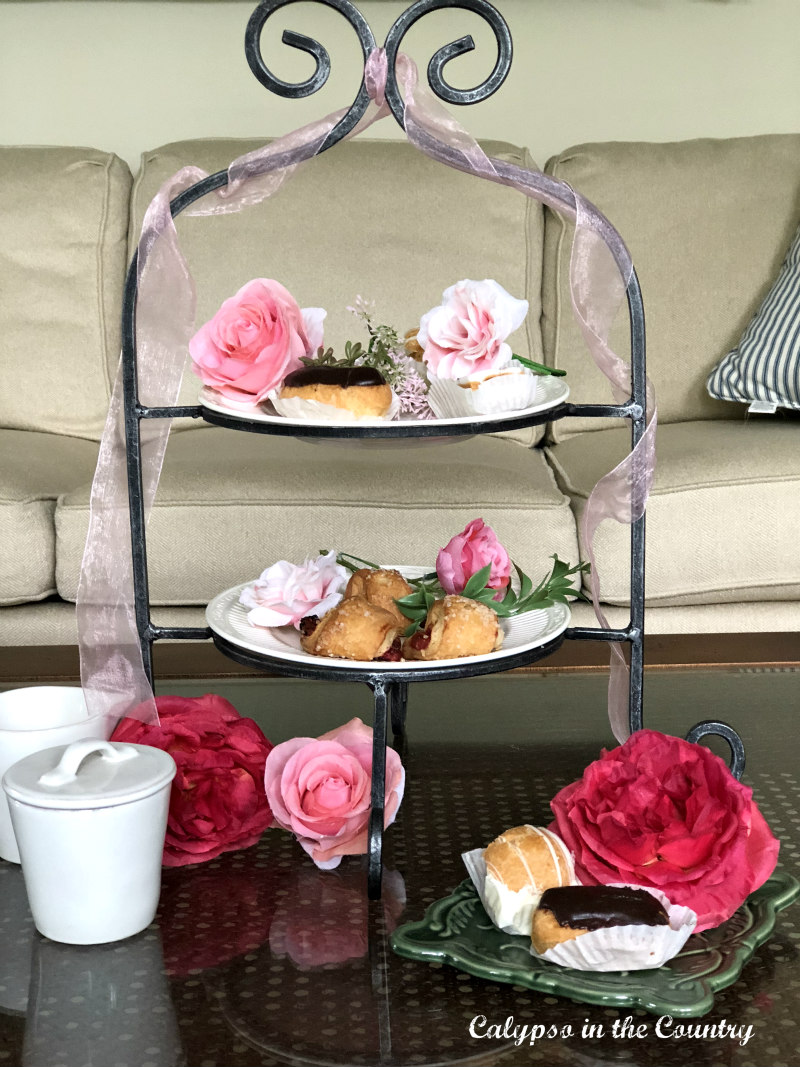 For my selection of sweets, I offered various pastries and chocolate eclairs. You could also include cookies, petit fours, (those small squares of bite sized cakes) or any sweet mini dessert. Even little sponge cakes with lemon drizzle are perfect with tea.
Even though I used mostly blues and greens for my tea table, I brought in some bright pinks for the coffee table.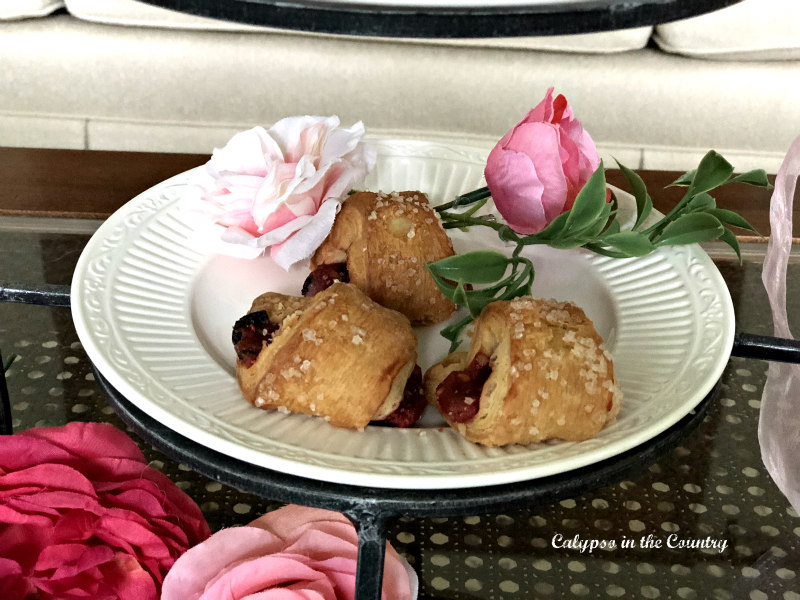 Obviously with all the rain, I am craving some color! Plus, the pink flowers add some cheer to a spring afternoon tea party!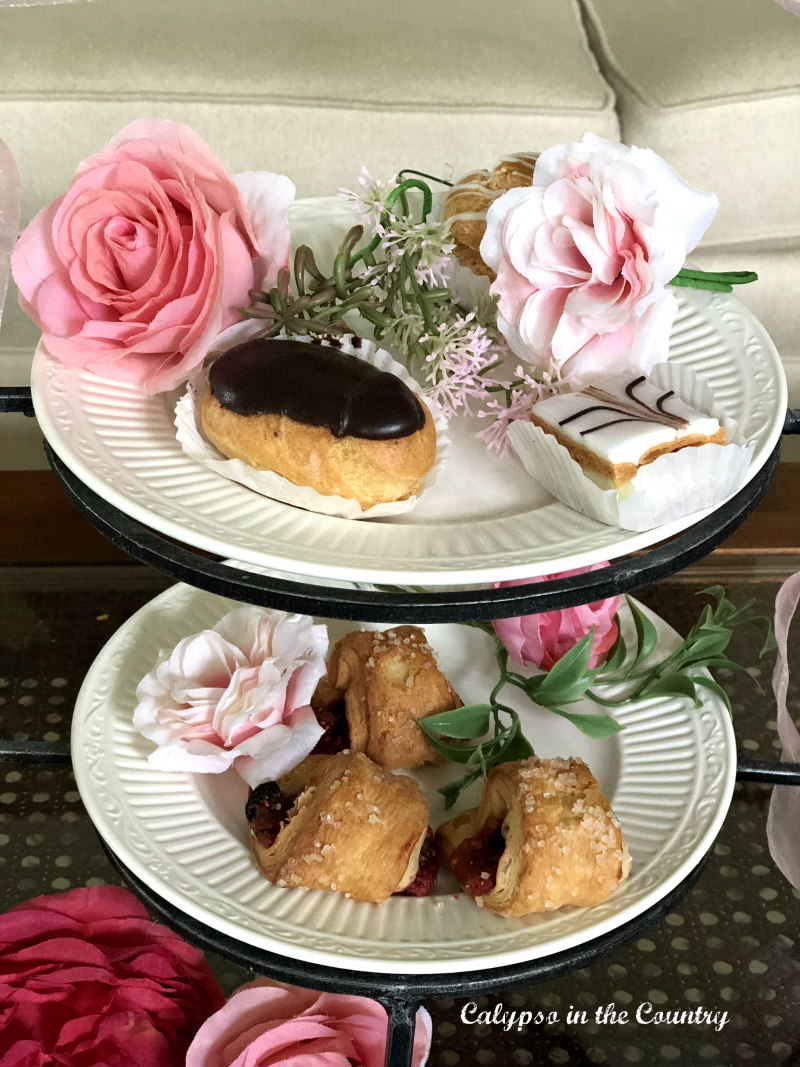 I hope you enjoyed my spring afternoon tea ideas! If you get a chance, also check out my ways to decorate a tiered tray. In that blog post, I shared more decorative ways to welcome afternoon tea guests!
If you're looking to enjoy tea when you're out, here are some lovely places to enjoy a spring afternoon tea:
Botanical garden or park
Fancy hotel lobby (I once had tea at the Ritz in Montreal)
Bed and Breakfast or historical house
Any place with a pretty view
**Next, be sure to visit Coco at The Crowned Goat for more creative ideas for spring tea!
Also remember to visit each of participants on the tour for tons of spring tea inspiration!
You are invited to the Inlinkz link party!

Follow the Yellow Brick Home / A Stroll Thru Life / Our Southern Home / Common Ground / Decor to Adore

County Road 407 / Art and Sand / Let's Add Sprinkles / Botanic Bleu / The Painted Hinge

Celebrate and Decorate / Petite Haus / My Thrift Store Addiction / Rosemary and Thyme / Virginia Sweet Pea

Calypso in the Country / The Crowned Goat / Lora Bloomquist / The Tattered Pew / Bluesky at Home

White Arrows Home / Welch House 1900 / Thistle Key Lane / Decorate and More with Tip
Do you have plans to host a spring afternoon tea party?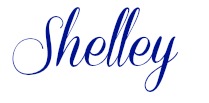 Follow along so you don't miss a post!
Subscribe by email – HERE
Pinterest/ Instagram / Facebook / Twitter