March 2020 – Take Me Away Travel Link Party
Welcome to the March 2020 Take Me Away Travel Link Party!
*I'm sorry to spring this on you but I've decided that this will be the *LAST* Take Me Away Travel party.
When I first started my blog, I was focusing on both travel and home decor. Over time, I have focused less and less on travel and I've been feeling guilty for not giving this party the attention it deserves. Although I have loved reading all your amazing travel posts each month, I thought it was time to end the party. I hope you all understand. Thank you for joining me on this blog party adventure these past few years!
Even though, Take Me Away will be ending, please feel free to link up your travel posts at the party I co-host called Best of the Month! That party starts on the first Friday of the month and runs through the end of the month. But for now, feel free to link up your travel posts here – one more time!
Before we get started with the March 2020 Take Me Away travel party, I want to share some features from the February party.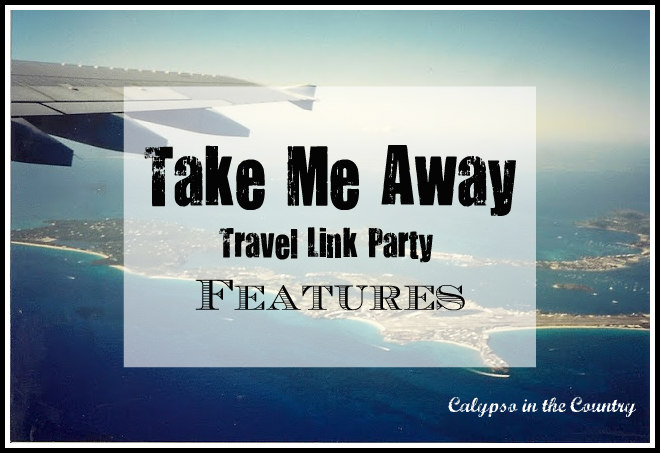 MOST CLICKED POST FOR FEBRUARY:
Our most clicked travel post last month:
Downton Abbey Exhibition with Lessons in History – From My Carolina Home
FEBRUARY FEATURES:
These were the posts that caught my eye this month…I chose sunset photos from each post to coincide with the ending of the Take Me Away travel party…yes, I'm such a sap!
Our Utah Adventure – Amy's Creative Pursuits
Small Ship Cruise – Visiting Patmos, Greece – Debbees Buzz
In addition to these features, please be sure to check out the rest of the posts from the February – Take Me Away Link Party if you missed it.
For even more travel inspiration, here are the 2019 recaps from our monthly Take Me Away Party:
Now that we've taken care of all the February features, let's get started with the March 2020 Take Me Away Travel Party….
The usual rules:
Please link up to 3 travel posts you have written. (New or old as long as you haven't shared them at Take Me Away before).
Please be sure to link directly to your POST, not just your main blog page.
Please don't link ads or giveaways. (Affiliate links are fine, though!)
By joining the party, you give me permission to share your photo/post on my social media and this blog.
Please pin from the original source of the photo.
Please try to visit and comment as much as possible. After all, it's a party!

You are invited to the Inlinkz link party!