Vacation Planning and the January 2019 Take Me Away Recap
Did you know that today is "National Plan for Vacation Day"?  How appropriate, since today I am sharing the recap from the January Take Me Away Travel Link Party!
Now that the holidays are over, many of us have started our vacation planning for the year.  If you haven't made your new year travel plans yet, maybe some of these posts will inspire you!
Please click the link below each photo to read the full post…
Let's start with Ms Toody Goo Shoes' list of 10 Must See Holiday Sights in Midtown NYC…
10 "Must See" Holiday Sights in Midtown Manhattan
After reading Amy's post, you will want to book a trip to NYC for next Christmas.  She shares so many festive ideas to put you in the holiday mood!
From there, Amy takes us to the across the U.S. to Waikiki, Hawaii…
Why Waikiki – 10 Reasons Why You Should Stay a Few Days
Since I just visited Hawaii last summer, Waikiki is fresh in my mind.  Amy listed some great reasons why Waikiki should not be missed!
Amy obviously knows her beaches and Grand Cayman is one that should be on everyone's list…
Restin at the Westin Grand Cayman
Definitely check out her beautiful photos and tips on where to stay on the famous Seven Mile Beach!
Now, let's head to Disney for 3 days with Our Unschooling Journey…
Day 1 – Downtown Disney & A Mini Tour of Saratoga Springs
Hollywood Studios and Jedi Training
Day 3 – Chef Mickey, Typhoon Lagoon and Saratoga Springs
After reading all her Disney recaps, you should be ready to plan a trip of your own.  Obviously, a fun family adventure with plenty of tips and ideas!
From there, we travel to Fallingwater with Paula from Sweet Pea…
If you love architecture…and nature, you need to read Paula's beautiful post!  Beautiful scenery and some interesting facts!
Let's head to Florida with A Grace Full Life…
Florida Spring Break Trip Part 1
Well…let's just say this trip didn't begin very smoothly… If you are looking for some humor and a series of mishaps, check this one out.
Lastly, we travel with Hali from Halicopter Away to go Winter Hiking in Zion National Park…
A Guide to Winter Hiking in Zion National Park
Apparently, winter is a great time to visit!  Hali shares some gorgeous photos and some helpful tips to hiking in the winter!
Thank you to everyone who joins us each month!  I hope our monthly travel party gives you ideas when you are planning your next vacation!
If you have a trip to share with us, please note that our parties take place on the first Friday of each month.  The next party is OPEN NOW!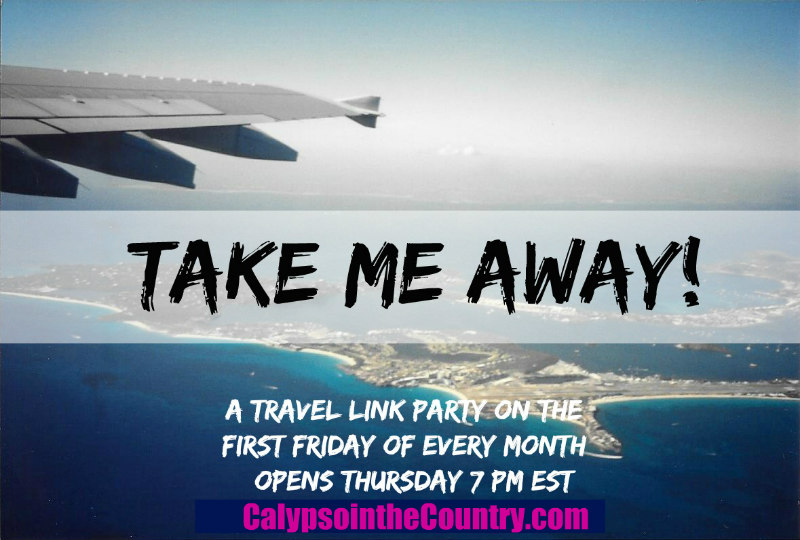 In case you missed the last Take Me Away Party recap, click the link below.
For even travel more inspiration, you can click on the "Take Me Away Recap" in the drop down "Travel" tab at the top of the page!
Have you started your vacation planning for the year?
I'd love for you to follow along so you don't miss a post!
Follow by email – HERE
Instagram / Facebook / Twitter / Pinterest
Joining these parties:
Olives and Okra – Funtastic Friday  A Stroll Thru Life – Inspire Me Tuesday  Sweet Parrish Place – Totally Terrific Tuesday